Everything you need to know about Universal Orlando's brand new park Volcano Bay
Universal Orlando Resort have released the first details of their brand new water park Volcano Bay and we are very excited! Opening in May 2017, Volcano Bay will replace the closed Wet N Wild and it will be based on-site at Universal Orlando.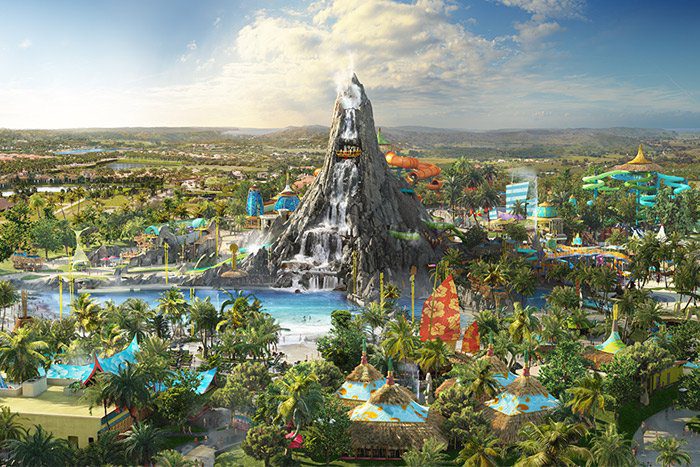 Universal's goal for Volcano Bay is to create a water park unlike any other in the world. They want to create a seamless, relaxing environment while also having the expected, Universal thrills throughout! The park will be designed so that you won't have any long queues and you won't have to carry any tubes either! There will also be an abundance of places to eat throughout the park, meaning you won't have to go far for some refreshments.
Volcano Bay will be a 28 acre park and once you enter, you will be transported to a tropical oasis that will not only feature thrilling rides, but serene beaches and luxury two story cabanas!
There will be four areas to the park; Krakatau, Wave Village, River Village and Rainforest Village.
Krakatau is the heart of the park and it's home to the 200 foot tall volcano! By day, enjoy majestic waterfalls and at night, watch it transform into a live volcano with blazing lava! There will be exciting slides in the area including the Ko'okiri Body Plunge, the Kala, the Ta Nui Serpentine and the Punga Racers! AND, what's even more exciting is that there will be a secret attraction, not yet announced!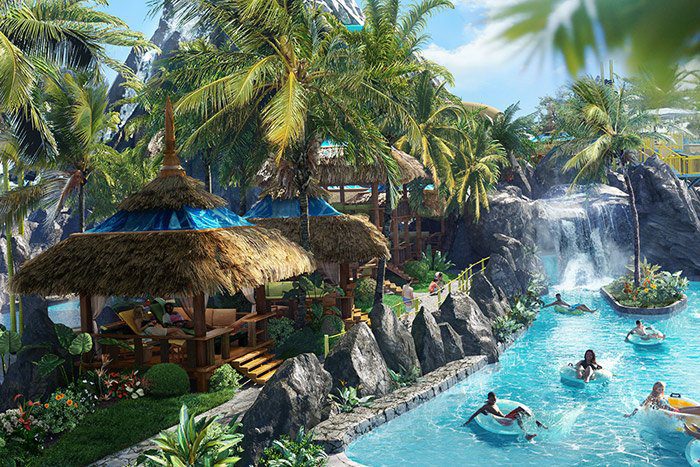 Wave Village is located at the base of Krakatau and its the perfect place to soak up the sun and relax on the sandy shores! In Wave Village, take a go in the multi-directional wave pool or relax in the calm waters of the adjacent Reef.
River Village will be a family focused area of the park and it will offer several family-friendly attractions and experiences! Kopiko Wai Winding River is a gentle winding river that winds through hidden caves, the Tot Tiki Reef is a whimsical toddler play area. Runamukka Reef is a three-story playground overflowing with slides, sprinklers and more! And there will also be two multi-person raft rides in River Village called Honu and Ika Moana.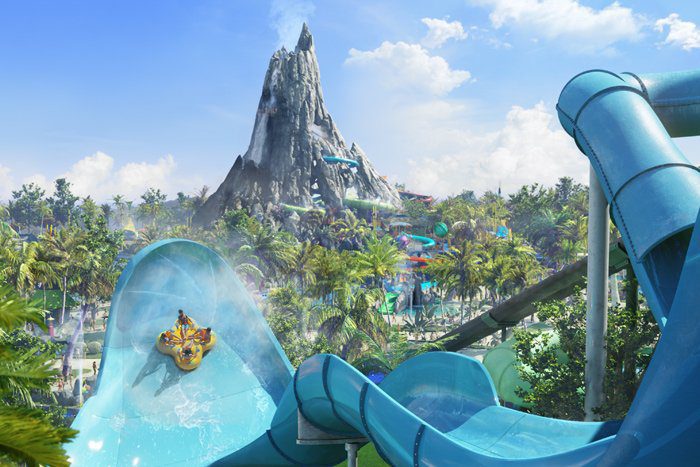 Rainforest Village will be home to an assortment of attractions for thrill seekers! Maku will be an exciting saucer ride, Puihi will be a breath-taking multi-passenger raft ride, Ohyah and Ohno are both drop slides full of twists while the TeAwa is an action packed racing torrent river.
Volcano Bay is going to be the next generation of water parks and we cannot wait for it to open! Be sure to keep an eye on our social media for updates!
Are you excited!? For a closer sneak-peak, check out the teaser video!