The Benefits of staying on site at Universal Orlando
Hi everyone, Veronica here again! While in Orlando in June we stayed at the Loews Portofino Bay Hotel in Universal Orlando and I have to say, we just loved staying on-site at Universal Studios! Staying on-site comes with many benefits and the convenience of it is great as well. Keep reading to find out why I loved staying at the Loews Portofino Bay Hotel with my family!
FAST PASS PRIVILEGES
Staying on-site at Universal Orlando is just brilliant. Besides knowing that you're staying in an amazing hotel, there are so many extra benefits that you can avail of. One of the main reasons we chose to stay on-site was because of doing the parks with the kids. I knew that they wouldn't be able to handle the very hot Orlando temperatures while standing in long queues so because we were staying on-site, we got to avail of our fast passes everyday! Seriously, this is Universal's greatest invention for Mammies!! 🙂
EARLY PARK ENTRY
We used to head into the parks early in the mornings as we were able to avail of early park entry! We'd then spend the morning skipping all the queues with our fast passes and then once the afternoon came, we relaxed by the pool! Early park entry is only available to guests staying in a luxury Universal Orlando hotel.
COMPLIMENTARY WATER TAXIS
We also loved using the transfers from the hotel to the parks. It is walkable to go between the two but we used to get the boat across. Getting on the little water taxi boat was such a novelty for my kids. They just loved jumping on board!
EASY ACCESS TO CITYWALK
Because we were so close to the parks, we chose to eat at CityWalk most evenings. CityWalk has such a great variety of restaurants and so we were always spoilt for choice. Our favorites for a yummy family meal were Vivos, Antojitos and the Hard Rock!
LOEWS PORTOFINO HOTEL IS ALSO PERFECT FOR YOUNG FAMILIES
I always had the perception that the Loews Portofino Bay Hotel was more for couples but I have to say, it's so perfect for young families as well. Our room was amazing and it was so spacious too! When we arrived, we called guest services to see if we could have a fridge put into our room and they were up within a few minutes. The service was just amazing!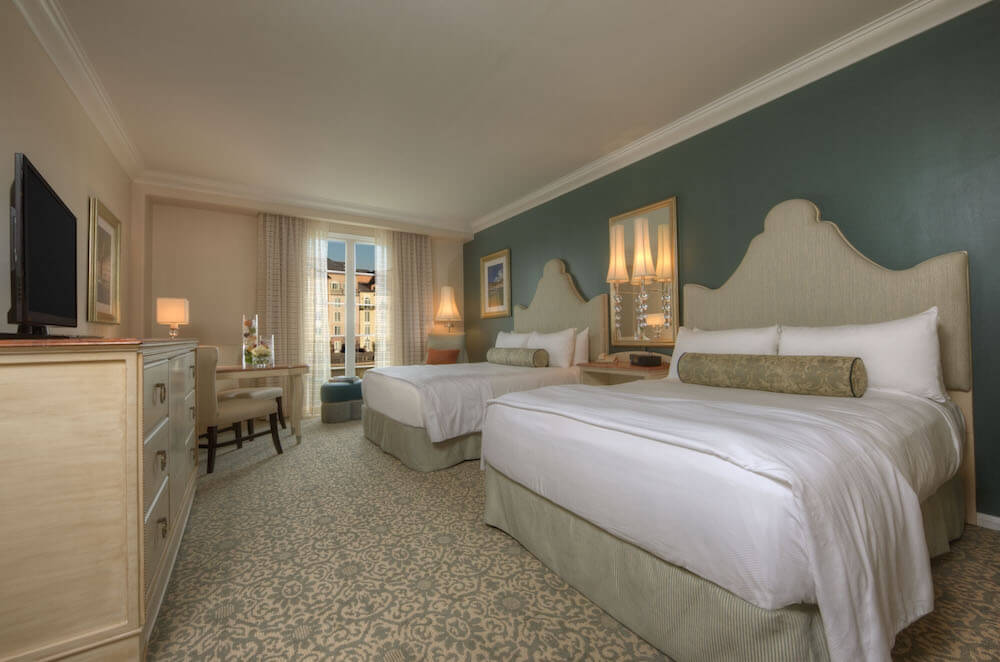 On-site there was two main pools. One was a quieter pool area that was perfect for those wanting to unwind in a more relaxed environment and the other one was perfect for families. We visited Orlando in peak season and we never had a problem getting sun loungers by the pool. There were lots of them and the pool area was really nice. My kids aren't strong swimmers but there are lifeguards on duty all around the pool and it was great to feel at ease while the kids were dipping in and out of the water.
There was also a great water slide at the pool and they even had life jackets available for those kids who were a little nervous but wanted to have a go! My kids loved the slide!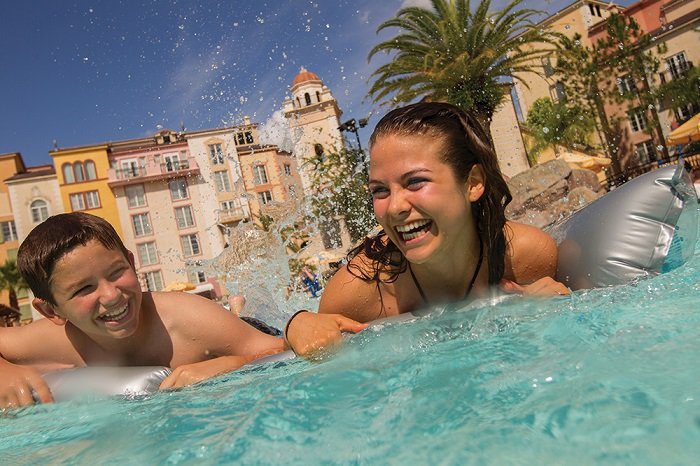 The entertainment in the Loews Portofino Bay Hotel was just as you would expect from a Universal hotel, it was excellent. Throughout the day, the entertainment team offered lots of games and fun for the kiddies as well as adult games including bingo and hula hooping competitions! The hotel also have an outdoor movie schedule that shows movies by the poolside! This is weather permitting of course but the movies are great and there is bar beside the pool area so if you are watching a movie, you can grab a drink and some pizza! The hotel also have opera performances on for the adults and while you sit back to enjoy with a glass of wine in your hand, you really do feel like you are in Portofino!
If you are planning a trip to Orlando, I really recommend you stay at Universal Orlando for even part of your trip! There are four hotels to chose from with a 5th due to open in Summer 2016! All of the hotels offer the above except the Cabana Bay Resort which doesn't offer fast passes to guests. Staying at Universal Orlando was not only convenient, it brought our Orlando family holiday to the next level and I'd recommend staying here to anyone!
For more information on Orlando Holidays visit https://www.touramerica.ie/destination/orlando-holidays