Top 5 Reasons to Visit Texas
Here are our top 5 reasons to visit Texas. The Lone Star State has a rich history and culture, offering a unique blend of urban sophistication and rural charm. It is home to many popular tourist destinations, including the bustling cities of Houston and Dallas, as well as the scenic Gulf Coast. Visitors can explore the state's natural beauty by visiting parks, lakes, and beaches, or by taking part in outdoor activities such as hiking, camping, and fishing. Texas is also known for its delicious cuisine, including BBQ, Tex-Mex, and seafood, making it a foodie's paradise. Furthermore, Texas is home to a variety of cultural attractions, including museums, art galleries, and live music venues, offering something for every interest and budget. With its warm climate, friendly people, and endless opportunities for adventure, Texas is a must-visit destination for tourists.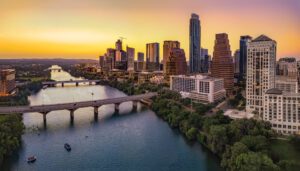 The Alamo
The Alamo is a historic site located in San Antonio, Texas, and is one of the most important landmarks in the state. It is best known as the site of the Battle of the Alamo in 1836, where a small group of Texans fought and lost their lives against a much larger Mexican army. Today, the Alamo serves as a museum and memorial, showcasing artefacts and exhibits that tell the story of the battle and the brave individuals who fought there. Visitors can tour the grounds, including the chapel and Long Barrack, and learn about the history of the Alamo and its significance to Texas and American history. The Alamo is a must-see attraction for anyone interested in American history and the fight for independence.
The San Antonio River Walk
The San Antonio River Walk is a scenic pedestrian pathway located in the heart of San Antonio, Texas. It is a popular destination for tourists and locals alike, offering a peaceful escape from the hustle and bustle of the city. The River Walk winds its way along the San Antonio River, passing by shops, restaurants, and historic landmarks, such as the Alamo. Visitors can take a leisurely stroll along the River Walk, enjoying the lush foliage and beautiful views of the city. The River Walk is also home to several annual events, including parades and festivals, making it a lively and vibrant area. Whether you're looking to relax, dine, or shop, the San Antonio River Walk is the perfect place to experience the beauty and charm of this unique city.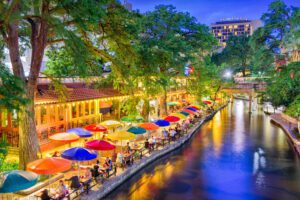 Houston Space Centre
The Houston Space Centre is a must-visit destination for anyone interested in space exploration and science. Located in Houston, Texas, it is the headquarters of NASA's human space flight program and offers a unique and exciting experience for visitors of all ages. Visitors can take a tour of the centre and see the historic Mission Control Room, as well as experience interactive exhibits and simulators that showcase the latest technology and advancements in space travel. The Space Centre also offers exclusive behind-the-scenes access to real-life astronauts and scientists, allowing visitors to learn about their experiences and hear their stories first-hand. With its focus on science, technology, and education, the Houston Space Centre is a fascinating and educational destination for tourists of all ages and interests.
Music in Austin
Austin is known as the "Live Music Capital of the World," and for good reason. Tourists should visit Austin for its thriving music scene, offering a diverse range of musical styles, from indie and alternative to country and blues. Austin is home to numerous live music venues, ranging from outdoor stages to historic theatres, providing a vibrant and energetic atmosphere for visitors to experience the city's musical offerings. The city also hosts several music festivals throughout the year, including South by Southwest (SXSW) and Austin City Limits Music Festival (ACL), attracting both local and international musicians and music lovers. With its passionate music community, Austin offers a unique and unforgettable musical experience for tourists.

BBQ and Tex Mex
Texas is known for its BBQ tradition, with its unique style of slow-smoking meats over oak or mesquite wood to create juicy and flavourful dishes. The BBQ food scene in Texas is a must-try for visitors, with many cities, such as Austin, Houston, and Dallas, offering a range of BBQ joints serving up traditional and creative dishes, as well as BBQ competitions and festivals celebrating this iconic cuisine. Texas is also renowned for its Tex-Mex cuisine, a unique fusion of Mexican and Texan flavours and ingredients. Visitors can experience the best of Texas' Tex-Mex scene by visiting traditional Tex-Mex restaurants, such as Matt's El Rancho in Austin, or by taking part in food festivals that celebrate this delicious cuisine.
For more inspiration and reasons to visit Texas, visit https://www.traveltexas.com/.
www.touramerica.ie
01 8173558