Travel Insurance is not the most exciting aspect of your holiday, but it is a necessity.
Tour America have arranged a special travel insurance policy with Blue Insurance Ltd, Ireland's leading supplier of travel insurance to suit our client's requirements.
Booking insurance for your holiday is crucial. The full terms, conditions and exclusions are incorporated in the Master Certificate which alone constitutes the contract of insurance between the insured person and the insurer. Please read the policy as it is important. The insurance shall be subject to Irish Law. All insured persons will receive a summary of cover with their booking invoice. You can review our Blue Insurance Policy here.
Blue Insurance Travel insurance prices with Tour America
Below is a sample of the cost of annual multi-trip insurance policies you can book with Tour America.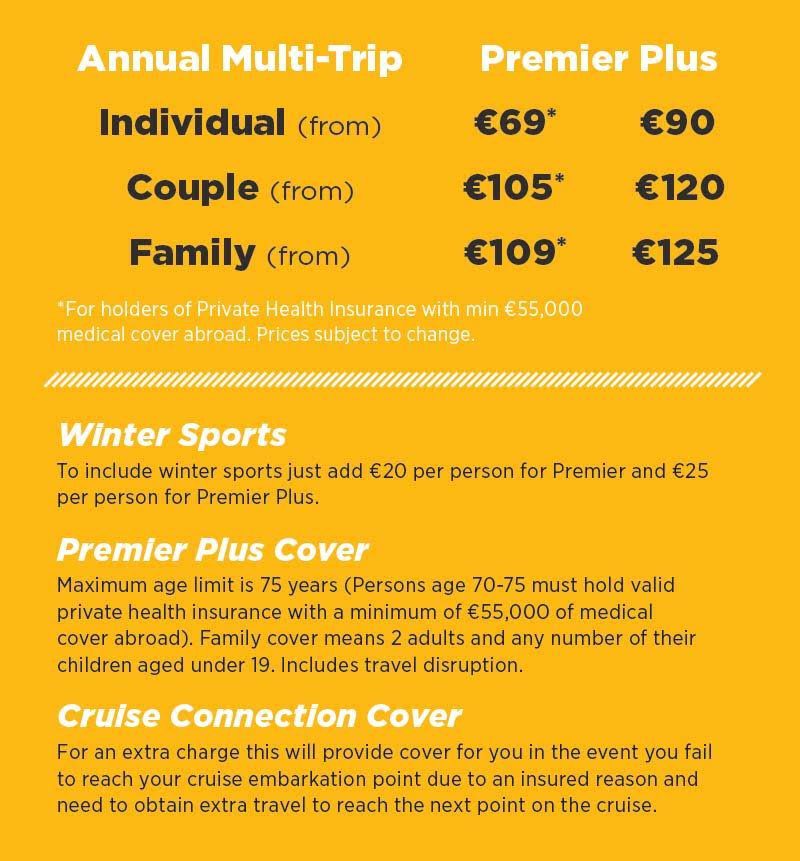 Your Travel Insurance
All Travel insurance policies contain exclusions that you should know about. Please make sure that the cover meets your needs and requirements.
Confirmation of Cover
Insurance must be purchased at the time of booking where you will be given your summary of cover and validation certificate, Tour America and Blue Insurances are now able to text you your policy details or email the policy directly to you. Just tell us your mobile number or email address when booking.
Travel Insurance Cover
An Insurance booklet is available in our offices with full policy information and exclusions. Blue Insurance Ltd is regulated by the Financial Regulator.
Emergency Assistance
A 24 Hours Emergency Assistance is available to all our clients in the event of a medical emergency or curtailment. Please see your summary of cover for details.
Dangerous Activities
If there is an activity that you will participate in then please let us know and we can provide you with cover for an additional premium. Personal Liability is excluded whilst driving mechanically propelled vehicles.
Claim Adjuster
Our claims adjusters are Irish based and will settle your claims quickly and efficiently. Claims forms are available online. Please see your summary of cover for details.
Law
Your Policy is governed by Irish Law.
Important Health Notice
Your insurance states you must declare any pre-existing condition that you or any of your travelling companions may have prior to purchasing this insurance. You should also declare any condition of a close relative that could give rise to you or any of the insured party cancelling or curtailing your/their holiday. See page 5 of your Travel Insurance Cover. If you do not contact Health Check you may not be covered for the pre-existing condition.
Money Back Guarantee
You have the right to seek a refund within 14 days of issue if you are not satisfied with the terms and conditions and provided no claim has been made.
Book your Travel Insurance with Tour America
For more information on booking travel insurance, contact our team of Travel Experts today on 01-8173535.