Aboard the MSC Grandiosa
Deirdre Maher, our Tour America MD recently boarded the MSC Grandiosa and set sail for the Western Med!
"…As a seasoned cruiser, I was looking forward to a week of fun and relaxation in the sun – Our departure was all the sweeter as I looked out at the rain pelting down in Dublin. I have cruised with MSC many times and while I am usually a Yacht Club Member, on this occasion, I was travelling with my sister and her family on their first cruise so we had booked Balcony cabins next to each other.
We flew to Barcelona the day before the cruise departed – I always like to go the day before to avoid any stress. – it also meant when we went to cruise port to check in the next day, we could get there early – before the flights arrived and the queue's started – we were checked in and on-board in 10 mins (video attached showing the check in area and how quiet it was at that time of the morning) Our rooms were available at 2pm on the ship so we did some exploring and then had a nice lunch before heading to our cabins. Our luggage arrived about 4pm.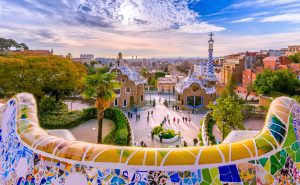 Our cabins were on deck 9 and while my sister was a little concerned about spending a week with 4 of them sharing the one cabin (kids 15 + 12), she loved the cosy cabin and they had plenty of room for their luggage to be stored. Beds were so comfortable, we had to hammer on their cabin each morning to wake them up from their contented slumber. (Tip: ensure your bookings are linked if travelling with other families so your table in the restaurant is assigned together). They were amazed at the size of the ship and the facilities on board, constantly referring to it as better than a five star hotel. Waking up each morning in a different destination was their favourite thing.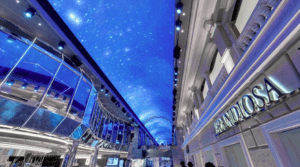 Each day was a new adventure. After rudely awakening our travelling companions each morning, we would head down to the buffet for breakfast. Everything you can imagine to eat is available and it always amuses me to see the plates of  food on those first few days – everything from hot breakfasts to pastries, fruit and even cake on the same plate – too many choices (and calories but hey that's what holidays are for). Fed and watered, it's time to disembark and explore the current destination. We did not book excursions with the cruise line, although their range for each port was impressive. We preferred to do things at our own pace and spent each morning rambling through the towns. Having leisurely coffee breaks and on occasion doing hop on hop off bus tours (a great way to ensure you don't miss out the must see tourist attractions in each city). Tip: Bring Photo ID with you when you get off the ship as it may be required at customs when re-embarking. Back onto the ship for lunch (often a late lunch- buffet is open until 4pm for lunch) then an afternoon enjoying the sun and pools and maybe one or two cocktails… as you do.  Tip prebook your drinks package if not already included, it's cheaper to book before you go than on board and its really great value for money – our premium  drinks package included all drinks and cocktails up to $14 including wine and champagne – kids package covered all their soft drinks and ice-cream – a dream for parents!!
A quick change for the evening's activities, a day planner of all the activities are left in your stateroom the previous evening detailing the theme for the next day and night. Fun nights like White night where everybody wears white and there is a white party on the pool deck, to 60's and 70's night where all music is relevant to that era and the staff dress up accordingly. There is a formal night, but it's your own version of formal – for some it's their best jeans and shirt, for others tux and cocktail dresses!! Dinner in the restaurant was fabulous, great options and food was delicious. We did dine in the buffet on a couple of occasions being too full from a  late lunch for a 3 course meal – Full  buffet with huge variety of  food is available every evening. Next off to the theatre to see a show. There is a different show every day – 3 showings so you can fit it in around your dining times. The entertainment was superb. Tip – Book the show early each day – they fill up quickly. It's very easy to book on the interactive screens located everywhere on the ship. Show over, we headed to our favourite bar to enjoy music and dancing to the wee hours. There are plenty of options for the kids too. They happily enjoyed the 4d cinema / VR maze / arcade games and the F1 experience. (There is an additional cost for these), they even had their own lounge for teenagers with PlayStation and Xbox consoles available. Happy teenagers = happy parents.
As first time cruises, my sister and her family have been converted. The value for money, freedom from the constant handing over cash to the kids while on a sun holiday, sumptuous surroundings, beautiful accommodation, fabulous entertainment, service with a smile and seeing so many different cities was a winner. 2024 Cruisers lets be having you.
Information on the Itinerary
1st Stop was Barcelona. We did the Red bus hop on hop off tour which was great value for money. It's a full 2 hours if you don't get off so leave plenty of time to ensure you can get off at all the best tourist spots. Afterwards, we took a stroll down Las Ramblas , a gorgeous street with lots of bars and restaurants. Early night in anticipation of boarding our Cruise the next day.
Our first day was a full day at sea, which was perfect, time to chill and relax by the pool and further explore the ship.
Our first port of call was Tunisia. A scorching day of 45 degrees – we did not venture far from the ship but the port has a lovely area with a souk shopping centre and restaurant. After picking up a few mementos, we headed back to the ship and the relief of some air con!!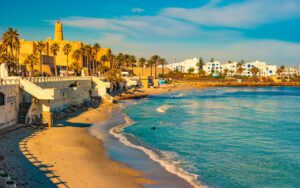 Next stop was Palermo. Palermo is the capital city of the Italian island of Sicily. The 12th-century Palermo Cathedral houses royal tombs, while the huge neoclassical Theatre Massimo is known for opera performances. Also in the centre is the Palazzo dei Normanni, a royal palace started in the 9th century, and the Cappella Palatina, with Byzantine mosaics. Busy markets include the central Ballarò street market and the Vucciria, near the port. The city is accessible on foot, just a short stroll from the port.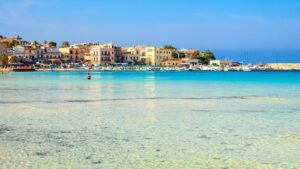 Next stop – Naples, famous for Pizza. There are over 500 churches in this beautiful city. Also famous for its active volcano Mount Vesuvius. We were able to walk into the city from the port. Took about 10 minutes to reach the edge of the narrow streets filled with shops and restaurants. Really quant and wonderful atmosphere. Loved it.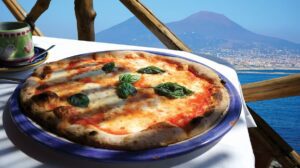 Next stop was Genoa, one of my favourite places, a beautiful city with fantastic buildings and vibrant market stalls.  It was the birthplace of Christopher Columbus (1451). It is also famous for Pesto with lots of stalls and shops selling the freshly made pesto and lots of chances to taste the delicious varities. Again you can walk from the port into Genoa. It takes about 20 minutes around the harbour but there is so much to see along the way the walk is lovely. Further in, is an area known as The Palazzi dei Rolli , this area of the city contains the most beautiful and prestigious buildings in Genoa called "i Rolli" . These magnificent buildings were the residences of the Genoese nobility, between 1500 and 1600.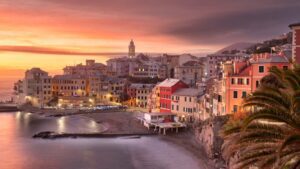 Last stop before returning to Barcelona was Marseille in France. The center of Marseille which houses a fabulous harbour and bustling restaurants and bars is not accessible by foot and a transfer is required. The Cruise line left transfer vouchers in our rooms the evening before (extra charge) which we could use if we were intending to travel into Marseille. I have been a couple of times so was not fussed this time and preferred to say onboard and soak up the sun with a chill day before heading home the next day…."