Cruising Dubai with MSC Cruises
Cruising Dubai with MSC Cruises is an unforgettable adventure that combines the luxury and comfort of a modern cruise ship with the awe-inspiring sights and experiences of one of the world's most vibrant and cosmopolitan cities. Dubai is a city of contrasts, where ancient traditions meet modern architecture and technology, and MSC Cruises offers an unparalleled opportunity to explore it all.
From the moment you board your MSC cruise ship, you'll be surrounded by the amenities and entertainment options that make cruising such a unique and enjoyable experience. Whether you want to relax by the pool, hit the gym, indulge in a spa treatment or catch a show in the theatre, there's something for everyone on board. And as you sail towards Dubai, you'll be able to enjoy the scenic views of the Arabian Gulf from the comfort of your cabin or the ship's many observation decks.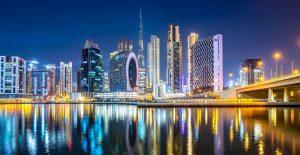 When you arrive in Dubai, you'll be greeted by a city that is both ancient and modern, traditional and cosmopolitan. With its towering skyscrapers, luxurious shopping malls, and world-class dining and entertainment options, Dubai offers an unparalleled glimpse into the future of urban living. But it's also a city with a rich history and cultural heritage, with ancient mosques, bustling souks and historic neighbourhoods that offer a glimpse into a bygone era.
During your stay in Dubai, you'll have plenty of opportunities to explore the city's many sights and attractions. Take a tour of the Burj Khalifa, the tallest building in the world or visit the Palm Jumeirah, an artificial island that is home to some of the city's most luxurious resorts and hotels. You can also visit the Dubai Museum, which offers a fascinating look into the city's past, or take a desert safari and experience the natural beauty of the surrounding landscape.
One of the highlights of cruising to Dubai with MSC Cruises is the exceptional service and attention to detail that you'll experience throughout your trip. The crew members are friendly and knowledgeable, and they go out of their way to make sure your experience is enjoyable and stress-free. Whether you need assistance with your luggage, have a question about your itinerary, or simply want a recommendation for a local restaurant or attraction, the crew is always available to help.
Overall, cruising to Dubai with MSC Cruises is an exciting adventure to one of the world's most vibrant and cosmopolitan cities while onboard a magnificent and lavish vessel. It's an experience that you'll cherish for years to come and one that you'll be eager to repeat again and again.
For more information, visit: MSC Cruises
www.touramerica.ie
01 8173558