10 things to do in Tampa Bay
Tampa Bay is one of our favorite Florida cities and the reason for this is the variety of activities you can enjoy in this amazing city! Tampa Bay is located on Florida's Gulf Coast, just a short drive from Orlando and it is the perfect city stop-off on a road trip holiday. In our latest blog post, we're talking Tampa attractions. While there are endless options for you to choose from and enjoy, here are our favorite 10 things to do in Tampa Bay!
BUSCH GARDENS
Busch Gardens is one of Florida's top theme parks. Always a hit with our team and our clients, we love Busch Gardens because of its sensational roller-coasters. Busch Gardens is home to some of the most thrilling rides around. Spanning 300 acres of exotic lands, Busch Gardens is also home to more than 12,000 animals, restaurants, shops, games and more. Some of our favorite rides include Sheikra, a 200 foot tall, floorless dive -coaster, Cheetah Hunt, a triple-launch roller-coaster, Cobra's Curse, a family spin coaster and of course, the brand new Tigris, Florida's tallest launch coaster!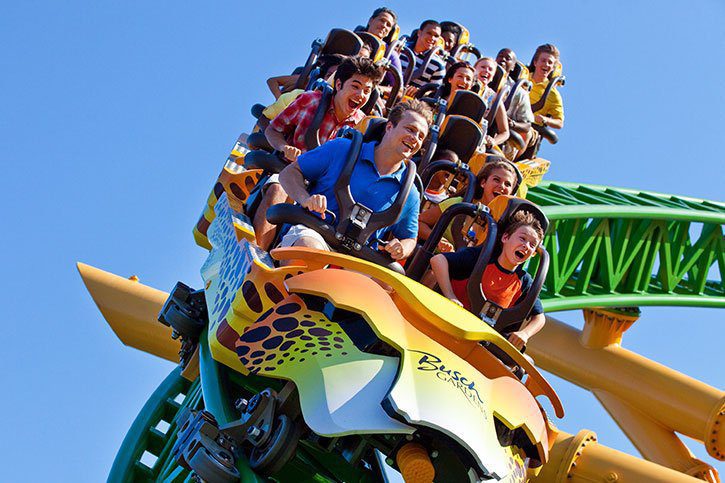 SHOP, SHOP, SHOP!
Tampa Bay is a brilliant city for shopping. The International Plaza is a must visit mall and it is home to 200 stores, 16 restaurants and many favorite shops including Gucci, Dillard's, American Eagle, Disney Store, GAP, Victoria's Secret and so much more. The Tampa Premium Outlets are a must visit for those bargain hunters and this brilliant outlet mall is home to COACH, GAP, Michael Kors, and Nike, to name but a few. For a more unique shopping experience, check out Hyde Park Village, a beautiful district of Tampa Bay which features a boutique shopping experience.
EXPLORE YBOR CITY
Ybor City, aka Cigar City is a must visit in Tampa Bay. This historic Latin Quarter was once the former center of cigar manufacturing and today, it is known for its daytime lunching, shopping, cigar smoking and coffee sipping. At night, Ybor City comes to life in an entirely new way with its exciting nightlife scene. It is a must visit in Tampa Bay!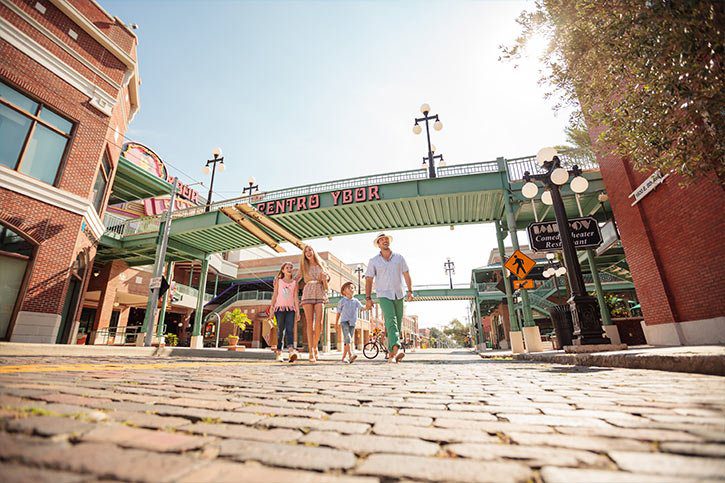 LET YOUR IMAGINATION RUN FREE AT THE GLAZER CHILDREN'S MUSEUM
The Glazer Children's Museum is a brilliant, interactive, learning laboratory where discovery and play integrate and come to life. The Glazer Children's Museum connects little ones to the world around them as they play through a number of exhibits. Work in a Vet Clinic, become a sailor on a Cruise Ship or leap to stardom in the Twinkle Stars Theater, it is all possible at the Glazer Children's Museum.
GET OUT ON THE WATER
Being on the water, Tampa Bay offers lots of opportunities to get active on your getaway! While there, we really recommend you try kayaking, paddle-boarding or canoeing, three water-sports that locals love to enjoy. You can also enjoy boat tours of the Bay, which we really recommend for some gorgeous views.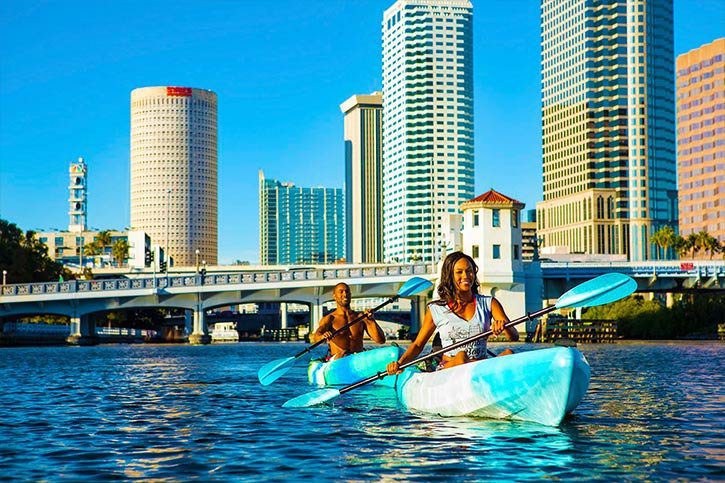 STROLL ALONG BAYSHORE BOULEVARD
Bayshore Boulevard in Tampa Bay is a 4.5 mile continuous sidewalk which hugs the Bay. It is the perfect place for a stroll, run or cycle! It's even prettier at sunrise! With the water on one side and beautiful homes lining the sidewalk the other side, this flat walkway is just gorgeous and very family friendly.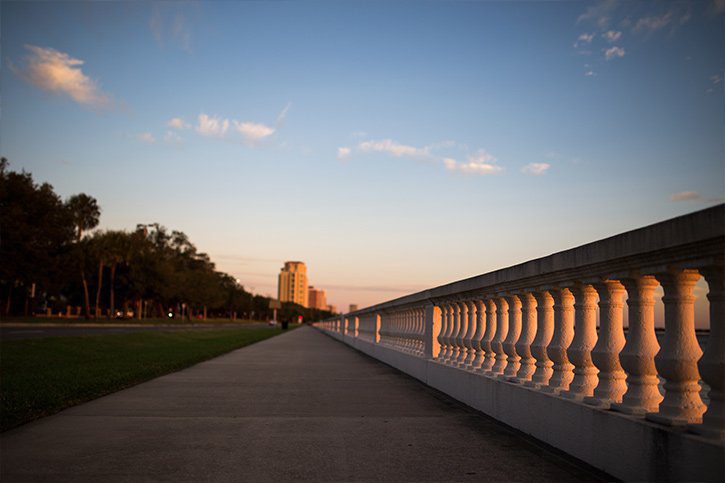 DISCOVER DINOSAUR WORLD
If you're visiting Tampa Bay with your little ones, check out Dinosaur World! Throughout this unique attraction, which spans 20 acres, you can learn all about the world's most incredible residents which once roamed the earth. The park is home to interactive exhibits, playgrounds and more.
EXPLORE THE FLORIDA AQUARIUM
Connect with the sea at the Florida Aquarium! The Florida Aquarium is one of Tampa's most popular attractions, and here, you can get up close to aquatic and terrestrial animals and ecosystems from both Florida and around the world. More than just an attraction, the Florida Aquarium works to protect our oceans and they are heavily involved in conservation, research and rescue efforts, all of which you can learn more about throughout the experience.
DINE, DINE, AND DINE!
One of the most exciting things about Tampa Bay is the food scene! Tampa restaurants will truly take your taste buds on a journey during your stay. With diverse flavors, a seafood flare, cutting edge steaks and a so much more, including Florida's oldest restaurant, gastronomical treasures await you across all four of Tampa Bay's neighborhoods.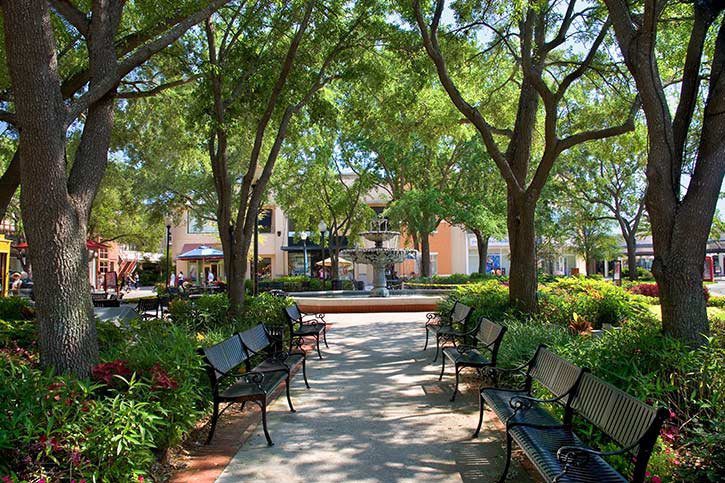 SAIL AWAY ON A CARIBBEAN CRUISE
Did you know that Tampa Bay is one of Florida's best cruise ports!? We at Tour America/Cruise Holidays are big cruising fans and we think a Caribbean cruise after your wonderful Tampa Bay holiday is the perfect addition to your trip. Royal Caribbean and Norwegian Cruise Line both offer sailings out of Tampa Bay giving you lots of cruise options for your holiday.
Aside from the above, Tampa Bay has dozens more amazing attractions for you to enjoy making it one, awesome action packed destination! If you're thinking of a Florida holiday and would like more information on Tampa Bay, our team have experienced the city first hand and would be delighted to help you plan an unforgettable holiday! You can contact our Award-Winning Travel Experts on 01-8173562 or via the contact form below.