Hotels in Miami
Hotels in Miami are as chic as the city itself. With minimal, arty design and luxurious spas you will feel like a rock star in any Miami hotel. South Beach is the most popular area to stay in but the whole of Miami offers excellent choice of accommodation. If you are hoping to stay outside of the South Beach area, we would recommend you hire a car.
THE HOTEL OF SOUTH BEACH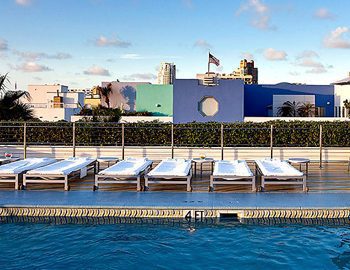 The Hotel of South Beach is a is a lovely hotel located on 8th street spanning from Collins Avenue to Ocean Drive and it is just steps away from the beach and the area's most popular cafe's, museums, nightclubs and retail shops. The hotel was built in 1939 by master architect L. Murray Dixon. It features a rooftop pool with panoramic ocean views and on the rooftop also lies the Spire Bar & Lounge. The accommodations come with flat screen TVs, iHomes, Keurig coffee/tea maker, mini bar, in room safe Leisure: There is also free wifi on-site and parking is available at a fee.
FONTAINEBLEAU MIAMI BEACH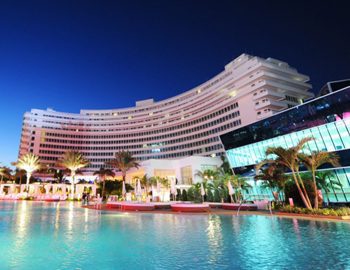 The Fontainebleau Miami Beach is a spectacular Golden Era glamorous and luxurious hotel. At the Fontainebleau you can expect a mix of striking design, contemporary art, music, fashion and technology as they all merge into a new kind of guest experience. Guest-rooms at the Fontainebleau come with AC, cable TV, telephone, mini bar, in room safe, hair-dryer, high speed internet access, in room iMac and iron/ironing board. Complimentary access to the Fitness Studio is available for hotel guests, and there is a world-class spa with 30 treatment rooms. You will also find 11 restaurants, lounges,bars and a nightclub on-site.
THE JAMES ROYAL PALM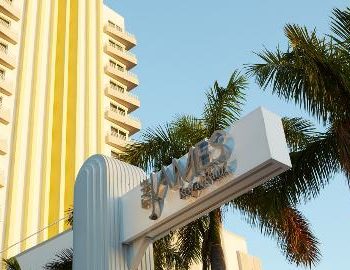 The James Royal Palm combines the heat of South Beach with Art Deco architecture. This stunning hotel overlooks the tranquil blue waters of the Atlantic Ocean and it's just moments away from the night-life and excitement of Ocean Drive. The guest-rooms come with complimentary WiFi and triple distilled water, nightly turn-down service (on request), custom robe and slippers and complimentary tea and coffee. On-site you can unwind at one of 2 swimming pools, plunge pools, in a cabana or at the spa.
Aloft South Beach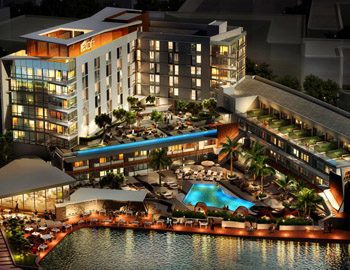 If you're looking for a hip hotel in the heart of South Beach Miami, look no further than the Aloft South Beach. Just steps away from the beach and ocean, Aloft South Beach offer guests an easy-breezy accommodation option where being cool comes at no effort. Enjoy trendy eateries and lounges or relax in your Aloft rooms; all of which feature a walk in shower, custom amenities by Bliss Spa, 42inch flat screen TV and an ultra-comfortable signature bed.