Karen and Tina's Experience Onboard Symphony of the Seas
We were lucky to be invited by Royal Caribbean to attend their Seminar at Sea, to experience and learn about this amazing ship.
Symphony of the Seas is the 2nd largest ship at sea – at the moment!  The total number of passengers – 6680 and 2200 crew. This ship is a great option for all travellers, it is especially good for multi-generational families and couples looking for fun and adventure. With 23 dining venues to choose from, this fabulous ship offers something for everyone!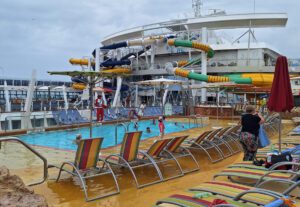 We boarded the ship in Barcelona, we had checked-in via our Royal Caribbean App and completed our safety procedures before we boarded the ship this meant our embarkation was seamless. A crew member takes your luggage at the port, leaving us free to start exploring this amazing ship.
As it was lunch time when we boarded, we decided to grab a bite to eat first so we headed to El Loco Fresh, a Mexican style buffet. They also had the best nachos and you can grab and go and eat poolside. We spent the rest of the afternoon exploring this huge ship.
We stayed in an Ocean View Balcony stateroom, which we found spacious for two adults, beds were very comfortable and had a modern bathroom. Our room attendant was extremely helpful and nothing was an issue. Our stateroom was also cleaned, serviced and turned down everyday.
We made the most of the complimentary dining, with 8 complimentary dining options you will never go hungry. If you are looking to do something a little more special,you also have the option of eating at specialty restaurants which can be booked and purchased before you cruise or onboard. We picked Wonderland, if you are a foodie then this is a perfect restaurant for you!
Wonderland Imaginative Cuisine is all about pushing the culinary envelope. This magical experience is designed to tantalise your taste buds and a visual feast for the eyes. If you are adventurous with your food the MadHatter will pick your starters so trust the process its worth it! and there are lots of surprises throughout the meal. It is definitely one I won't forget.
The latest Royal Caribbean AquaTheater show is HiRO which includes stunts, and extraordinary acrobatics. HiRO pushes the limits of a theatrical production at sea. It is hard to believe you are sailing when these amazing artists are performing in this show, it has to be seen to believe! We also attended the Ice Skating show 1977 and the Broadway style show Hairspray. It was amazing and all this entertainment is included in your cruise fare!
One of our favourite destinations was La Spezia. This beautiful Italian port city is only a short stroll from the port. From La Spezia we took a short 15 minute train journey to Manarola, one of the Cinque Terre villages. Manarola is a beautiful village with colourful houses clinging to steep terraces, the harbour is filled with fishing boats. We enjoyed lunch and looked out at the fabulous sea views and colourful houses.
We disembarked in Civitavecchia and we took the train to Rome and spent the day taking in the sights of this beautiful city before we took our flight home.
If this sounds like an ideal holiday for you check out our cruise offers here or contact our team here to discuss your dream cruise holiday.
www.touramerica.ie
01 8173558