Lorraine's Cruise Experience Onboard Odyssey of the Seas
Day 1:
Our family boarded Odyssey of the Seas in Rome (Civitavecchia) port – approx. 50 minutes from Rome City and Rome FCO airport. We had stayed in the San Giorgio hotel in Civitavecchia the night before. We strolled around the streets of Civitavecchia and ate in the local restaurants. It was a nice start to our holiday.    
We were are at the port at 11:00am. You can prebook a transfer from the hotel to the port – that takes just five minutes. The first impressions, after you are stunned by the size of this ship, is how organised and smooth the check in process was, our bags were tagged and taken from us nice and promptly and then we got to do our health check in and our photo id validation with our guest services executive on the second floor at the terminal, and then we headed on by about midday.
Your staterooms are not ready usually until 1.30pm but that's ok – there was plenty to explore before we started to unpack. We had a balcony stateroom on deck 11. There was four of us, two adults and two teenagers. The stateroom had all the facilities you expect – safe, minibar, hairdryer, towels. Our stateroom assistant Carlo looked after us so well over the next week. Each evening he would convert our sofa into a pull out double bed – we had turns in who slept where, which was part of the fun! We came back to our stateroom to lots of fun surprises – always nice touches.
We dined in the Teppanyaki restaurant on the first night. It was brilliant, a great performance by the chefs and waiting staff along with really good food. It's really interactive and fun.
Day 2:
Our second day was a day at sea, which was a great way to start the holiday and get to know the ship. The pool areas are quite busy. Both outdoor pools allow children and there is a dedicated small water play area for younger kids. It was reassuring to see the number of lifeguards on duty at all of the pool areas. There is a hive of activity around the pool – the Lime and Coconut Bar serving lots of cocktails and ongoing music entertainment of various bands and musicians.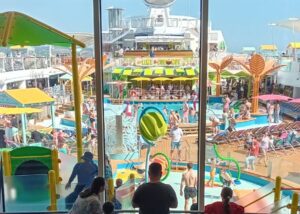 If you would like something more chilled I would recommend the Solarium area – a large indoor pool area with hot tubs and jacuzzis and their own bar and restaurant for adults only. It was a lovely place to relax and read a book.
We ate in Wonderland on our second night, a beautiful venue and a great experience on how they present their food. But, would have to say the quality of the food was not as good as the other restaurants onboard.
Day 3:
Our first port of call was Santorini – so pretty. However, as there is so many ships in the bay on the same day, once you get off your tender in the port – there was over an hour queue to get the cable car to the top of the island to Fira where the restaurants, shops and views are located along with access to the other village Oia. It is €6 each way on the cable car. Here is an example where an organised excursion might work best here as you will disembark the ship first. 
The views around Santorini are stunning and the restaurants are all so good. We ate in Triana Tavern and really enjoyed it. You are spoiled for choice with the shopping – lots of local produce and all presented so well, unlike our next port of call in Turkey there is no pressure to buy! The ship sailed away at 10pm, so we got to enjoy the famous sunset at about 8.20pm.
Day 4:
Our next port of call was Kusadasi – we prebooked a private tour to visit Ephesus, the House of the Virgin Mary and the Temple Artemis. It was just so good, our guide Meta had phenomenal knowledge of the history of all of these areas.  We had lunch in a local restaurant and felt we got a real flavour of Turkey.  When you walk around the shopping areas there is lots of encouragement to buy their famous products – leather, silk and rugs, though it might depend on your baggage space and your budget!
Day 5:
This day was Mykonos. There are sea bus ferries from where the ship docks that takes you to the main Mykonos town. It's 2.00 euro each way and they only accept cash/coins. I recommend getting off at the third stop at little Venice. You can explore some many lovely areas. The small streets of Mykonos are just so quaint and beautiful, we loved the little boutique shops and the restaurants were so vibrant – great choice of fresh fish and a great atmosphere. It's possible to walk to some local beaches and enjoy some sunbathing and swimming or you can take some of the many ferries or transport options to some of the other renowned beaches in Mykonos.
Day 6:
Our next day was at sea and we participated in lots of activities onboard like sports trivia competitions, name that tune and then RipCord where you get to experience sky-diving on a ship. This was great fun and scary!
Over the past few nights we went to various shows such as ShowGirl, Bingo, Paul Leddin, Karaoke competitions, a Silent Disco and an 80's night. All of the activities were so entertaining. The Royal Caribbean onboard team know their audience and ensure they cater for all nationalities and ages.
Day 7:
Our last day was Naples. It's so easy to explore the Amalfi Coast. We have been to Capri and Pompeii before so we wanted to go to Sorrento and have some of their famous pizza, which was really fab. There are ferries from the port approx. 200 metres from where you disembark offering ferries to Sorrento, Capri and Ischia. It was approx. 30 euro each return. I would encourage if you wanted to do some of the main sights in this area to take an organised excursion. The guides are so knowledgeable and your are brought directly to the key areas.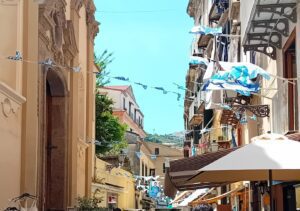 Our last night we packed up our bags ready to be taken off by the porters and dined in main dining restaurant. The main restaurant is so nice. The waiting staff are friendly and really care that you have a lovely dining experience with them.
Our family cruise was so memorable. Odyssey of the Seas and cruising with Royal Caribbean is a great family holiday. The organisation and the professionalism of the crew onboard are so impressive. Thank you to the Cruise Holidays team for helping us plan this fantastic holiday. This cruise was a 7 night Greek Isles cruise departing on 28th May 2023.
Before you go on your cruise – these would be my top tips:
Download the RCL app in advance

– you will get lots of reminders and you can keep up to date at all times on activities onboard, your onboard account and your own personalised calendar.

Purchase your drinks packages, internet packages and dining packages before you cruise

– my experience is that it's cheaper this way.

Prebook your speciality dining restaurants in advance

along with key activities such as North Star, RipCord and shows.

Do your research on each of your ports of call

– there are pros/cons to exploring some of these destinations independently. So take a cruise organised excursion or book your own private tour. The cruise specialists at Cruise Holidays can help you with this.

Always have some euros/dollars/local currencies

for various things such as local buses, using some toilets, lifts where there can be a nominal charge and only cash is accepted. Euros are widely accepted.

Remember to turn your data roaming off on your mobile in non-EU countries

as these rates can be quite high.

Surf & Stream internet is easy to use and transfer from one device to another

– we bought 2 packages and it worked well.

Join the Crown & Anchor Society

if you haven't done already. Make sure you are aware of your loyalty level and check the benefits you are entitled to when you go on your cruise and check you are availing of the offers onboard.
Facts about Odyssey of the Seas:
Odyssey of the Seas measures 1,138 feet (347 m) and has a gross tonnage of 167,704, with 16 decks. The ship accommodates 4,198 passengers at double occupancy up to a maximum capacity of 5,510 passengers, as well as a 1,663 crew. There are 14 decks for guest use, 15 restaurants, 2 pools and 2,105 cabins. Facilities include a Wave Loch Flowrider surf simulator, a rock-climbing wall, a skydiving simulator, swimming pools, an observation pod, bumper cars, basketball court, a solarium, a Spa and Fitness Centre, a theatre and a casino.
If this sounds like an ideal holiday for you check out our cruise offers here or contact our team here to discuss planning your dream cruise holiday.
www.touramerica.ie
01 8173558