Orlando for 16 nights
Airport Experience
Day before departure, we couldn't quite get into the usual holiday excitement mode until we had the green light with our negative covid antigen test. Had tests at 7.00 am previous morning and got results just before 10.00 am so holiday mode officially kicked in then.
Day of departure, arrived at Dublin Airport 4 hours pre flight time contrary to 3.5 hours advice from DAA and found it just about adequate to get through security and immigration while allowing just enough time to catch a coffee. Check-in was fast due to all our necessary documents having been pre loaded onto the Verifly App and only took about 5 minutes to check in our bags. Our check-in agent commented how updating the App saves considerable time at check-in. We were flying to Philadelphia and then had a 2.5 hour stopover before our flight to Orlando but were able to check our bags straight through and were also provided with both sets of boarding cards. Clearing security took about 20 minutes and all available lanes were open and moving efficiently.
We grabbed the usual Butlers coffee and had just comfortably finished same when our designated time appeared on the board to go to immigration. Haven't travelled to USA since 2020 so I'm not sure if this is a new process where each flight is given an allocated time to arrive at immigration but seemed to work well.
Security at immigration was quite busy, took approx another 20 minutes to get through but again was well staffed and moved as efficiently as possible. The queue for the Immigration Officer desks meandered right back to where you exited security so we knew we would be some time here, approx 40 minutes. Little bit of panic here from passengers as boarding closing calls were coming over the tannoy intermittently but staff seemed to usher passengers to the top of the queue when necessary.
Managed to grab a very rushed drink on other side of Immigration before we were called for boarding so if you're of the need for a stiff drink before venturing onto the plane I would definitely give yourself a minimum of 4 hours arriving pre flight.
Orlando
Arrived at Orlando MCO airport at approximately 8.00 pm. Waited about 25 minutes to collect our bags which seems to be an average time for this airport. Connected to wifi straight away and ordered our Uber to hotel . We had downloaded the Uber app and found this to be considerably cheaper to use throughout our whole holiday compared to the taxis. We had got the An Post Currency Card (same functionality as a debit card) before we went and preloaded it with most of our cash so we could then connect it to our Uber app. Very handy, allows you to pay and also tip the driver so you don't have to deal with cash. This card is a multi currency card and can be used in 16 denominations.
Hotel
Reached the Universal's Endless Summer Resort – Surfside Inn and Suites in about 20 minutes. First time staying here and will definitely return. We had booked a Family Suite, consisting of a bedroom with one double bed and then a kitchenette/sitting room with two double beds. Perfect if you are travelling with teenagers who are too old to share. The room also had a table and benches, very handy for room service. It's sister hotel, Universal's Dockside is directly across the road but is of a much larger scale so be considerable busier during peak times.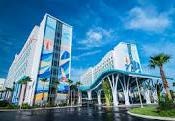 A great perk of staying in a Universal Hotel is that you can avail of an "Early Park Admission" which allows you to enter the Universal Parks an hour earlier than regular guests. This can be very beneficial during peak times as queues for rides can exceed 200 minutes at times.
There are 4 types of Universal Hotels you can stay in – Value Hotel, Prime Value Hotel, Preferred Hotel or Premier Hotel. All giving you the Early Park Admission but the Premier Hotels giving you the Universal Express Unlimited Pass. This is a pass which enables you to skip the regular lines but be warned, read the small print as it's not valid for all rides, namely the most popular and newest rides such as Hagrid's and Jurassic World VelociCoaster.
Theme Parks Tips
There are 3 Universal theme Parks, Islands of Adventure, Universal Studios and Volcano Bay. All of the Universal Hotels provide transport services to each park and buses run approximately every 5 minutes from 1 hour before park opens right until 1 hour after the eateries and bars close. You can walk from Islands of Adventure over to Universal Studios and go back and forth as often as you like so long as you have a 2 park pass.
We had purchased our theme park tickets before we went from Attraction Tickets, a 6 park ticket for 14 days (other 3 parks being Seaworld, Aquatica and Busch Gardens which are not Universal parks) but you can buy park tickets at your hotel in various combinations, i.e. 1 day 3 park ticket, 2 day 2 park tickets etc.. However, the 14 day explorer ticket offers the best value from all ticket retail outlets.
Another advantage to getting the 14 day pass is that you can upgrade it on your last day to an Annual Pass for between $30 – $130 each, great if you plan to come back within the year.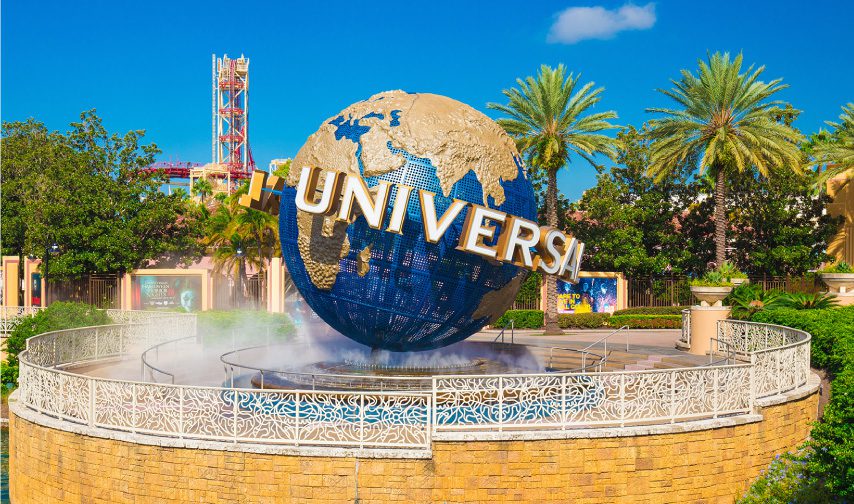 A great perk of staying in a Universal Hotel is that you can avail of an "Early Park Admission" which allows you to enter the Universal Parks an hour earlier than regular guests. This can be very beneficial during peak times as queues for rides can exceed 200 minutes at times.
Before you go to the parks you can download Universal's app which shows you ride times, park maps and also allows you to order food to collect at specific times. Periodically Universal will allow you to make a virtual reservation for a ride on the app. Wifi in the park is very good so you should have no problems accessing the app.
Park opening and closing hours vary depending on day and time of year visiting so you will need to research these each day but again all this information is on the app. A good tip is to bring some Poncho's to the park for the water rides as you will most definitely get soaked and depending on how you want the day to go, a spare change of clothes.
Theme Parks – Islands of Adventure & Universal Studios
Both of these parks offer a variety of rides for the tiny tots right up to the serious adrenaline junkies. Most popular being Hagrid's and Jurassic World VelociCoaster. Heading straight to these rides during early park admission is advisable or we also found Sunday evenings to have lower wait times.

There are several indoor shows throughout the day in both parks and times can be found on the App, we found these to be a great relief from the sun when the temperatures were in the high 30's.
Theme Park – Volcano Bay
Volanco Bay is the Water park for Universal. Be warned at peak season this will reach its capacity very quickly so early arrival is highly recommended.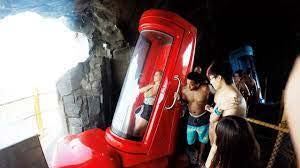 There is something in this park for everyone. You choose to lounge all day on a sunbed or reach test your adrenaline limits on the Ko'okiri Body Plunge, a 70 degree fall through a drop door of 125 feet.
Dining out in Orlando
We had noticed that there were a lot of restaurants and bars closed since our last visit due to covid and also most restaurants and bars were only running at 70% capacity. So if you planned on eating after 6.30 you'd have to be prepared to wait at least 40 minutes for a table. Unfortunately the majority of restaurants won't let you pre book a table.
If you are eating in the Parks you can pre book a table at the Concierge desk cutting out wait times. There is a good choice of food options in City Walk and we often frequented Moe's Burritos, Panda Express and the Bread Box for lunch, all located near the entrance to the parks.
We would recommend CowFish restaurant for dinner but strongly suggest you prebook a table as this gets very busy. Another favourite haunt of ours is the NBC bar and if you have a sweet tooth you have to stop by the Toothsome Chocolate Emporium. Desert definitely to be shared!
Shopping
There are 2 large shopping outlets which are close to International Drive, Orlando International Premium Outlets and Orlando Vineland Premium Outlets. These are well worth a visit and only $8 in a Uber from our hotel. Download the Simon App before you go and avail of extra discounts depending on the time of year. Be sure to bring a spare suitcase.