Princess Cruises Unveils Park19
Princess Cruises has unveiled an exciting new family activity zone called Park19, set to debut on the upcoming Sun Princess ship in February 2024. Located on the top decks, Park19 is designed to cater to all generations, especially teenagers,  with nine engaging activities.
The Sea Breeze is a thrilling ride that simulates hang gliding, providing panoramic views of the ocean and ports of call. The Coastal Climb offers a climbing structure that takes guests from decks 19 to 20, allowing them to enjoy stunning views before sliding back down. At the top of the climb, visitors can explore The Lookout, an open-air observation deck offering breathtaking 360º views.
For those seeking more adventure, The Net presents challenging obstacles like unstable bridges, a z-shaped balance beam and cargo nets. The Infinite Horizon allows guests to experience thrilling heights as they lean over the ship's edge, while the Hammock Area provides a relaxing space for families and friends to unwind.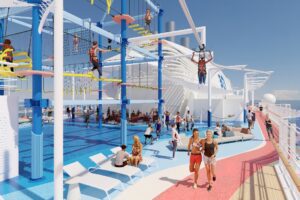 The Splash Zone is a whimsical area with pop jets and a beautiful water sculpture, perfect for refreshing and relaxing moments. The Recreational Court offers a variety of sports and wellness options, including ping pong, shuffleboard, Xponential Fitness classes and morning meditation. Guests can also enjoy a refreshing Jogging Track for outdoor walks, jogs or runs.
Sun Princess also provides additional family-centric offerings, such as the Youth and Teen Centres on decks six and seven. These areas feature age-appropriate activities and spaces for guests aged six months to 17 years. Firefly Park invites young children and their families to explore, play and socialise. Neon Grove and The Underground offer inviting spaces for teens to hang out, play games and participate in various activities.
To enhance connectivity, Sun Princess is equipped with MedallionClass technology, including the OceanCompass shipmate locator and chat feature. Guests can easily stay connected and share their experiences through MedallionNet, making it convenient to post photos and videos on social media.
The 175,500-tonne, 4,300-guest Sun Princess is currently under construction in Italy's Fincantieri shipyard. It will offer a wide range of dining, entertainment and activity options, as well as luxurious staterooms and suites. The ship boasts the highest number of balconies among Princess Cruises' fleet, allowing guests to enjoy the sunshine and breathtaking views of the Mediterranean or Caribbean.
Inaugural cruises for Sun Princess in 2024 will explore destinations such as the Mediterranean, Caribbean, Transatlantic and Europe. Bookings for these exciting voyages are now available. If this sounds like an enticing adventure for you and your family contact our team here to discuss planning your next cruise holiday with Princess Cruises.
www.touramerica.ie
01 8173558