St. Patrick's Day in the USA
St. Patrick's Day is a widely celebrated holiday in the United States, particularly in areas with a large Irish-American population, such as Chicago, New York and Boston. Many cities host large parades and festivals, while others may just have smaller celebrations at local pubs or community centres and feature traditional Irish music and dance. St. Patrick's Day has become a popular holiday in the USA for people of all backgrounds to come together, enjoy the festivities and celebrate Irish culture and heritage. Here are the top St. Patrick's Day celebrations held across the USA.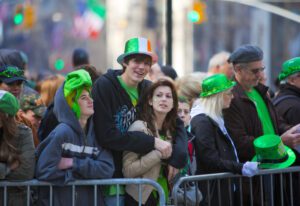 New York 
The Irish population in New York have been celebrating the special day with an annual parade for over 260 years. The New York City parade is the oldest St. Patrick's Day parade on earth. It has roughly 150,000 participants and 2 million spectators each year. The parade features bagpipers, Irish dancers, marching bands and floats, and is a celebration of Irish heritage and culture. In addition to the parade, New York City is home to many Irish pubs and restaurants that serve traditional Irish food and drink. The Empire State Building is also lit up in green on St. Patrick's Day, and the city's iconic landmarks, such as the Statue of Liberty and the Brooklyn Bridge, are often illuminated in green as well.
Chicago
Chicago is another major city in the United States with a rich Irish-American heritage and a strong tradition of celebrating Saint Patrick's Day. The biggest St. Patrick's Day parade in the United States takes place in Chicago, attracting hundreds of thousands of spectators every year. The Chicago parade begins with the iconic colouring of the Chicago River an illuminous green, a tradition that has been going on for over 50 years. Chicago also has many Irish pubs and restaurants that serve traditional Irish food and drink, such as shepherd's pie, Irish stew and unconventional green beer. The city also hosts numerous cultural events and festivals throughout the month of March, showcasing Irish music, dance and art.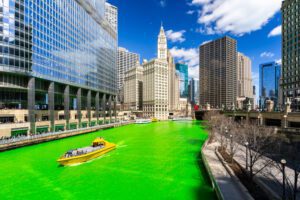 Boston
Boston has a notoriously strong Irish-American community and their heritage shines bright every year on the 17th of March. Their parade features marching bands, bagpipers, Irish dancers and floats and attracts over a million spectators in bright green lining the cities streets. Boston also has its fare share of traditional Irish pubs. The city also illuminates its landmarks, such as the Zakim Bridge and the John Hancock Tower, in green to mark the occasion.
New Orleans
New Orleans is a city known for its vibrant culture and festive atmosphere, and Saint Patrick's Day is no exception. A weeklong St. Patrick's Day celebration follows the iconic Mardi Gras festivities of New Orleans. If you prefer partying to parades than New Orleans is the place for you to spend Paddy's Day, they have a massive block party on March 17th to celebrate the special day. St. Patrick's Day in New Orleans is a unique experience that combines the city's distinctive culture with the festive spirit of the holiday.
Many of the Paddy's Day celebrations in the USA don't actually take place on the 17th of March. This means you can enjoy the day twice, once in Ireland and continue on the celebrations in the USA. Saint Patrick's Day is celebrated with great enthusiasm in the United States, so you won't regret making the trip.
www.touramerica.ie
01 8173558