We know because we GO – Miami!
Our Product Executive, Ruth O'Mahony recently went on a fact finding/scouting mission to Miami, follow her journey as she shares her experience along with some valuable recommendations.

'Being a Product Executive in travel is an amazing job, in short I'm the person who puts together all the information for the brochure that our travel experts use to inspire you to visit a destination. There is a lot of research and data analytics involved but as a reward I get to visit new and well known destinations, pop into lovely hotels for site visits, do all sorts of activities and eat breakfast, lunch and supper at different restaurants. I hope you enjoy reading all about my latest Miami adventure!'
Day one
Having travelled through the very busy security line at Dublin Airport, I cleared pre-clearance US Customs & Immigration which is a real help when traveling to the USA as you can arrive stateside and simply walk out into the arrivals hall with no fuss (very helpful after a long flight) and get your holiday started immediately!
All formalities done, I headed straight to the 51st & Green Lounge to meet the rest of the group. We enjoyed a tipple from the bar and some light snacks. The Green Lounge is bright and airy and offers fantastic opportunities to plane spot while you wait for your flight.
Boarding our Aer Lingus flight was very orderly and we were welcomed on-board by the friendly and professional crew. Having found my way to my window seat I settled in and made myself at home. There was plenty of space to store hand luggage and a sizeable net pocket on the seatback to house my smaller inflight essentials. The inflight entertainment screen was on the seatback which had plenty of films, tv shows, music and games to keep anyone occupied on the 9 hour flight. The food and beverage services were good and we even received a tub of ice-cream mid-flight as a little refresher.
Overall, I really enjoyed the flight and was always comfortable!
After landing in Miami we were whisked off to the Trump National Doral hotel which is beautiful and well-appointed. If you are hoping to be in the heart of South Beach you may want to consider a hotel closer to the action. However, the staff were very friendly and offered an excellent customer experience. There are great facilities including 24 hour gym, Outdoor Pools with Hot Tub, Multiple Dining and lounge options, Marketplace Café & Convenience Store, 4 Golf Courses and Golf Shop, Spa and Tennis Courts.
Our first night in town we met a few locals at Hometown BBQ Miami! WOW, the BBQ was excellent and complimented the earthy atmosphere. It's located in the Allapattah neighborhood which is quirky and mostly frequented by Miami residents. The restaurant is known for its authentic pit smoked meats and traditional sides and it did not disappoint. It also features a wood fired menu that showcases a selection of dishes cooked over live fire and the bar stocks local craft beers and seasonal cocktails, which were delicious. An overall really enjoyable experience with deep south music played by a live band!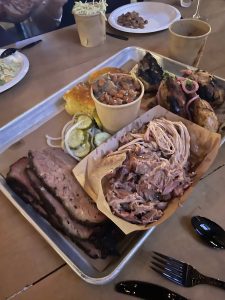 Day Two
A gorgeous sunny day in Miami as we left the hotel and headed to Superblue …I was unsure of what to expect as we arrived in front of a large empty warehouse. Inside there are 3 separate areas designed by different international artists, each with its own unique style and message.
All of the installations are interactive but my favourite was definitely the digital installation by Teamlab "Flowers and People, Cannot be Controlled but Live Together". Imagine moving images such as flowers blowing in the wind and cascading water, projected onto the walls and floors and as you reach out to touch them they react to you! …If you stand against the wall when the waterfall was projected, and the water would appear to reverberate off you… the photos I took don't do it justice but they give you an idea of the awesome interactive experience.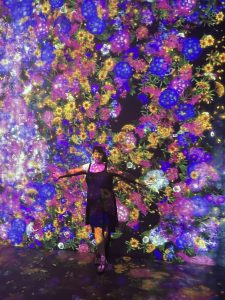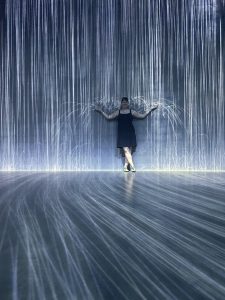 The "Walking in the clouds" installation was also very interesting! Superblue is a very different and unique attraction; it might not be at the top of everyone's list but it is certainly engaging, entertaining and well worth the visit.
We'd worked up quite an appetite so were ready for lunch at Amalia restaurant in the Lennox Hotel where the food can only be described as exceptional! The menu is a fusion of Italian and Spanish to Moroccan and Argentinian. Dishes were unique and inspired using only farm-fresh produce and herbs and locally-sourced meats and seafood. The only thing that comes out the freezer is the fresh water ice cubes that clink elegantly in your iced tea! The restaurant space felt chic but with a down to earth atmosphere and a lively open kitchen. I wouldn't hesitate to recommend this dining experience, even if you're not staying at the hotel.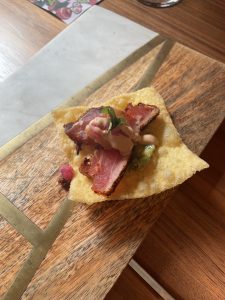 The Lennox Hotel itself is Luxury Boutique. The guestrooms are elegant and bright with a contemporary feel. There is an elegant focus on natural materials with a lot of handcrafted wood furnishings and textured materials that give a very serene feel to each room. There are multiple room types available including Terraced Poolside Rooms as well as Balcony rooms which offer either pool or city views. The pool is a courtyard style offering both sunny and shady areas and the Poolside Champagne Vending Machine is a unique and fun feature. The accommodations and service were fantastic.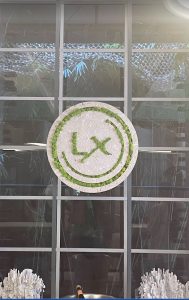 We spent the afternoon meandering through Wynwood Walls where you can see world-renowned artists painting brand-new murals inside the museum. Wynwood Walls museum was created with the purpose of revitalizing Wynwood, Miami's Warehouse district. Its large stock of abandon warehouse buildings, all with no windows, were turned into giant canvases and the world's greatest artists are invited to create masterpieces in the graffiti and street art genre of Miami. Definitely a must see when in Miami!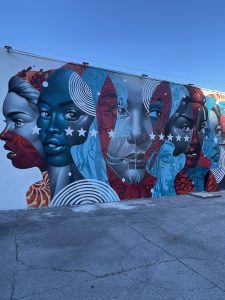 When in city you simply can not escape the influence of Brazilian cuisine and Fogo De Chao showcases CHURRASCO EXPERIENCE deliciously. Our dinner kicked off with the Market Table & Feijoada Bar which is a Starters Buffet that you can visit as many times as you want and includes delicious Brazilian side dishes such as farofa and Fogo Feijoada (the trick is not filling up too much before the Main Course). The Main Course was a series of tableside service offering signature cuts of Fire-Roasted meats including Filet Mignon, Beef Tenderloin, Ribeye, Pork, Bacon, Bacon-Wrapped Chicken and Steak, Lamb Chops, Pork Ribs, Beef Ribs, Spicy Pork Sausage, Double Bone-in Pork Chop and Chicken. 
The Brazilian Side Dishes offered included Cheese Bread, Crispy Polenta Fries, Mashed Potatoes and Caramelized Bananas which were my favourite!!! If you get a chance to dine here, do it!
Day Three
A trip to Miami is just not complete without a visit to the Everglades Alligator Farm. We walked around the farm to see some of the unusual wildlife such as Emu and of course the baby alligators. There was an Alligator Feeding Demonstration before we boarded an Everglades Airboat. What started as a slow meander through the groves quickly turned into High-Speed thrill ride with sudden twists and turns which resulted in most of us getting a thorough soaking! It was great fun!!!!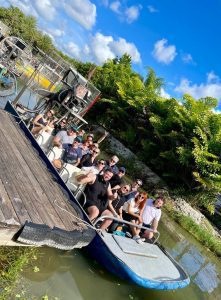 Robert is here is a success story filled with history and American spirit. As a young boy, Robert, began selling his family fruits & veg standing at the side of the road, through hard work and determination it has growth into a popular family-owned and operated fruit stand in Homestead, Florida. The Food Market sells a great assortment of local and exotic produce, mostly grown on the farm. There is a variety of Sandwiches, fresh Salsa, Guacamole and Chips and freshly made smoothies and shakes which were all delicious. Behind the Market is a picnic seating area, an Animal Farm as well as a Play Area for the kiddos. We are told they even have live music on the weekends and holidays! Robert is here is definitely not your ordinary Fruit & Veg stand!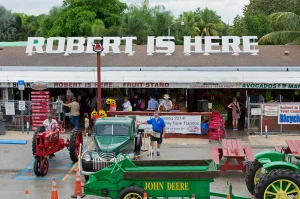 Our next stop was Schnebly's Winery and Brewery, it is the Southernmost Winery in the United States and offers a unique selection of exotic tropical fruit wines which are very different to our traditional Pinot Grigio's, Sauvignon Blanc's or other traditional wine varietals. The winery/brewery offers a beautiful setting with 2 gorgeous waterfalls surrounded by tiki huts where our tasting took place. We enjoyed 5 different wines with undertones of Avocado, Lychee and of course Guava – the traditional flavour profile of the Miami's Latin Community. While each in their own way were very different from each other, they were also much sweeter than our traditional wines, similar to Dessert Wines and when paired with a delightful cured meats and cheese plate are truly unique to the Miami area.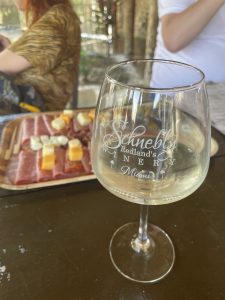 The strawberries may not have been quite ripe but the Sunflowers just coming into bloom were a feast for the eyes! Our last stop for the day was the Berry Farm, which oozes charm and a sense of community. While we were there, the farm was being prepared for the annual Winter Festival and 'Berry' Bright Winter Night events.. to set the scene, a 42ft Christmas Tree welcomes you at the entrance. Erika, our guide told us that throughout the year there are a multitude of attractions, events and activities on the farm including the Sunflower Fields, a Hayride which is a great way to see more of the farm, a shaded Kangaroo Jumping Floor for the kids, a shaded wooden playground, Farmers Market, Juice & Smoothie Bar which offers the most delicious sweet treats and a BBQ & Taco Eatery. For something different, not far from Miami itself, I can definitely recommend it.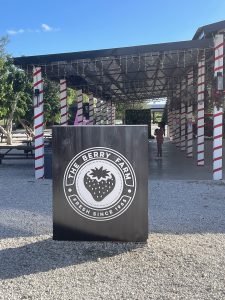 After a quick dust off back at our hotel we headed into Miami's South Beach to dine at the renowned A Fish Called Avalon restaurant at the iconic Avalon Hotel. The seafood can only be described as outstanding and the atmosphere was added to by the live Latin-Caribbean music coming through to the dining room from the expansive front porch. You couldn't for a second forget that you were in Miami. The flavours along with the presentation of each course was truly memorable and shouldn't be missed if staying near South Beach.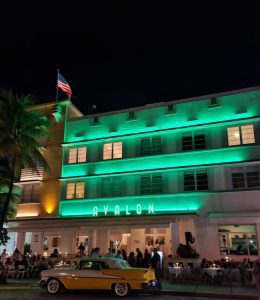 Day Four
Hotel scouting is one of the things I love about my job,  and The Setai Miami Beach Hotel makes it all the more enjoyable. The hotel is located directly on South Beach and has unrivalled, uninterrupted views of the beach and sea (its the highest building in the area). The hotel is 5* and it's not hard to see why. The design, décor and even fragrance throughout the lobby and public areas give a feeling of utter luxury with beautiful furnishing and fixtures. The 2 bedroom Ocean suite we visited offers panoramic views of South Beach as well as the City thanks to its wrap around terrace.
Although we didn't get to stay overnight, we did enjoy breakfast in the stunning Courtyard room. The ambience was peaceful & calming with the chirping of tropical birds flitting through the partially open roof. The selection of food on offer was wonderful with everything you could possibly want from fresh fruit, cooked to order hot breakfast, delicious coffee and excellent service. This hotel has it all for a Luxury getaway!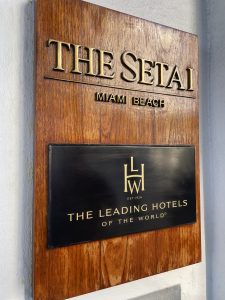 Now ready for the day, we headed for The Bayside Marketplace on Biscayne Boulevard to board the Thriller Speedboat! The trip started with a slow easy exit from the marina passing ultra-luxury yachts along the way but it didn't take long for the captain to hit the throttle and get our adrenaline flowing. The noise of the engine and the spray from the sea water certainly helped the boat live up to its name, Thriller! I'd recommend bringing a dry set of clothes and shoes for afterwards, especially if you sit at the back like I did! There was nothing about this experience that wasn't fantastic!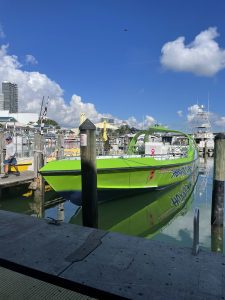 Our Trip comes to an end
Windswept, soaked to the bone but grinning from ear to ear, we made our way back to our hotel to freshen up and have lunch before heading to the airport.
Being on an Aer Lingus Business Class flight for our return journey meant we were able to access the Turkish Airlines lounge for comfortable seating and light refreshments while we waited to board.
The comfort of the Business Class cabin on  Aer Lingus  was evident as soon as we entered. With a Lie Flat Seat, plush Duvet & Pillow and an Amenity Kit including eye mask, earplugs, socks, hand cream, toothbrush & toothpaste we were guaranteed to travel comfortably, rest well and arrive back in Dublin feeling refreshed.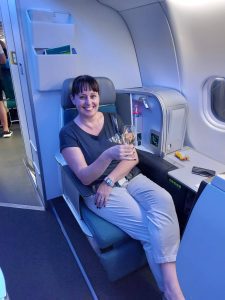 Dinner was served an hour into the flight which for me included Beef Cheek with Potato & Vegetable Gratin, fresh garden salad and a wonderful Pinot Grigio to accompany it. Afterwards there was the offer of a Cheese plate or Cheesecake for dessert but by that stage my bedding looked so comfortable I just couldn't wait to try it out. This was my 'first ever' experience… I slept for 3 solid hours on a plane! It was a wonderfully comfortable sleeping experience in the skies. On waking, I was presented with a breakfast of Fresh Yoghurt & Granola as well as a Warm Bacon Roll and fresh Coffee. Before I knew it we were landing at Dublin Airport, way sooner than I wanted to.. The experience was so good I didn't want it to end.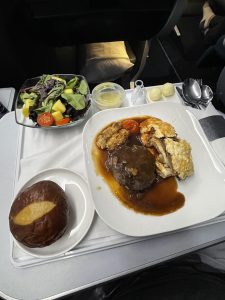 Check out this Miami offer I put together especially for you!
Winter Sun in Miami
For more information call Ruth or one of our Travel Experts on (01) 8173535; they'll be happy to guide you.