Having Travel Insurance is one of the most important aspects of your holiday – please ensure you are covered.
We know travel insurance is not very exciting, but  we just want you to be prepared, and ensure that you can enjoy your holiday without any financial worries of unexpected costs should the worst happen.
Tour America has arranged a special Travel Insurance Policy with Blue Insurance Ltd, Ireland's leading supplier of travel insurance, to suit our clients requirements. We can arrange this for you in a matter of minutes. Please click here for details of what you will be covered for.
If you do not have travel insurance, here are just a few of the costs you could encounter without travel insurance:
Full cost of your holiday should something happen before your departure that means you can no longer travel
No cover for lost/delayed bags
Cost of hotels/accommodation if you have to stay longer due to cancelled/delayed flights
Medical expenses for any medical treatment provided abroad – a simple medical procedure can cost 10s of thousands!
The cost of repatriation if you have to come home unexpectedly
Blue Insurance Travel insurance prices with
Tour America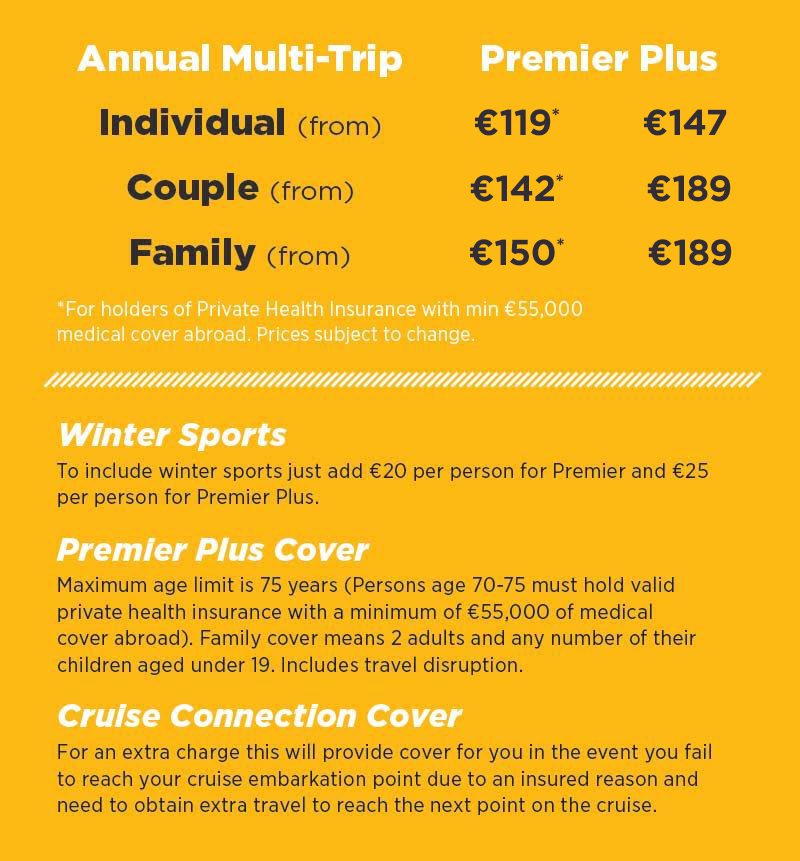 Premium Plus Cover
Maximum age limit is 75 years (persons age 70-75 must hold valid private health insurance with a minimum of €55,000 of medical cover abroad). Family cover means 2 adults and any number of their children aged under 19. Includes travel disruption.
Cruise Connection Cover
For an extra charge this will provide cover for you in the event you fail to reach your cruise embarkation point due to an insured reason and need to obtain extra travel to reach the next point on the cruise.
*all subject to terms of the policy
Your Travel Insurance
All Travel insurance policies contain exclusions that you should know about. Please make sure that the cover meets your needs and requirements.
Please note you will not be covered for any covid related claims unless your insurance is booked at least 28 days before your departure.
Confirmation of Cover
Insurance must be purchased at the time of booking where you will be given your summary of cover and validation certificate, Tour America and Blue Insurances are now able to text you your policy details or email the policy directly to you. Just tell us your mobile number or email address when booking.
Emergency Assistance
A 24 hour emergency assistance number is available for all our clients in the event of a medical emergency or curtailment. Please refer to your policy documents for details.
Dangerous Activities
If there is an activity that you will participate in then please let us know and we can provide you with cover for an additional premium. Personal Liability is excluded whilst driving mechanically propelled vehicles.
Making a Claim
All information will be provided in your Travel Insurance documents.
Law
Your Policy is governed by Irish Law.
Important Health Notice
Pre existing medical conditions.
Your insurance policy states you must declare any pre-existing medical conditions for you or your travelling companions at the time of booking your policy. you should also declare any condition of a close relative that could give rise to you or any of the insured party, cancelling or curtailing your holiday. If you do not make this declaration to the "health check" team, you risk your insurance cover being void.
Money Back Guarantee
You have the right to seek a refund within 14 days of issue if you are not satisfied with the terms and conditions and provided no claim has been made.
Book your Travel Insurance with Tour America
If you have a holiday booked with us, please contact our team of Travel experts on 01 817 3500 and they will book your Travel Insurance for you.
Helpful Hints
 You should always book your Travel Insurance at the time of booking your holiday – you are then covered should you need to cancel the trip (reason dependent)
 If you already have Travel Insurance with another provider, please check your policy as soon as you book your holiday to ensure that it still provides all the cover you require for your next trip
 If you currently have a family policy, always check that it still covers everyone in the policy (eg if a young adult is now living away from home they may not be covered)
 When you book Travel Insurance, check if you currently have private health Insurance as this can often reduce the cost of your Travel Insurance premium
 Always take your Travel Insurance documents on holiday with you, as it will contain all the information you need in the unlikely event of an emergency
 Always declare any pre-existing medical conditions at the time of booking your policy to ensure you have adequate cover to protect you and those you are travelling with
In order to activate your travel documents, we require proof of your Travel Insurance (company and policy number) at least 14 days before date of travel.