10 activities you need to try and enjoy on Royal Caribbean's Allure of the Seas
Hi everyone, Kathleen from Team Tour America here. As part of our honeymoon in May, we took an Eastern Caribbean cruise on-board Royal Caribbean's Allure of the Seas and we had the most amazing time! In fact, our cruise element of our honeymoon was one of the highlights of our entire trip.
There are many reasons we chose and enjoyed our cruise holiday on Allure of the Seas and if you are planning a cruise holiday, I urge you to consider this amazing ship for many reasons.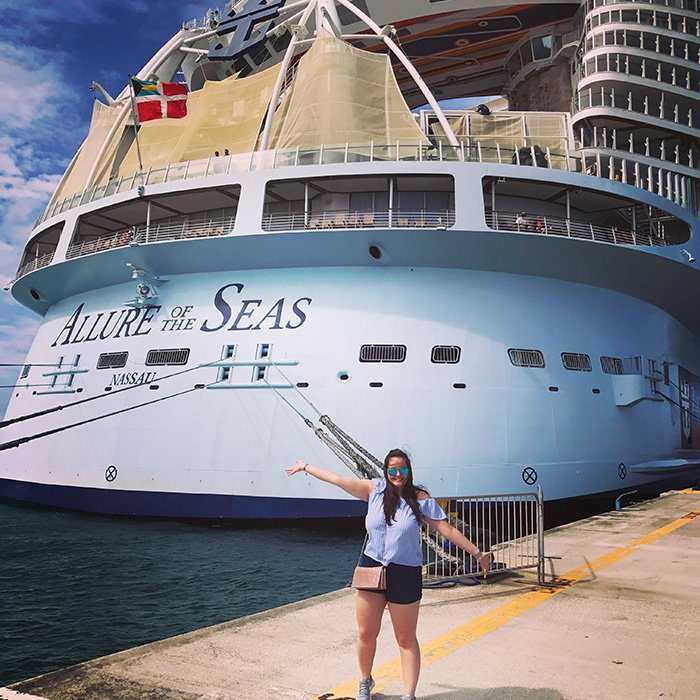 The thing that originally drew us to Allure of the Seas was that it was an Oasis Class ship and that meant we'd have choice. A choice of various accommodation options, a choice of dining, a choice of entertainment, a choice of pool areas, activities and everything in between! We knew if we sailed on Allure of the Seas, we'd never be bored at sea and, we were so right!
So if you have a cruise on Allure of the Seas booked, or if you're thinking about a cruise on this ship, I hope this post helps you plan a really memorable holiday. Here are 10 activities you need to try and enjoy on Royal Caribbean's Allure of the Seas!
1.TRY THE SPECIALITY DINING
When we travel, we love to enjoy the best food and this was no different on our cruise. Royal Caribbean have a reputation for having fantastic food on board and they did not disappoint. And although we ate in the Main Dining Hall (American Icon) for most meals, we enjoyed the on board speciality dining as well and I really recommend you try it on your cruise.
We chose to eat in Sabor, the on board Mexican restaurant and also Chops Grille, the on board Steakhouse. Sabor, which is located on the Boardwalk is a really fun restaurant to eat in and the Mexican food is divine. If you do eat in Sabor on your cruise, be sure to try the delicious Guacamole and also the Calamari.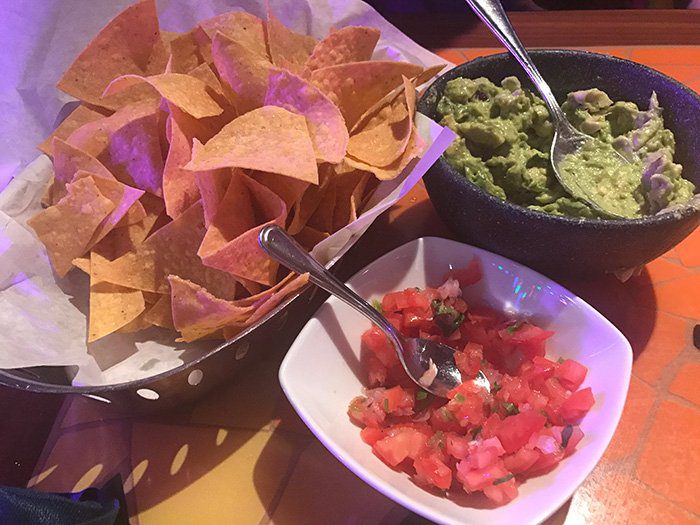 Chops Grille was a really special meal for us and it was worth the slightly higher supplement cost. Located in Central Park, this steakhouse has a real New York feel to it and the food is out of this world. The whole experience was! From the moment we arrived, we were made feel so special and each course of our meal, just blew us away. Chops Grille is a must at least once on your cruise on Allure of the Seas.
2. CATCH A SHOW
Did you know that the shows on Royal Caribbean cruises are included in your cruise fare, meaning they're basically free! We enjoyed 3-4 shows on our week long cruise and they were spectacular! Mamma Mia was my absolute favourite show, but I also loved Oceanaria which took place in the Aqua Theatre at the back of the ship.
My top tip for anyone planning to enjoy shows on board is to pre-book them online before your cruise as the seats at them do sell out fast.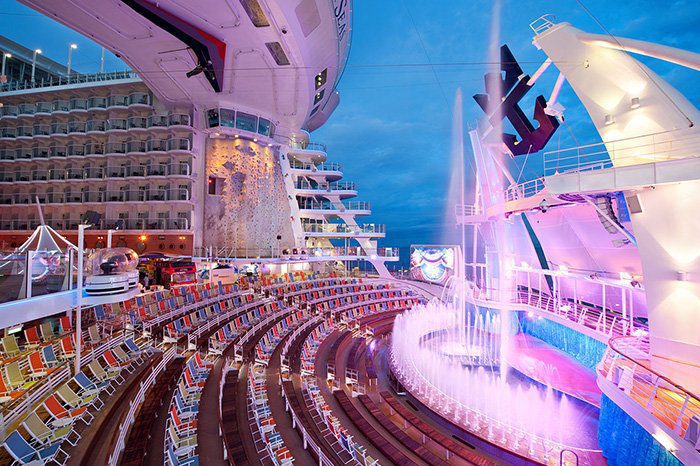 3. ENJOY A DAY AT THE SPA
Royal Caribbean's Allure of the Seas has an amazing spa on board and it's the perfect place to unwind and truly relax. Whether you unwind in the sauna and steam room or by way of a fantastic treatment, you will leave the Vitality Spa feeling completely relaxed. And, if you're planning to have a massage or treatment, keep an eye out for offers on board in the daily cruise compass!
4. RIDE A WAVE ON FLOWRIDER
If you're sailing on Allure of the Seas, you have to have a go on the complimentary FlowRider! The FlowRider is a surf machine that's located at the back of the ship. In fact, Allure of the Seas has two on board! The FlowRider is a lot of fun, even though it's challenging and the area always draws a crowd of spectators. Fancy yourself as an excellent surfer? You'll have your chance to prove it on this fun activity…or you know, you could wipe out!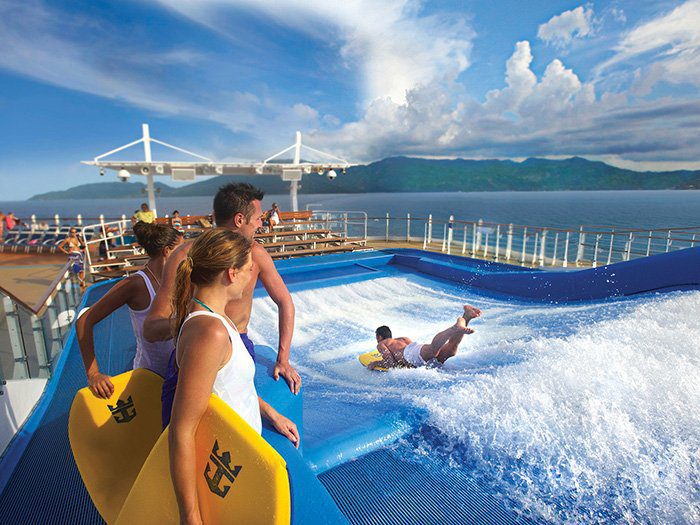 5. ZIPLINE ACROSS THE BOARDWALK!
Another exciting activity you can enjoy on Allure of the Seas is the opportunity to zip-line across the Boardwalk! Zip-lining is a really fun experience and a must on your cruise. What's even better is that it's complimentary!
6. EXPLORE YOUR PORTS OF CALL WITH SHORE EXCURSIONS
One of my favourite things about our Caribbean cruise was doing shore excursions in each of our ports of call. When I cruise, I want to really take in all that I can in each port and I love to learn about the destinations I am visiting. With that in mind, I always book my shore excursions with the cruise line. We did shore excursions in both St. Maarten and also San Juan and they were a lot of fun! If you can pre-book before you cruise, I really recommend you do this. We hadn't and when we tried to book a particular tour on board, it was sold out. So I will pre-book them all my tours in future. Royal Caribbean's shore excursion choice for our cruise was amazing – it was hard to pick our perfect tours and they weren't to hard on the pocket either.
7. TRY A 99 BY THE POOL
Dotted around the main pool areas on board Allure of the Seas, you will find ice-cream machine's to pull your own 99s! We loved making out our own ice-cream cones and every day, there was a different flavor! These ice-cream machine's were a hit with both adults and kids, so be sure to keep an eye out for them! A delicious ice-cream is the perfect way to cool down on deck after all!
8. RELAX AT THE ADULT-ONLY SOLARIUM
One of our favourite things to do on our days at sea was to relax in the adult-only solarium. We loved the solarium for many reasons. Its location at the front of the ship meant that the views were stunning, there was plenty of sun beds and areas to relax in and there was also a bar and several Jacuzzi's dotted around the area. The solarium was also quieter than the main pool deck and it's perfect for unwinding in the sunshine with a good book and a cocktail in hand.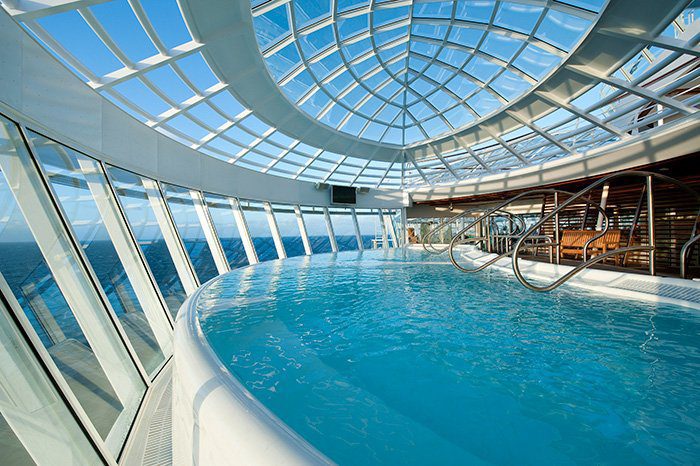 9. ENJOY ROOM SERVICE AT LEAST ONCE
We had an ocean view balcony cabin for our cruise (which I really recommend!) and we decided to enjoy it by ordering room service. There's something peaceful about sitting out in your own private space as you enjoy breakfast and sailing into a new port of call that just makes cruising even better. And for that reason, I really recommend you order room service and take in the views like we did. Sailing into Labadee, Haiti as we enjoyed a cup of coffee first thing in the morning was truly amazing.
10. FEEL ON TOP OF THE WORLD ON THE BRIDGE WINGS
Before I went on my cruise, I didn't know about the ship's bridge wings. The bridge wings are at the ends of the Deck 14 observation area that's at the very front of the ship, above the main bridge. This observation area is a complete hidden gem and discovering it on our cruise was amazing! You can reach it by walking right to the very front of the ship on Deck 14, port side. It was always really quiet up there when we visited and the views were incredible.
So there you have it, 10 activities you need to try and enjoy on Royal Caribbean's Allure of the Seas. After our week long cruise on this amazing ship, I can honestly recommend it to honeymooner's like ourselves, families and couples who are looking for a holiday that offers you the chance to explore wonderful destinations, enjoy fantastic food, great entertainment and all the in-between on your holiday. For more information on booking a cruise on Allure of the Seas, contact our cruise experts on 01-8173562.