10 Extraordinary Royal Caribbean Ship Features
Royal Caribbean are known as the innovators when it comes to firsts at sea. And, with each new ship they launch, they always wow us with what's on board. Whether you're cruising with your family, your significant other, with friends or by yourself, no doubt you've seen, tried and enjoyed some of Royal Caribbean's amazing on board ship features. And, in this post, we're running through the most unique! Here are 10 extraordinary Royal Caribbean ship features.
1. ULTIMATE ABYSS
The Ultimate Abyss is a thrilling dry slide that drops you 10 decks down! A unique feature of Harmony of the Seas, this thrilling slide will also be on the brand new Symphony of the Seas when it launches in 2018. What's unique about the Ultimate Abyss is that it takes you out over the back of the ship, an experience which adds an additional layer of excitement to the experience.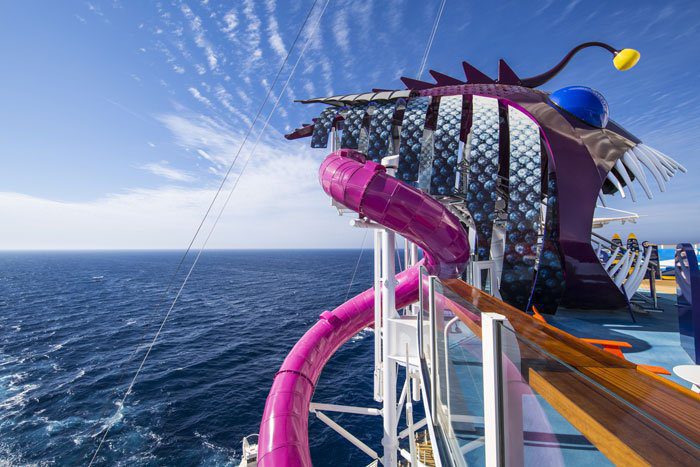 2. VIRTUAL BALCONIES
For those who want an ocean-view on their cruise but may not have the budget for a balcony cabin, the virtual balcony staterooms which were originally introduced on Quantum of the Seas are a fantastic option. These 'virtual balconies' offer you a sea / port view, from the comfort of an inside cabin via a digital screen. Now that's wow!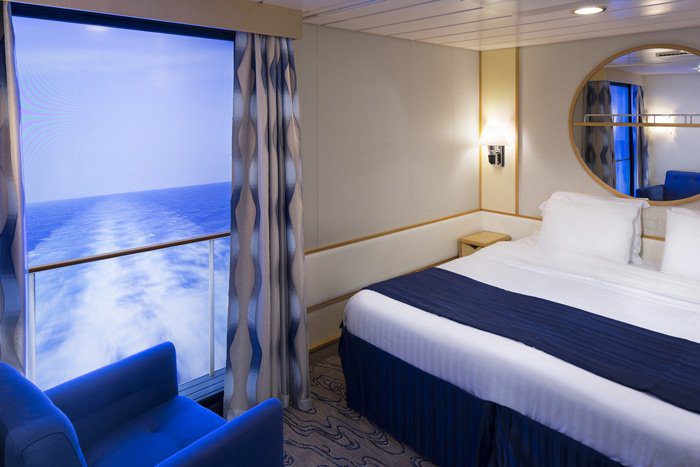 3. BIONIC BAR
The Bionic Bar was another exciting first at sea for the cruise industry. This futuristic bar experience gives guests the chance to order a cocktail from an iPad and have it prepared and served to them by robots! This unique bar first featured on Quantum Class ships and it is also on Harmony of the Seas.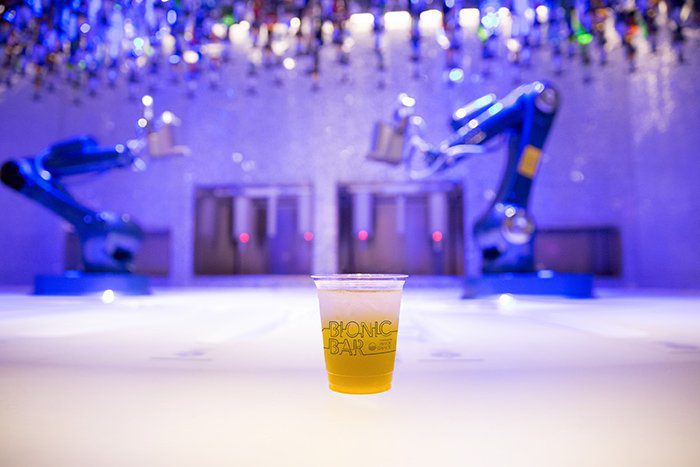 4. SKYDIVING AT SEA
RipCord iFly on Royal Caribbean's Quantum Class ships gives you the opportunity to sky-dive at sea! Guided by trained professionals, this unique experience is a must for all and so much fun. It's a skydiving experience without a scary drop and it's a really fun experience. The photos at the end will also no doubt, provide you and your holiday companions with some giggles!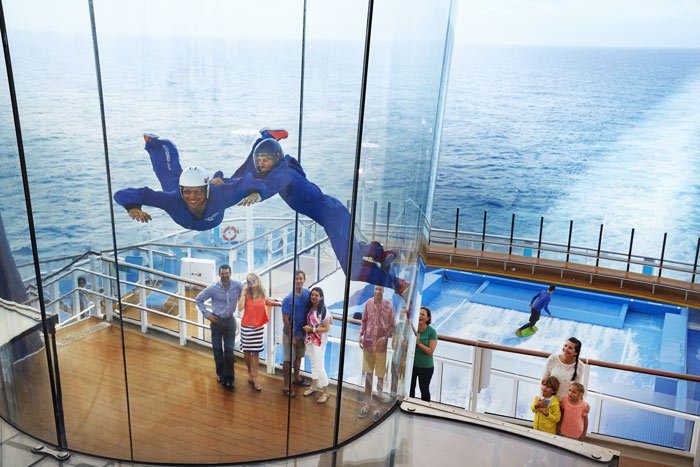 5. SEAPLEX
SeaPlex is a thrilling indoor sports complex that offers many opportunities for fun on your cruise. Featured on Royal Caribbean's Quantum Class ships and offering everything from roller skating and circus lessons to bumper cars and basketball games, this entertainment area is always a hit with kids and adults alike.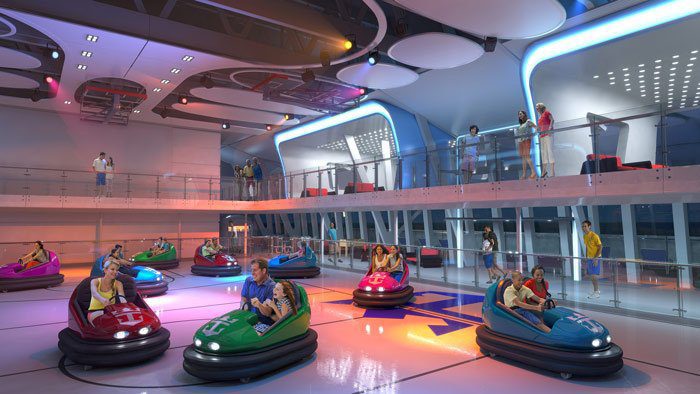 6. NORTH STAR
The North Star is an observation pod that stretches up from the Quantum Class ships and extends over the side of the ship offering unique 360 degree views that cannot be rivalled. A hit with all who have experience it, North Star is a must do on your cruise. And, if you're wedding planning, you can even arrange to get married in the North Star!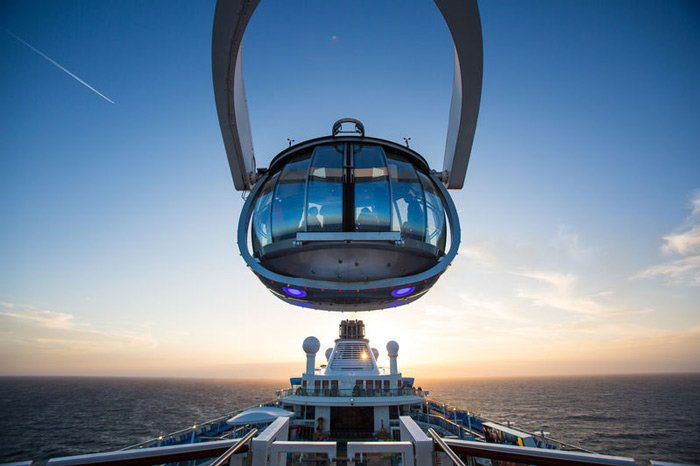 7. WATER SLIDES
Royal Caribbean have started to introduce water slides to a couple of their ships and they're a hit with both adults and kids. The Perfect Storm on Harmony of the Seas is a trio of water slides that stretch out over Central Park and they're a must do for all on board. Liberty of the Seas also received an upgrade recently and it has seen some amazing new slides added.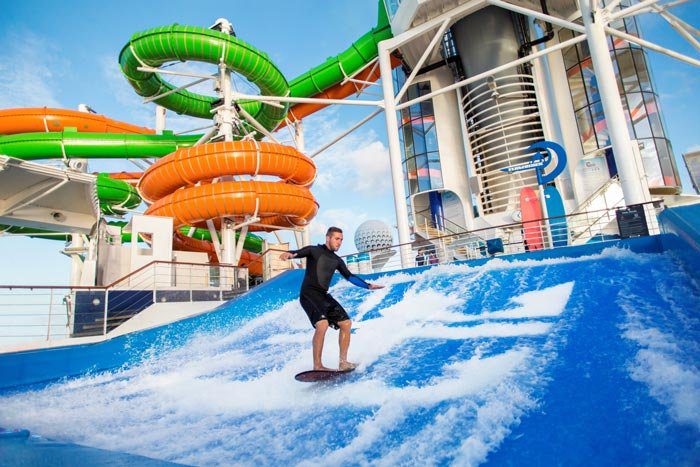 8. TWO70
Two70 is a unique, entertainment venue on the Quantum Class ships. Offering guests multiple experiences while on their cruise, Two70 is a relaxing day-time space with floor to ceiling windows that offer expansive views out the back of the ship. At night, these incredible windows transform into digital screens that offer a theater experience. Made possible by 18 projectors, these enhanced, digital screens are used in many incredible on-board shows.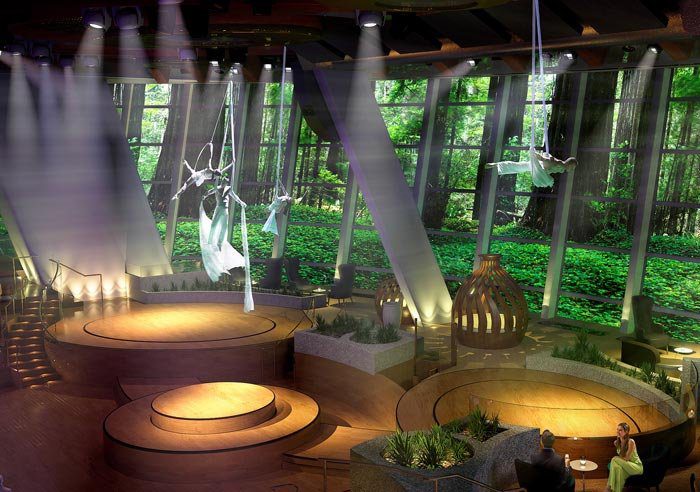 9. ROYAL IQ
Royal IQ is Royal Caribbean's custom app that picks up where the Cruise Planner leaves off. Royal IQ gives you the opportunity to plan your time on board. Book your dining and meal times, pre-book your show's, shore excursions and more, all from your own phone. Although not fleet wide just yet, this fantastic app takes cruise planning to the next level.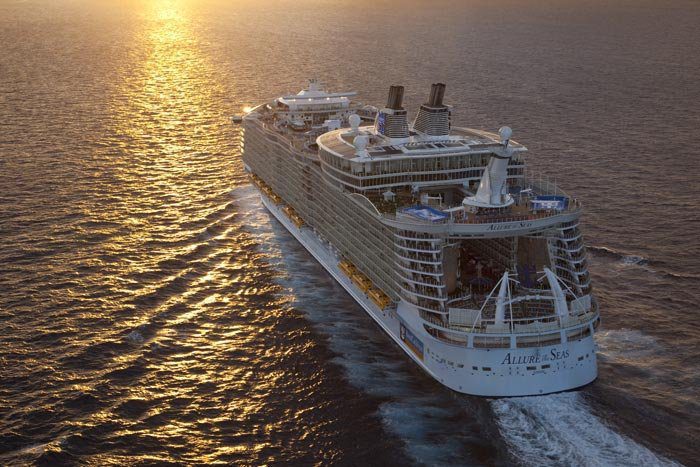 10. OLD FAVOURITES – ZIPLINING, ROCK CLIMBING, SURFING AND MORE!
Although older features, zip-lining, the FlowRider, rock-climbing and the Carousel are all truly extraordinary Royal Caribbean ship features. On Royal Caribbean's Oasis Class ships, test your limits and take a go zip-lining across the boardwalk. The Carousel which sits just below the zip-line at the entrance to the Boardwalk is also a beautiful must do while on your cruise. Some Royal Caribbean ships also feature FlowRider, an exciting surf simulator that's just as fun to watch and try! And, if you love to climb, a go on one of the rock climbing walls is a must.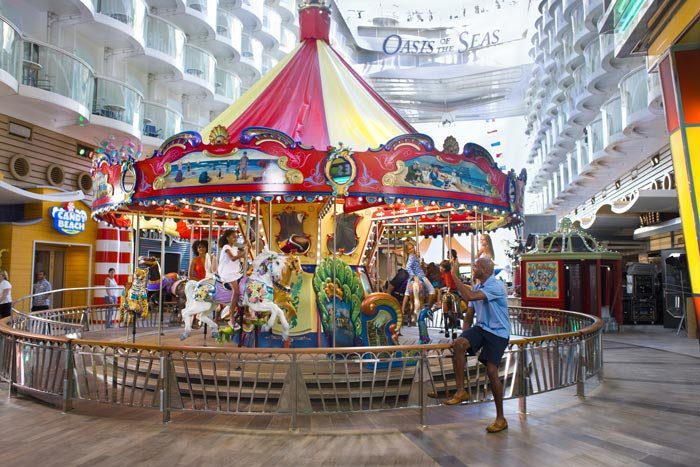 With 24 ships, 249 destinations in 71 countries, across 5 continents, Royal Caribbean lead the way in incredible cruise holidays, accompanied by the most extraordinary ships. If you'd like more information on a cruise holiday with Royal Caribbean, we'd love to help you plan a holiday to remember. You can contact our cruise experts on 01-8173562 or via the contact form below.