10 Family Friendly Activities in Washington DC
Washington DC is one of those great USA cities which is just perfect for families. Its walk-able, it offers fantastic accommodation options, you can fly direct from Dublin with United Airlines and it has an abundance of attractions that the whole family can enjoy. Not only that, Washington DC makes for a great twin-center holiday with Orlando. And, to help you plan for a trip to this amazing city with your kids, here are our top 10 family friendly activities in Washington DC.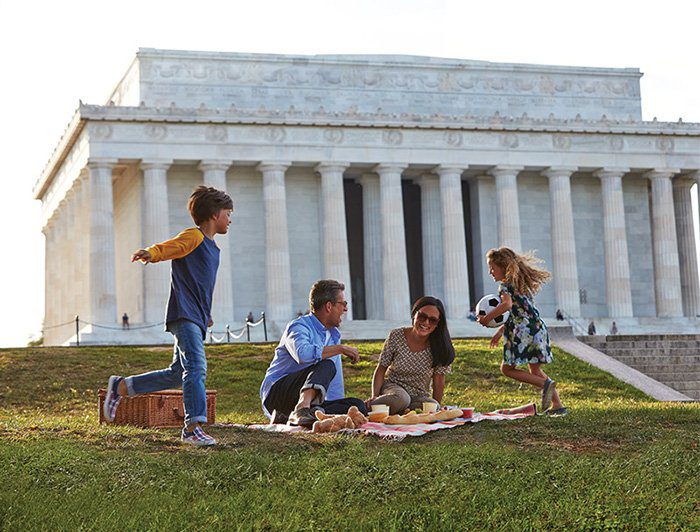 1. SMITHSONIAN'S NATIONAL ZOO
The Smithsonian National Zoo is a must see with your family. This world-famous zoo's aim is to save species and visitors to it can enjoy engaging experiences with animals from around the world. The Smithsonian National Zoo is home to over 1,500 animals and 300 different types of species and you can learn all about these wonderful animals throughout the zoo's many exhibitions.
Another great thing about visiting as a family, is that the Smithsonian National Zoo is free of charge, year round. The Zoo also sits on 163 acres in the heart of DC and so it's easy to get to, no matter where you're staying.
2. SMITHSONIAN MUSEUM OF NATURAL HISTORY
The Smithsonian Museum of Natural History is always a favourite for families and this wonderful museum, which is dedicated to inspiring and learning about the natural world is educating as well as enjoyable. Browse exhibitions and collections which showcase everything from Dinosaurs and Human Origins to Mammals and America's National Parks. Other highlights include seeing a mummified cat, a polar bear, and live butterflies and plants at the Insect Zoo!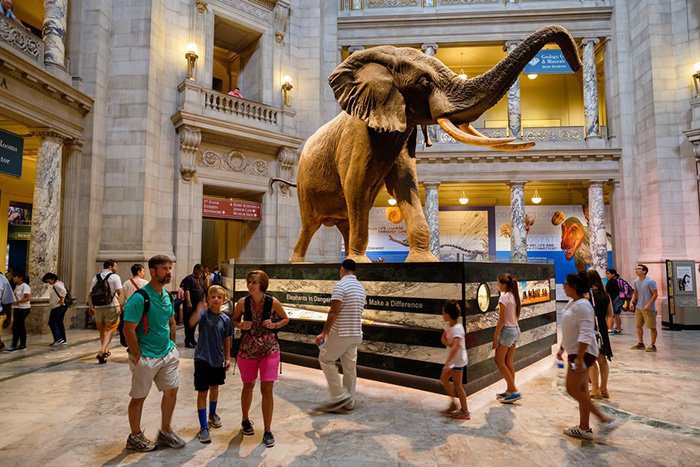 3. NATIONAL AIR AND SPACE MUSEUM
The Smithsonian National Air and Space Museum is home to the world's largest collection of aviation and space artefacts. And, this fantastic museum will no doubt thrill and excite every member of your family on your visit.
As you explore the National Air and Space Museum, you will get to witness over 20,000 air and space objects and thousands of historic photographs and materials. Not only that though, you can also get up close and personal with aircraft from throughout the ages as well as a space shuttle! The museum also features many exhibitions year-round for you to explore and enjoy.
4. SIX FLAGS AMERICA
Approximately 30 minutes away from Washington DC lies Six Flags America, which is a fantastic theme park offering terrifying thrills, chilled family areas and buckets of fun! While there, be sure to try the Batwing Coaster, the Bourbon Street Firewheel and the Mind Eraser. Yes, these rides and more are even scarier than their names suggest! Or, if you prefer a more family friendly experience, check out the Coyote Creek Fire Cars, the Flying Carousel, Cyclone and the Renegade Rapids. Six Flags America is perfect for a day of fun and thrills away from the city so be sure to visit if you're in Washington DC with your family.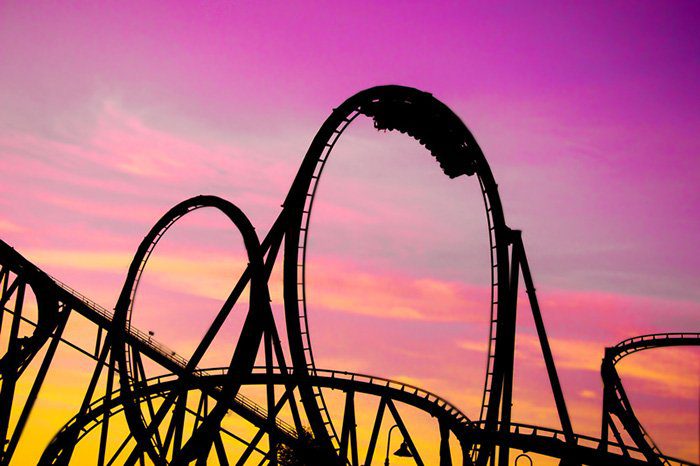 5. MADAME TUSSAUDS
Madame Tussauds is always a fantastic attraction to visit with your family and the Washington DC one is not to be missed! Not only does it feature America's presidents, it also gives you the opportunity to get your selfies with Zac Efron, Taylor Swift, Justin Bieber and many more!
6. ROCK CREEK PARK
If your family love the outdoors, then a visit to Rock Creek Park is a must on your trip to Washington DC. Perfect for hiking, cycling and even a picnic in the sun, Rock Creek Park is a destination that's full of surprises. It also is home to events, concerts and even a fantastic Planetarium which showcases the night-sky on a dome-roof where you can see how Park Rangers discuss the solar system, galaxy and beyond.
7. NATIONAL MONUMENTS
No visit to DC is complete without a walk or bike ride down the National Mall to take in each of the National Monuments. Each monument has a strong history behind it and to truly give your family an education on each, we recommend a tour. Highlights include the Thomas Jefferson Memorial, the World War II Memorial, the Lincoln Memorial and of course the Washington Monument.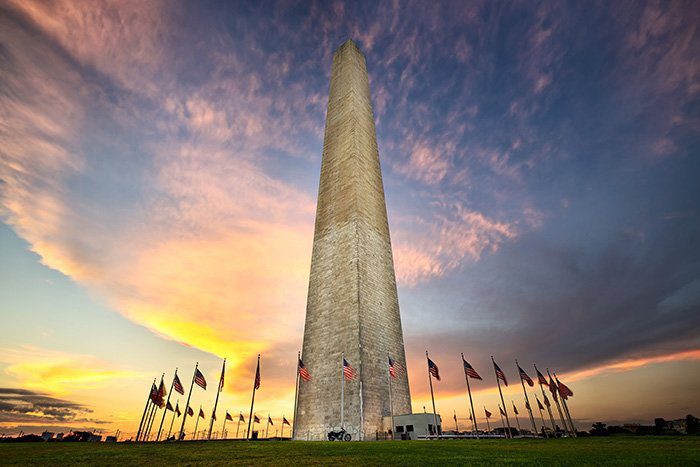 8. INTERNATIONAL SPY MUSEUM
The International Spy Museum in Washington DC is always a hit with families! This unique museum is the only public museum in the USA that's dedicated to espionage and it is home to many large collections and exhibits that showcase the work of the world's most famous spies. The museum's exhibitions are fun and engaging, and as you explore, you'll get to learn about human intelligence and the role that spies have played in world events throughout history. And, before you leave, be sure to visit the on-site gift shop to pick up some really cool spy gadgets!
9. TAKE IN A SPORTING EVENT
Washington DC is a fantastic city for sport and taking in an American sporting event will be an exciting activity to enjoy as a family. With everything from hockey to basketball and baseball to soccer, you're sure to find something you can enjoy while you visit! Nationals Park is home to DC's baseball team and a must visit if you can catch a game during your trip!
10. VISIT THE WHITE HOUSE
If you're visiting DC with your family, you have to visit the White House! The world's most famous house is the perfect place to get a family photo or two and it will be something that your little ones with remember for years to come. Although you can't go into the White House, having a view like the below for your family photos will be quite amazing! There is also a Visitor Office at the site where you can view interactive multimedia about the history of the United States Presidents. The exhibit features 100 historical artefacts.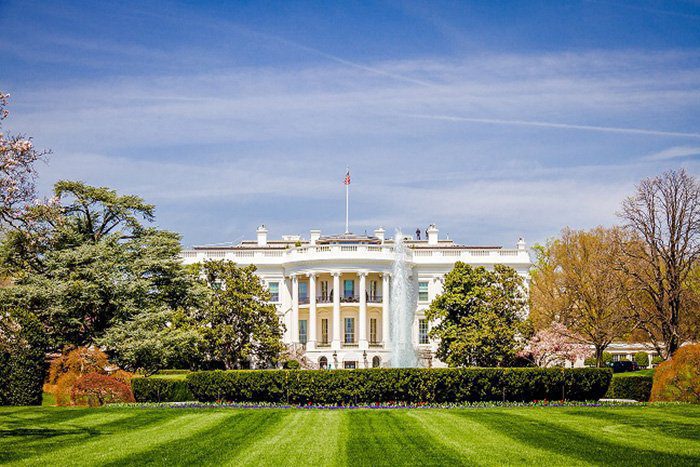 So there you have it, 10 family friendly activities in Washington DC! If you're planning your next American family holiday and you'd like more information on this wonderful destination, visit our dedicated Washington DC information guide HERE or alternatively, if you'd like to add Washington DC to your Orlando holiday, call our travel experts on 01-8173562 or complete the enquiry form below.