10 reasons why Harmony of the Seas is perfect for Families
Team Tour America are fresh off Harmony of the Seas and they have come back raving! Royal Caribbean's Harmony of the Seas launched at the weekend and she has exceeded all expectations.
The third addition to the Oasis Class ships, Harmony is a hybrid ship and many of her unique features come from Royal Caribbean's Quantum Class. While on board, I got to explore all aspects of the ship and I have come to a conclusion – Harmony of the Seas is the perfect family cruise ship!
1. FUN FEATURES FOR THE WHOLE FAMILY
Harmony of the Seas is bursting with family friendly features including the brand new Ultimate Abyss slides, two Flowrider's, zip lining and mini golf! All of these fun filled activities are perfect for everyone to enjoy in the sunshine and what's even better is that they're all located in the one area of the ship!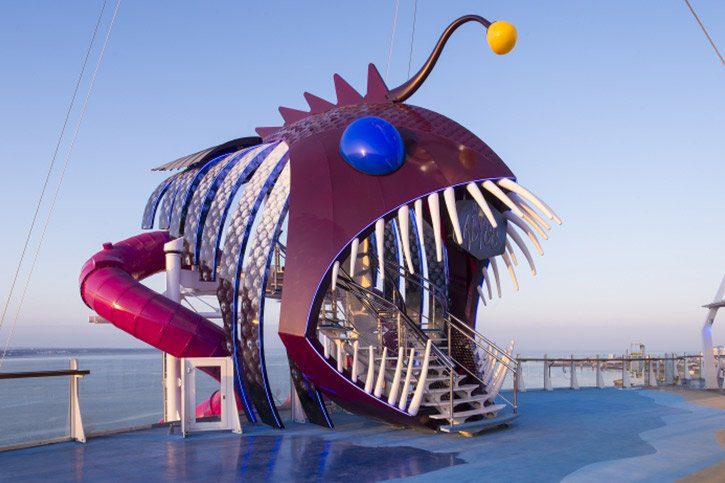 2. SPLASHAWAY BAY
Harmony of the Seas has a brand new kids water park on board called Splashaway Bay and it comes complete with child friendly slides, a splash pool, a water bucket and most importantly, lots of nearby seating for the mammies and daddies to enjoy the sunshine as the kiddies play.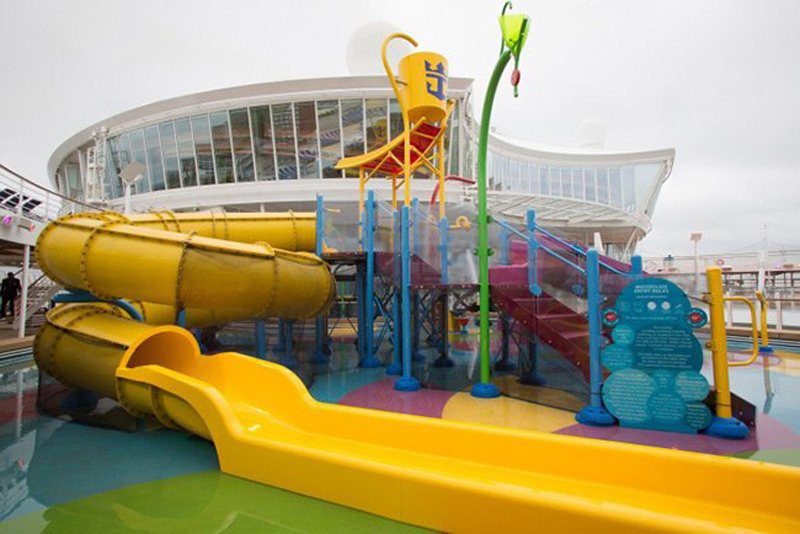 3. THE PERFECT STORM
The Perfect Storm are a new trio of water slides and they're a must for the thrill-seekers in your family! Soar over Central Park as you drop a couple of decks on one of these new, unique slides. These are perfect for the older kiddies, teenagers and of course, the adults! The only question is, which one do you go on first!?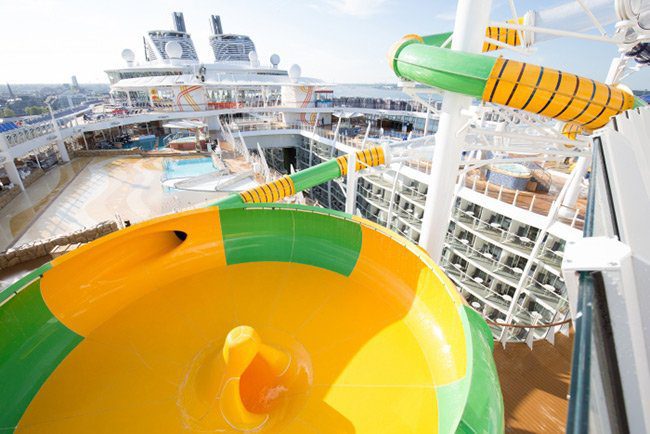 4. ADVENTURE OCEAN KIDS CLUB
Adventure Ocean, Royal Caribbean's fantastic kids club is a great place for your little ones to make some friends on board.This brilliant service from Royal is broken down by age category meaning that your little ones are not only in great hands, they're paired with kids their age while on board. Adventure Ocean takes in kiddies aged from 6 months old to 17 years of age and they have their own dedicated area of the ship. They also offer a babysitting service on board which comes at an additional fee.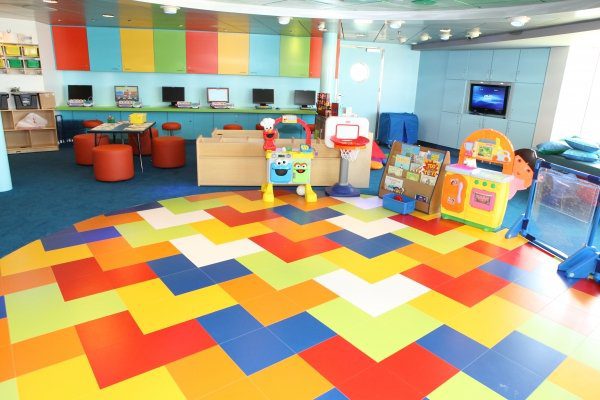 5. CHARACTER MEET N GREETS
Another great thing about Harmony of the Seas for families is the on board character meet and greets! Throughout your cruise, you will come across Dreamworks favourites and you never know, you might see Shrek or Fiona walking along the Royal Promenade waiting for a fun photo opportunity with your little ones!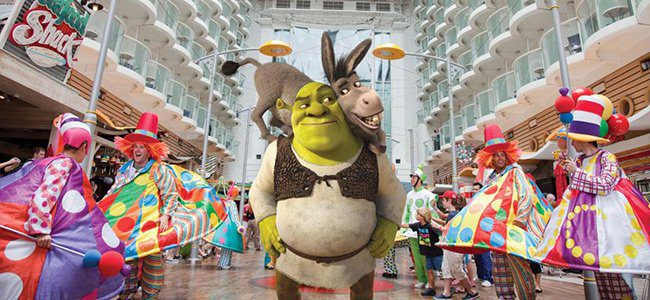 6. FAMILY STATEROOMS AND SUITES
Although cruise staterooms are known for being small, Harmony of the Seas features a large range of family staterooms and suites to suit families of all sizes. There are also cabins on board designed for multi-generational families. With separate bedrooms and living spaces, the family cabins offer lots of space for you to relax in during your cruise.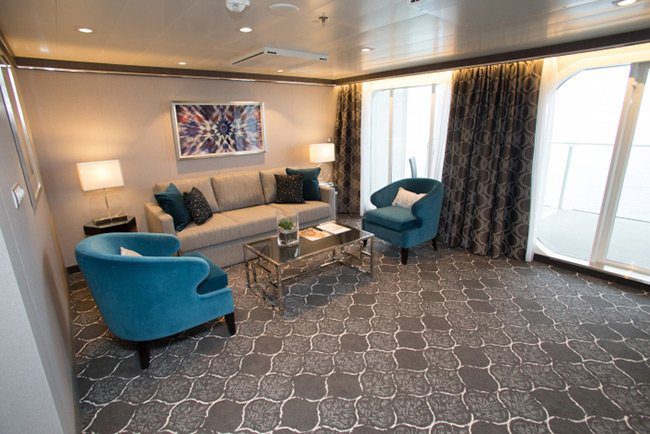 7. DINING
There are many great dining options on board for families and some of the restaurants would be a real novelty to kids such as Johnny Rocket's, located on The Boardwalk. Another family favourite is The Windjammer Cafe which is a fantastic buffet that provides loads of choice with everything from pizza to salad! The Windjammer Cafe is also known for its delicious desserts and I highly recommend you try the cheesecake!
Jamie's Italian, a new addition to the Oasis Class is another delicious dining option for those who enjoy Italian cuisine. You can find Jamie's Italian in Central Park.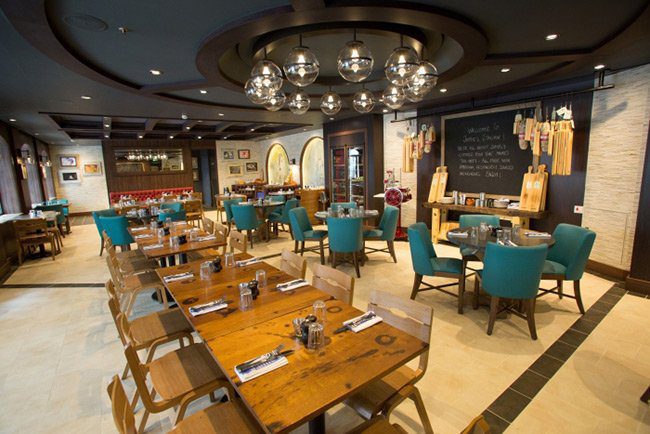 8. THE ENTERTAINMENT TEAM
The entertainment team on board Harmony are incredible and they're so good at getting everyone involved! I personally loved the 90's Street Party which took place in the Royal Promenade because it was great fun and the team had the whole ship up dancing and singing! Each day, you will get a Daily Planner delivered to your cabin and it will fill you in on all the events happening that day. So first thing in the morning, sit down as a family and plan out your fun activities for the day ahead!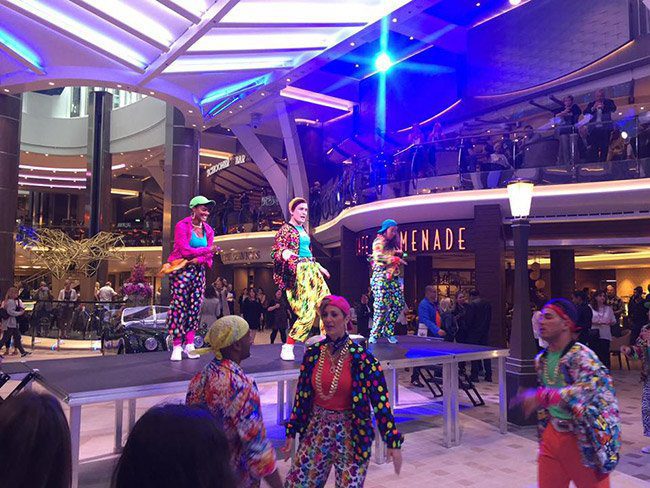 9. GREASE THE MUSICAL
One of my highlights from on board Harmony of the Seas was the fantastic production of Grease the Musical! This is a must on your cruise and it's a show that the whole family can enjoy. Lively music, excellent stage props and a night to remember, what more could you want. The show runs for about 1.5 hours, which I think is the perfect length on a cruise. It also means that your little ones won't get too restless being seated for too long.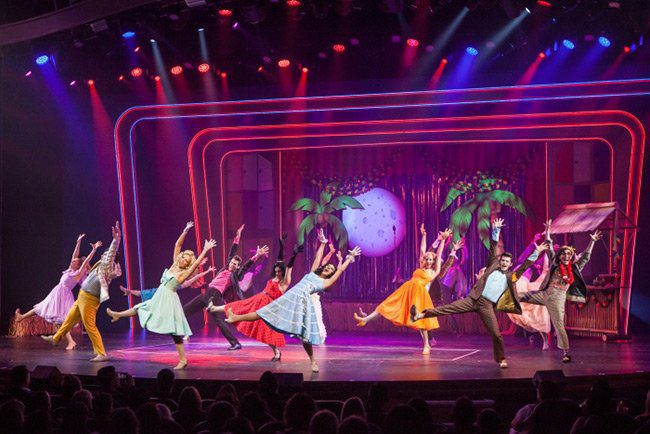 10. BIONIC BAR
I've kept the Bionic Bar until the end because it's more for the mammies and daddies! Although we're sure the little ones will love watching these robots at work! After a busy day on board, head to the Bionic Bar, located on the Royal Promenade for a well deserved cocktail! This is a really cool area of the ship and it always draws a crowd! It's a lot of fun!
Harmony of the Seas really exceeded my expectations and it's one ship I need to sail on again soon! For more information on a cruise on board Harmony of the Seas for you and your family, call our cruise experts now on 01-8173562.