10 Things to Do in Fort Myers and Sanibel, Florida
Not too far from Orlando, in the Southwest of Florida, you will find some of the world's most beautiful beaches, exciting outdoor adventures, and a relaxed island paradise in Fort Myers and Sanibel, Florida. There is so much to see and do in Fort Myers and Sanibel for all the family, you and your partner or a group of friends looking for a new adventure! We've created a list of the top 10 things for you to do while in Fort Myers and Sanibel, Florida to make it a trip of a lifetime!
1. BASK ON THE BEACH
With over 50 miles of coastline and some of the world's most beautiful beaches, you're never far from the water in Fort Myers and Sanibel. No matter what sort of beach holiday you have in mind, there is so much to choose from! Sanibel Islands beaches are great for bird watching, shelling, sunset-gazing, swimming, and of course sandcastle building. Fort Myers Beach is a popular destination for watersports such as parasailing and kayaking or if you just want to relax on the beach. The beaches in both Fort Myers and Sanibel have something for everyone.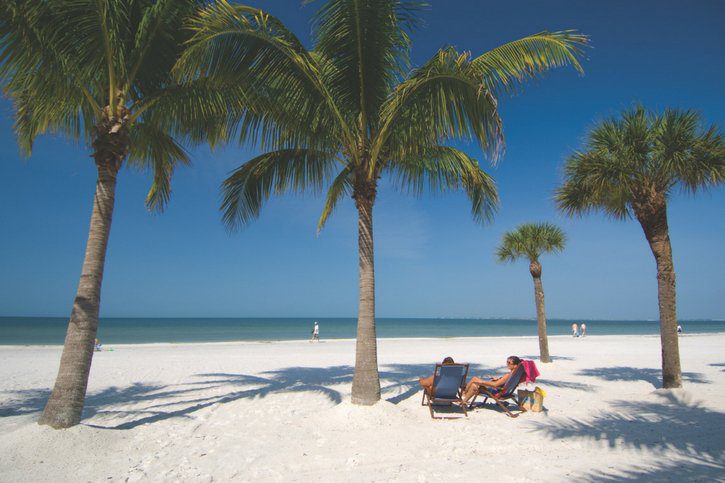 2. GO SHELLING – BAILEY MATTHEWS NATIONAL SHELL MUSEUM.
If you're visiting Fort Myers and Sanibel, put The Bailey-Matthews National Shell Museum on your itinerary. Here you'll broaden your knowledge on what kinds of shells you'll find, the history of shells in the area and learn about how they survive in the ocean. Plus, the museum is home to enormous shells, shell art, and live presentations called 'Tank Talks', where you can ask questions and learn more from an expert.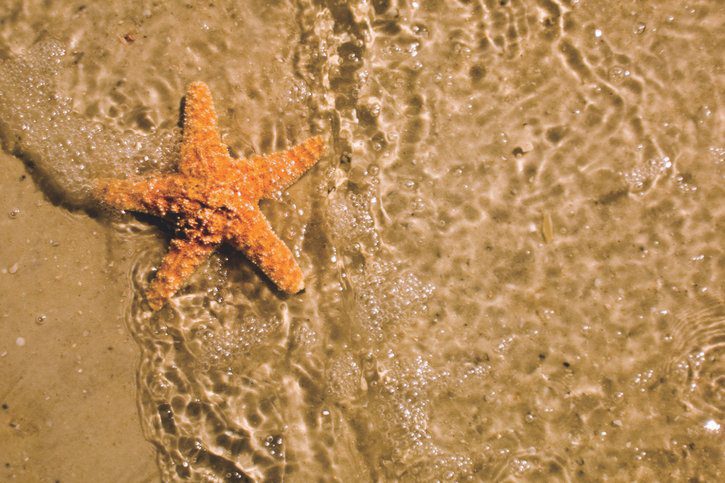 3. EXPLORE BY CANOE
If canoeing and kayaking are for your thing there is are loads of areas to rent from near the water in Fort Myers & Sanibel. There are loads guided tours that will bring you to the most notable spots. But The Great Calusa Blueway is a must-paddle for anyone able to sit in a canoe or kayak or stand on a paddleboard. This 190-mile water trail threads gently through Southwest Florida, giving you a closer look at hundreds of resident birds and fascinating sea creatures at peace in their native habitat.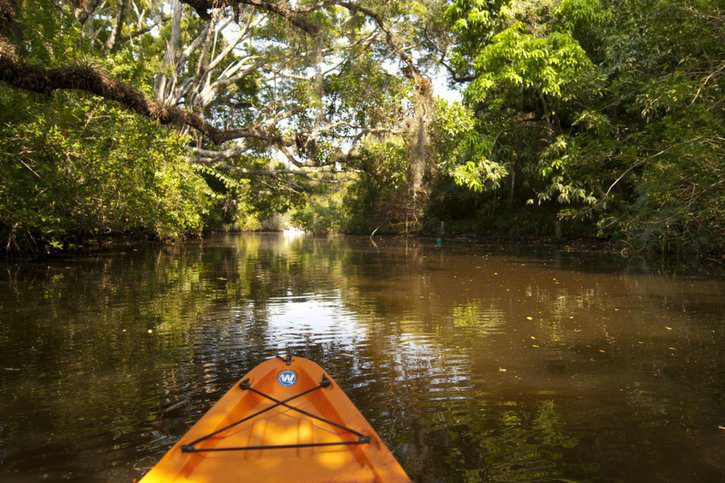 4. GONE' FISHING
Each day at dawn, anglers of all skill levels head to the Gulf waters looking to hook that one fish by which all other fish will be measured. We can't guarantee you'll catch. Just grab your rig and bait, and go wherever the fish happen to be.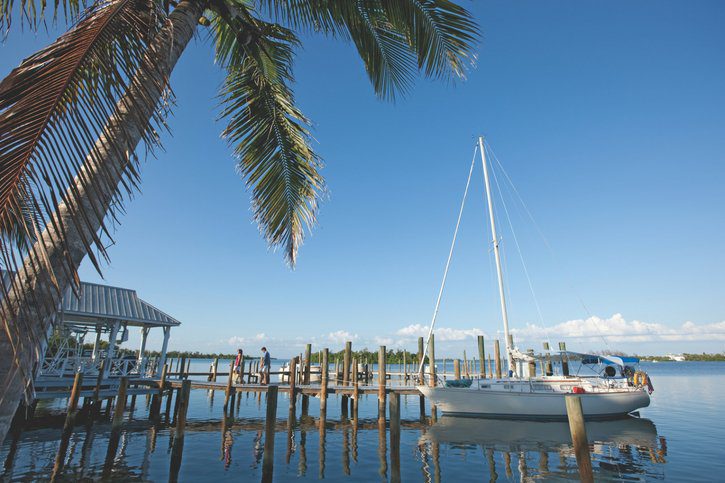 5. GO FOR A BIKE RIDE
Choose your own pace as you explore Fort Myers & Sanibel on two wheels! Local bike trails offer a wide range of cycling experiences, so there is a route for everyone. Cruise and enjoy picturesque views of Fort Myers Beach, dismount to watch wildlife on the boardwalk trails throughout Sanibel's nature preserves or why not freshen up your toes with a dip in the stunning sea. Quick and easy bike rental services will get you pedalling in no time.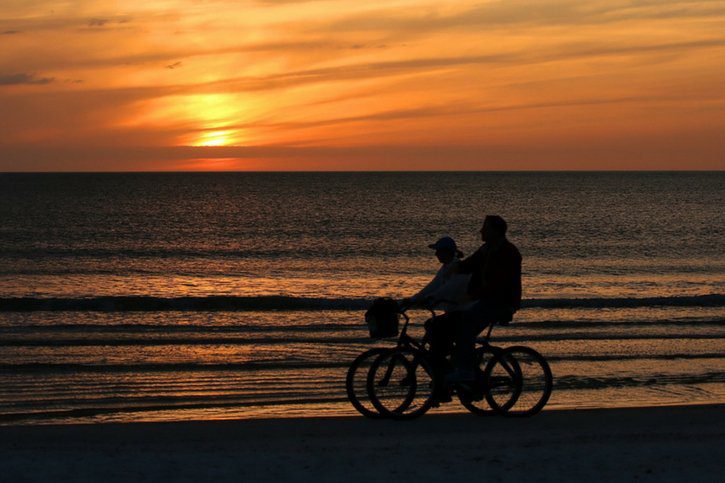 6. DIVE DEEPER INTO FORT MYERS
There are more than two dozen man-made artificial reef sites around the Fort Myers area, from the shallow waters off the coast to as far as 30 miles offshore. These Florida reefs include the twisting steel of towers and sunken ships to cut out concrete and railroad boxcars. As you dive deeper, you'll discover more than 250 species of fish. Discover a growing underwater world filled with a network of artificial reefs that is perfect for diving, snorkelling and fishing.
7. TAKE A ROMANTIC CRUISE
It's impossible to deny the romantic feelings when you watch the sun setting with the one you love. With hundreds of secluded locations to choose from, Fort Myers and Sanibel is the perfect place to escape. Try a cruise to the remote area of Cayo Costa and enjoy deserted island backdrop for a private picnic and shelling.
8. GET IN A ROUND OF GOLF
The entire area of Fort Myers & Sanibel is filled with stunning landscapes that even the best golfer would be impressed by. With your choice of almost 50 courses, tee time can be any time for professional and amateur players alike.
9. TAKE A NATURE WALK
Discover the natural landscape of Florida with a hike on one of the many nature trails. Stroll through the fertile wetlands of Six Mile Cypress Slough Preserve on a mile-long dry boardwalk. Discover some unusual locals like gopher tortoises, racoons, pelicans and even alligators in this carefully preserved mangrove ecosystem. Take advantage of group or self-guided tour options, it's an adventure fit for the whole family.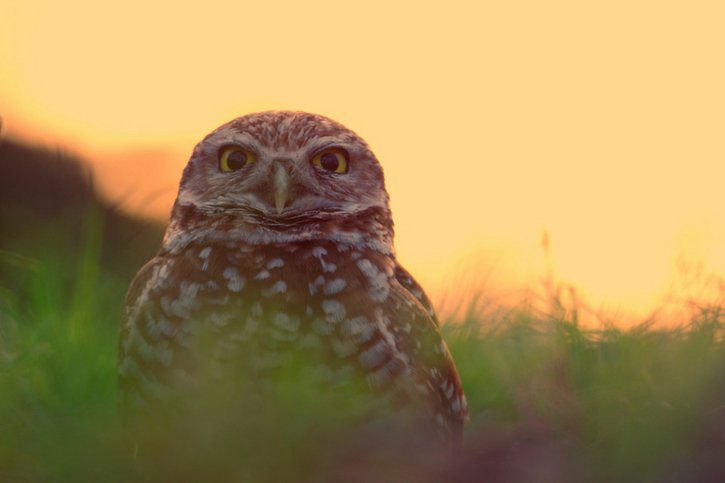 10. HAVE SOME FUN SUNSPLASH WATERPARK
If you haven't already got your fill of water parks, dive into one of the largest water parks in Southwest Florida – Sunsplash WaterPark. Enjoy over 14 acres of water rides and poolside attractions, everyone is bound to have a great time. Glide through the relaxing Mainstream River inner-tube ride, or jump on the five-story X-celerator slide!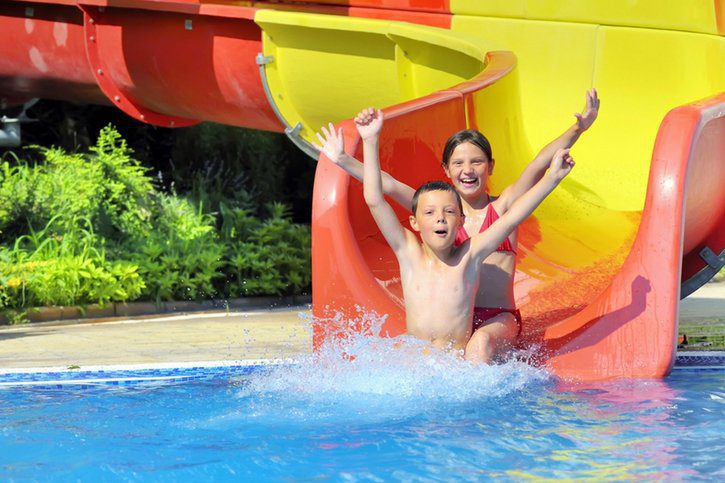 Fort Myers and Sanibel has something for everyone to enjoy! For more information on booking a holiday to Fort Myers and Sanibel, call our Florida travel experts on 01-8173562.