10 things to do in San Francisco
The Golden Gates of San Francisco welcome all. This exciting city is a favorite for those visiting the USA from Ireland due to its quirky personality, charming streets, selection of iconic attractions and of course, its fantastic dining, shopping and nightlife! In our latest blog post, we are helping you plan an amazing trip. These are our top 10 things to do in San Francisco!
1. GOLDEN GATE BRIDGE
The first thing people think of when they think of San Francisco is the Golden Gate Bridge. The Golden Gate Bridge is one of seven wonders of the modern world and its spans from San Francisco, to Sausalito. Crossing the bridge is a bucket list for many and the best way to do this in by cycling across, or enjoying a hop on/off tour. Be sure to stop along the way, to take in the incredible 360 views.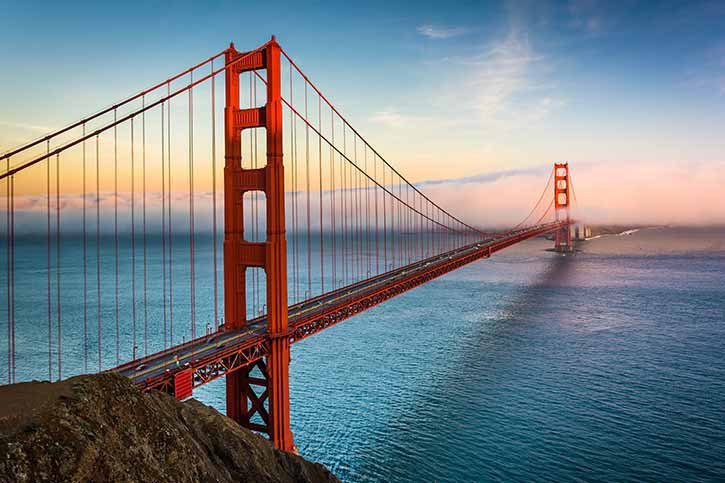 2. PALACE OF FINE ARTS
The Palace of Fine Arts is an incredible, dramatic attraction that is known to be a symbol of San Francisco's creative spirit. Located on a lagoon and dominating a small neighborhood park, it features lawns and gardens that are picnic perfect. The Palace's Greek style colonnades and central rotunda define the San Francisco northern skyline and witnessing it is just breath-taking. The Palace is also famous for its presence in many movies. It is also known to have been the Palace which inspired George Lucas when he designed Queen Amidala's royal residence in Star Wars: Episode I: The Phantom Menace.
3. ALCATRAZ ISLAND
Alcatraz Island sits 1.5 miles from Fisherman's Wharf and it has an interesting history. The site was home to the first lighthouse built on the Pacific Coast, and it is also known as a federal prison which housed notorious convicts such as Al Capone. Today, Alcatraz Island is a top attraction that is a must for all San Francisco visitors. On tours, you will learn about the infamous inmates, what life was like at the prison and so much more. Pre-booking this attraction is essential.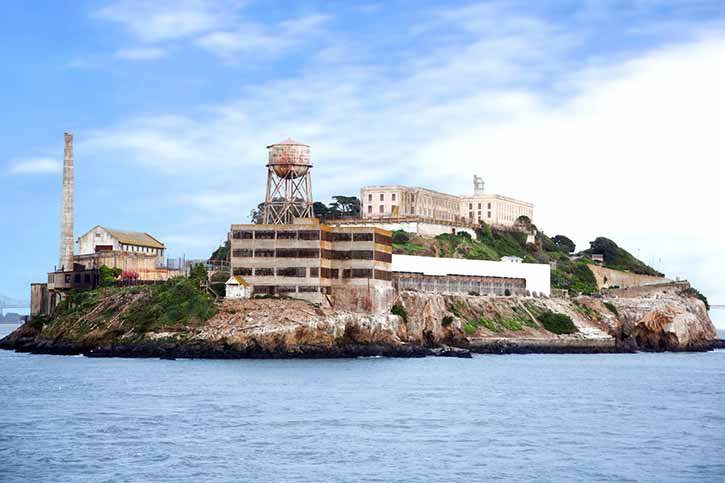 4. FISHERMAN'S WHARF
Fisherman's Wharf is a popular district in San Francisco. With restaurants, souvenir shops and more, this thriving waterfront marketplace is a must visit. Fisherman's Wharf is also where sea lions come to bask in the sunshine, where seafood is the meal of the day and where you can pick up a sightseeing cruise to Alcatraz.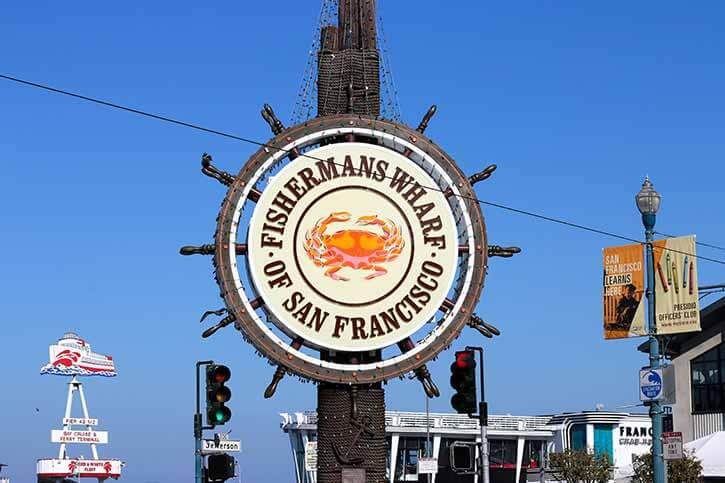 5. PIER 39
Pier 39, while located in Fisherman's Wharf is an attraction all by itself! It is the wonderful pier dock where dozens of sea lions come to rest and enjoy the sunshine every day. Sea lions have been visiting Pier 39 for 30 years, and over the years, their boisterous personalities have brought joy to everyone who visits.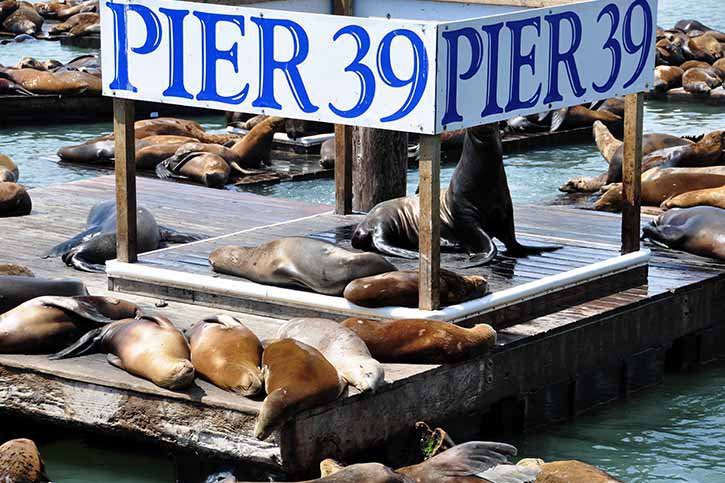 6. CHINATOWN
San Francisco's Chinatown is situated near Portsmouth Square in the historic district of the city and it is the oldest in the USA. Made up of 24 blocks, San Francisco's Chinatown is also one of the largest in the USA and considered a city within a city. It is a must on your trip for a stroll, browse or for some delicious food.
7. PAINTED LADIES
The Painted Ladies are one of the most photographed attractions in San Francisco and they are a must see! Located on Alamo Square's postcard row, these Victorian homes have the most incredible backdrop, the Downtown skyscrapers! When you visit the area, we also recommend you stroll among the streets and discover more of these beautiful homes, many of which have been built with multiple balconies and large porches.
8. LOMBARD STREET
Lombard Street, known as the 'Crookedest' Street in the World is one of the most popular landmarks in San Francisco. With eight hairpin turns, this twisty street attracts hundreds of thousands of visitors a year to walk or drive down it. Surrounded by stunning Russian Hill mansions and beautiful flowers and landscaping, Lombard Street is also gorgeous! The view from the top is stunning and takes in the vast San Francisco Bay and Bay Bridge, while the view from the bottom is interesting and spectacular in its own right.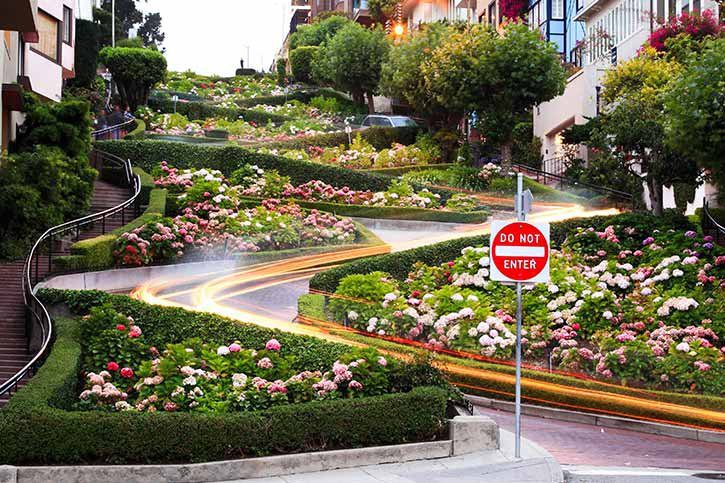 9. SAN FRANCISCO MUSEUM OF MODERN ART
Founded in 1935, the San Francisco Museum of Modern Art, aka SFMOMA is home to modern and contemporary art. It features an enhanced gallery and also public spaces which showcase 32,000 modern and contemporary art pieces. The entire museum stretches a whopping 170,000 square feet and is a must visit for any art aficionados.
10. MUIR WOODS
Lying just beyond the incredible Golden Gate Bridge is Muir Woods. Spanning 554 acres of protected, untouched sequoia sempervirens, aka redwoods, this woods is a must visit. The redwoods in Muir Woods range in age from 400 to 800 years old and they grow to be 250 feet high. Muir Woods is popular for hiking and photography and while there, keep an eye out for its residents which range from over 50 species of birds, to silver salmon.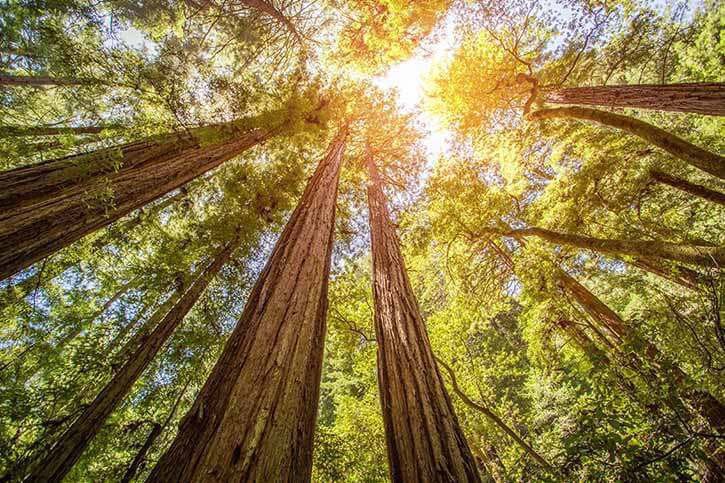 Aside from all of the wonderful attractions we have listed, San Francisco offers so much more. Excellent shopping, world-class dining, tours to Yosemite National Park, wine country and more are possible from this fantastic city. For more information on booking a trip to San Francisco, speak to our award-winning Travel Experts today on 01-8173562 or via the contact form below.