20 things to do in Chicago
Experience a million things to do in the city of Chicago! Voted as the best big city in America to visit by Conde Nast readers, the attractions, museums, shows, dining experiences and nightlife options are endless in Chicago. In our latest blog post, we're running through 20 of our favorite things to do in Chicago. Check them out!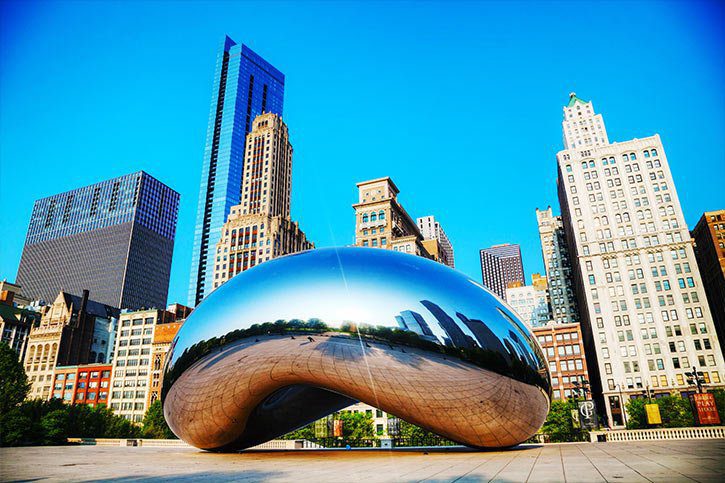 1. SHEDD AQUARIUM
A must 'sea' in Chicago is the Shedd Aquarium. Meet 32,500 creatures from aquatic habitats around the world at this exciting and educational attraction. With special exhibitions year-round, you can even get in up close and personal with some critters from the ocean. A must do if visiting with your little ones.
2. SKYDECK CHICAGO AT WILLIS TOWER
The Ledge at SkyDeck Chicago is a daring experience that towers 103 floors above the streets of Chicago. Stand out from the building within a glass box and take in incredible views, above, and below you! Spot points of interest on the skyline, capture the perfect selfie and truly test your limits at this thrilling attraction!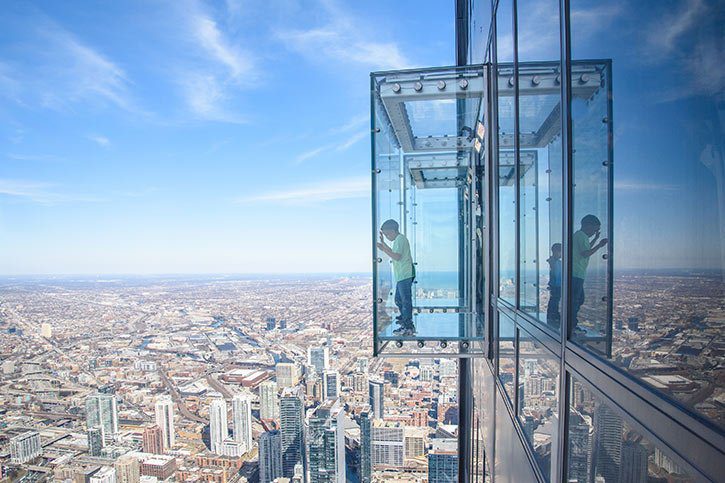 3. TAKE IN A SHOW
Chicago is famed for its fantastic theater scene and with many major productions calling Chicago home, the range of shows you can enjoy is fantastic. Debuting this fall in Chicago is the brand new Michael Jackson Musical 'Don't stop 'til you get enough', a must see if you're visiting the city later in the year.
4. CHICAGO RIVERWALK
The Chicago Riverwalk is a downtown pedestrian trail that stretches along the bank of the Chicago River. Enjoy stunning views of the fantastic Chicago architecture as you stroll along the scenic promenade which is also home to restaurants, concessions, bench areas, boat rentals and so much more. The Chicago Riverwalk runs along the historic Wacker Drive from Lake Michigan to Lake Street.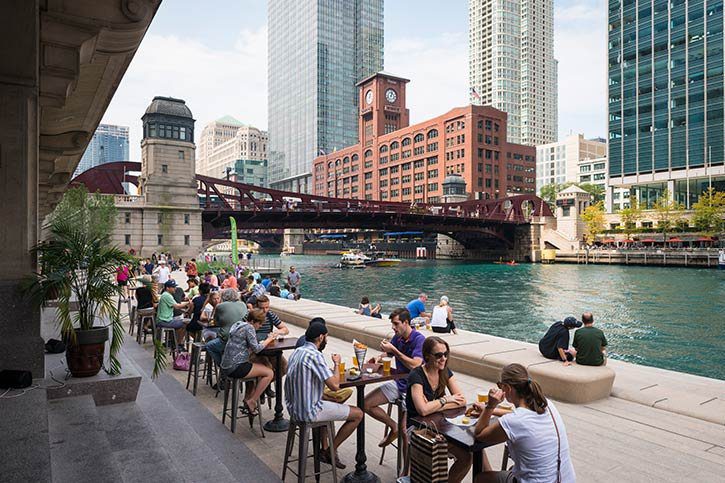 5. FIELD MUSEUM
The Field Museum is one of the best museums in Chicago and it is home to many thrilling exhibitions. Discover Sue, the world's largest T Rex ever found, witness 23 Egyptian mummies, learn about the dinosaurs who once roamed our planet and so much more at the fantastic Field Museum.
6. ADLER PLANETARIUM
The Adler Planetarium is an incredible museum that is also considered a classroom, and a laboratory. Learn from, explore and experience interactive exhibitions which give you the opportunity to partake in live planetarium shows, STEM education programs and more as you learn about space from the museum's team of scientists, historians and educators.
7. NAVY PIER
Navy Pier is a historic lakefront playground which is home to 50 acres of parks, shops, entertainment, restaurants and also attractions. The number one attraction in the Midwest with 8 million visitors a year, Navy Pier is home to the Chicago Ferris wheel, musical carousel, miniature golf, the Chicago Children's Museum and also the Navy Pier IMAX theater. A visit to the Chicago Shakespeare Theater is also recommended.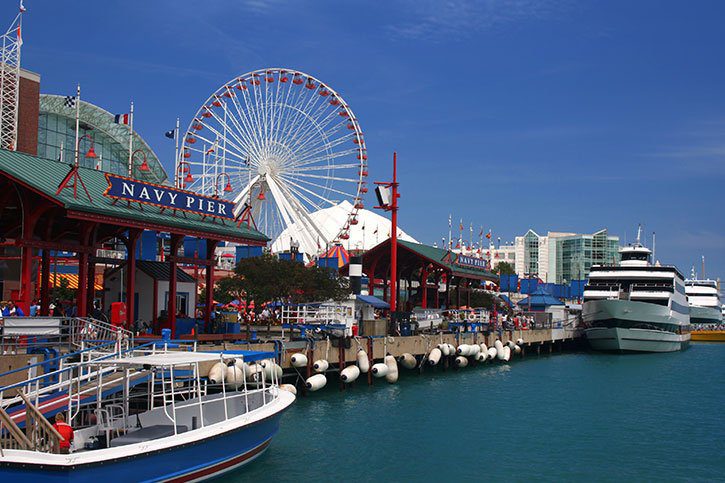 8. CHICAGO DESIGN MUSEUM
The Chicago Design Museum is located inside of Block 37. A unique museum offering an exchange of knowledge through dynamic experiences and exhibits which involve design from around the world. Exhibits are free to the public on from Tuesdays to Saturdays from 12-7pm.
9. TAKE IN A SPORT EVENT
Chicago is one of the top sporting cities in the USA and taking in a sporting event on your holiday is a must! Whether you check out the Chicago Bears, the Chicago Blackhawks or perhaps the Chicago Bulls, you will be immersed in the passion and excitement of the Chicago fans!
10. MILLENNIUM PARK
Millennium Park is one of Chicago's most popular attractions. An award winning center, which celebrates art, music, landscape design and architecture, its most popular feature is Cloudgate, also known as the Chicago Bean. Millennium Park is located in the heart of the city and is just a short walk from Michigan Avenue.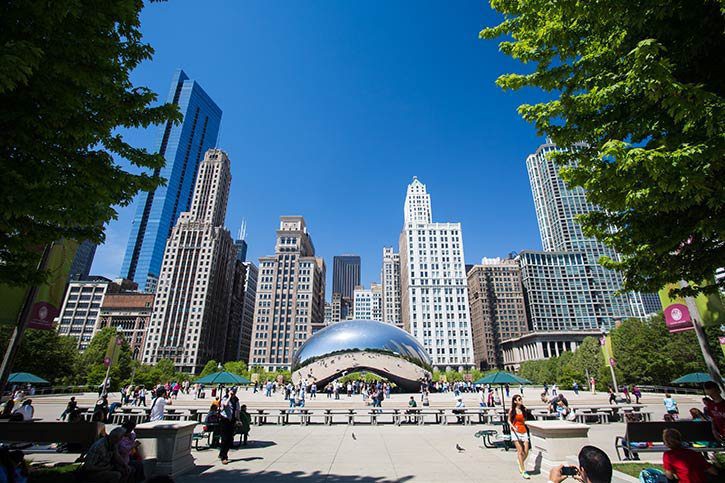 11. CHICAGO LAKEFRONT TRAIL
The Chicago Lakefront Trail is a free attraction that stretches 18.5 miles and connects the North Side of Chicago to the South Side. It is the perfect way to enjoy the city by bike or by foot and throughout, you can enjoy amazing skyline views and of course, Lake Michigan views! The trail also passes through 13 neighborhoods, so be sure to stop off and experience each of them.
12. HISTORIC WATER TOWER
The Historic Water Tower is one of Chicago's most beloved landmarks. Built in 1869, this castellated gothic style tower was built to hide a 138 foot pipe. It is one of the only buildings which survived the Great Chicago Fire of 1871 and inside the tower, you can enjoy the new City Gallery which features photographs of Chicago by local photographers.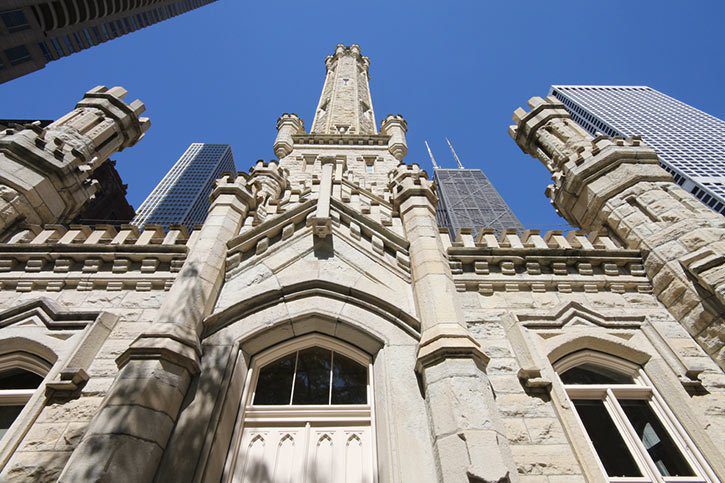 13. LINCOLN PARK CONSERVATORY
Step inside the Lincoln Park Conservatory and be transported to another time. Journey through tropical palm trees, ancient ferns and many exotic plants throughout the four display houses; Palm House, Fern Room, Orchid House and Show House. Admission is free into this historical facility and it is a wonderful nature escape amongst a bustling city.
14. LINCOLN PARK ZOO
If you're visiting Chicago with your little ones, why not visit the Lincoln Park Zoo. Discover animals from all corners of the world, visit the largest zoo-based conservation and science program in the country and so much more.
15. HIT THE BEACH
Did you know that Chicago is home to 28 beaches and 26 miles of shoreline! With cool blue waters, white sand and incredible views, a beach day in Chicago is a must. The complimentary mix of city life with beach time, might just be the perfect city escape holiday!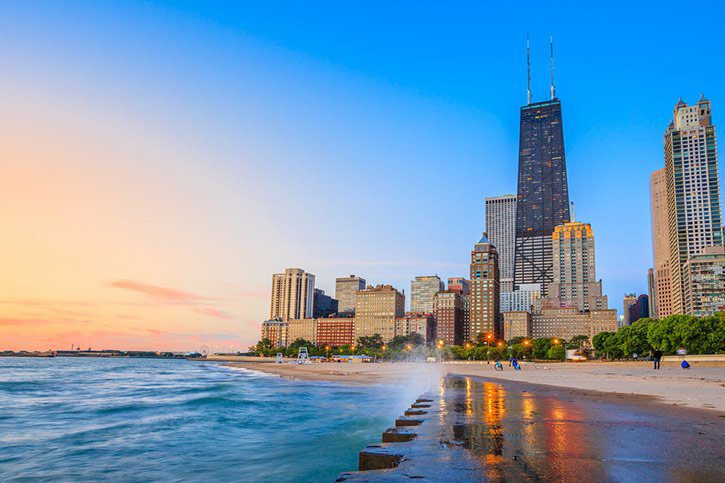 16. THE 606
The 606 is a really cool attraction in Chicago. It is one of the city's newest green spaces and it sits above four different neighborhoods, atop of an old railroad line. This linear trail and park runs for 2.7 miles and is perfect for a stroll in the sunshine.
17. DEEP DISH PIZZA
No visit to Chicago is complete without sampling some deep dish pizza! While the city is home to 5,000 restaurants for you to enjoy, we recommend you start your trip with an authentic slice of pizza! There are many eateries offering deep dish pizza throughout the city so you will be truly spoilt for choice.
18. EXPERIENCE THE MUSIC
Did you know that Chicago is one of the top cities in the world for live music? From jazz and blues, to classical hip hop, gospel choir performances and indie, you will find the opportunity to immerse yourself in a live music scene. Throughout the city, you will find legendary jazz and blues clubs offering live music and we highly recommend you check them out for a night out like no other.
19. LIGHT AND WATER SHOW AT BUCKINGHAM FOUNTAIN
Buckingham Fountain is a historic landmark that offers visitors the chance to experience incredible light, music and water shows! Running from dusk to 11pm, from spring to fall, there are plenty of opportunities to take in a show throughout the year.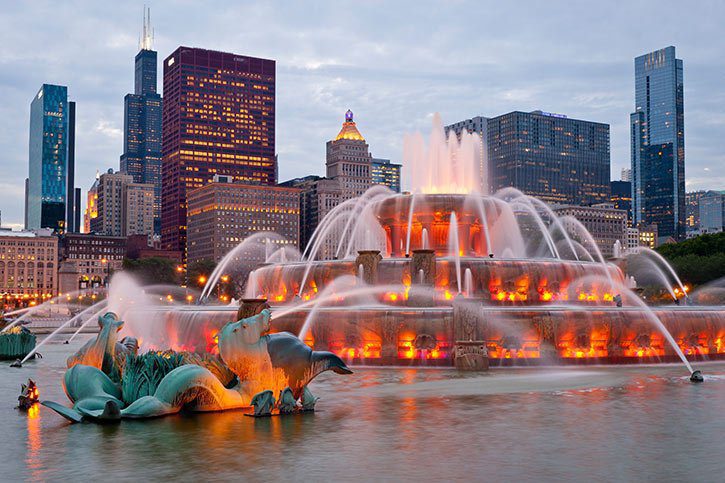 20. SHOP SHOP SHOP!
Chicago is a shopper's dream! The retail heart of the city is the Magnificent Mile. Be spoilt for choice with Bloomingdale's, Macy's, Saks Fifth Avenue and many more high street stores. The Magnificent Mile is also home to high end luxury brands including Chanel, Louis Vuitton, Ralph Lauren to name but a few. If shopping outlets are more your thing, be sure to visit the Chicago Premium Outlets.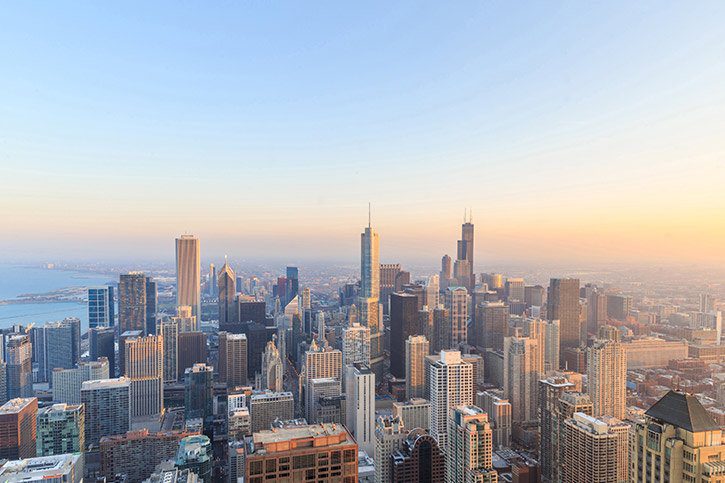 So there you have it, 20 things to do in Chicago. If you're planning a trip to the windy city, our packages start from only €649pp with direct flights and hotel. For more information and to book, call our award winning travel experts on 01-8173562 or fill out the contact form below.