A Staff Trip to The Big Apple and Washington DC
Hi Guys
Niamh here to tell you a bit about my trip with Lisa to the Big Apple and Washington DC, I hope you enjoy and maybe even get some good tips for your next trip
First off we went to New York and we were both as giddy as school kids on the way, I never get bored of this city no matter how many times I visit it, it still gives me a rush of excitement each time I go but of course it does, it's New York for God sake! We stayed at the Fitzpatrick Grand Central – right opposite Grand Central Station, not in the heart of Time Square but very close, close enough to enjoy a walk into the main hot spots. The Fitzpatrick had great rooms, two big comfy beds and very spacious! Lovely bar with a great atmosphere which is unusual for a New York hotel. They have a outdoor area which was gorgeous to sit out and have a drink (especially in the July heat!), we just kicked back and sipped our cocktails while life went by. It was extremely popular with the locals each evening so there was always a good buzz about the place.
Anytime I've been before, none of the previous hotels I had stayed at had a decent bar so definitely a plus for the Grand Central (the Irish people will love it, its a typical Irish themed bar but not tacky!) Location wise it's on east 44th St. so took about 15 minutes to walk to times square. We had breakfast at the Fitzpatrick Manhattan (seen Heidi Klum!) again lovely hotel, bit more contemporary than the Grand Central so if that's your thing this is probably a better choice. The two hotels are a 15 minute walk from each other so if you stayed in a large group, some in each hotel you're never too far from each other. Oh and the Manhattan hotel have a cocktail bar which looked pretty cool though we didn't spend time here, too much to do.
We did the usual sites, Empire State Building, Central Park (which was a first for me after my fourth trip to NYC!) Times Square etc… We seen Jersey Boys on broadway which was AMAZING, I just loved broadway in general and would recommend a show to anyone visiting New York. We got tickets at the half price TKTS place in times square and paid $64 each which was 50% off what we would have paid if we purchased them at the hotel so well worth taking note of. And also, you'll need to visit the TKTS desk in the middle of times square (you won't miss it) on the afternoon of the show. It opens from 2pm.
"I have also attached a list below of recommended restaurants in case you're looking for somewhere nice to eat whilst in New York, these are some of my favourites."
We then took the Amtrak to Washington DC which we had prebooked before we arrived in New York, just makes it a lot easier than doing so when you're there. A tip to anyone taking the train, its like London where as the tickets go up in price the nearer you book them. When we initially looked at the train they were about $80 return each and when we booked them a few days later we paid $120. The train was really enjoyable, very comfortable and efficient. Much easier than flying having to go through security etc. Would highly recommend it.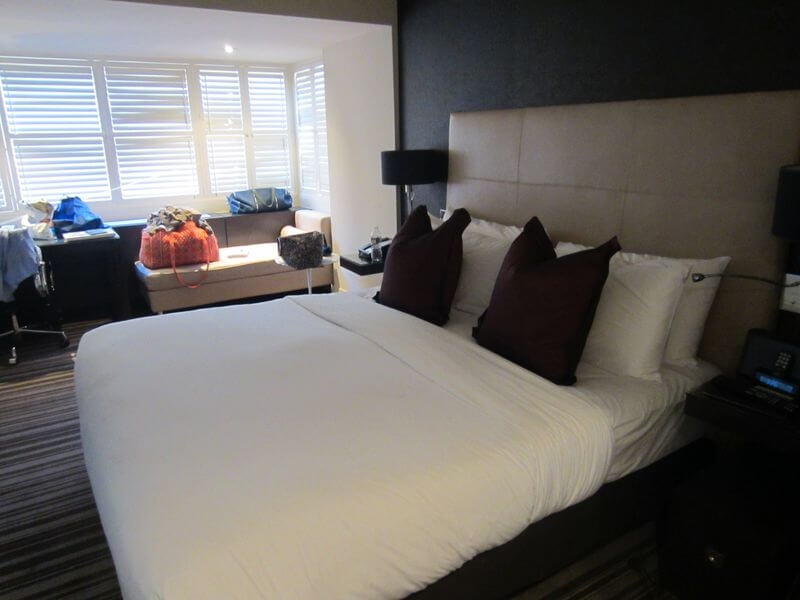 We stayed at the Dupoint Circle hotel which is one of Tour America's recommended hotels. Location wise it is brilliant, right where you want to be. Quite modern, very friendly staff and concierge at the hotel. Again, great bar, very popular with locals so nice and lively. We were there at the weekend and it was packed every night, mainly locals. Starbucks is directly across from the hotel which was handy for breakfast. Everything is on your doorstep at this hotel, its a short 5 minute walk to the nearest metro station which the best way to get around in DC and we used it everyday. It goes as far out as Arlington Cemetery which is another must when visiting DC. I would definitely recommend 2-3 nights in Washington, particularly now with United direct flight which connects with all main destinations. Washington has something for everyone – families, couples, site seers, party goers, it's one of the most underated cities in the U.S.
The first day we arrived we had organised the bike and roll tour of the monuments and it is without a doubt a must when visiting DC. I had been before and done a hop off, hop on bus tour and the bike tour was hands down 100% better. The guide was so informative, a local who gave us such an in dept tour of each monument (eg: The National Mall, Lincoln Memorial, FDR Memorial) We got to see where Martin Luther King gave his 'I have a dream speach' – I wouldn't be a big history fan but I found it so interesting and really enjoyed it. Please please please book this tour if you visit Washington, it will be the highlight of your trip, I promise you won't be disappointed!
Finally we visited the Newseum in DC. It was one of my favourite places we visited, easily the best museum I've been to. It has 6 floors with a lot of information and exhibits that cover journalism, history, newscasts, newspapers, government, freedom of the press, etc. It features pieces of the real Berlin Wall, one of the antennas of the fallen World Trade Centres, lots of famous front pages dating back almost a century, FBI exhibit, Pulitzer prize-winning photographs, and many short documentaries on various topics shown in many little theatres. It also features a terrace over viewing Pennsylvania Ave with a great opportunity to take pictures of the US Capitol, you can easily spend an entire day here. I absolutely Loved it!
That just about covers it, I hope you enjoyed my holiday diary. Of course if you'd like to talk to me more about any of above, just give me a call on 01 8173535, Niamh
MY NYC RESTAURANT SUGGESTIONS
The Boathouse in Central Park -The boathouse restaurants are the only lakeside Manhattan dining choices. Both casual and elegant dining in these Restaurants. www.thecentralboathouse.com
Alloro – 307 East 77th Street- The surprising design of Alloro— including a bright green floor and chairs —is only the first of many fresh delights at this Upper East Side restaurant manned by former Spiga executive chef Salvatore Corea and his wife, Gina. This seasonal menu focuses on fresh pastas, like the scrumptious jumbo rigatoni in a white ragù of quail, porcini mushrooms, blueberries and black truffles, as well as fish and meat dishes. www.alloronyc.com
Brasserie Les Halles -(French.) Serves informal French fare. It's the home base of chef-at-large Anthony Bourdain . 411 Park Ave. Sou(28th and 29th Streets) NYC10019 www.leshalles.net/locations
Bryant Park Grill – 25 West 40th Street -American Grill Cafe – www.arkrestaurants.com
Balthazar -80 Spring Street(between Broadway and Crosby) is an unwavering classic: the theatrical SoHo space is always full of movers and shakers. Breakfast is the easiest time to snag a seat for fresh-baked pain au chocolat and a bowl of cappuccino www.balthazarny.com
Carnegie Delicatessen 854 Seventh Avenue at 55th Street NY 10019 – New York's most famous Delicatessen- try their cheesecake…www.carnegiedeli.com
DBGB Kitchen and Bar, 299 Bowery ( between Houston and 1st Street) NY 10003. – tel 212 933 5300- DBGB Kitchen and Bar is Chef Daniel Bouloud's new lowdown downtown place where French Brasserie meets American Tavern.
Morandi (its Italian) on 211 Waverly Place New York 10014 – tel 212 627 7575 – www.morandiny.com
Per SE (this is in the Time Warner Building) at 10 Columbas Cir. New York www.frenchlaundry.com
Kobe(this is a good steakhouse) on 68 West 58th Street New York 10019 – tel 212 644 5623 – www.chinagrillmgt.com
Gordon Ramsay has a restaurant in the London NYC Hotel on 151 West 54th Street .- tel 212 468 8888 – www.gordonramsay.com/gratthelondon
Nobu (famous trendy Asian ) 105 Hudson Street, Tribeca New York – tel 212 219 0500 – www.myriadrestaurantgroup.com
Pastis(very Sex in the City ) 9 9th Avenue New York – tel 212 929 4844 – www.pastisny.com
Zanzibar 645 Ninth Avenue at 45th St – tel 212 957 9197 – www.zanzibarnyc.com
Asia de Cuba at Morgans Hotel 237 Madison Avenue NY 10015 – tel 212 726 7755 – www.morganshotel/morgans
DeStefanos Steakhouse- This restaurant in the Williamsburg neighborhood of Brooklyn serves traditional steakhouse staples like rib eye and filet mignon, along with pasta dishes such as chicken de madelena and porcini mushroom ravioli Phone: 718-384-2836 www.destefano-s.com
Lucy of Gramercy- Lucy of Gramercy with chef Carmen Gonzalez at the helm of this Manhattan eatery. Considered one of the nationÂ's top chefs, Gonzalez introduces a menu of contemporary dishes with Puerto Rican influences, along with creative cocktails and an ample wine selection. Phone: 212-475-582 www.lucyofgramercy.com
Merkato 55- Celebrity chef Marcus Samuelsson(of Aquavit and Riingo fame) is at the helm at the City's first high-end, pan-African restaurant on Gansevoort Street in the Meatpacking District of Manhattan.
Gust Organics- 519 Avenue of the Americas at 14th Street This is the first organic restaurant in New York. www.gustorganics.com
Heartland Brewery & Chop House -Times Square 127 West 43rd Street | New York, NY 10036 phone 646-366-0235 | fax 212-221-3288 Award-winning brewery in the heart of Times Square serves brews, sodas and great cuisine including lump crab cakes, smoked rib-eye and buffalo chicken spring rolls. Heartland Bewery have a variety of eateries in New York – check out www.heartlandbrewery.com
McCormick & Schmicks Seafood Restaurant 1285 Avenue of the Americas, New York, NY 10019. Traditional fish house offers more than 30 varieties of impeccably fresh seafood as well as steak,chicken,salad & pasta dishes. www.mccormickandschmicks.com
IT IS ALWAYS RECOMMENDED TO MAKE A RESERVATION IN NYC RESTAURANTS