Amazing Cabana Bay Beach Resort Hotel
Just back from a 'Whistle-Stop' tour of Orlando staying in the newly opened 3-star Universal Cabana Bay Beach Resort and I am feeling great. What a super addition to the Universal network of parks and hotels, which is definitely priced in the affordable category.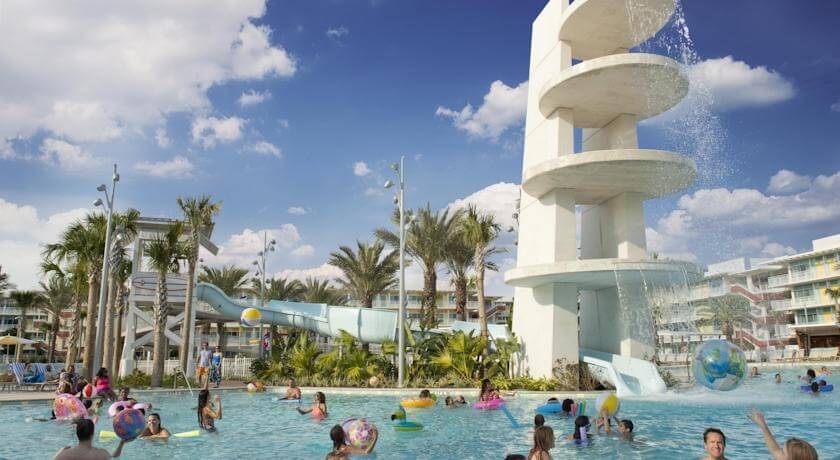 The vibe of the hotel is retro with designs and colours that are so refreshing to the eye. You do feel like you are back in the '50's but in a more contemporary way. Everything in Florida always seems so spacious and spread out and this hotel certainly lives up to this.
I stayed in a family room, which had two double beds and a pullout in the living area. There is a separate bathroom and toilet, which comes in handy if there are 6 sharing! The kitchenette is a great facility to have to store drinks and some food items if you don't feel like eating every meal out while you are there.
There are two huge pools and a lazy river just outside your hotel room. These open at 8 in the morning and stay open until 10 at night, so plenty of down time for the weary after a day at the parks, or indeed the mall. The Cabana Courtyard is a 10,000 square foot pool with a water slide, sand beach and kids play area. The Lazy River Courtyard is a 9,000 square foot pool with water canons, water falls, and a lazy river. There is plenty of organised fun through out the day at the pool if you feel like participating!
There is also a 10 lane bowling alley on site, which serves food, a Starbuck's, a poolside Bar & Grill, and the Bayliner Diner, which serves breakfast, lunch and dinner. The Diner is open from 7 in the morning until 11 at night and has a deli station, burger station, pizza station, international station, salad station, a grab and go station and a dessert station. So you won't be left hungry and it seems to cater to everyone's needs.
Right in the heart of Universal Orlando's theme parks the Cabana Bay Resort is only 10 minutes on a shuttle bus to get there. These are free of charge and come every 10 minutes. You can also get early park admission to The Wizarding World of Harry Potter™, one hour before the theme park opens (valid theme park admission required), which is a definite plus avoiding any queues at all.
If there is not enough happening for you at the parks or the hotel down town Orlando is only 15 minutes away where there are even more restaurants and bars to frequent. And the Millennium Mall is only 10 minutes away where you can check out some of the designer brands.
If Orlando is on your radar for your next holiday you should definitely checkout the Cabana Bay Beach Resort as a place to stay. Touramerica.ie have their annual Red Cow Moran's Hotel Sale Day this weekend, 5th October, where everything to the States is on sale. This may be a good time to book your 2015 holiday of a lifetime at a great price.