Celebrity Edge – Celebrity Cruises unveil details of their new revolutionary cruise ship.
Revolutionary, innovative and outside of the box, the newly announced Celebrity Edge is a cruise ship, like no other. Sailing from December 2018 from Port Everglades in Fort Lauderdale, Florida, the Celebrity Edge will sail to both the Eastern and Western Caribbean. But what sets this new ship apart from the rest of the Celebrity family? Keep on reading to find out.
INFINITE VERANDA BALCONY STATEROOMS
Celebrity Cruises announced that their new ship, Celebrity Edge will feature the infinite veranda, a stateroom that blends its indoor space with its outdoor. Offering 23% more space in your room, the new infinite veranda balcony cabins will feature bi-fold doors that can be opened completely. Celebrity Edge will feature 918 of these cabins.
Aside from the infinite veranda staterooms, the Celebrity Edge cabins are being designed to feature larger living areas and more storage space. They will also come with cashmere bedding.
Celebrity Edge will also feature 16 single-occupancy cabins – a first for the cruise line.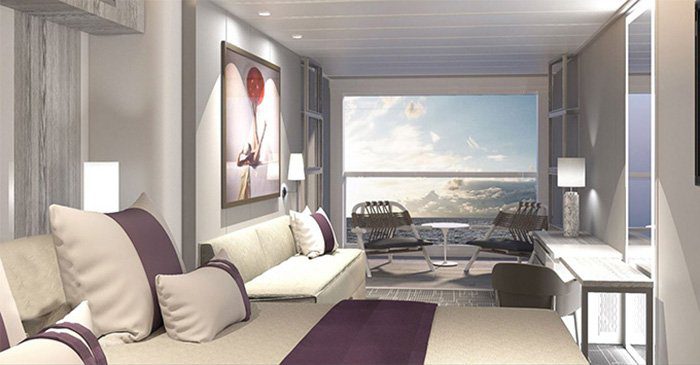 MAGIC CARPET MOVE-ABLE DECK
One of the most exciting features of the Celebrity Edge will be its new move-able deck, the Magic Carpet. Located on the outside of the ship, this unique feature will glide up and down between Deck 2 and Deck 16 and in its different positions, it will have different functions. The idea behind the Magic Carpet is to assist with disembarkation at tender ports and when not used for this, this unique deck will become a speciality restaurant, alfresco dining venue and a location for late-night parties.
A NEWLY DESIGNED RESORT DECK
Celebrity Edge will feature a redesigned pool area that focuses on bring the outside in and the inside out. It will feature a large pool, Jacuzzi that over look the below deck and six private cabanas which can be hired on board.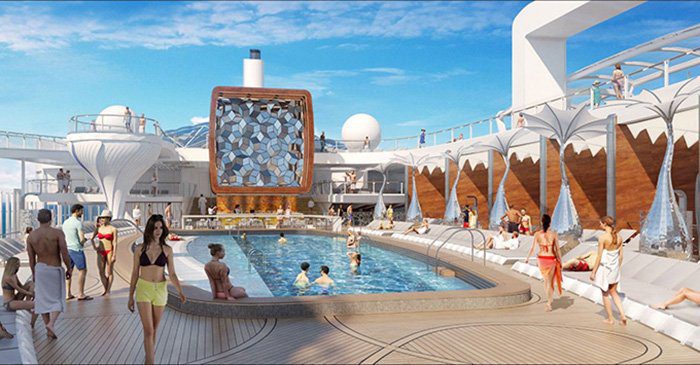 THE ROOFTOP GARDEN
Similar to the Lawn Club and the Rooftop Terrace which both feature on other Celebrity ships, the Rooftop Garden will be a unique space at the top of the ship that's perfect for relaxing in the sun and relaxing at night. With lush greenery and sophisticated tree sculptures, the Rooftop Garden will be a space to enjoy yoga and other activities during the day and it will become an entertainment space at night. The Rooftop Garden Grill will also be located here and it will offer gourmet burgers during the day and a BBQ at night.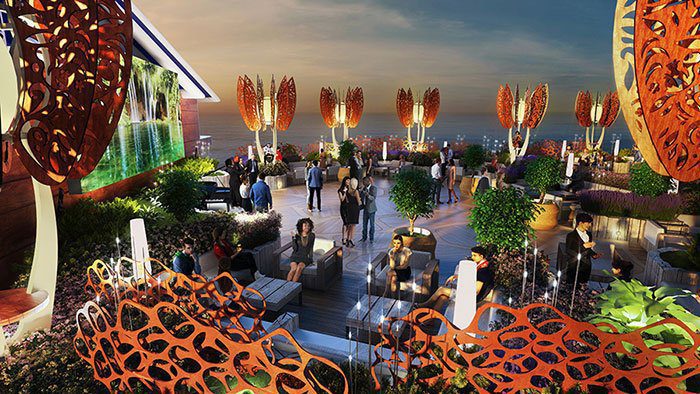 THE SUITE LIFE – NEW SUITE ONLY RETREAT
Celebrity Edge will feature a brand new suite-only retreat on board that will consist of a private pool, lounge, restaurant and sundeck. This is a welcomed area on board as the new Celebrity Edge will feature 7% more suites than Solstice Class ships.
Celebrity Edge will also feature two new suite categories, the Iconic Suite and the Edge Villa.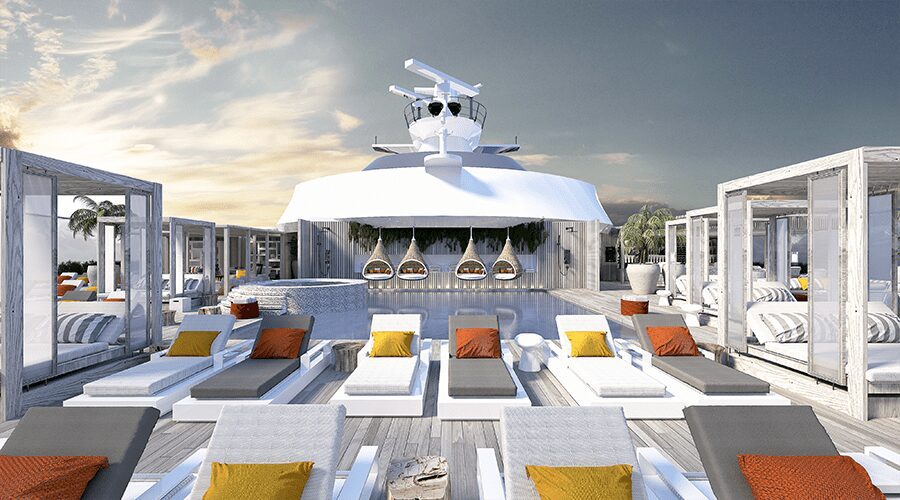 NEW SUITE ACCOMMODATIONS
Celebrity Edge is also bringing to the market, a new fantastic suite class product, unlike any other in the industry. Each class of suite will not only be luxurious, they will offer more light and more space to really bring your cruising experience to the next level.
THE ICONIC SUITE
Celebrity Edge's most luxurious and spacious suites will be the Iconic Suites. Positioned high on top of the ship, these incredible accommodations will give you the feeling that you're on top of the world. Each Iconic Suite is 1,892 square feet in size and includes sweeping panoramic views, a large outdoor private space with a hot tub, stylish furnishings and a covered daybed. There is also two bedrooms, two full bathrooms, a whirlpool tub and an abundance of living space to relax or entertain. The Iconic Suites are all about indulgence at sea.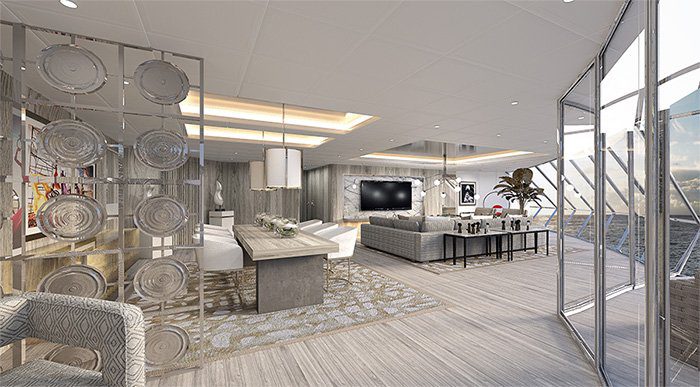 EDGE VILLAS
Edge Villas are the second new suite class being introduced on the Celebrity Edge and these two-story, luxury accommodations are a split-level splendour. With one bedroom, two bathrooms and 950 square feet, the Edge Villas are perfect for couples and parties up to four guests. The Edge Villas are dramatic and impressive and with two story windows, they perfectly blend the indoors with the outdoors. Guests staying in an Edge Villa, will get to enjoy their own private outdoor terrace as well as direct access to The Retreat Sundeck.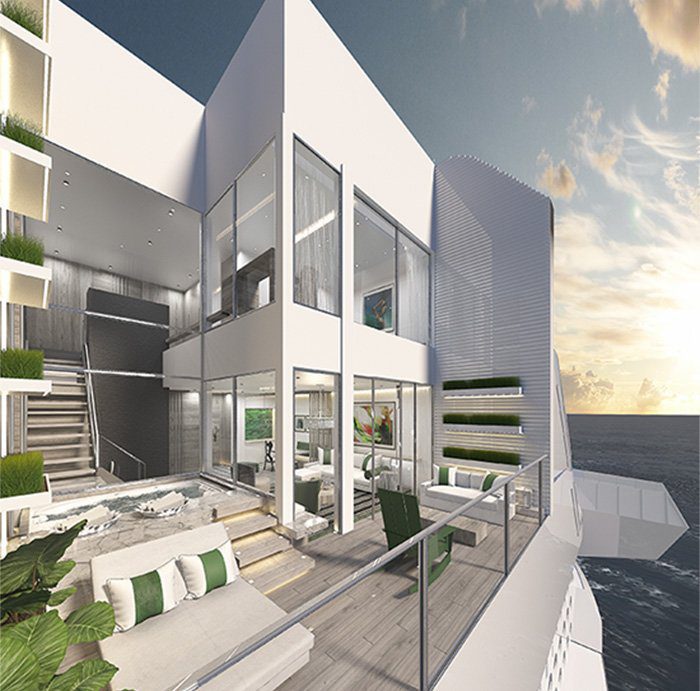 PENTHOUSE SUITES
Guests of a Penthouse Suite on Celebrity Edge will get to enjoy incredible amenities, luxury, spacious accommodation as well as the service of their own personal butler for the duration of their cruise. Each Penthouse Suite comes with a master bedroom, two bathrooms, a second bedroom, a private hot tub and a luxury terrace area. Celebrity Edge's Penthouse Suites will take the suite experience to a new level of luxury and indulgence.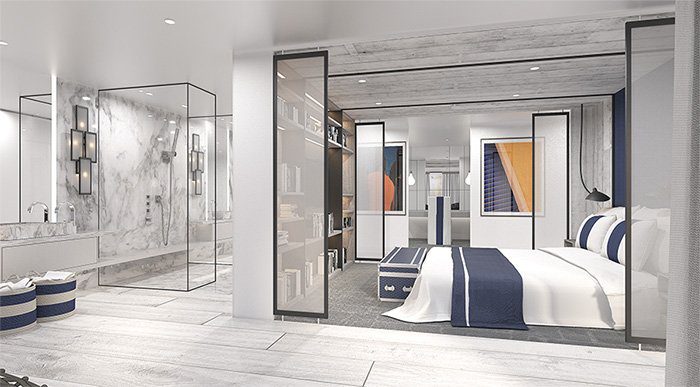 Celebrity Edge is now on sale and if you'd like more information on this exciting new ship, call our cruise experts on 01-8173562 for more information.