Edge Walk at the CN Tower Toronto
Hi everyone! Kathleen here! I'm feeling very proud of myself today because this week I really tested myself and did something entirely out of my comfort zone…I completed the Edge Walk at the CN Tower!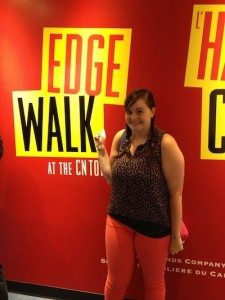 For those who do not know, Edge Walk is the CN Tower's most thrilling adventurous attraction. The experience involves you walking the full circle of the CN Tower on a small ledge a mere 116 stories above the ground!! You have no barriers to keep you in and it's a completely hands free walk!
I'm not a fan of heights nor am I dare devil so this was a huge thing for me to do and although I was very nervous on the morning of the walk as soon as I was in the CN Tower, my nerves disappeared. The staff were incredible, they prepare you, cheer you on, give you lots of encouragement and when you are about to go up, onlookers cheer for you! It was really calming and very exciting!
Once you get to the top of the CN Tower, you are strapped to your harness and given a safety talk. The guide we had was great, by the time I had to walk out onto the ledge I was really nervous again and he helped me through it and in no time, the thrill kicked in!
Here I am hanging over the edge of the CN Tower backwards!
I don't want to give away to much of the experience but when you are up there you do challenges where you hang out over the edge, do the Titanic flying pose and even do poses of your own for some once in a life time photographs!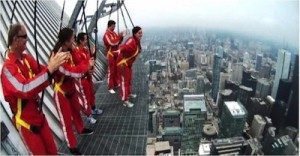 The Edge Walk ticket entitles you to tour the many observation decks in the CN Tower including the Skydome Deck which is a further 33 stories in the air. This was great as the views were amazing! On a clear day, you can see as far as Niagara Falls!
For anyone travelling to Toronto I highly recommend doing this and I say this is as someone who never thought they could or would do it. It has been the highlight of my year and I will never forget it!
Not only that, I can now say that I completed the world's highest full circle hands free walk and I have the certificate, the pictures and the DVD to prove it.
Until next time!
Kathleen