Everything you need to know about Jurassic World VelociCoaster at Universal's Islands of Adventure
Sitting atop everyone's bucket list when we revisit Orlando is the brand new rollercoaster that opened in Universal's Islands of Adventure just a few weeks ago. Jurassic World VelociCoaster has already been named one of the most exciting rollercoasters ever built and after trying it first hand, our Orlando-based representative Sandra can confirm this is true, naming it the 'best rollercoaster she has ever been on'! If you are curious as to what makes it so epic, keep on reading as we discuss in this blog post, everything you need to know about Jurassic World VelociCoaster at Universal's Islands of Adventure!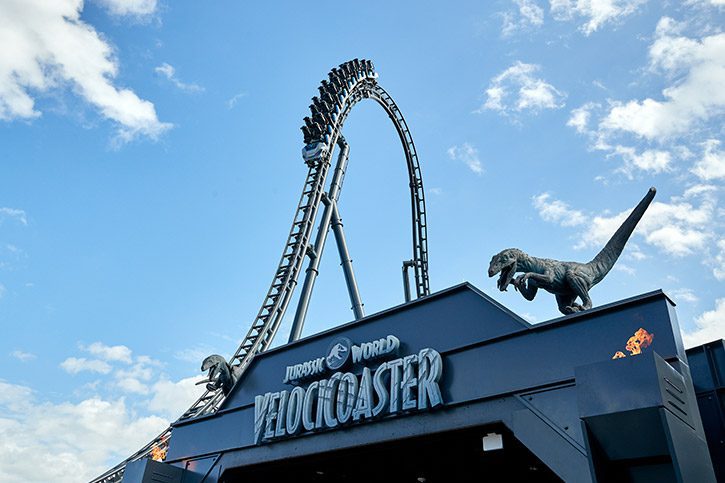 The Ride
From the moment you make your way through the queue to the ride, you will pass sneak peaks of what awaits you including being just feet away from the 70mph launch. Does that sound scary to you!? Keep on reading, it only gets better!
Not only do you experience the rush and air pressure of the launch as you queue, but you'll also experience the raptors screech past you which adds to the ride excitement even more. And, once in your seat, you will be restrained by only a lap bar. Eeek!
Jurassic World VelociCoaster Facts
• VelociCoaster is the tallest and fastest launch coaster in Florida.
• The ride features no breaks until it is over.
• VelociCoaster, unlike other rollercoasters does not slow down at certain intervals. In fact, it actually gets faster with the second half of the ride being the fastest! Its incredible speed is maintained for most of the ride until it hits those final breaks.
• You are secured by only a lap belt – something that makes the ride's extreme airtime even more thrilling! VelociCoaster is all about speed, airtime and direction changes, all of which you will experience upside down, sideways and right side up.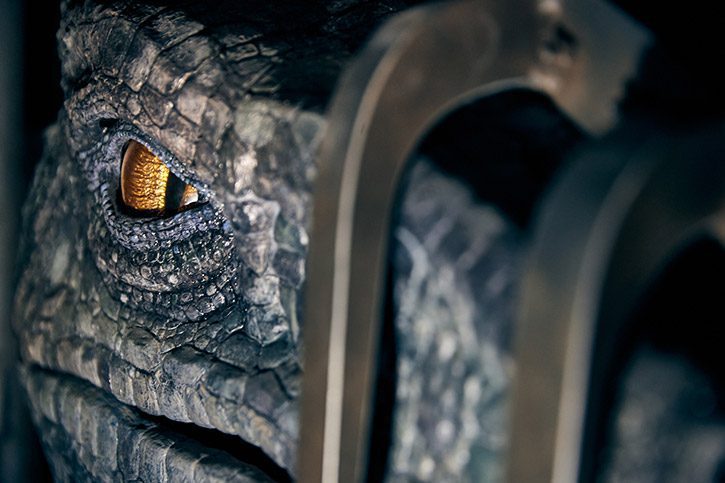 Get ready for Rollercoaster Inversions like you've never experienced before!
VelociCoaster features several inversions that you will not have experienced on any other Universal Coaster.
• Fancy floating in your seat while upside down? A thrilling dive loop will leave you floating in the air before diving you to the ground.
• Is feeling weightless more your thing? VelociCoaster features an inverted stall which will quickly flip you upside down so that you become weightless in your seat as you navigate 100ft of inverted track!
• If that's not enough, a one-of-a-kind high-speed barrel roll will turn you upside down in a 360-degree movement just feet from the surface of the lagoon, all at 50mph!
Keep an eye out for…
Throughout the ride experience, you can try and spot many cool features. Some of our favourites are:
• At the trainer lockers, you will see small groupings of reference books which die-heart fans are sure to instantly recognise.
• If you're brave enough to have your eyes open during the first inversion after launch, look up and you will see a disrupted Pteranodon nest, complete with eggs!
• After the second inversion, if you can spot them at your fast pace, you will see some iconic props which are left over from the ride's predecessor, the Triceratops Encounter.
• If you look down on the floor between VelociCoaster and Raptor Encounter, you will be able to see the walkway that was built for the Raptors to walk between the two attractions.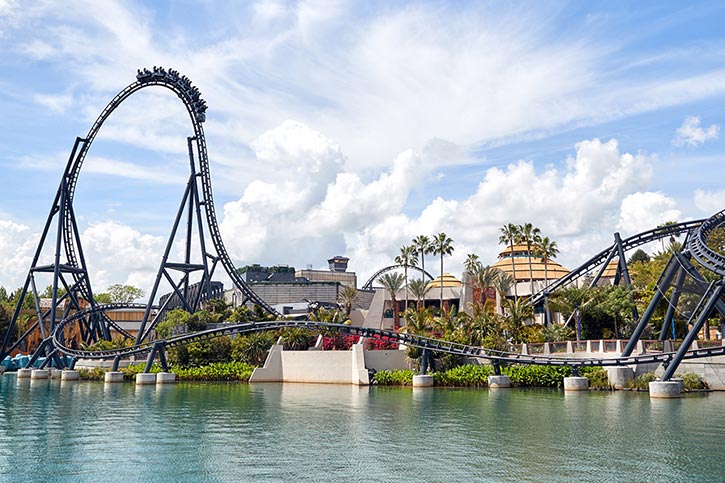 So there you have it, everything you need to know about Jurassic World VelociCoaster at Universal's Islands of Adventure. After reading these fun facts, we know we are equal parts terrified and excited to experience this insane new ride on our next Universal Orlando Resort holiday. How about you!?