Hotels in Florida Keys and Key West
Immerse yourself in the stunning surroundings of the Florida Keys in one of the Islands beautiful resorts. Hotels in the Florida Keys offer guests a relaxing, laid back stay and many give visitors the opportunities to get out onto the water and take part in many water activities. The most popular areas to stay in the Florida Keys include Key West and Key Largo.
POSTCARD INN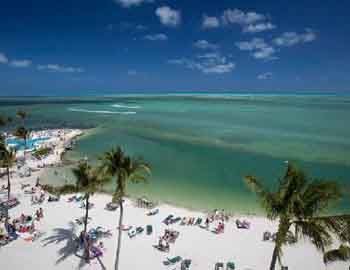 Just minutes away from Key Largo and a short drive to Fort Lauderdale, Miami and Key West, the ocean-front resort Postcard Inn offers a unique hotel experience for those visiting the Florida Keys. Each room is decorated in boathouse chic and comes with air conditioning, cable TV, in room safe, hair-dryer, iron / ironing board, coffee maker and telephone. The Postcard Inn also has 2 pools including a heated ocean-front pool, 3 restaurants and 4 bars. The hotel also offers you the chance to experience boating, fishing, water sports, diving, snorkelling and more. If you are an experienced boater in your own right, but don't have a boat with you, the hotel offers the chance for you to rent one.
HILTON KEY LARGO RESORT
The Hilton Key Largo Resort is a beautiful hotel nestled among 12.5 acres of lush hardwood forestry along the Gulf of Mexico and the southern boundaries of the Everglades National Park. This hotel is located three miles from Downtown Key Largo and is a one hour drive up to Miami. Each of the guest-rooms at this hotel come with a TV, in-room movies/video games, wireless internet access, AC, telephone, in room safe, coffee maker, refrigerator, hair-dryer and iron/ironing board. The hotel also has two outdoor heated pools, whirlpool, snorkelling, diving, kayaking, wind surfing and a fitness centre. You can also find a gift shop, restaurant and a bar/grill at this hotel.
THE REACH – A WALDORF ASTORIA HOTEL
The Reach – A Waldorf Astoria Hotel offers you the Caribbean as a playground! This stunning hotel is situated on the only natural beach on the island. This chic hotel offers luxury and relaxation for those who stay here. Why not relax next to the stunning ocean or by the tropical pool. The Reach – A Waldorf Astoria Hotel offers guests luxurious guest-rooms and amenities including private furnished balconies and plush furnishings. The idea at this hotel is that you are enveloped in the pinnacle of comfort. The resort also features an outdoor pool, private beach and water activities. There is also a beach restaurant on-site.
CASA MARINA – A WALDORF ASTORIA HOTEL
Located on the largest private beach in Key West, the stunning Casa Marina – A Waldorf Hotel is a short walk from the Southernmost point in the USA as well as many other Key West Attractions. Duval Street and the historic Old Town are also nearby. This beautiful resort features TV, in-room movies, AC, dual line telephone with voice-mail/speaker phone, in room safe,hair-dryer and an iron/ironing board in all of it's guest-rooms. The resort also features two tropical outdoor pools and on-site equipment rentals like bicycles, mopeds and ports gear.You can also enjoy an on-site restaurant and bar during your stay.