Hundreds of Hotels to Choose From in New York
Hundreds of Hotels to Choose From in New York – New York City has hundreds of hotels to choose from when you are planning your trip be it business, pleasure or otherwise! You can go top of the range and find yourself in one of the ultimate luxury hotels in the city or feel that all you want is somewhere clean and safe to lay your head and go budget end. There are of course the funky boutique hotels, which I always love as they are not too big that you get lost in them and they make you feel extra special staying with them.
When booking a hotel in NYC it is important to bear a few things in mind. Do you want to be in the centre of all the action, or not? Do you want to walk to your areas of interest, or not? Are you near a metro or not? Booking direct with a hotel rarely tends to be cheaper than going through a Tour Operator like Tour America. The Operator buys rooms in bulk at discount prices and can then pass on the saving to its customers.
THE TOP 5 HOTELS I WOULD RECOMMEND IN NYC ARE:
THE FITZPATRICK MANHATTAN HOTEL
The Fitzpatrick Manhattan hotel blends luxury and Irish charm with a refreshingly classic atmosphere in the heart of midtown Manhattan. With 91 rooms and suites, its intimate size allows them to focus on your every need, and provide you with a personal level of service that you would experience at the finest Irish country houses. Located on famous Lexington Avenue, this boutique hotel is neighbour to some of the city's most popular museums, theatres and shopping districts as well as Manhattan's playground, Central Park. There's a reason that the Irish Taoiseach and many Irish celebrities choose to make it their home whenever they are in town!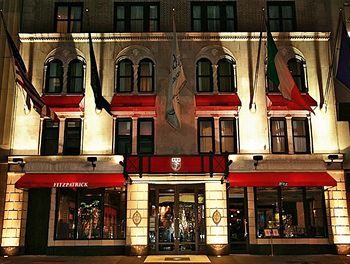 ROOSEVELT HOTEL
For a classic and luxurious New York City hotel experience, The Roosevelt Hotel has it. Opened in 1924 at the height of the Jazz Age, the "Grand Dame of Madison Avenue" continues to impress guests in its prime location at Madison Avenue and 45th Street in midtown Manhattan. Spectacular interiors and grand architectural features beautifully restored to their original brilliance never fail to produce a memorable "wow" reaction. And the finest contemporary amenities in 1,015 well-appointed New York City hotel accommodations that include 33 luxurious suites always create a relaxing ambience in the city that never sleeps. Of all the hotels New York City has, The Roosevelt is the perfect combination of classical and modern all in one.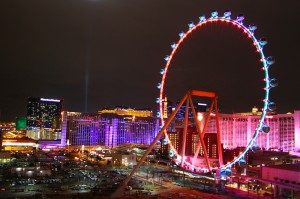 THE HOTEL BEACON NYC
The Hotel Beacon NYC is a haven of comfort amid the bustling excitement of New York City. Located on the historic Upper West Side, amid tree-lined streets and landmark buildings, the hotel is a beacon for relaxation. Friendly and accommodating, they offer handsomely decorated, oversized guestrooms and suites. With wonderful views of Central Park, the Hudson River and Midtown Manhattan, the Beacon is the perfect vantage point from which to venture anywhere in New York. And when your busy day is done, you'll have a perfect place to come home to.
HOTEL METRO
Located in the shadow of Manhattan's famed Empire State Building and situated blocks from the theatre district, Fifth Avenue shopping and the excitement of New York City's midtown, the Hotel Metro offers modern amenities, newly renovated guestrooms and a soothing atmosphere amidst the hustle and bustle of New York. The Hotel Metro offers the finest New York City hotel accommodations with deluxe guestrooms and an array of modern amenities delivered with casual but impeccable service. Whether travelling on business or to enjoy the sights of New York, the Metro's amenities and comfortable décor will satisfy the demands of even the most seasoned traveller.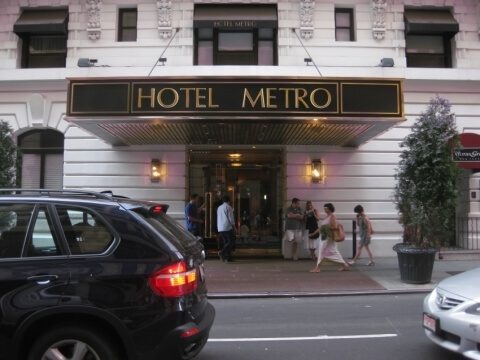 MANHATTAN HOTEL
This Manhattan Hotel is located in the heart of NYC's Theatre District, 1 block from Times Square and everything else that makes New York City – 'The Most Exciting City in the World!' Milford Plaza Hotel is a historic New York City Hotel having opened in 1928 in the heart of NYC's Theatre District. At that time Milford Plaza Hotel's 1,300 Guest Rooms and Guest Suites made it the largest Hotel in New York City and it remains among the largest Manhattan Hotel's today. With Milford Plaza Hotels ideal Mid-town Manhattan location, in the heart of NYC's Theatre District, this iconic New York City Hotel became known throughout the world as the, 'Lullabuy of Broadway'. Guests return to Milford Plaza New York Hotel year after year because of our great Midtown Manhattan Hotel Location, great NYC Hotel Rates and comfortable Guest Rooms.
So if none of these hotels have tempted you to visit NYC soon check www.touramerica.ie for other options
Stephanie Frame – Communication Officer at Tour America