MSC Bellissima Review
Hi everyone! Kathleen here. I'm just back from an amazing few days on board the brand new MSC Bellissima and WOW what a ship! There were many things I loved about the ship and in this blog post, I am going to take you through them all. Enjoy!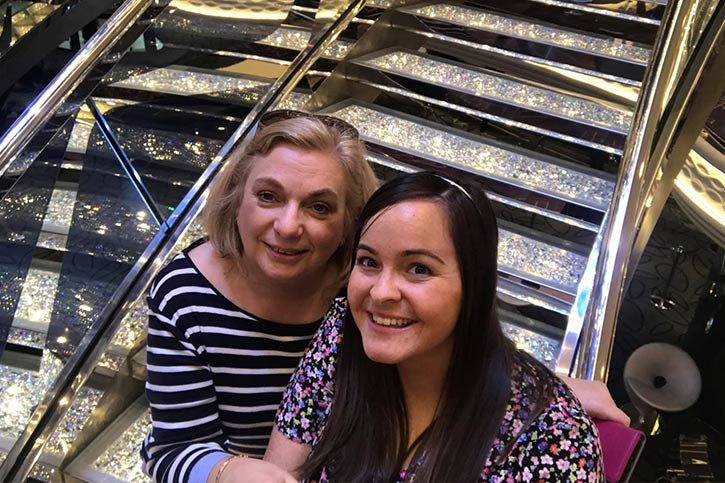 MY INTERIOR CABIN
I had an interior stateroom for my cruise and it was my first time to stay in one. What really surprised me about my cabin was the amount of space it had. My perception of interior cabins was that they were small, but my cabin was anything but. There was a lot of space and I had an amazing bed as well, so comfy! The cabin also had a spacious bathroom and of course it featured my own personal cruise assistant Zoe! Overall, I would happily recommend an interior cabin to anyone who is cruising on a budget. You won't be disappointed.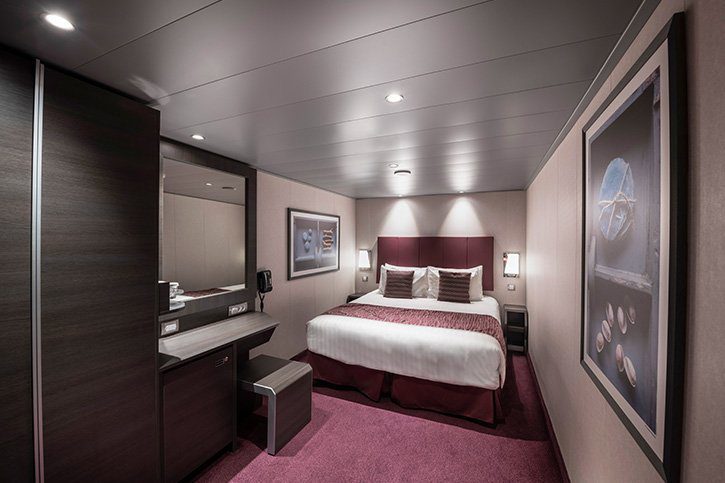 ZOE TECHNOLOGY
I was so excited to experience Zoe on board MSC Bellissima. Zoe is the world's first virtual personal cruise assistant and she is like your right hand girl on your holiday. When in your cabin, simply say 'Ok Zoe' and she comes to life to help you with any queries you may have on board during your cruise.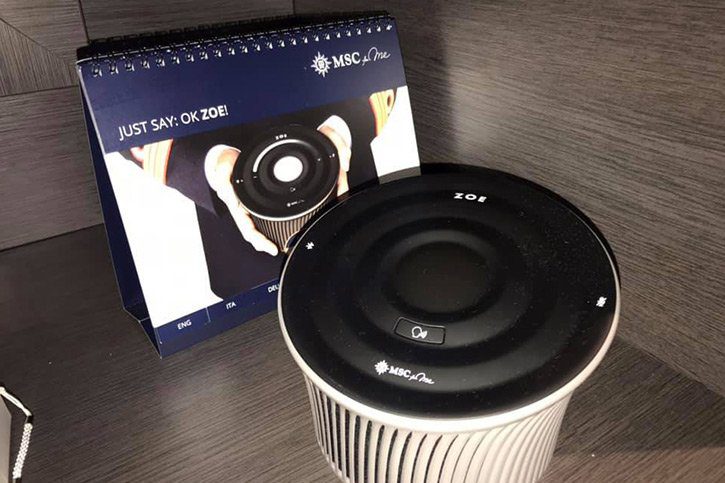 CHECK OUT THE SWAROVSKI CRYSTAL STAIRCASES!
Ok, so this may seem like a weird highlight to have all by itself but believe me, it is a good one! MSC Bellissima features six Swarovski Crystal Staircases and they are one of my favorite things about this amazing ship! Four of the staircases are in the atrium area of the ship and they are just WOW! Did you know that each step has 640 crystals!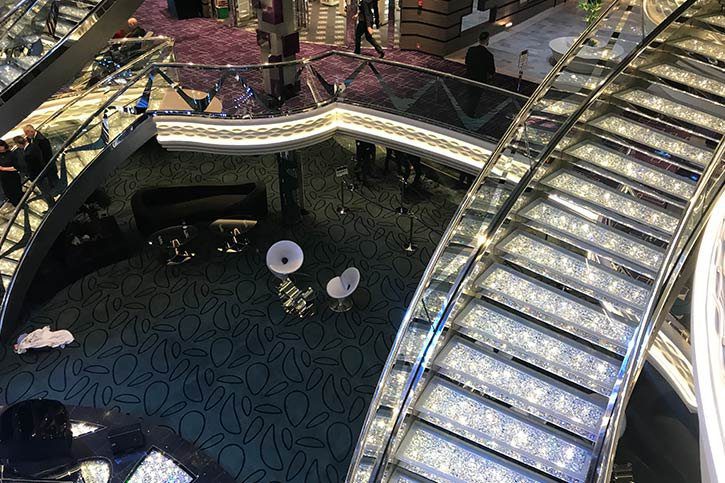 EXPLORING THE PROMENADE
The promenade on MSC Bellissima which runs through the centre of the ship is in short, stunning! At 96 foot long, this Mediterranean themed space is home to many dining and entertainment options. It also features an 80 meter LED dome which projects different imagery and video content throughout the day providing lots of surprises and experiences as you pass through this area of the ship. Hola! Tapas Bar, Butchers Cut, Kaito Teppanyaki Restaurant and Sushi Bar are just some of the amazing specialty dining options available for you to enjoy on the Promenade and we also recommend you visit the AMAZING Jean Philippe Maury Chocolaterie Café for some yummy coffee and chocolate truffles. You won't be disappointed! Of course on holidays you have to enjoy a nice drink and we really recommend you check out the gorgeous Champagne Bar!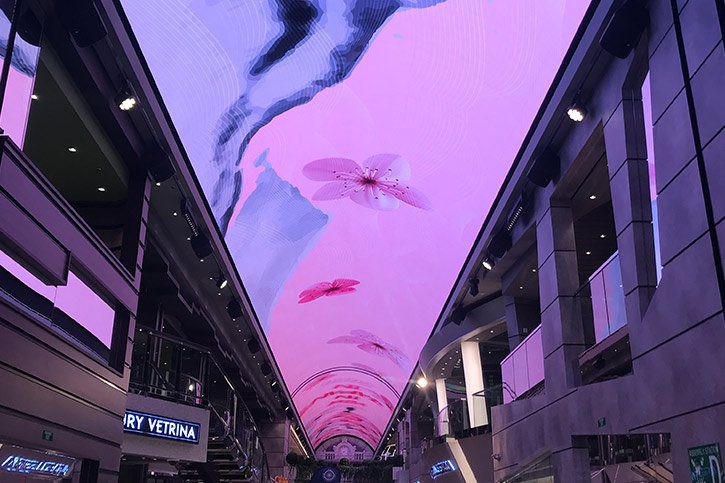 AUREA SPA
I've treated myself to a relaxing spa treatment before on MSC Cruises so I knew I would have to give the spa on MSC Bellissima a go! I booked a Bali Head, Neck and Shoulder massage and it was just heavenly! The treatments on board are really affordable and so worth splashing out for. When you enjoy a treatment, you also get to enjoy the thermal suite which has a sauna, steam room, relaxation room and more.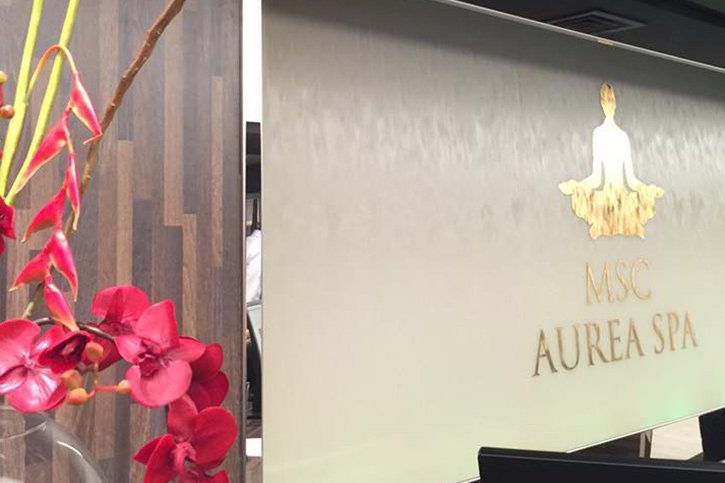 DINING ON MSC BELLISSIMA
One of my favorite things about cruising is the delicious food you get to enjoy throughout your trip and the dining on MSC Bellissima did not disappoint. We ate in two different venues while on board and both were complimentary and part of the standard cruise fare. First up was the Marketplace Buffet, which was just fantastic! It had such a large array of food from all corners of the world meaning we were spoilt for choice on what to have every time we ate there! The Marketplace Buffet is open 20 hours a day and a must on your cruise. Next up is the main dining hall where we had our evening meals and again the food was just incredible. I enjoyed steak, lobster, risotto and some delicious deserts during my time on board. The service was also great and we truly felt so spoilt.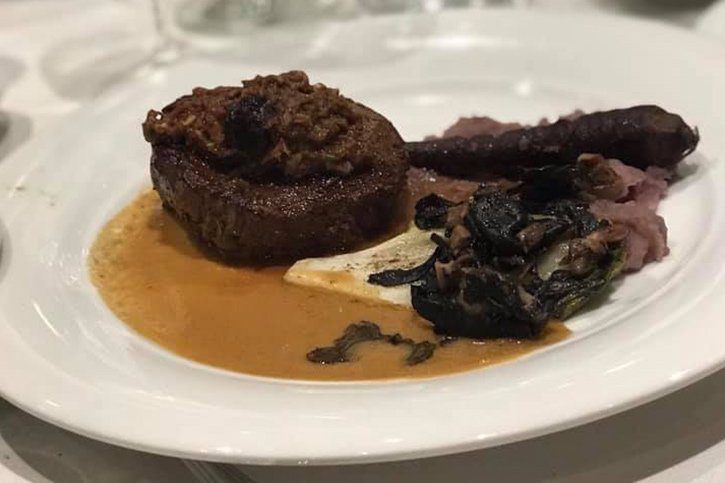 ENTERTAINMENT ON BOARD
One thing is for sure, we were entertained from start to finish while on board MSC Bellissima! I attended the naming ceremony of the ship and so I had the pleasure of seeing Andrea Bocelli and Craig David perform, however we also got to enjoy on board entertainment and shows. There was always live music on throughout the day and in the evening time and it helped to build on the already amazing atmosphere on board. We also got to enjoy a taster of the INCREDIBLE Cirque Du Soleil Shows which were produced exclusively for MSC Bellissima and they were just amazing. While they come at an additional cost on board, it is minimal for the experience you get. You can even enjoy them as you have an incredible meal with your cruise partner. We also loved the bars on board and there was a great selection of shows, comedy clubs and karaoke throughout the ship.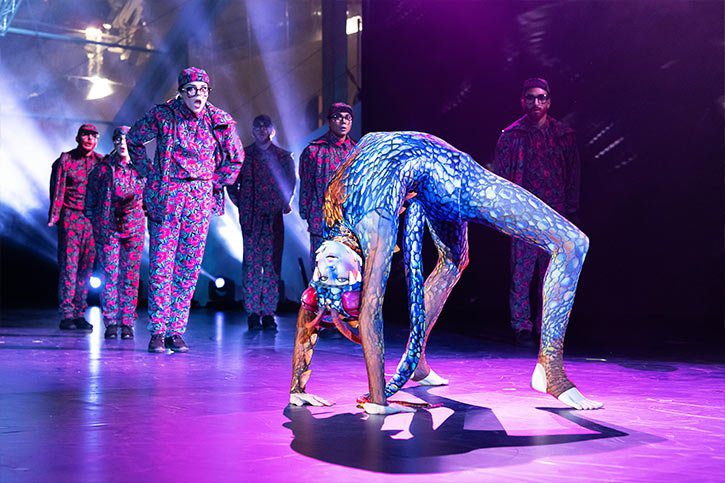 ATMOSPHERE POOL AND SOLARIUM
The Atmosphere Pool on MSC Bellissima is one of the most stunning pool decks I have seen. It's spacious, chic and perfect for a day of relaxation in the sun. There is also a giant screen overlooking the pool as well as shaded areas and a bar. What I also love about the Atmosphere Pool is that at night it is transformed into a chic, night-time venue so be sure to keep an eye on your daily itineraries for evening time poolside parties! If the weather is a little cooler, head to the solarium, a gorgeous pool area that's heated and features Jacuzzi's and a pool. There are also lots of relaxation areas and a bar.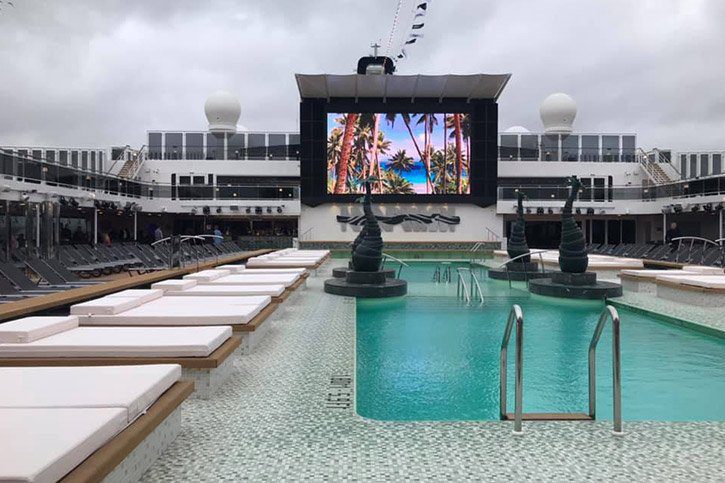 VIRTUAL EXPERIENCES
One of the really cool things I loved about MSC Bellissima was the range of virtual experiences you could enjoy on board! Located at the kids club, but open to adults as well, you can enjoy Formula 1 Simulators, virtual reality mazes and thrilling 4D cinema style rides! We had so much fun trying out each of the experiences and I highly recommend them for both adults and kids. If all of this is not enough, there is also a full size bowling alley for you to enjoy!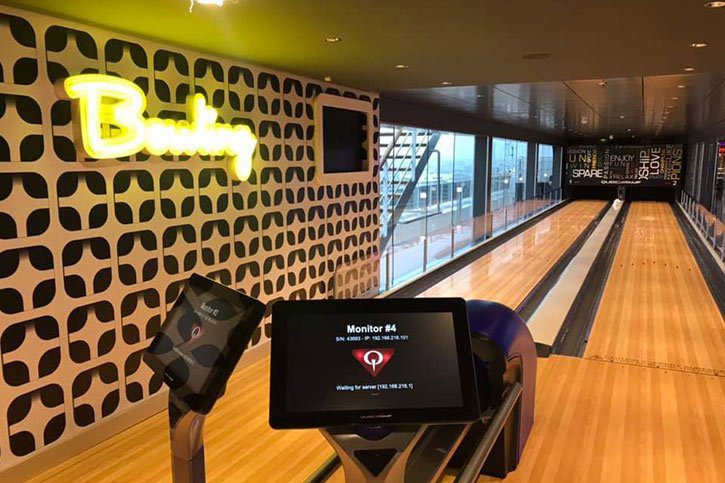 MSC BELLISSIMA KIDS CLUB
While on board I had to check out the kids club and I can confirm, the kids club on MSC Bellissima was the best I have ever seen. MSC Cruises have partnerships with Chicco and LEGO and the kids club feature both brands and activities throughout. What I loved about the kids club was the various play rooms for each age group and also the style and features of the rooms. They were just amazing. The teenager area was also really fantastic! Alongside of the kids club there is also a huge sports complex which is often used as a disco space.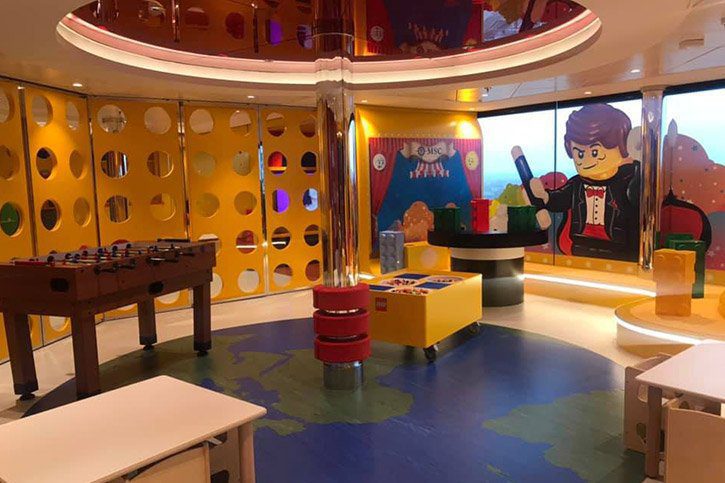 ARIZONA AQUA PARK
While on the topic of families, I have to mention the thrilling Arizona Aqua Park on board! This Grand Canyon themed water park has lots of slides for the family to enjoy and it is also surrounded by a thrilling rope-course!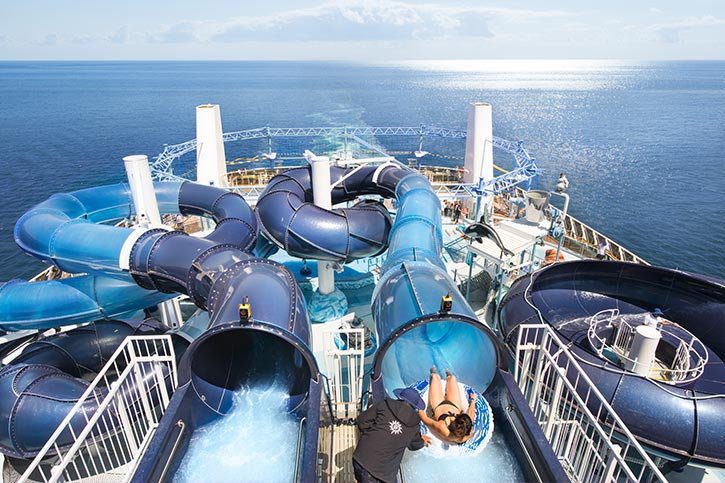 MSC YACHT CLUB
While on MSC Bellissima, I had the pleasure of enjoying and seeing the MSC Yacht Club on board, and wow, what an experience. Yacht Club is MSC's suite class experience and it has often been described as a ship, within a ship. Home to stunning suites, each of which comes with a personal butler, the Yacht Club is a luxury experience that is perfect for those cruising in celebration of a special occasion. Yacht Club guests get to enjoy the use of their own private lounge, restaurant and also their own private pool deck. Yacht Club on MSC Bellissima also features its own Swarovski Crystal Staircase.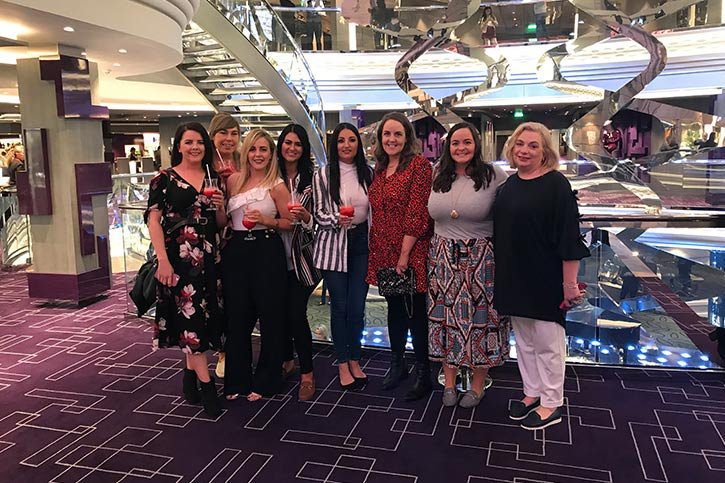 My colleagues and I had the most amazing time exploring this incredible ship and we all loved it so much. If you would like more information on cruising on board MSC Bellissima, you can contact our Award Winning Cruise Experts on 01-8173562 or alternatively, you can contact us via the contact form below.