My experience of Quantum of the Seas
Hi all, Sarune here. Few weeks ago I was lucky enough to sail on Quantum of the Seas and I had the opportunity to try out one of the most iconic features on board, The North Star. Wow was it absolutely amazing! We got to experience breathtaking 360° views of the sea and this definitely makes the North Star one of the most exciting attractions on board the ship. The whole experience takes around 15 minutes. The ride consists of a small glass capsule which moves very slowly and all you need to do is enjoy the view and take some photos! My advice would be do it in the evening time before the sun goes down. You will get the best views then and the best picture opportunities as well. Not to mention it would be so romantic if you are on your honeymoon!
Quantum of the Seas is definitely designed to WOW and the highlight of my trip was the Starwater show in the Two70 lounge. What a spectacular show! The production and music was absolutely outstanding. It is impossible to describe how amazing the show is, so click on this link to watch the video and you will find out it for yourself why this show is completely different from anything you have seen before.
My advice would be to pre-book the show and then arrive early as you can't pre-book the seats. I was sitting in the balcony area and I think I definitely had the best seat!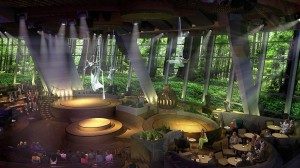 I was absolutely delighted to have the opportunity to do a skydive on board Quantum of the Seas as well. What an unforgettable experience and one not to be missed! And don't worry, it might look like you need some skills before you can do it, but you definitely don't. I had the best team looking after me all the way and I would recommend this to people all ages. My biggest tip is to make sure your hair is hidden under your helmet as it gets extremely windy in there!
So there you have it, my highlights from my trip on board Quantum of the Seas!