My MSC Seaside Caribbean Cruise Highlights
Hi everyone, Kathleen from the Tour America / Cruise Holidays Dublin team here! I am just back from my cruise holiday on board MSC Seaside and I just had to tell you all about this AMAZING ship! This was my first Caribbean cruise with MSC Cruises and we were truly blown away, everything was seamless which is so important to me on a holiday. In this blog post, I'm going to talk everything from getting to Miami to the ports of call and dining we enjoyed, this is my MSC Seaside Caribbean Cruise highlights!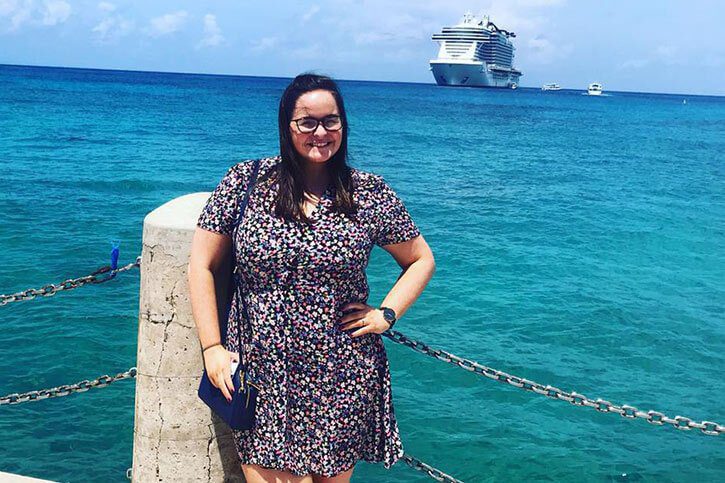 Like you guys, I booked my holiday with Tour America/Cruise Holidays (of course! 🙂 ) and we decided we would fly direct to Miami for the holiday. We flew Aer Lingus from Dublin to Maimi direct the day before our cruise and did a pre-night stay in Miami. We stayed at the gorgeous Grand Beach Miami Hotel for a night before our cruise and also a night after and I cannot recommend this beautiful hotel enough. Every room is a suite here and the décor is just so chic and gorgeous. The hotel is also perfectly located on the beach and it is just a short Uber into South Beach or else you can walk along the gorgeous promenade/boardwalk which we done and loved!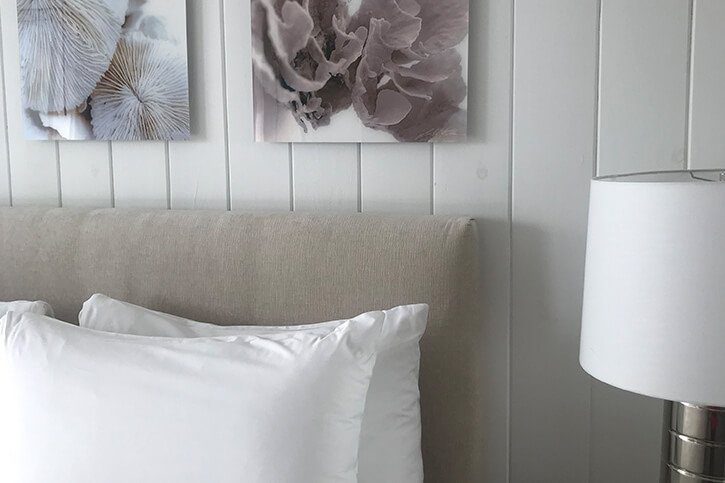 MSC SEASIDE – EMBARKATION
Before we left Ireland, we checked in online with MSC for our cruise. You need to do this in order to get your cruise travel documents. It was a really easy process and once done, you can download your MSC for Me app which is a must for your cruise on MSC Seaside! The MSC for Me app allows you pre-plan all of your activities on board including dining, shows and excursions. It's brilliant! When we arrived to board the ship, we got through arrivals and security so quickly and we were on board the ship within fifteen minutes which we were really impressed by.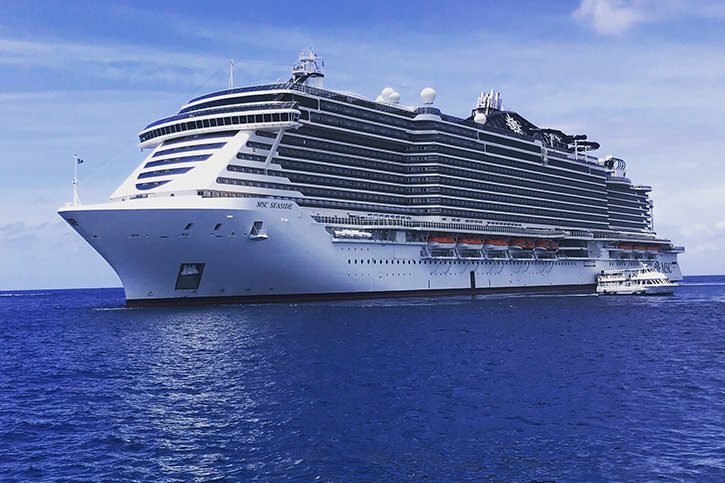 OUR BALCONY CABIN – MSC SEASIDE
For our cruise we stayed in an ocean view balcony cabin and it was gorgeous! It was the nicest stateroom I've had on a cruise, I just loved the décor so much. The color scheme was purple and grey and it was so chic! We had good space in the room and ample storage for our clothes and suitcases. We also had a really nice sized bathroom and shower and our balcony was gorgeous, I spent a lot of time out there watching the world sail by!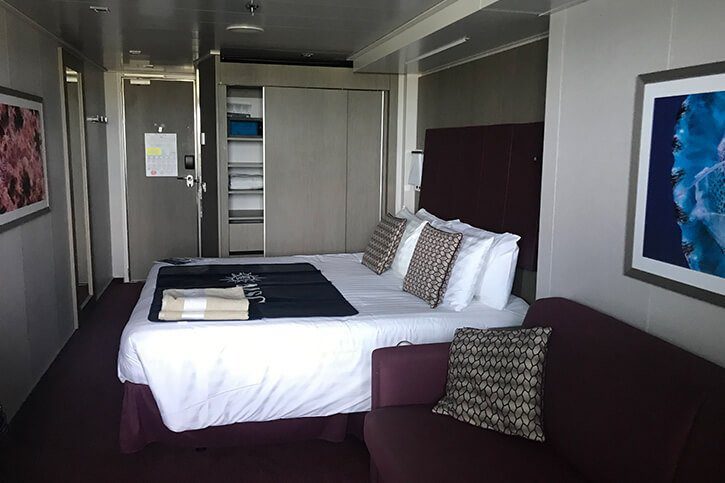 WESTERN CARIBBEAN ITINERARY
Our itinerary was a Western Caribbean itinerary and our ports of call were as follows:
– Day One: At Sea
– Day Two: Ocho Rios, Jamaica
– Day Three: Georgetowm, Grand Cayman
– Day Four: Cozumel, Mexico
– Day Five: Nassau, Bahamas
– Day Six: At Sea
– Day Seven: Miami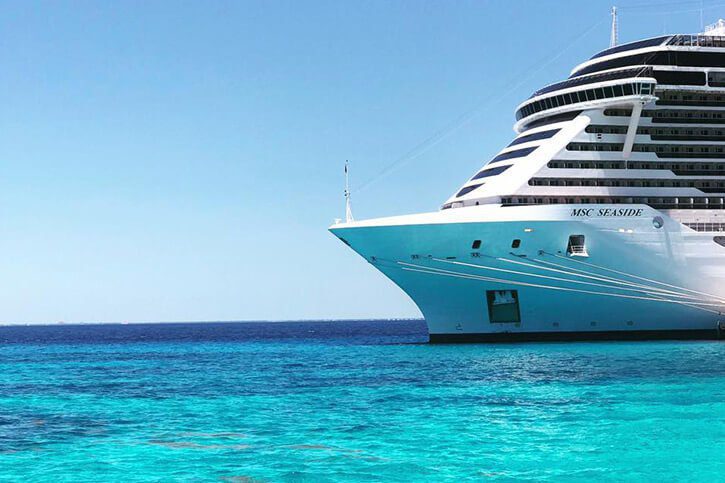 OCHO RIOS, JAMAICA
For our day in Jamaica, we wanted to head to a beach and we booked a tour with MSC Cruises for the Bamboo Beach Club. It was a short 15 minutes or so from the port and it was a lovely private beach aligned with 100 year old almond trees. You can purchase the excursion with food included or without. We booked it without food and it cost $29.99 each. There is also an option to visit the beach on a VIP experience, which would be lovely for honeymooners! We ordered our food on the beach where we got three courses, including Jamaican jerk chicken, for $17 US Dollars which we thought was great value! The beach club had a really laid back atmosphere and we even had some Jamaican dancers entertain us throughout the day! It was great!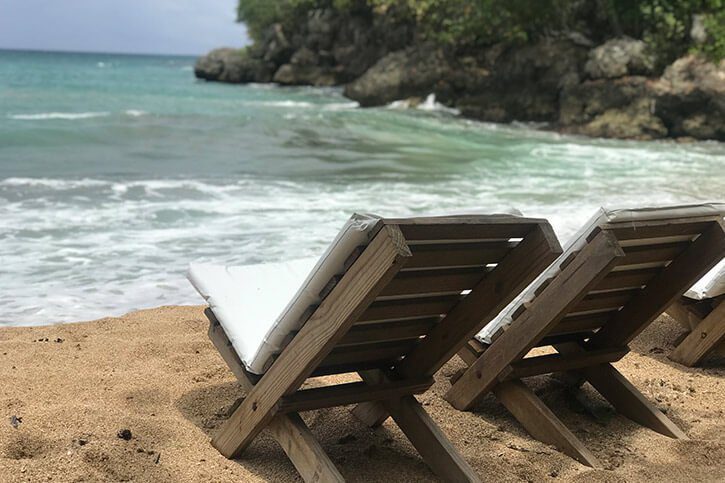 GEORGETOWN, GRAND CAYMAN
For our day in Georgetown, Grand Cayman, we tendered just off the coast and used the tender service into the port. This was brilliant to experience and it was a really good service. We decided to explore Georgetown by ourselves and throughout the port town, you can enjoy excellent shopping, historic sights and also some really great food. The view out to sea was towards our ship and it was just stunning, the water is amazing in the Cayman Islands! If you would like a beach day here, I really recommend Seven Mile Beach which is just a short drive from the port.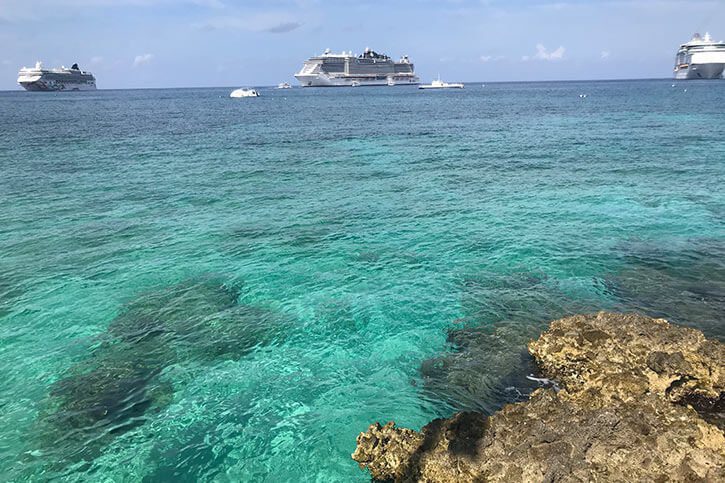 COZUMEL, MEXICO
Mexico is one of my all-time favorite destinations and so I was delighted that our cruise was stopping at Cozumel as I had never been! Cozumel is a really lively, thriving port of call. Around the port you will find lots of stores, restaurants and bars but if you walk along the promenade which lines the shore, you will come across the heart of this Mexican town! We stumbled upon a beautiful town square which was lined with the most gorgeous buildings. With a park at its center, it was the perfect place to get those picture perfect Instagram shots, which I love on a holiday!
NASSAU, BAHAMAS
Our final port of call was Nassau in the Bahamas and what a beautiful place as well! Like our two previous ports of call, we decided to explore Nassau by ourselves. We strolled along the main shopping district, Bay Street, we visited the incredible Queens Staircase which I really recommend, it is gorgeous! We also visited Junkanoo Beach for a swim in the crystal clear water, which was a short 15 minute walk from the port.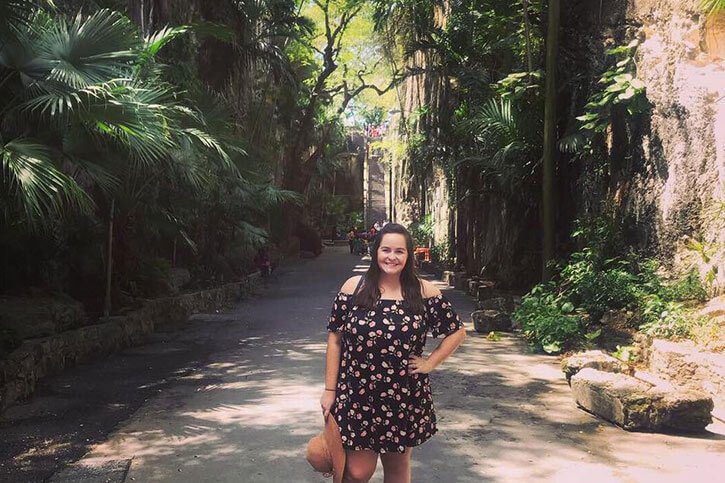 MY MSC SEASIDE HIGHLIGHTS
I truly adored this ship. It was so gorgeous, and I felt like a movie star every day I was on board! My overall highlight from MSC Seaside was the speciality dining. We purchased a dining package before we went on our holiday and while it was an extra cost, it was worth every penny. We ate in the Pan Asian and also the Butcher's Cut Steakhouse. Both were DIVINE. The Buffet on board is also brilliant and has so much choice. This is included in your cruise fare and we ate in the buffet every day for breakfast and lunch.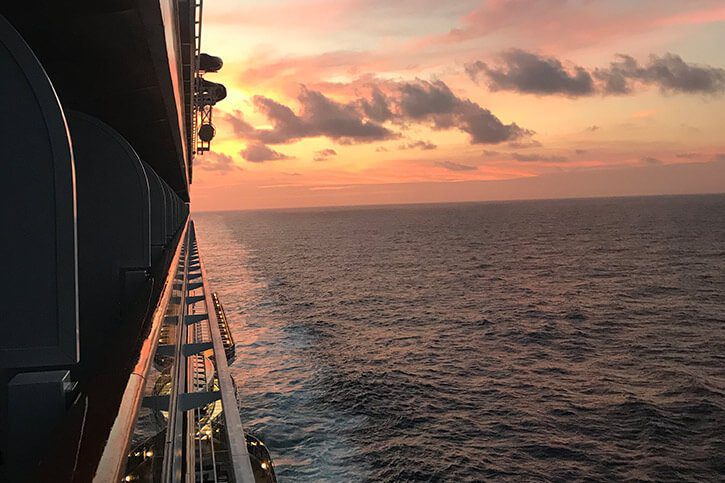 We also loved the South Beach pool which is located on Deck 7 at the back of the ship, it was a quieter pool deck and it offered us amazing views when we were at sea and in port. MSC Seaside also had lots of shopping options on board and featured amazing sales on board every day. The Bridge of Sighs at the back of the ship is a must do as well! This glass bottom bridge offers amazing views and it was a really unique feature on the ship. My last favorite highlight, which is always a highlight of mine when I cruise with MSC, it was the Swarovski Crystal staircases, they are just SO stunning. While we didn't travel with kids, there was so much for families on board with everything from zip-lining to water-parks.
To conclude on the most amazing cruise holiday, we loved every minute of it. I was so sad getting off the ship but one thing is for sure, I will sail on MSC Seaside again as it exceeded all of my expectations. If I have inspired you to cruise on this incredible ship, you can talk to our cruise experts today on 01-8173562 or via the contact form below.