My Western Caribbean Cruise on the Celebrity Reflection
The stunning Celebrity Reflection cruise ship was docked in Miami in December, and I couldn't wait to get on board for my 7 night Western Caribbean Cruise. Winter sunshine is something that you can never get enough of and what better place to enjoy it than on a Cruise Holiday. Once we boarded the ship we moved into a world of limitless luxury. From the minute you step on to the ship you are surrounded by modern luxury and stunning art everywhere.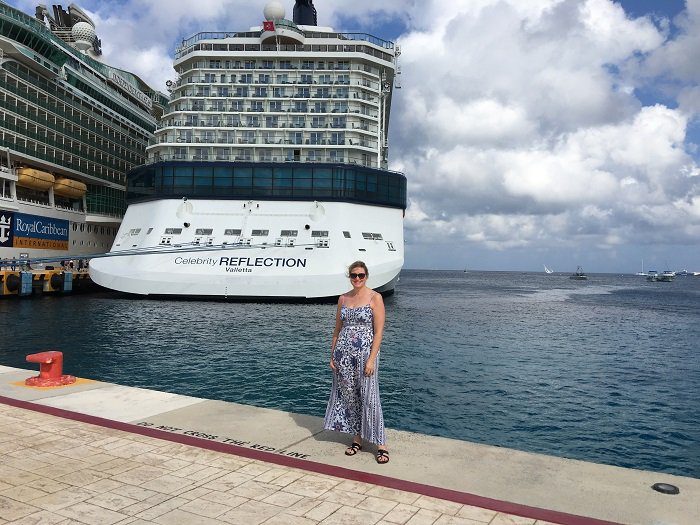 CELEBRITY REFLECTION – MY HIGHLIGHTS
Throughout the dining walkway, where several of the speciality restaurants are located, there is art everywhere. In particular there is a piece by Anthony James, a delightful optical illusion of kiln-dried birch trees, glass and steel mirrors. You find yourself marvelling at artwork throughout the ship. Celebrity hosted a Thomas Kinkade Exhibition (known as the most collected artist in America) and there is always a gallery sale while on board.
The whole ship has a lovely relaxed vibe to it. There is a beautiful library over two-decks, which is a delightful open-ended space where I found myself drifting towards on many occasions. It is operated on an 'honour' system so you can check out a book 24/7. On the floor below the library there is another area for relaxation called the Hideaway. Here you will find plush soft furnishings as well as cosy pods in earth brown and green hues. Very cool, very laid back.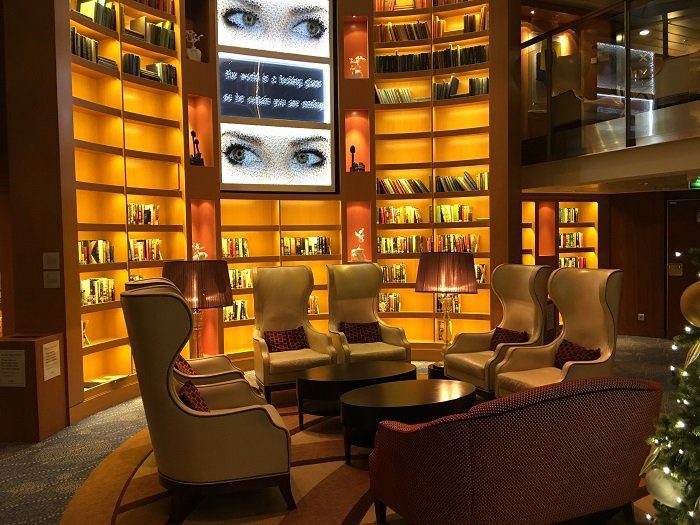 There is a music-free zone on the Solstice Deck, which is a nice space to relax and read a book. The Lawn Club is where there is half an acre of real grass on the ship, something you really don't expect to find on board. And to top off the relaxation vibe there are some lovely private spaces called the Alcove Cabanas that you can pre-book and come equipped with Wifi.
But a cruise is a little more than just relaxation so try out the Martini Bar, a frosted bar that carries over 100 varieties of vodka, as well as Martinis. It's lively and can but be a lot of fun. One of my favourite late night places, and also a great venue for drinks before and after dinner with live music.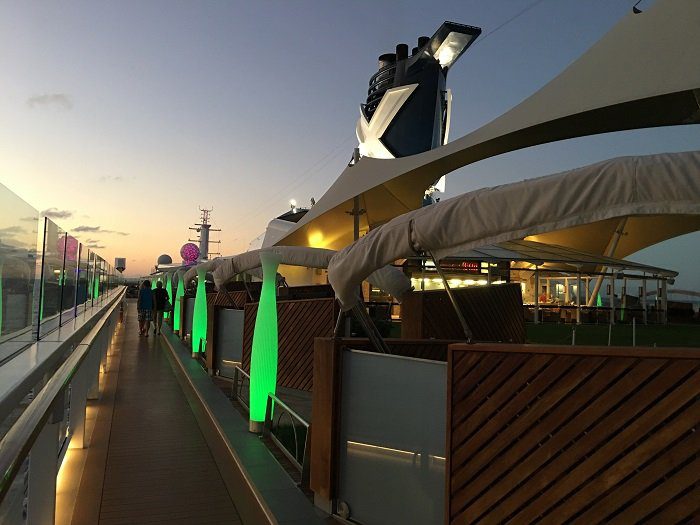 Having been on a fitness regime before I left for my cruise I decided I would keep it up while away. With this in mind I sought out the gym shortly having got on board. Of the 7 days on the ship I went 5 days. It really was very enjoyable. Where else would you be able to exercise looking out over the ocean or sometimes working out watching the sunset. I also used the walking/running track up on deck when I wanted to enjoy the sun and fresh air, I wish I was there now!
The pool was another area that I spend a good deal of time at during the sea days. There are several pools and water areas, one under a glass-roofed solarium with the Aqua Café for light healthy bites. There's a sports pool, a family pool, and a wet zone on the open deck with sunning space around all the pool areas to relax. And don't forget about the Canyon Ranch Spa Club & Persian Garden to spoil yourself with a luxurious treatment at the spa, or head to the Persian Garden, a relaxing space complete with steam and tropical rain showers.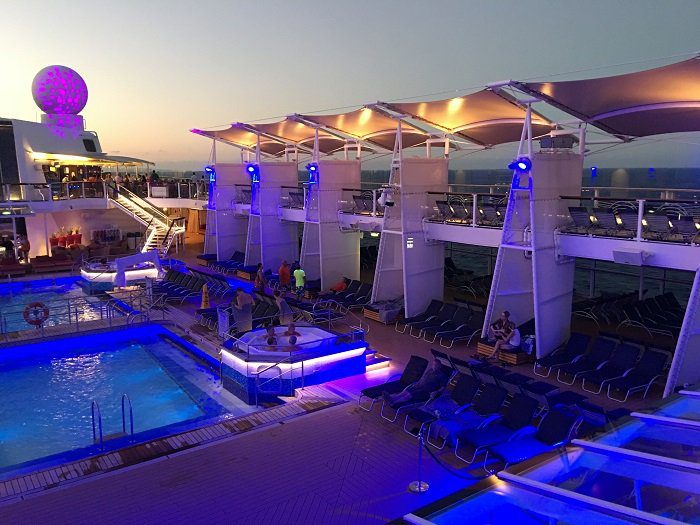 The Opus is the main dining room, which is over two levels, and has a contemporary and very comfortable feel. There is a beautiful focal point in the room of a two deck high wine tower, which houses one of the most extensive wine collections at sea. The food is fabulous and this is where I got one of my favourite's, Lobster tails, which was divine. We dined here most nights. There are a number of beautiful speciality restaurants that can be booked for a small premium. We got to enjoy Qsine, where you can order sushi lollipops, lobster escargot and popcorn fish from an iPad menu. A very unique restaurant that offers culinary delights created by James Beard-a featured Master Chef. Well worth a visit.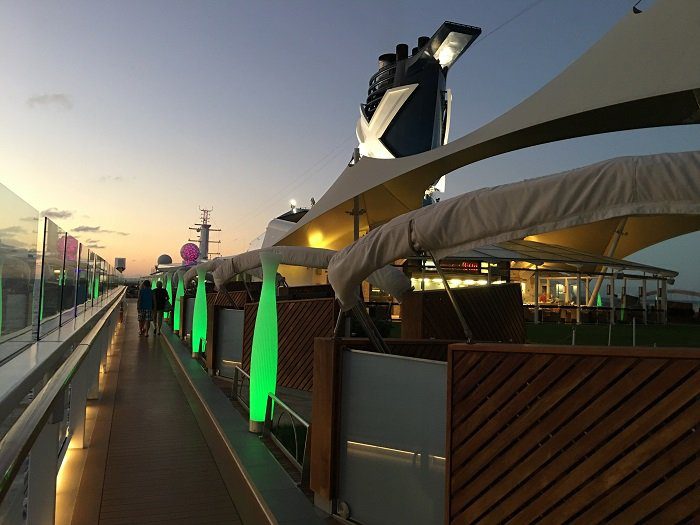 Entertainment is superbly organised and offers something for everyone. You can go to the Reflection Theatre where you can see the ships main live shows, The Tree Rock Tenors were a highlight. You can also catch a movie, Bridget Jones was playing the night I went, or go to a comedy show. Live music is always a feature of the atrium. There are pool parties and Silent Disco's, which is a must do to get you into the party mood.
CELEBRITY REFLECTION – WESTERN CARIBBEAN ITINERARY
Our itinerary encompassed the Western Caribbean, which took in Cozumel in Mexico, Jamaica, Grand Cayman and Labadee in Haiti. We got to go to the famous Seven Mile beach in the Grand Cayman, Climb to the top of Jamaica's most famous natural landmark Dunn's River Falls. Our tour guide was very professional explaining the Jamaican culture and history during our scenic drive along the north coast of Jamaica.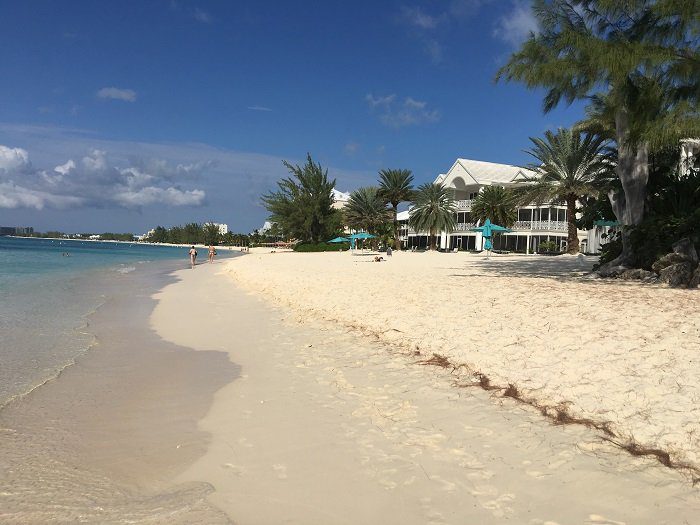 Labadee in Haiti is a private paradise set amid spectacular mountains and lush foliage. A beautiful area, with lots to offer including the world's longest zip line over the sea, coastal tours, jet tours, parasailing, kayak adventures, 300 foot long salt water slide or if like me you can relax on the floating mats in the cool water and take a leisurely walk around the resort.
I loved cruising and was extremely impressed with Celebrity Cruises. A cruise is a luxury holiday, which allows you to see and experience many amazing and beautiful parts of the world in comfort and style. If you'd like more information on a Caribbean cruise with Celebrity Cruises, contact our cruise experts today on 01-8173562 or visit http://www.cruiseholidays.ie/cruiseline/celebrity-cruises .
Mary.