New York and the Bahamas with Royal Caribbean, the Ultimate Cruise Holiday!
Hi guys! Sarah from team Tour America here. My colleagues and I are just back from the most amazing cruise on-board Royal Caribbean's Anthem of the Seas and I wanted to share some of our highlights with you all! If you're thinking about taking a cruise holiday, but have never cruised before (like myself) I would truly recommend this itinerary as you have a unique opportunity to experience both the Big Apple and the Bahamas!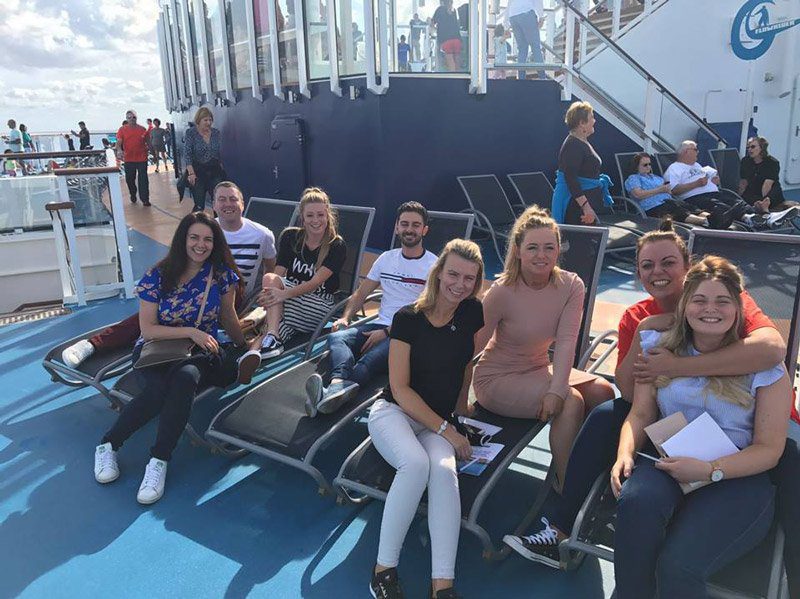 GETTING THERE – DUBLIN TO NEW YORK WITH UNITED AIRLINES
Anthem of the Seas departs from New York, and so we combined a night's stay in the Big Apple with the cruise. And, in order to gain as much time as possible in New York before we headed for the Bahamas, we decided to take the earliest flight out which got us into Newark airport for 11am. So it meant an early start at Dublin, but we were all so excited for our trip! We flew with United Airlines from Dublin and our flight was just fantastic. We flew Premium Economy and were thrilled with the extra legroom on board. This was my first time flying direct to the USA from Dublin, and I couldn't believe how much easier it was to do pre-clearance in Dublin! Wow it was amazing!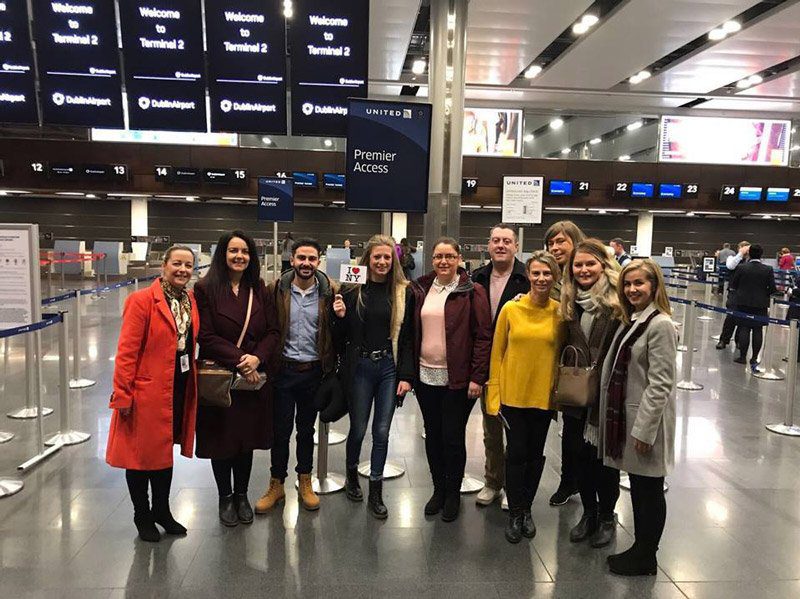 EXCELSIOR HOTEL NEW YORK CITY
After a quick 45 minute transfer we arrived right in the centre of Manhattan. We stayed at The Excelsior hotel, which for me was a fabulous location right opposite Central Park. When I'm away I love to experience a little of how the locals live, and by staying here you really do feel like a local.
What I also loved about the location of the Excelsior Hotel, was that just a short 5-10 minute walk away, there are lots of unique cafes where you grab breakfast or a coffee! And, if it's the bright lights of Times Square you're after, they are just two stops away on the subway, which is right around the corner from the hotel.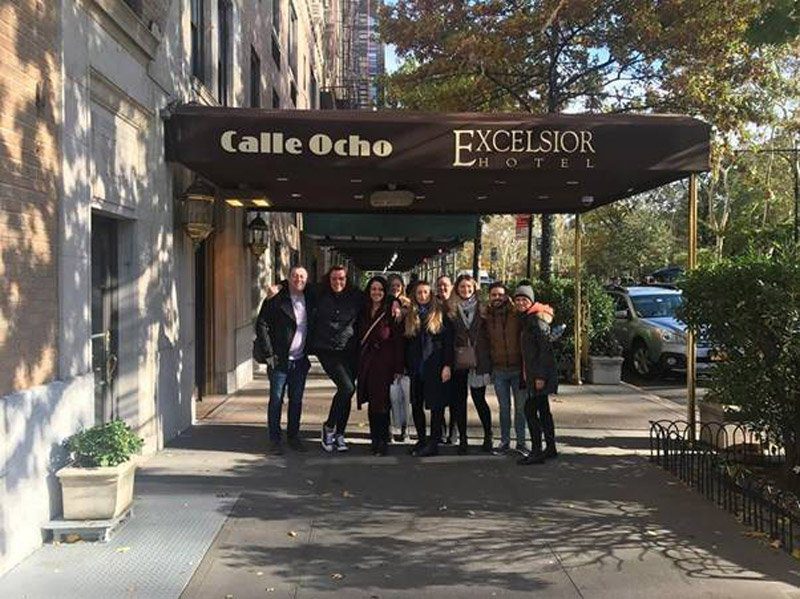 CITY SIGHTSEEING NEW YORK HOP ON/OFF BUS TOUR
We wanted to see the best of New York during our limited time and we decided the best way to experience all of the top attractions was to take a sightseeing hop on/off tour from Times Square with City Sightseeing! The tour was really fun and we all really enjoyed it, despite the cold temperatures!
DINNER AT THE ROCKEFELLER NYC
Dinner was such a special experience for me; we dined at the Rockefeller Center at the Rockefeller Café, which looks right over the Christmas Ice Rink! They were playing Christmas music (my favourite!) and the ambience was just magical.
ANTHEM OF THE SEAS – BOARDING
The next morning we woke early to make our way to the cruise port. The transfer from Manhattan to the port took 45 minutes. When we arrived at the port, everything was very well organised. There were porters to attend to luggage as soon as we disembarked the bus and I would 100% recommend you print off your set-sail passes and luggage tags prior to the cruise. Once your luggage has been handed over to the crew, you make your way over to the Cruise check-in. Again this was a very easy system, you hand over your set-sail pass and passport and you then get your cruise card. I couldn't believe how easy all of this was. It was all stress free!
ROYAL CARIBBEAN'S ANTHEM OF THE SEAS
Anthem of the Seas was absolutely gorgeous! You board through the Promenade area and it's so impressive! The elevators are glass with Swarovski crystals on the walls that glitter as you reach your floor! And throughout the ship, there are quirky and modern pieces of art around every corner, which really brings the ship to life.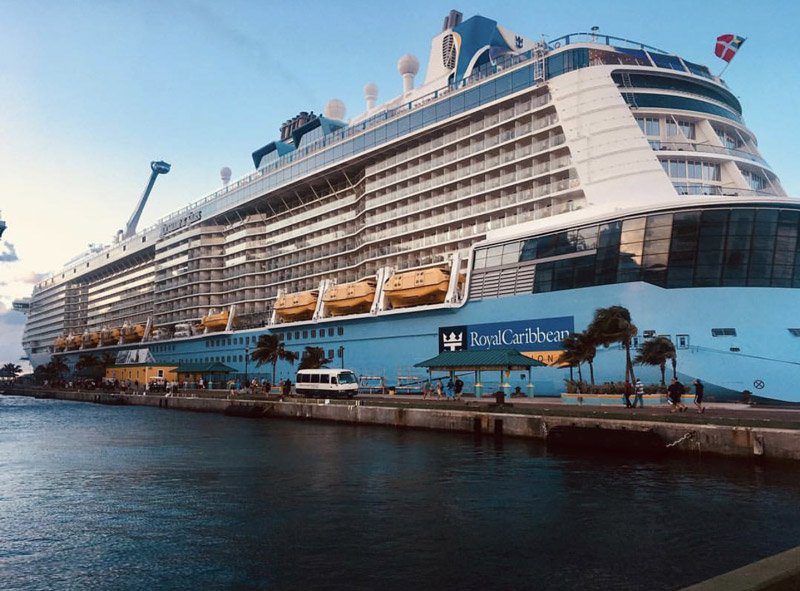 ANTHEM OF THE SEAS – STATEROOMS
We stayed in ocean view balcony cabins and the rooms were so spacious. Not only that, they were decorated to a very high standard and were very modern. It was so lovely to have a private balcony area where you can slide open the doors at any time of the day to grab some fresh air and a gorgeous sea view. I loved having my own balcony to watch the spectacular sunrises and sunsets we got to see each day.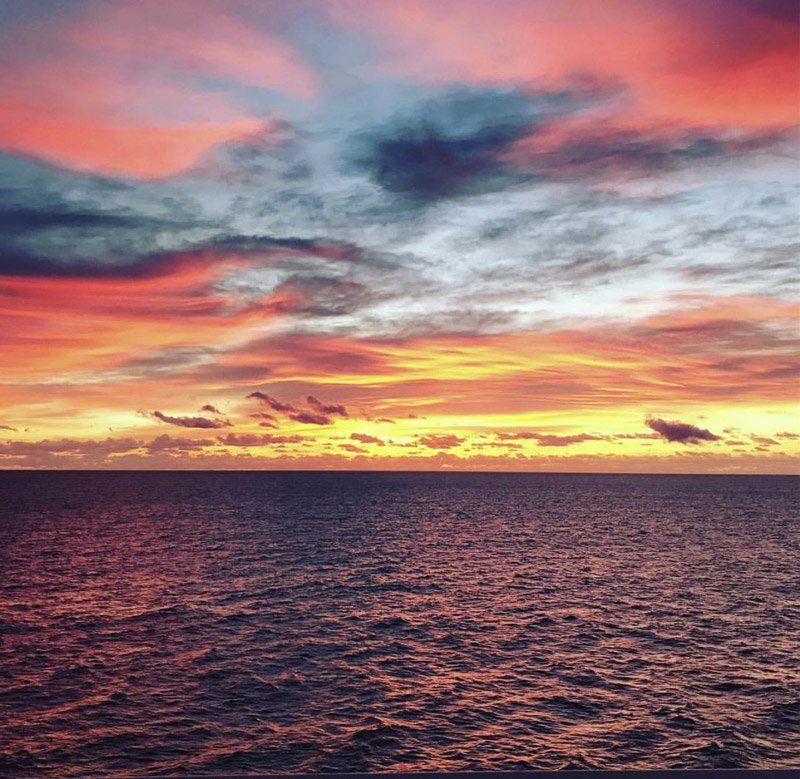 ANTHEM OF THE SEAS – ON BOARD ACTIVITIES
Our itinerary started off with two days at sea, but because there was so much to do on board, we didn't see the time go! There are plenty of sunbeds to relax, live music to enjoy and lots of restaurants to try out, as well as a spa, gym and more! We had a lot of fun skydiving on the iFly, in SeaPlex on the bumper cars and my personal favourite experience on Anthem of the Seas, was on the North Star! The views were just incredible!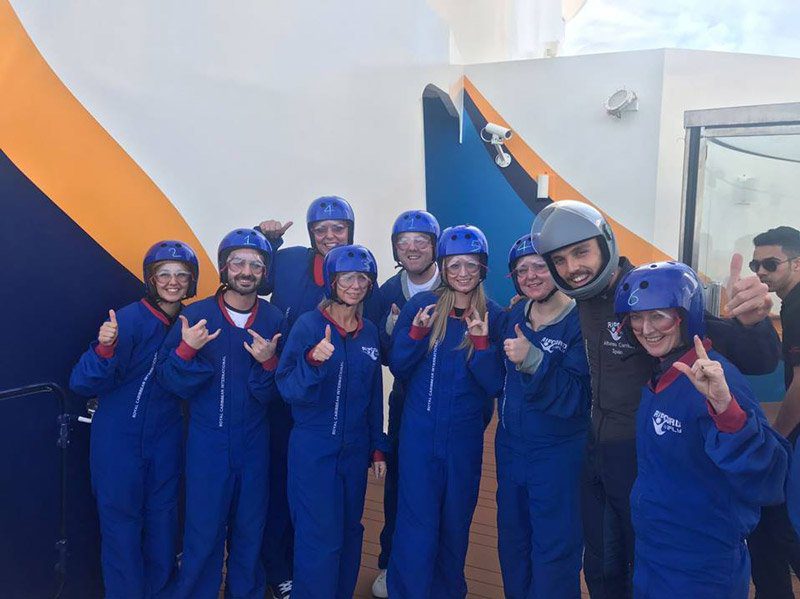 The entertainment on-board Anthem of the Seas was fantastic and there something going on in every lounge and area of the ship. One of our entertainment highlights was going to see the Broadway style show, 'We Will Rock You'!
ANTHEM OF THE SEAS – DINING
We were also so impressed with the incredible dining options available on Anthem of the Seas. The Windjammer buffet offered so much choice and was perfect for those quick bites to eat. We also ate in a couple of the speciality restaurants and really loved the more intimate experience! We tried Chops Grille, Jamie's Italian, and my favourite Wonderland! I also have to mention the main dining hall as the food here was also incredible and varied each night of the sailing! Our main dining restaurant was Chic. We were also thrilled to have met the captain during our formal night!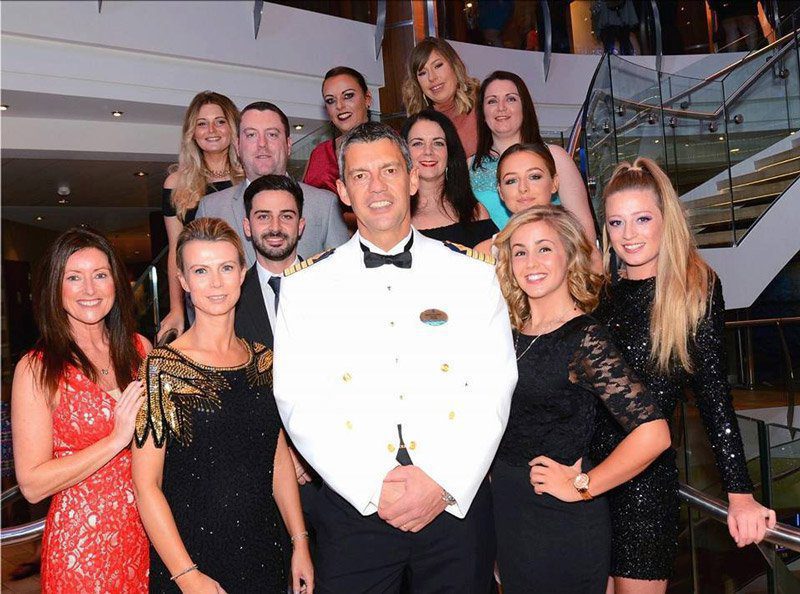 PORT OF CALL: PORT CANAVERAL – KENNEDY SPACE CENTER
The first port we visited on our itinerary was Port Canaveral and while there, we decided we would go to nearby, Kennedy Space Center! We absolutely loved our day in this exciting attraction. Kennedy Space Center is a huge attraction and there is so much to enjoy from seeing rockets, learning about space and meeting Astronauts! It's a wonderful, educating and fun experience for both adults and kids.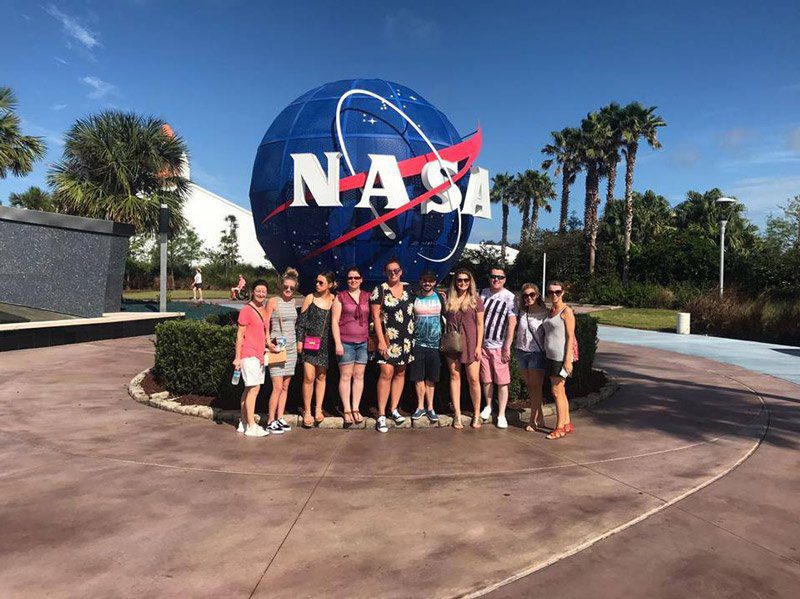 PORT OF CALL: NASSAU BAHAMAS
We were lucky that we got to enjoy an overnight stay in the stunning destination of Nassau! In Nassau, we enjoyed some time of the stunning beaches, we also sampled the fantastic shopping and on our second day in port, we took an island tour which was so informative and so interesting! We had booked our tour with Royal Caribbean and really recommend their excursions, we had a lot of fun!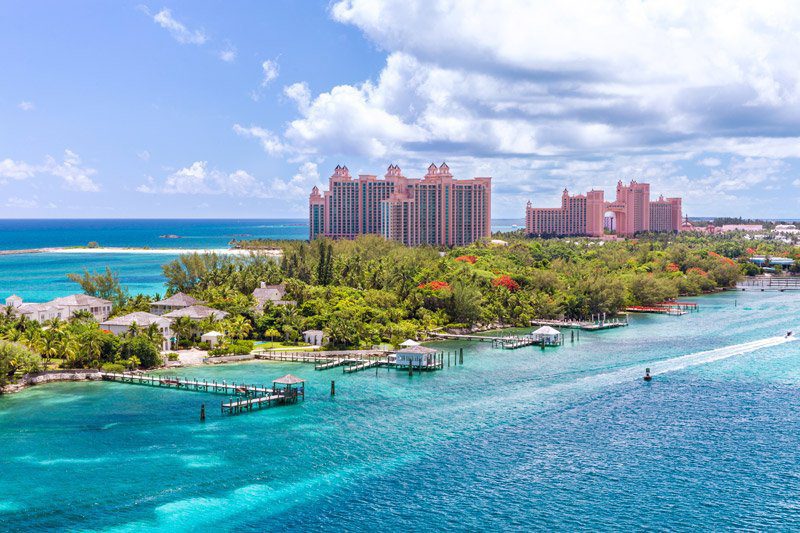 MY TOP TIPS FOR CRUISING ON ANTHEM OF THE SEAS
If you're planning your first cruise with Royal Caribbean, I've a couple of top tips that will make your cruise holiday even better!
Be sure to pre-book your drinks package. Drinks packages are really great value and having it pre-booked, really makes your cruise experience so much more enjoyable, knowing it's all pre-paid. You can book your drinks package online before you cruise, on the Royal Caribbean Cruise Planner.
Use Cruise Planner online before you sail to pre-book your complimentary shows, shore excursions, spa treatments, dining and more!
Remember that Royal Caribbean are American ships, so you will need a USA adapter plug.
There will be at least one formal night on board so be sure to pack your fancy dresses and suits for that fun night!
If you're revisiting a destination you've already been to, why not stay on the ship that day and take advantage of offers on board such as cheaper spa treatments!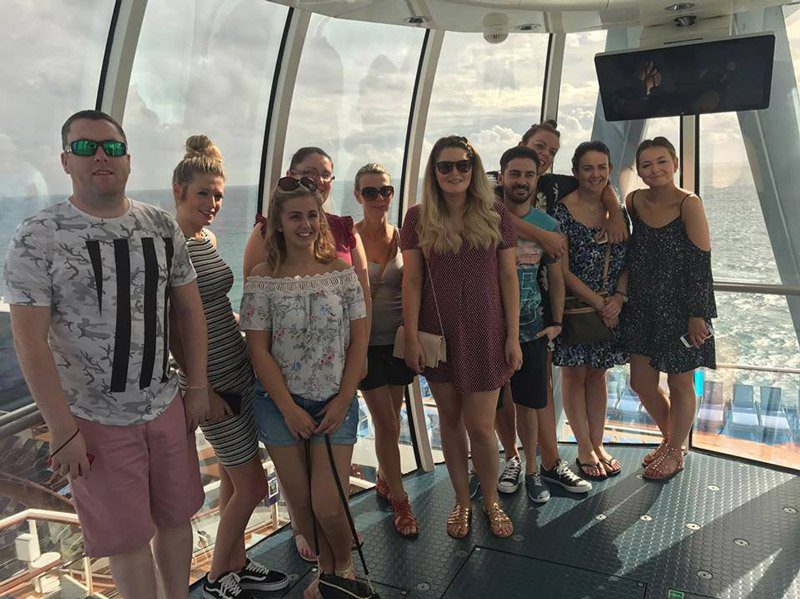 After our amazing cruise, it was back to New York where we headed straight for The Mills at Jersey Gardens to grab some bargains before our flight home with United from Newark Airport. As you can see, my teammate Amy really got loads of bargains!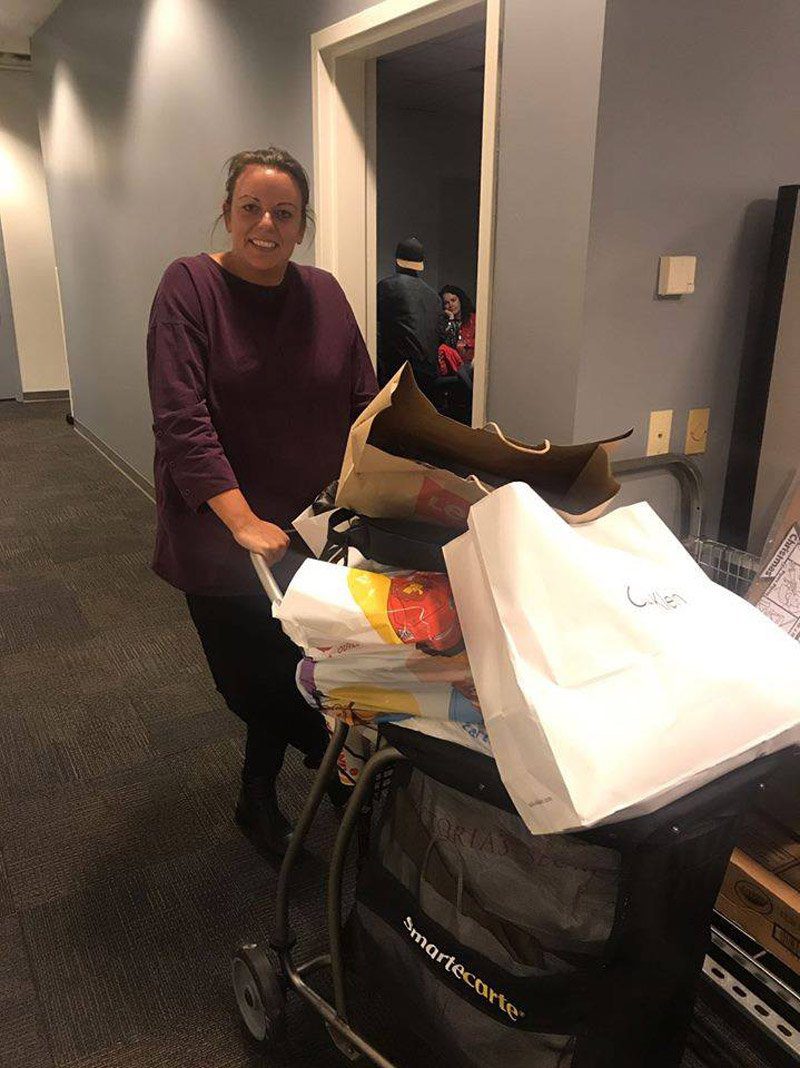 Overall, our New York and Bahamas cruise holiday was just incredible. We had a fantastic few days in New York and our cruise on Anthem of the Seas really exceeded our expectations. The staff on board were so welcoming and friendly and we truly felt at home while on board. If you're thinking about your next holiday and would like to do a cruise holiday like this, we'd love to help you plan. For more information on cruises, call our team on 01-8173562 or complete the contact form below.