New York The Ultimate Shopping Experience
Shopping in NYC has got to be one of my most satisfying and enjoyable retail experiences yet. The range of shops are endless, the bargains superb and the service excellent. It is a good idea to be a little organised before you hit Manhattan to ensure you get the best out of your shopping stay. Below is my list of 10 top places to go shopping for the ultimate experience.
SoHo, a one-time artists' mecca, has since morphed into the city's poshest outdoor mall. Cobblestoned streets and loft-like spaces make the neighbourhood a prettier spot for shopping than the average galleria (W. Houston St. to Canal St.; Broadway to Sixth Ave).
Madison Avenue's haute strip boasts fifteen blocks of celebrity designer shops (Calvin, Jean-Paul, Giorgio) and flagship fashion house boutiques (Prada, Hermès, Chanel). (Madison Avenue, 57th to 72nd Sts.).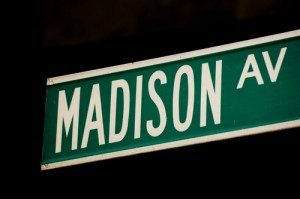 In 1862, a German immigrant Frederick August Otto Schwarz began supplying New York society with Europe's finest toys. Today, you'll find a smattering of ultra-high-end goods and an array of stuffed animals, dolls, train sets, blocks, board games, and even candy (FAO Schwarz, 767 Fifth Ave. at 58th St.).
Adidas Originals Store's inspired collection, the triple-stripe sportswear company, has moved out of the gym and into retro fashion. Young jocks and wannabe D.J.'s come here for anything from key chains, track suits and tees to limited-edition shoes (136 Wooster St. near Prince St.).
Apple Store Soho's two-story space boasts a show-stopping glass staircase and a translucent walkway which glimmers in the sunshine flooding in from skylights. Test-drive everything in sight (iPods, digital cameras, software), play stump-the-tech-experts at the Genius Bar upstairs, or sit in on the free daily instructional seminars (103 Prince St. at Greene St.)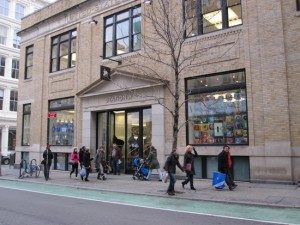 Tiffany & Co. is one of the most democratic of the big jewellery houses. Tiffany's welcomes shoppers who come by Town Cars, taxis, and tour buses. Snap up key rings, money clips and cuff links, or invest in beautifully-made men's watches, kitchenware, or their classic 6-prong diamond engagement ring (727 Fifth Ave. at 57th St.).
If you're looking for cutting edge fashion go to Macy's. This is the spot for essentials from all the big brands—everyone from Guess and Esprit to Ralph, Donna and Calvin, and all at great prices (151 W. 34th St. near Broadway). Tour America give you a 10% discount voucher for Macy's when you book with them.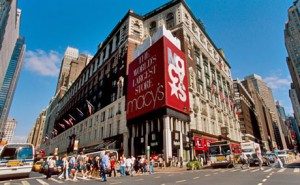 Anyone worth her Manolos will tell you that Barneys' Madison Avenue flagship is the final word in edgy designer fashion. The lower floors house sophisticated, expensive items like Prada suits; in the upstairs Co-op department, you'll find Habitual jeans, Miu Miu dresses, and clingy Juicy tees (660 Madison Ave. at 61st St.).
Plough through "B-Way," the aptly named, crowded main-floor arcade of Bloomingdale's that feels like Times Square on Saturday, and hit the second floor for trendy, well-priced American brands. Bloomies also carries all the requisite big-name designer labels and houses an extensive selection of lingerie (504 Broadway, between Spring and Broome Sts).
In the disco era, Henri Bendel was the epicenter of modish New York. These days, the shop stays cool with favourites like Earl Jeans and Shoshanna dresses, as well as styles from designers like Sophia Kokosalaki (712 Fifth Ave. near 56th St.).
With less than 5 months to Christmas why not ease the pain of it all and hit NYC and get everything done in a few days with choice, ease, good deals and the ultimate shopping experience.
Stephanie Frame – Communication Officer at Tour America