Orlando tallest, steepest multi-drop slide ride is now open!
You know that summer is just around the corner when one of the best waterpark's in Florida opens yet another mind-blowing ride. Aquatica Water Park, one of SeaWorld's many parks, is once again ready to take you on another thrill of your lifetime.
Orlando Multi SlideBrave the watery free-fall on the all-new drop slide, Ihu's Breakaway Falls™ – the tallest, steepest and only multi-drop tower of its kind in Orlando. Face your fear and each other. You never know who's going to breakaway first, all you know is it's going to be one wild ride.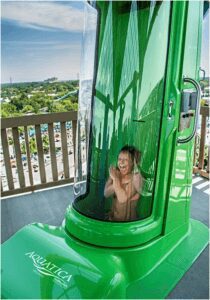 The slide is named after Ihu, Aquatica, SeaWorld's Waterpark™ Orlando's colorful gecko, who searches for the biggest thrills, steepest hills and the coolest spills in the waterpark.
Aquatica also has many more great rides including the most popular ride to date the incredible Dolphin Plunge where two side-by-side enclosed tube slides send you racing through an underwater world that is home to a playful pod of beautiful black-and-white Commerson's Dolphins. Known for their playful nature and electrifying speed, you may well see them racing right alongside you as you zoom by.
Also experience Omaka Rocka, a water slide in which riders speed down flumes into massive funnels, sliding high up one side and then the other. Then you have Tassie's Twisters where lightning fast tubes shoot you into a giant bowl, where you'll spin, and spin, and spin, until you're finally spun back out into the lazy river. And Taumata, a high-speed competitive mat ride where eight racers rip down a staggeringly steep hill, head first.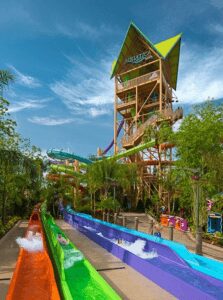 Of course there are plenty more rides in Aquatica, and parks in Florida but there is one constant amongst them all, they are great fun. Florida is the perfect family holiday with so much for everyone. Check out www.touramerica.ie for the best prices and advice in town.