Our Grand Canyon Helicopter Tour from Las Vegas – the Experience of a Lifetime!
When we were planning our honeymoon, we knew we wanted to experience some really incredible, once in a lifetime moments and first on our list was a helicopter trip to the Grand Canyon from Las Vegas.
I didn't want to travel to Las Vegas and not have our tour booked and so I pre-booked our Grand Canyon trip before we went. When deciding on which tour to do, there was no question. It had to be the Grand Celebration Tour with Papillon.
This particular tour was by helicopter and it included our transfers, helicopter flight, incredible views en route, a knowledgeable and highly trained pilot, landing at the base of the Canyon and then a champagne breakfast. We were excited!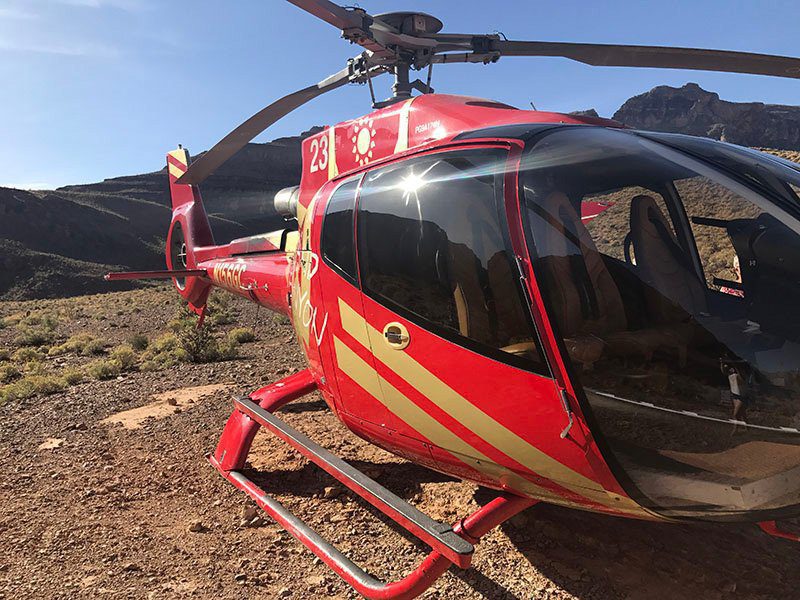 GRAND CANYON GRAND CELEBRATION TOUR
The tour has different times available and at time of booking we advised that we wanted to fly out on the first tour of the day. And so on the morning of the tour in Vegas, we were up bright and early for our pick up at 5:30am. We were then taken to Boulder City, which is a short 25-30 minute drive from Las Vegas for our flight. On arrival to the terminal, we were directed to check in and then we had to watch a safely video. We had never been in a helicopter before and hadn't really known what to expect but our fear quickly subsided as realised how safe and professional Papillon were.
Next, it was time to fly! We were so thrilled to have gotten the front seats in the helicopter and after an introduction with our pilot Blane, we made our way to the skies! What I loved about the helicopter's that Papillon use was that no matter where you are sitting, the views were amazing!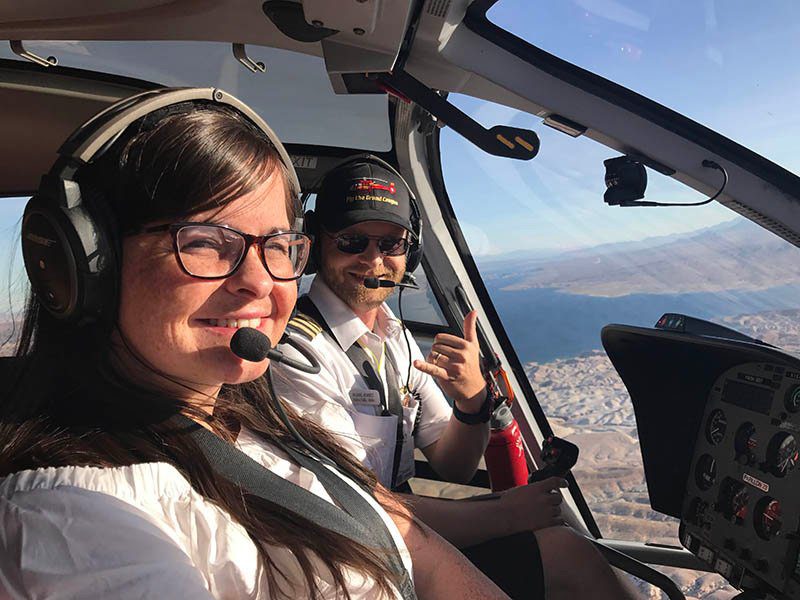 Taking off from Boulder City was so much fun. Being in a helicopter was so different to being in a plane and it was really thrilling! The flight to the Grand Canyon was about 45 minutes and along the way we flew over Hoover Dam, Lake Mead and many other points of interest.
Everyone on board was equipped with a headset and a mic so that we could talk to each other and ask the pilot questions etc.
It's kind of crazy because although you're in the desert and it's quite rocky below you, when you see the Grand Canyon come out in front of you, it's so unexpected and so spectacular. It took our breath away!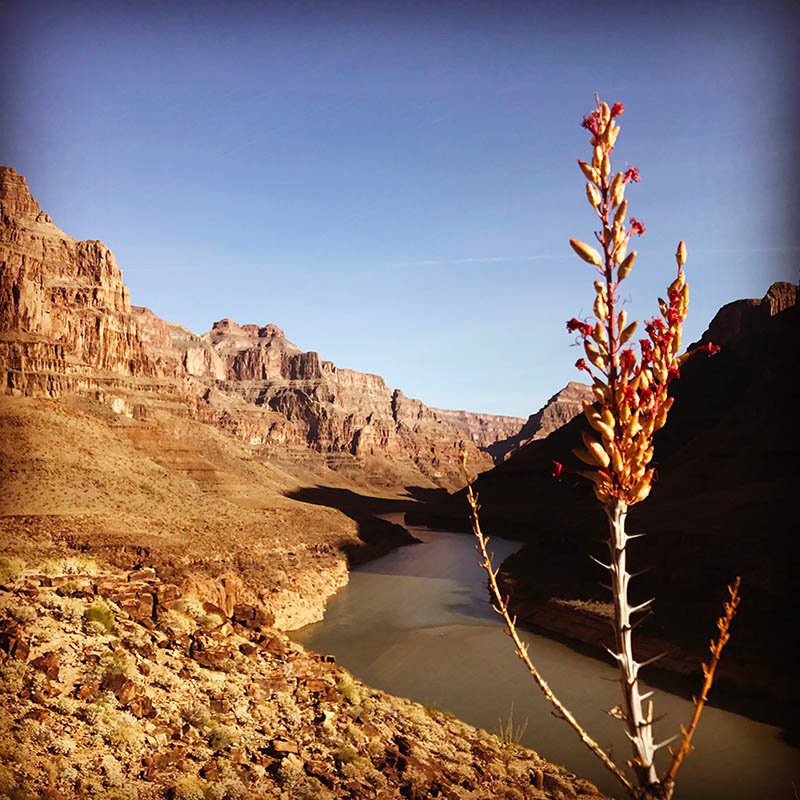 GRAND CANYON EXPLORATION AND CHAMPAGNE BREAKFAST
Soaring down and landing at the base of one of the world's most famous National Parks is hard to put into words! The views as we flew in over the Colorado River were just incredible and our landing was smooth. Once we were cleared to exit the helicopter we jumped out as quick as we could and started taking in the Grand Canyon in all its glory, all the while capturing loads of photos!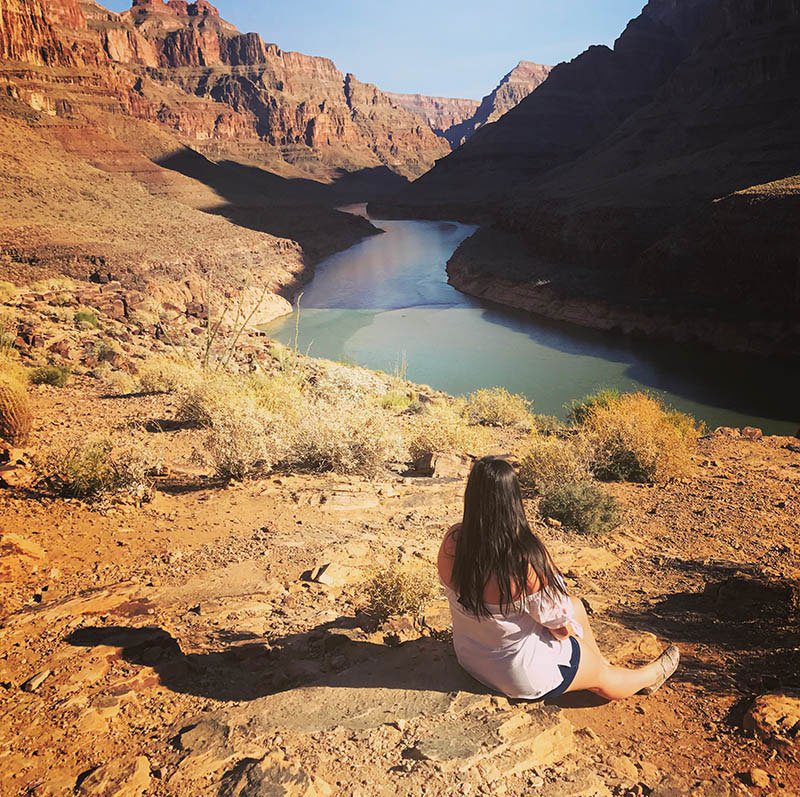 What I loved about Papillon's tour was that where we landed was very secluded and there was no over crowding. This is important I think because not only does it make the experience more special, it's great for photos as there was never people crowding in the background!
And, after some time snapping away, it was time for breakfast and we were directed to the shaded breakfast area. The breakfast really impressed both myself and my husband as it was really high quality. It came in cute wicker picnic baskets and in it we received a muffin, yogurt and granola, fruit slices, orange juice and of course this was all presented with a glass of champagne.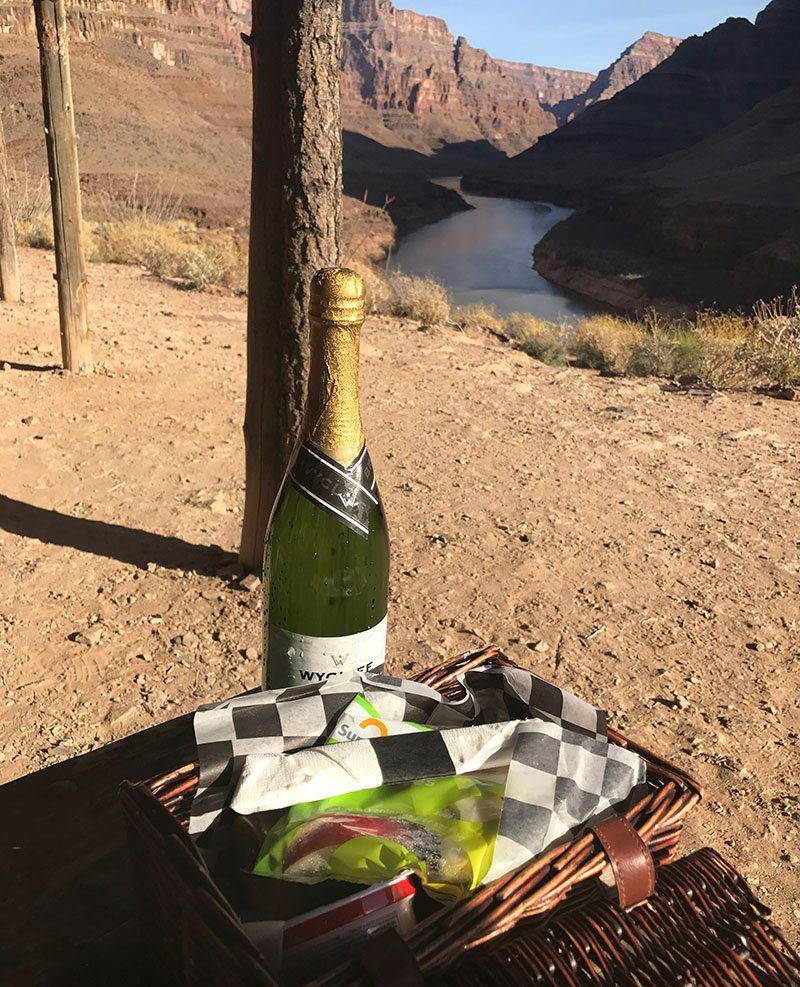 After our delicious breakfast, we had a couple of minutes again at our own leisure to get those last photographs before our flight back to Boulder City. And once back, we had our quick transfer back to Las Vegas and were back at our hotel at 11am with the day ahead to be filled with activities and other exciting Las Vegas attractions!
MY TOP TIPS FOR THE BEST GRAND CANYON EXPERIENCE
Wearing comfortable shoes is a must as terrain is rough.
Wear sunscreen, even if going early morning, it's the desert after all!
Bring water with you as you can get thirsty from the flight.
You will also need to bring your passports for check in at the terminal.
Ask questions! Along the way you will see many interesting sights so it's worth engaging and asking your pilot questions en route! We learned so much on our journey.
Make sure your phone is fully charged as you will be taking loads of photos, trust me!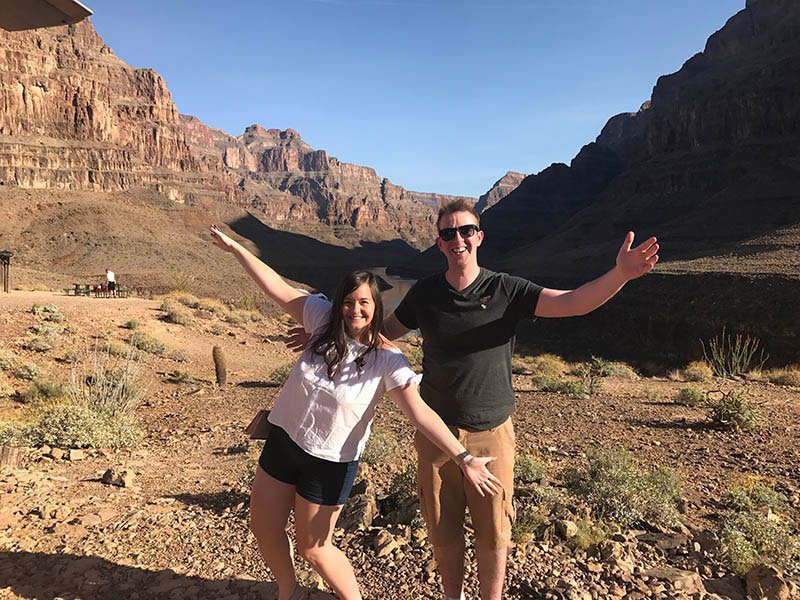 Overall, it's safe to say that our Grand Celebration Tour into the Grand Canyon with Papillon was the best experience of our entire honeymoon. It really made our trip extra special and it was the perfect way to mark our special occasion. I cannot recommend it enough.
If you'd like more information booking a Grand Canyon tour, you can call our Travel Experts on 01-8173562 or you can book online via our website here. There are many varieties of Grand Canyon Tours you can do, but I highly recommend doing the Grand Celebration Tour for the best experience possible and pre-booking is a must. The tour we done starts from €355pp and is worth every penny. You'll be left speechless and with memories for life, trust me! 🙂
Kathleen