Philadelphia Here I Home
Philadelphia has been on my radar for some time now with direct flights from Dublin and it's attractive Duty Free Shopping Zone I was dying for a good excuse to visit and find out more. When American Airlines, @AmericanAir, suggested a trip to me 2 months ago with some of Ireland's finest media I jumped on board. Tour America's clients are always looking for new places to visit in the States that are easy to access and have great shopping. A quick chat with Greg Evans @discoverPHL who represents Philadelphia in Ireland and the deal was done.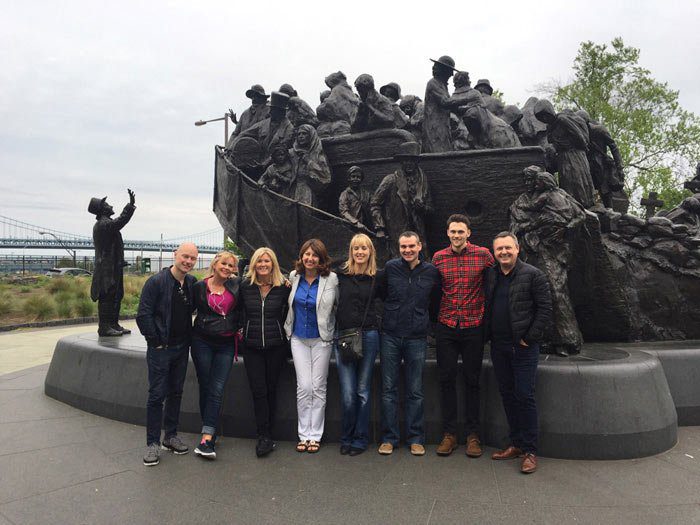 Having never been to Philadelphia before, even though I have been to the USA over 50 times, I was extremely excited. Tour America already sell this destination, and it was high time for me to experience it. Having the right group of media gurus with me for the trip was really important as I wanted us all to have a great time, but more importantly be able tell our customers in a relevant way why Philly rocks. Edward Finn, @traveltalklive, Brian Farrell, the Sunday World, Jane Last, @jane_last, the Independent Newspaper, Michelle Jackson, TV3 Novel Traveller, @mjacksonauthor, and the social media queen herself, Samantha Kelly, the tweeting Goddess @Tweetinggoddess, all came along.
We flew with American Airlines, AA, who looked after us like royalty. Having flown with them before I knew how good they were but they really went above and beyond the call of duty to make sure our trip was awesome. Caitriona Toner and Jenny O'Connor, @jennyconnor76, from AA, met us at the airport and we were through checkin in all of 2 minutes. I guess that is the beauty of flying business class and with a first class airline.
We then headed through Fast Track which of course had no queue, and is a service provided to all business class passengers. This time saving gave us ample time to go shopping in advance of more shopping in Philadelphia. Us Irish really do love to shop. Now I am a big fan of shopping at the airport as everything is so much cheaper, approximately 10–20% savings, @DublinAirport.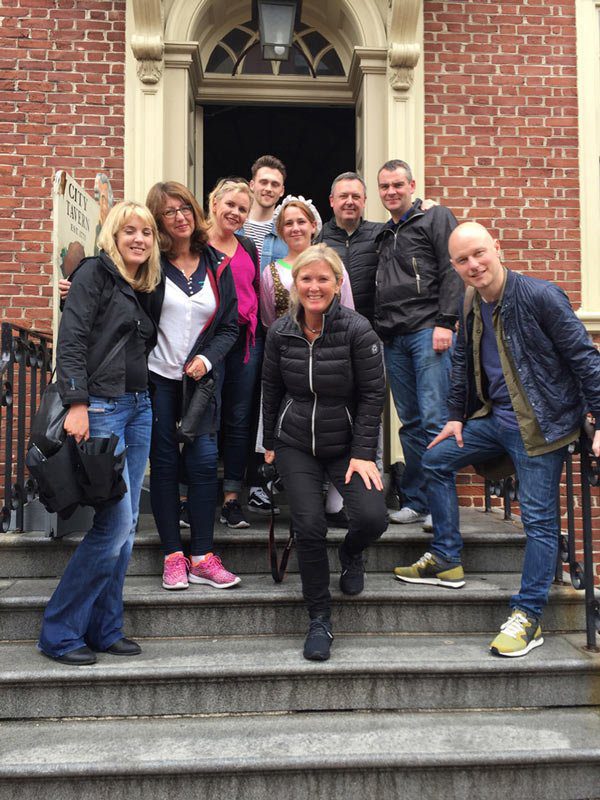 We cleared immigration and customs in Dublin, which is a major plus as when you arrive at your destination all you really want to do is pick up your bags and go. The queues can be long for this, and can take up to 45 minutes, so always make sure you don't get caught out. Once cleared we headed for the 51st Lounge, which is an exciting new lounge concept by Dublin Airport for passengers travelling to the United States. Located after US Preclearance in Terminal 2 and beside the US departure gates, it is a 'world's first' as it is the closest airport lounge to an active runway.
The flight time was approximately 7.5 hours, and in between outstanding service, food and entertainment, it felt like no time at all before we touched down. American Airlines have up to 5 direct flights to North America every day out of Dublin and Shannon into Charlotte, Chicago O'Hare, New York JFK and Philadelphia on their Airbus A330, refreshed Boeing 767 and 787 Dreamliner. What is great about AA is that if you have a connection onwards, there are over 240 destinations across North and South America, Mexico and the Caribbean to choose from.
The AA Business Class cabin has fully lie-flat seats, all with direct-aisle access, AC power outlets and USB ports at every seat, Bose® QuietComfort® Acoustic Noise Cancelling® headphones for use in flight, amenity kits filled with rejuvenating skincare products from C.O. Bigelow, menus designed by renowned TV chef and restaurateur, Maneet Chauhan, in-seat entertainment with up to 300 movies (including nearly 50 new releases), 300 TV shows, 700+ music selections (including 18 radio channels) and 20 games. To say my guests were delighted to experience this is an understatement and no wonder AA's was recently named 'Airline of the Year 2017' by Air Transport World.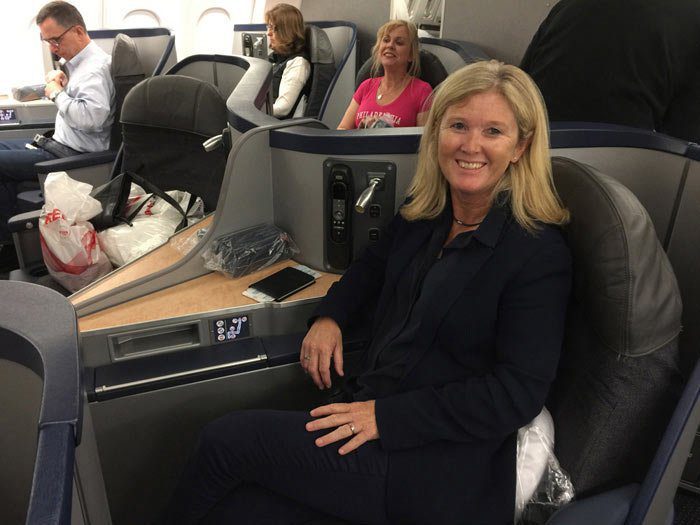 The time in between getting off the plane and collecting our bags was exactly 20 minutes. Unbelievable, I know. In the past I have stood in line to clear customs for over an hour after a trans Atlantic flight, and it was no joke. So having done it all in Dublin was the perfect way to start our stay in Philadelphia.
Southeastern Pennsylvania Transportation Authority, SEPTA, provides a train service in between the City Centre and the Airport on the Airport Regional Rail Line. The single-ride transit fare is $2.25 and transfers are available on-board buses for an additional $1.00.
We had organised a private transfer for the 8 of us, and the cost of this was $140 to bring us to the Sheraton Philadelphia Society Hill, and excellent 4 star hotel. It was perfectly located and we could walk everywhere from it. Room prices with Tour America are €59 per person per night. This hotel does a great breakfast and what I love most about all good hotels is if it has a great gym, which it did, and whether there is an indoor swimming pool, which there was, @sheratonOldCity.
Once we dropped off our cases we of course headed straight to the Irish Memorial, which is a national monument. The Irish Memorial is dedicated to the memory of more than one million men, women and children who perished during the years of 1845-1850 and to the millions of Irish immigrations who found America as their home. I found it extremely interesting as both my parents immigrated to the USA in the 1950's. My Mum, who only spoke Irish, and at just 18 left Blacksod Bay, Mayo made her way to Cobh in Cork to get the ship that would take her to a new world.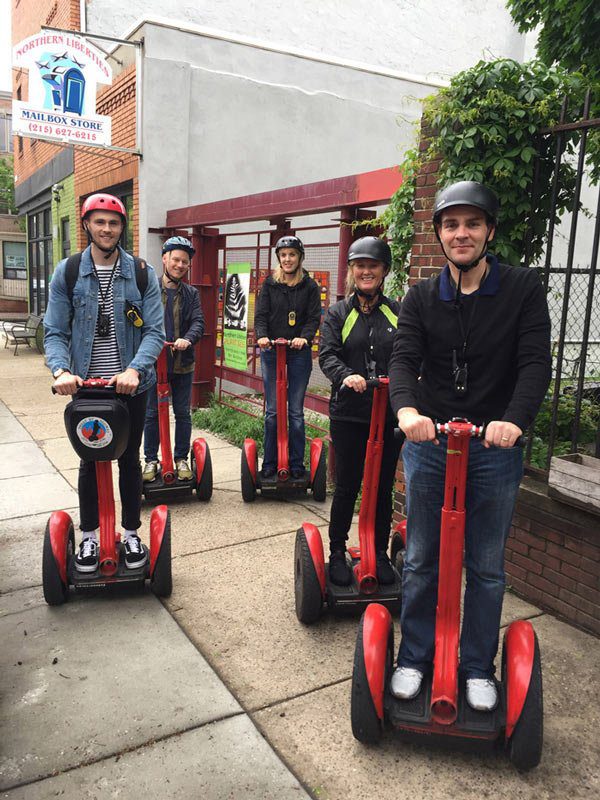 The following day we walked from our hotel to a fantastic small little restaurant called High Street on Market, @highStPhilly. Everything there is locally-grown and includes and the restaurant has won many awards; 'One of the best new restaurants in the world' (Travel & Leisure Magizine); '2nd best new restaurant in USA' (Bon Appetite); and 'Best new chef, Eli Kulp' (Food and Wine Magazine).
We then did a walking tour of the Historic District. Philly Tour Hub organised this, @PhillyTourHub, and the walk tour is home to the most historic square mile in the country, the Independence National Historical Park. Here you will find Independence Hall, UNESCO world heritage site, the iconic Liberty Bell, the National Constitution Center, the nation's only museum devoted to the US constitution, Elfreth's Alley, the oldest residential street in the nation and many other iconic historical landmarks all within a few blocks from each other.
We followed our Historic Tour with a Segway Tour of the Mural Arts. This almost didn't happen as having never been on a Segway before and watching the safety video I nearly decided not to do it. But I did, and after 10 minutes of getting used to it, there was no stopping me. What a great experience, and in such contrast to our earlier tour, @MuralsArtsPhiladelphia.
Our hotel was located about 5 minutes walk to the Museum of American Revolution, which just opened in April this year. The museum takes the visitor on a journey through the remarkable story of America's founding. The American Revolution and the ideals that inspired come to life through the museum's distinguished collections of priceless historical artefacts showcased through innovation, contemporary storytelling technologies, and immersive exhibits, @AmReMuseum.
Dinner that evening was at the Parc Restaurant, which resembles a chic brasserie from Paris, serving traditional bistro fare in a charming and comfortable space. This place pays tribute to French café culture, serving breakfast, lunch and dinner. You need to book, as even though it is a large restaurant, it was full and very popular. Definitely the one to book on a trip to Philadelphia, I would give this a 5 * rating. Parc Restaurant, 227 S 18th Street. www.parc-restaurant.com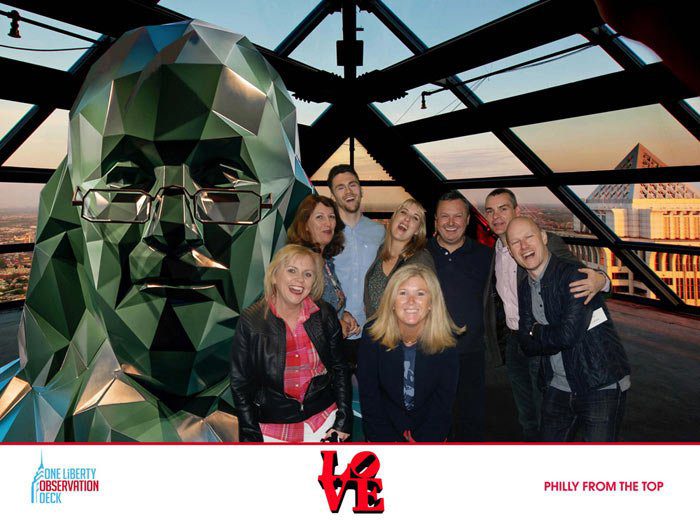 The following day we had lunch in the City Tavern, 5 minutes walk from the hotel, and were joined by the owner and head Chef Walter Staib (originally from Germany). He was such a character, full of personality. He has a TV show and we each got to take a picture of the 8 emmy awards that were on display. The food was gorgeous and we were given a selection of small beers to try. I really loved it, @ChefStaib.
That evening we went into the Philadelphia Museum of Art, and of course walked the famous steps that Rocky ran up in his movie. The museum was outstanding; it is one of Philadelphia's most iconic attractions and the third-largest art museum in the country, @philamuseum.
Later on we went to Reading Terminal Market, @rdgterminalmkt. We were all given a $15 card and off we went. Now, this was a real experience. It was like the English Market in Cork, but probably 5 times larges. You could just potter around for hours looking at all the different types of food. The food was so reasonably priced that I couldn't even spend my full $15. So I have $4 left if anyone wants it? www.readingterminalmarket.org.
In between all the great museums, tours and restaurants we found time for some shopping. In between Macy's and a lot of unique stores around the Rittenhouse area, there was plenty to buy. That evening we went up to the One Liberty Observation Deck, where you could see for miles, definitely worth a visit. @onelibertyobservationdeck.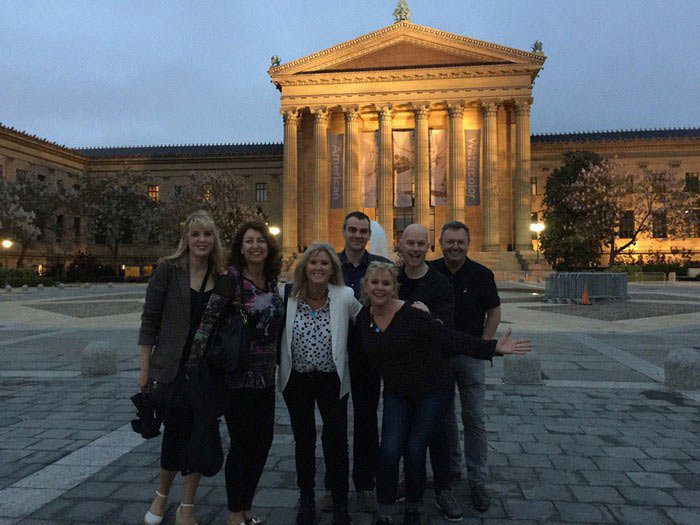 On route to the airport we went to visit the Simeone Foundation Automotive, which is only about 5 minutes from the airport. Here you will find the greatest collections of the world's rarest and famous racing sports cars, accumulated over 50 years by the local Philadelphian, Dr. Fred Simeone. Fred actually took us on the tour, so this was a real treat, and he knew everything about each single car, the entire history. He was a very inspirational man who has done amazing work, @SimeoneMuseum.
As someone who had never been to Philadelphia before, I wasn't really sure what to expect, and I was surprised. Here are a couple of tips to make the most of your trip there. Firstly, it is a short flight that is direct from Dublin and Shannon and takes approximately 7.5 hours. It is a tax free city, and shopping is the number 1 attraction for Irish people. Hotel prices are very reasonable. The City is exactly 2 hours from New York and Washington. The train takes 25 minutes from the airport which is directly outside arrivals to the city, so it is convenient to get there. The museums were the best I have ever seen in the world in particular the Barnes Foundation had a collection of art that was valued in the billions. The Philadelphia Museum of Art was the most iconic attraction and I could have spent 3 days just looking around. There was plenty to do in the city and the culinary experience was something I didn't expect to find.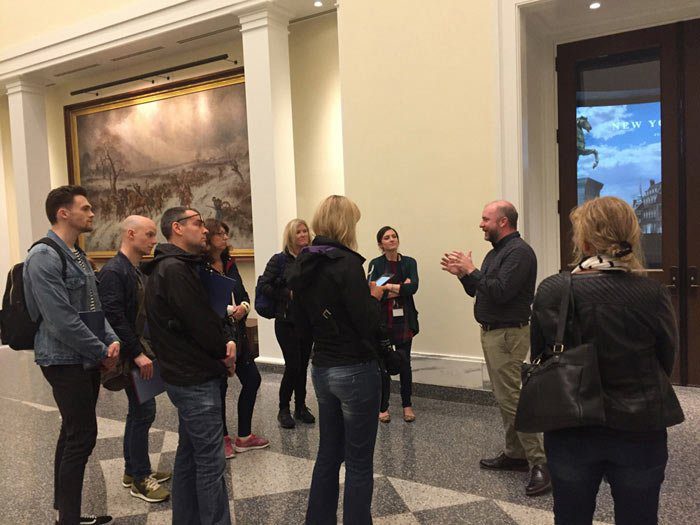 American Airlines are a fabulous airline and their service and staff are outstanding, I would highly recommend them. Go to Shannon Airport early as it is a great shopping place and everything is about 20% cheaper. We have some amazing deals with Tour America, prices start from € 699 per person for 4 nights at the Sheraton including flights with AA. Check out www.touramerica.ie.
Written by : Mary McKenna @MaryTourAmerica from a recent trip on the 04th May 2017 where I stayed in Philadelphia for 3 nigths and flew with AA. We were escorted on the trip by Mark White from Greg Evans consultation, and Tom Henderson, Corporate Communications Executive, Europe & Asia Pacific.