Secrets the Vine Cancun – the perfect Honeymoon Hotel
If you're looking for a luxury All Inclusive Resort in Mexico that will exceed all of your expectations, then look no further than Secrets the Vine Cancun. I recently stayed in Secrets The Vine Cancun on my honeymoon and I can confidently say, it was the most incredible hotel I've ever stayed in.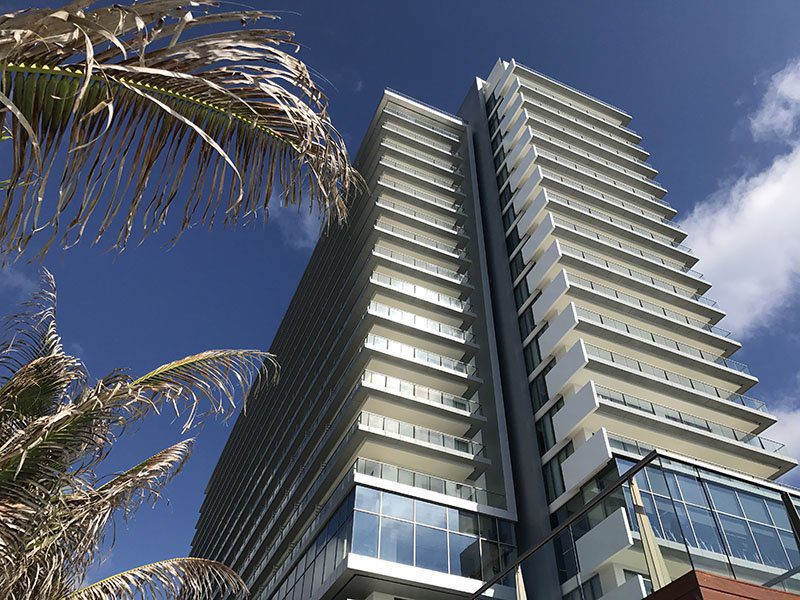 SECRETS THE VINE CANCUN – PREFERRED CLUB JUNIOR SUITE
When we were booking our honeymoon, we originally booked a lead in room (Deluxe Ocean View) but after a few weeks, we decided we would upgrade to the Preferred Club (Junior Suite) to make our experience extra special and I'm thrilled we did this. From having your own private check-in area, to having your own personal butler, a VIP pool deck along with many more perks, it was so worth it.
And where do I even begin when it comes to our room! Our suite was large, modern, luxurious and just incredible! With a waterfall shower centre room, a dual sink area, large king size bed and a large private balcony with a couch, we were in heaven. Being Preferred Club, we also had an unlimited mini bar service which not only featured cold drinks and beers, it also had Pringles and M&Ms which were restocked daily. Our suite also featured a Nespresso Machine, perfect for us coffee lovers! We were spoilt!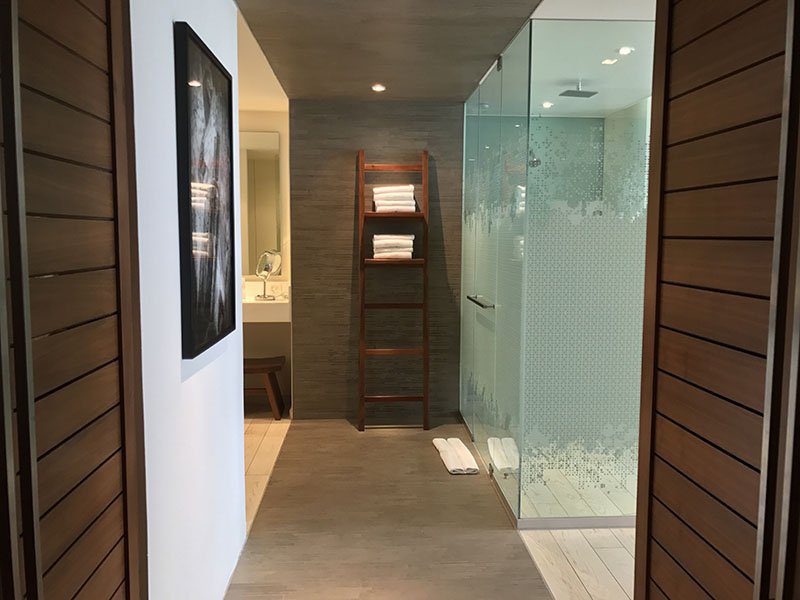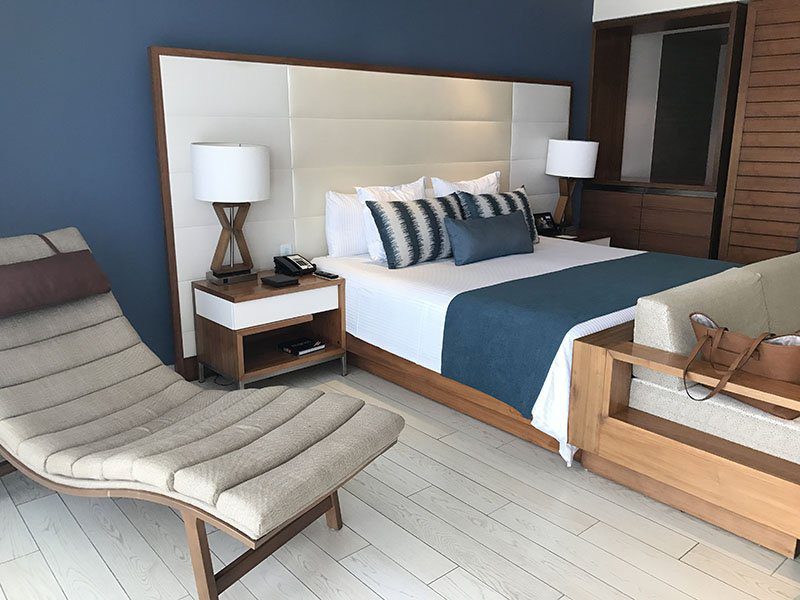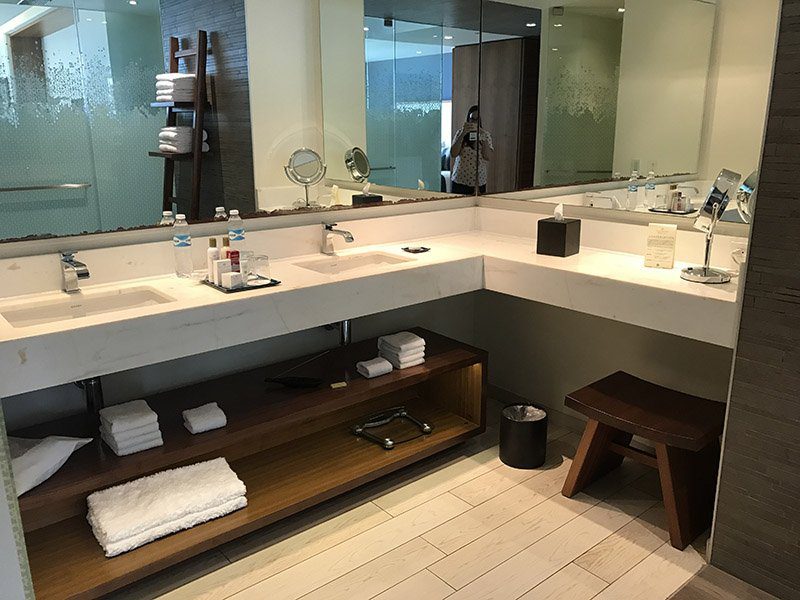 Our Suite also featured a personal tablet where we could order complimentary room service, check out resort information such as activities that were happening, we could arrange a spa treatment and we could even read local newspapers from all over the world! We used our tablet daily to find out all that was going on and it was also fantastic for advising on things like temperatures, times of sunrise and sunset etc.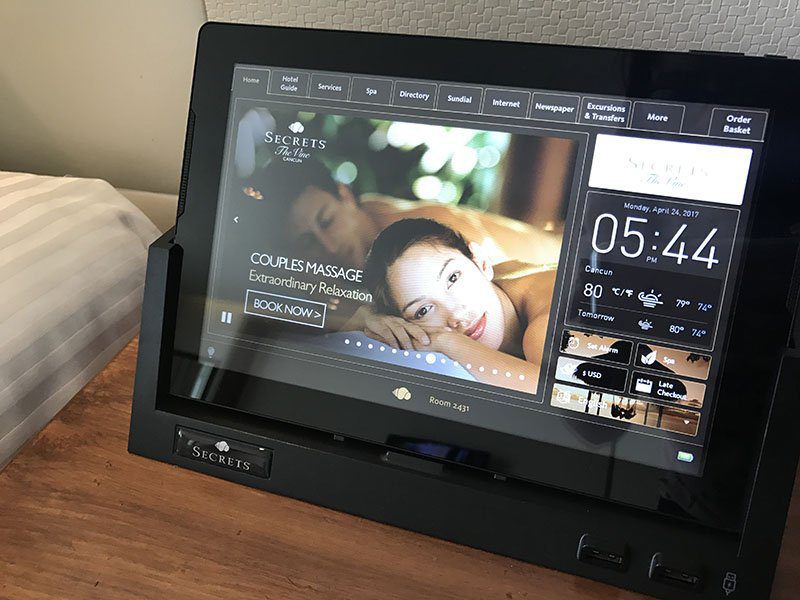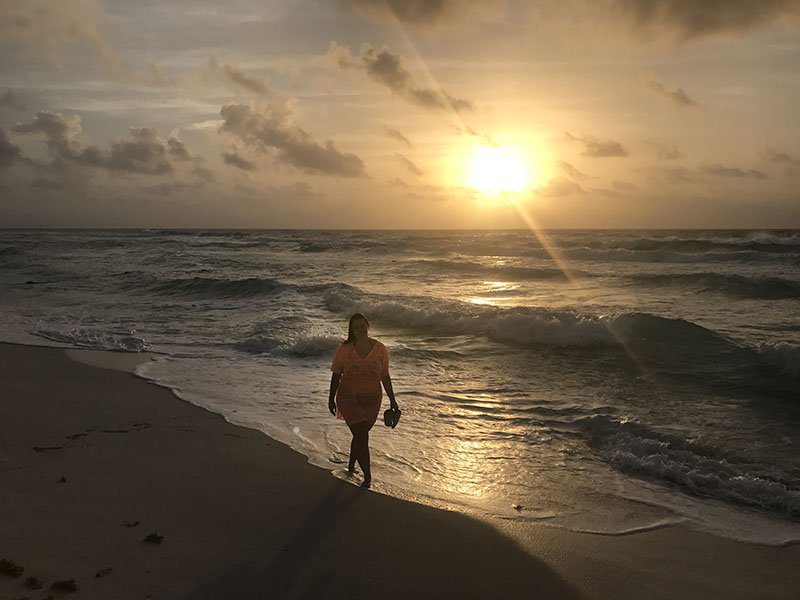 SECRETS THE VINE CANCUN – HOTEL AMENITIES
Secrets the Vine Cancun is not only visually stunning, it offers a fantastic selection of amenities throughout the resort. With a choice of fabulous pool decks, a 24 hour Jacuzzi, direct beach access and a large selection of bars and restaurants, you will have plenty of choice for your holiday. There is also a full service spa on-site and a gym (that overlooks the stunning beach and coastline!).
And, if you're staying in a Preferred Club room, you will also get access to a private lounge, a private pool deck and so much more. I was also a fan of the coffee shop in the centre of the lobby, it had coffees around the clock and cakes and sandwiches which were perfect when we were feeling peckish between meals.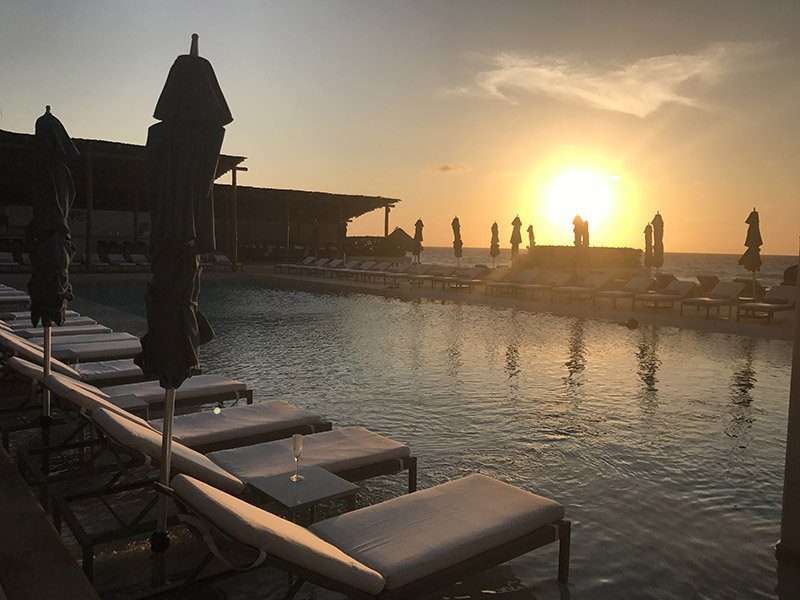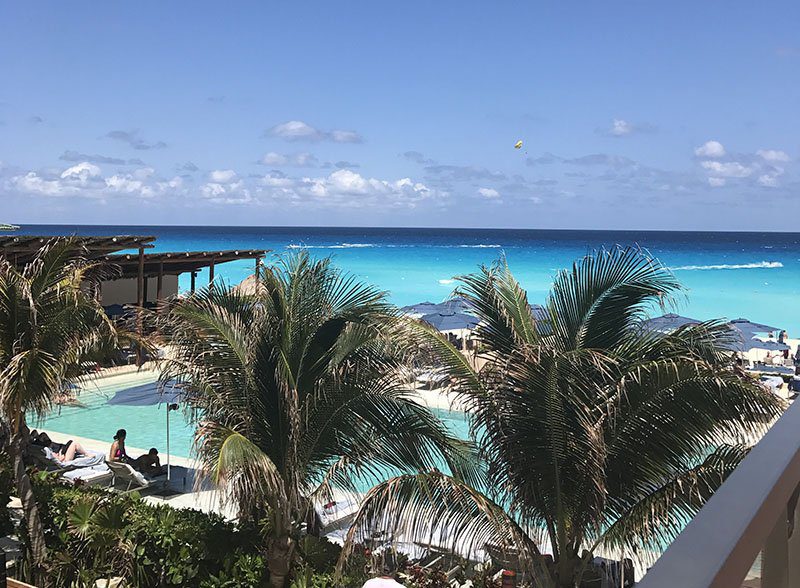 SECRETS THE VINE CANCUN – DINING AND UNLIMITED LUXURY
Secrets the Vine Cancun is an Unlimited Luxury resort meaning all guests who stay at the hotel have access to all food and drink at no additional cost. This includes all dining and also premium drinks including branded drinks such as Heineken, Corona, Smirnoff etc. You could also enjoy Coca Cola products, cocktails, non-alcohol cocktails, speciality coffees and of course, water.
I found having Unlimited Luxury fantastic and it was great to be able to dine as we pleased without worrying about costs. The hotel also had a large number of restaurants to choose from with everything from Mexican food to Asian, and Steakhouses to Italian. There was also a really great buffet on-site that opened for breakfast and lunch.
But what's most important about the dining on-site is that the quality was second to none. I've never had food so delicious and so high in standards in an all inclusive environment. It will blow you away, believe me! Our favourite restaurant was the traditional Mexican restaurant that opened for dinners in the evening. On the menu there is a Flank Steak that will change your life! If you ever visit, try it!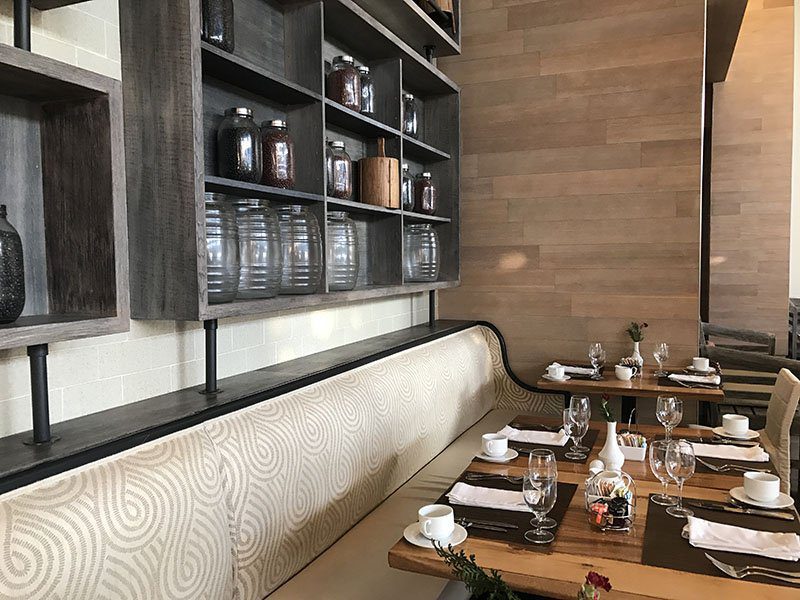 SECRETS THE VINE CANCUN – THE OVERALL EXPERIENCE
Overall, my husband and I were completely blown away by our stay at Secrets the Vine Cancun. From the luxury of the resort to the attentiveness of the staff, we were just blown away. Secrets the Vine Cancun, which is an adult only resort was truly worth booking. It exceeded all of our expectations and it really is the best five star hotel we've ever stayed in.
From the moment we arrived and were greeted with hot towels to freshen up and a glass of champagne to toast the start of our honeymoon, to the moment we waved goodbye to the last member of the Secrets The Vine Cancun team, we were blown away. This hotel was worth every cent we paid. It was worth upgrading to, to feel extra special after our amazing wedding.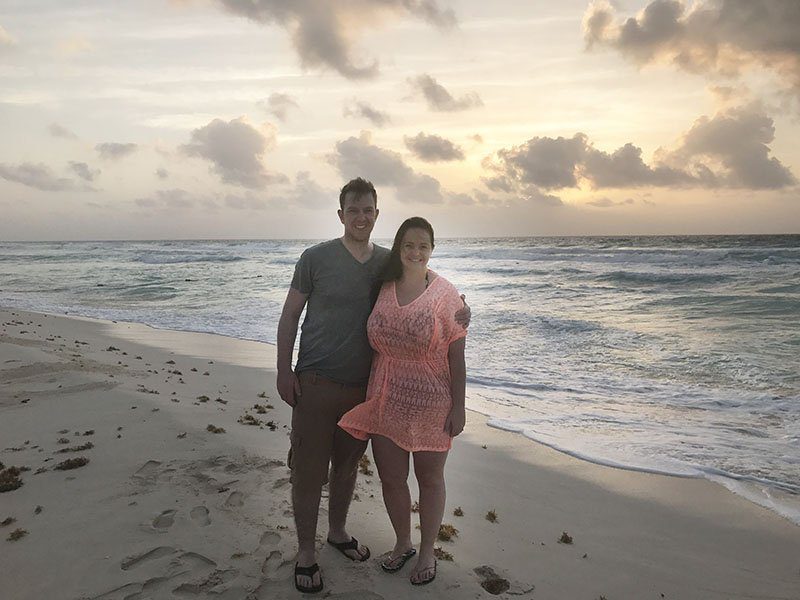 For more information on this amazing hotel or if you'd like help to plan your dream honeymoon, call our travel experts on 01-8173562.