The Ultimate Canada Bucket List
It is difficult to sum up Canada as a destination in a few short words because Canada is so much. Its nature, it's urban, it's cultural, it's historic, it's breath-taking, it's full of life, and it's exciting. Across all of its unique provinces, Canada offers an incredible list of things to do, a list that is as expansive as the destination. In our latest blog post, we want to inspire your next holiday by sharing with you a sample of the wonderful attractions. This is the ultimate Canada bucket list.
1. NIAGARA FALLS – ONTARIO
It seemed fitting to start off our Canada bucket list with one of its most popular attractions! Niagara Falls is an incredible, breath-taking wonder of the world that is just a short 90 minutes away from Toronto. With 3,160 tons of water flowing over the falls every second, Niagara Falls and its thundering roar will amaze you. There are many ways to enjoy the falls, you can do so by boat, helicopter, or even by journeying behind the falls! In the surrounding areas, you will also find lots to do from arcades and dining to hiking trails. We also recommend you visit the village of Niagara-On-The-Lake which is a quaint, picturesque village a couple of minutes from the falls.
2. GROUSE MOUNTAIN – VANCOUVER
Located just 15 minutes from Vancouver, the alpine playground of Grouse Mountain rises 4,100 feet above Vancouver. Grouse Mountain is considered a four season destination and it features a wildlife refuge, dining options, outdoor activities and local snow sports during the winter. Some of the amazing activities you can enjoy during your visit, no matter the time of the year are the Super Skyride, which gives you the opportunity take in pristine mountain wilderness and views from a cable car. We also recommend checking out Eye of the Wind, a large wind turbine that has a viewport observatory suspended below the huge of the 125 foot long blades, which sit 20 stories up! The Wildlife Refuge is also a wonderful experience, where endangered animals can play, whilst protected in their natural habitat. The two-hectare mountaintop habitat is also home to two orphaned grizzly bears, Grinder and Coola.
3. CN TOWER – TORONTO
The CN Tower defines the Toronto skyline and it is one of the cities, and Canada's most celebrated icons. A wonder of the modern world, the CN Tower offers spectacular views over the city of Toronto, the Toronto Islands and Lake Ontario, and on a clear day, as far as Niagara Falls! The elevator ride to the top takes a short 58 seconds and is a wonderful experience. If you're feeling brave, the EdgeWalk at the CN Tower is also a must do! The EdgeWalk is the world's highest hands free external walk that runs 360 degrees around the tower at 116 stories above the ground!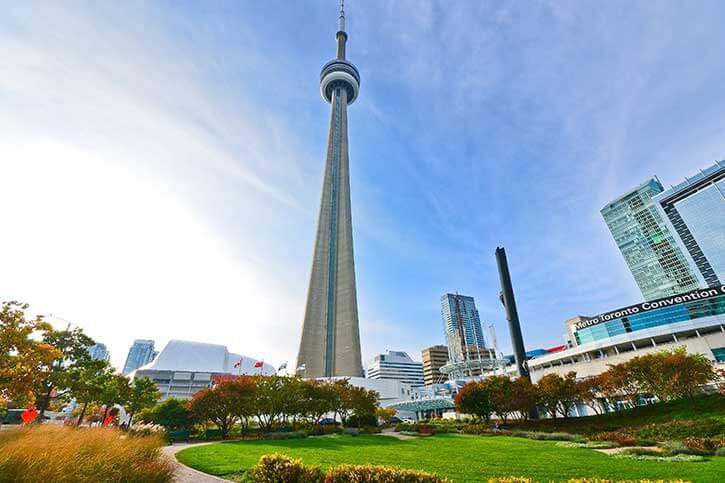 4. STANLEY PARK – VANCOUVER
Stanley Park is one of Vancouver's most popular districts. Considered one of the greatest urban parks in the world, this park offers a variety of hiking trails, cycle trails and plenty of gorgeous scenic views of the city, surrounding mountains and coastline. The park is also family friendly and is home to a pool, Water Park, a miniature railway and so much more. For the best views, head to the Stanley Park seawall, which draws approximately 8 million visitors year-round!
5. ALGONQUIN PROVINCIAL PARK- ONTARIO
Algonquin Provincial Park is an escape from the hustle and bustle of everyday life. With maple hills, rocky rides and thousands of lakes throughout the region, Algonquin Provincial Park is the place to go if you want to camp under the stars, hike one of 14 trails, go kayaking, fishing or spot moose.
6. LAKE LOUISE – ALBERTA
Surrounded by rugged peaks, and glaciers, the emerald waters of Lake Louise are one of the most breathtaking you will ever see. The dramatically beautiful Lake Louise is famous for its turquoise waters and the stunning Victoria Glacier. The area offers incredible hiking opportunities, kayaking, skiing and so much more. If you want to enjoy an extended stay in Lake Louise, the stunning, Fairmont Chateau Lake Louise, overlooks the lake.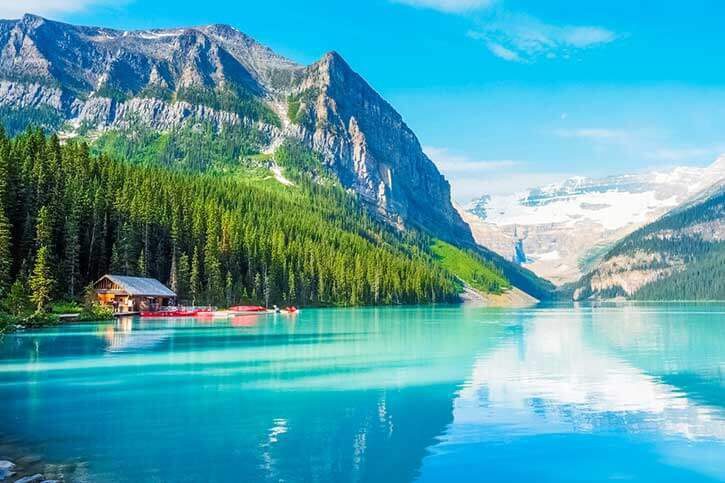 7. TORONTO ISLANDS
The Toronto Islands are a 13 minute ferry ride from Downtown Toronto and they are a fabulous escape from bustling city life. Approximately 5km long, the islands feature a range of trails which are perfect for walking, running or cycling. There are also attractions dotted around the islands including a 200 year old lighthouse, restaurants/cafes and also playgrounds. The island is also home to some gorgeous beaches and even more gorgeous views of the Toronto skyline!
8. OLD MONTREAL
Old Montreal is the city's historic quarter and it is home to cobblestone streets, gorgeous cafes, incredible restaurants and so much more. The impressive Notre Dame cathedral is located in the Old Town, as well as observation wheels, museums, and the Old Port, where you can board a scenic river cruise.
9. CATCH A GAME – CANADA
Canada is home to some of the best North American sporting teams, including the newly crowned NBA Champions, the Toronto Raptors! During your visit, why not catch a game of hockey, basketball, baseball or football! Sports are a huge part of Canadian culture and we highly recommending joining in if you're visiting during sporting seasons.
10. CAPILANO SUSPENSION BRIDGE PARK – VANCOUVER
Capilano Suspension Bridge Park is home to the 450-foot Capilano Suspension Bridge which hangs 70 meters above the Capilano River! Located just a short distance from Vancouver, the Capilano Suspension Bridge is a brilliant must-do if you're looking to be surrounded by vast, Canadian nature. In the park, you will also get to enjoy the Cliffwalk, which is made up of a series of cliffside suspended walkways which also tower above the rainforest, and if that's not enough, we also recommend you enjoy the Treetops Adventure! This attraction is not for the faint of heart and it is a thrilling, adrenaline-pumping experience which will take your holiday to new heights.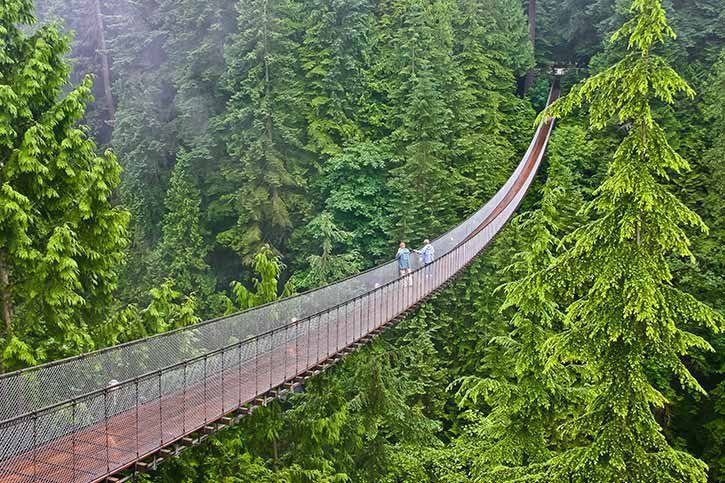 11. MOUNTAIN BIKING – BRITISH COLUMBIA
British Columbia is a really popular destination for mountain biking. The province is home to many routes which offer varying levels of difficulty. In Vancouver, you can enjoy cycle trails which take in Stanley Park, Sunset Creek, the Central Valley Greenway and Queen Elizabeth Park, to name but a few. Stretching further across the province of British Columbia then, you will also find a huge selection of trails to explore by bicycle.
12. SHOPPING – CANADAM
Ah, shopping! You can't beat a shopping trip while on holiday! All of Canada's major cities will have a brilliant selection of stores and malls to enjoy, from the incredible CT – Toronto Eaton Centre, which attracts 50 million shoppers a year, to the boutique stores of Victoria, British Columbia.
13. RIDEAU CANAL – OTTAWA
The historic Rideau Canal in Ottawa is a must-visit. This UNESCO World Heritage Site meanders through charming Ottawa and offers an abundance of activities for visitors to enjoy. A major attraction in Canada, the Rideau Canal is 4.8 miles long, and in the winter, it becomes the world's largest naturally frozen skating rink. During the year, visitors can enjoy outdoor entertainment along the canal, as well as relaxing boat tours, during the summer. The canal is also lined with pathways for you to enjoy the views by foot, or by bicycle.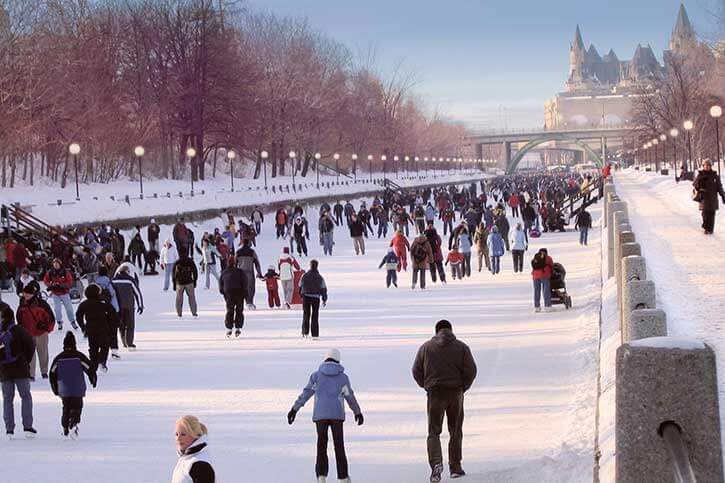 14. DINING GALORE – CANADA
Canada prides itself on its incredible cuisine and choice. Many restaurants and eateries across Canada specialise and pride themselves on sourcing and using local produce in their culinary offerings. But not only that, the dining scene across Canada, especially in cities like Toronto, featured an international flair which has been influenced by many cultures from around the world. Enjoy Korean, Italian, Mexican, Spanish food and so much more. Canada is also renowned for its food truck scene and these are a really great way to enjoy some local fare on your holiday.
15. ROYAL CANADIAN MINT – OTTAWA
The Royal Canadian Mint is a brilliant and educational attraction located in Ottawa. At the Royal Canadian Mint, guests will learn about the manufacturing facility and how coin-making is done.
16. DISTILLERY DISTRICT – TORONTO
The Toronto Distillery District is a national historic site and a must-visit in you're visiting Toronto. Home to 44 heritage buildings, which house many restaurants, art galleries, boutiques and speciality retail stores. There are also numerous brick-lined courtyards and plenty of opportunities to capture Instagram-worthy photos!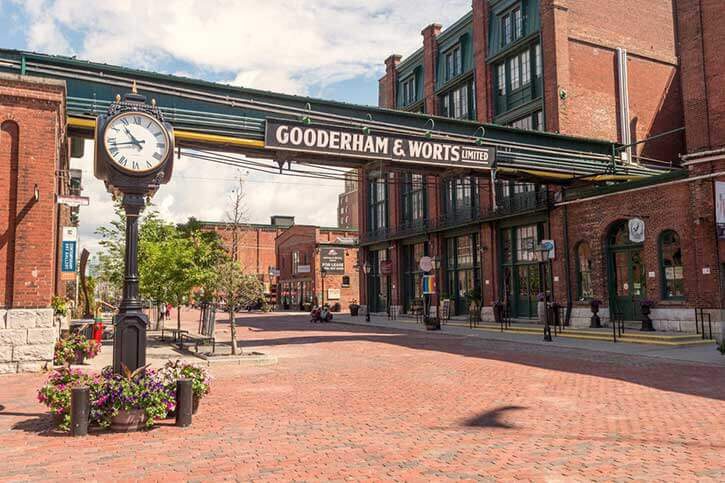 17. PARLIAMENT HILL – OTTAWA
Parliament Hill is home to Canada's parliament buildings. Located atop 'The Hill' and overlooking the gorgeous Ottawa River, Parliament Hill is the location for many festivals including Canada Day and the Christmas Lights Show.
18. GO WINE TASTING – CANADA
Did you know that Canada has a thriving vineyard scene? Wine and ice wine are produced around Canada and many local vineyards are open to the public for wine tasting sessions, tours and more. In the Niagara region, we really recommend you check out the incredibly unique ice wineries.
19. CASA LOMA – TORONTO
Casa Loma is an Edwardian-era castle located In Toronto. Throughout the castle, you can explore secret passageways, elaborately decorated rooms and breath-taking views of Toronto. The castle grounds are also home to five aces of flora, stables and carriage houses.
20. FORTIFICATIONS OF QUEBEC
A really interesting fact about the city of Quebec is that it is a walled city! In fact, Quebec is the only remaining walled city in North America! The 2.8 mile fortifications of Quebec were part of a defence system built between 1608 and 1871, and today, you can enjoy a tour along the walls to learn all about their rich history of them and the city.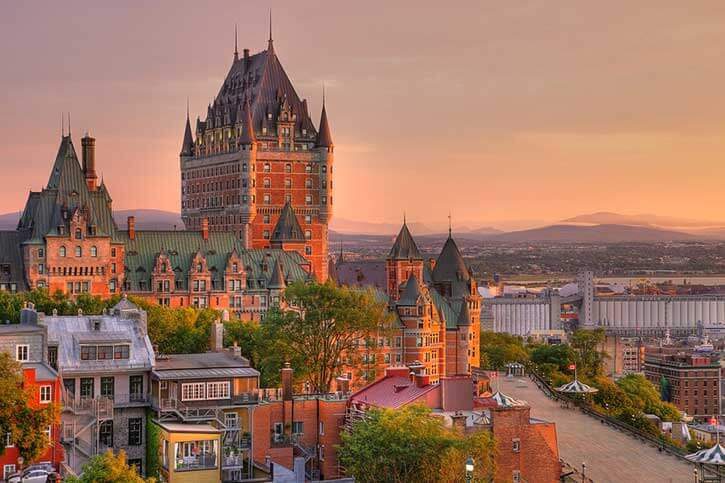 While this list only covers a selection of the attractions across Canada, we hope that it has given you some inspiration on the wonderful range of activities and experiences you can enjoy. Tour America offer an incredible range of holidays to Canada, all of which can be tailor-made to suit your needs. With fantastic flight options from Ireland with Air Canada, the wonders of Canada have never been easier to reach and explore. For more information on any of the above, or on Canadian holidays, you can reach our multi Award Winning Travel Experts on 01-8173562 or via the contact form below.