The Ultimate Guide to Celebrity Edge
Celebrity Edge has arrived and this incredible ship, promising to leave the future behind is exceeding all expectations. In this blog post, we're going to share everything you need to know about this incredible ship from the design, entertainment and dining, to the staterooms, suites and the unique Magic Carpet. This is the ultimate guide to Celebrity Edge.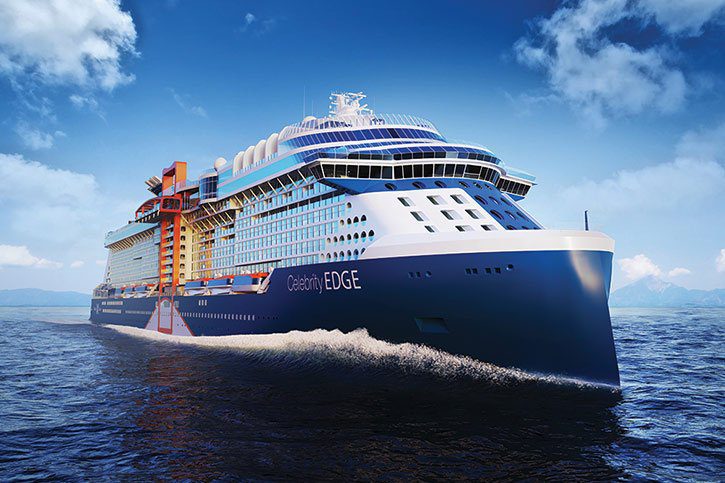 STATEROOMS
While Celebrity Edge does feature inside and ocean view staterooms, its real stateroom statement is being made with the introduction of the Edge Stateroom with Infinite Balcony. These incredible balcony staterooms have been completely re-imagined for Edge. With the touch of a button, your living space becomes your balcony, giving you the opportunity to walk right out to the water's edge. These unique staterooms offer 23% more space and feature the latest in design and technology.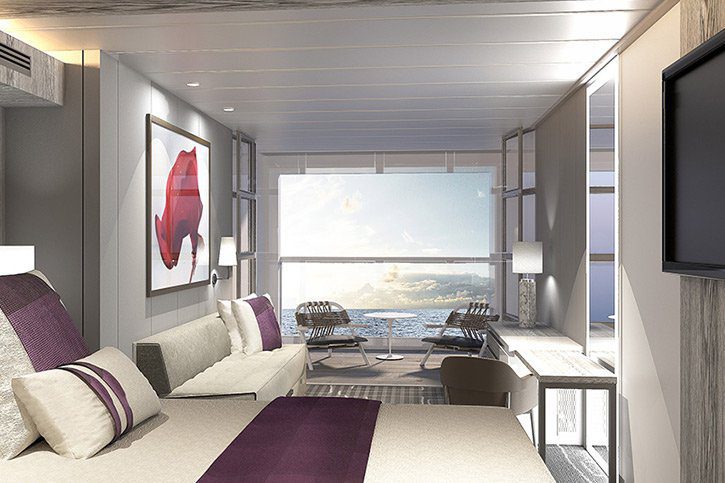 SUITE CLASS CRUISING
Celebrity Cruises have always mastered suite class cruising and on Celebrity Edge, they have revolutionized the suite experience and have taken it to the next level. When you sail suite class on Celebrity Edge, you will no doubt feel right at home as you enjoy luxurious comforts at sea. Celebrity Edge features many suite class options and our personal favorite, are the incredible Iconic Suites. Offering an on top of the world view, the Iconic Suites are positioned high above the bridge and offer panoramic views. They offer more than 2500 square feet and an interior that will wow every guest. Suite class guests also have the pleasure of enjoying exclusive on board experiences at The Retreat.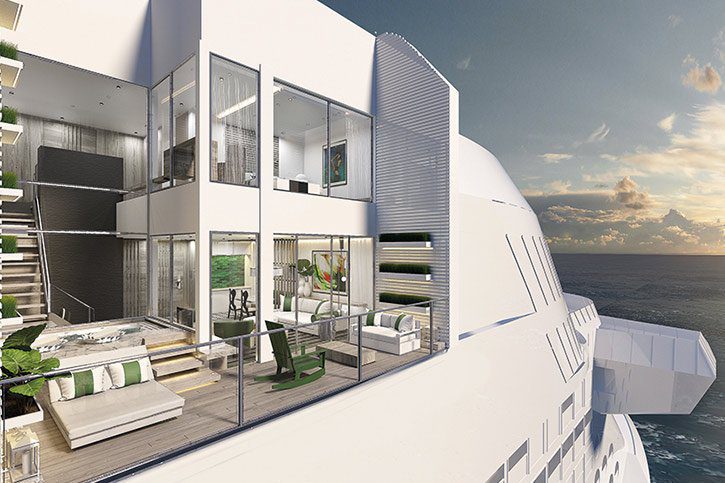 THE RETREAT
The Retreat is a dedicated space, exclusive to suite class guests. The Retreat will feature exclusive areas including the Retreat Sundeck, the Retreat Lounge and the exclusive Luminae at the Retreat restaurant. The Retreat Sundeck is a re-imagined outdoor space that features plush furniture, a full size pool and dedicated Pool Butlers. If you get peckish after a day in the sun, head to The Retreat Lounge to enjoy gourmet bites and beverages.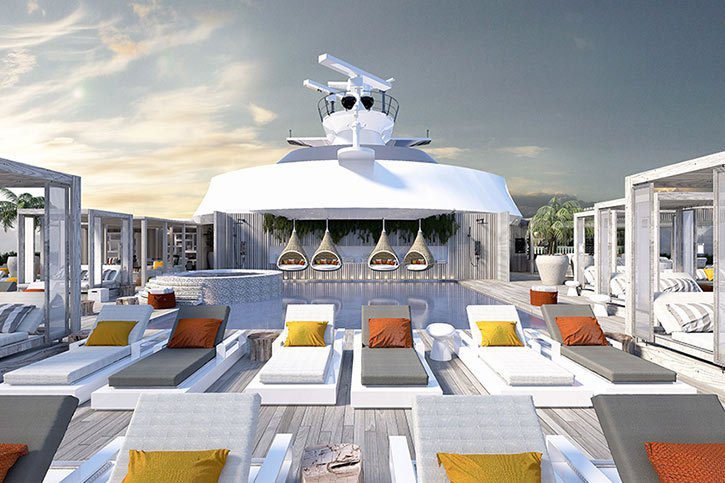 MAGIC CARPET
One of Celebrity Edge's most unique features is the incredible Magic Carpet. Soar above the open ocean and enjoy breath-taking views on board this incredible venue. Staying in line with the ships vision of being outward-facing, the Magic Carpet will reach 13 stories above sea level. It will also feature comfortable seating, a full bar, space for live performances and depending on its position, it will offer various experiences. From offering a dining experience like no other, titled Dining on the Edge, to becoming an extension of the ship when needed for tendering, this exciting venue will captivate you on board.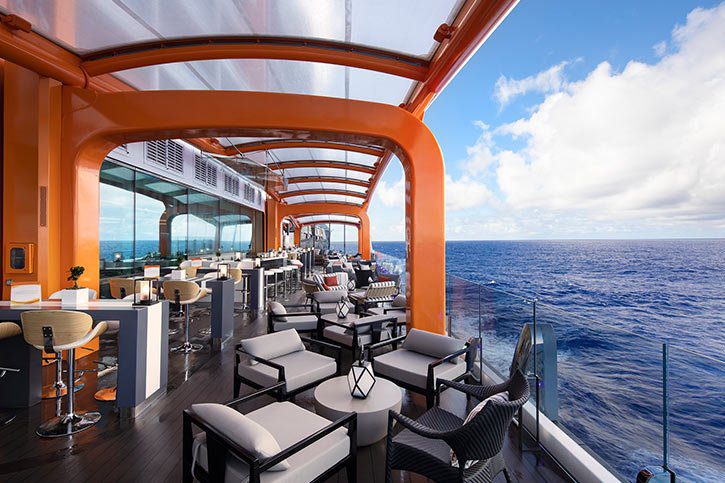 ROOFTOP GARDEN
The Rooftop Garden is a living urban playscape that was inspired by childhood playgrounds. It is the perfect space on board to enjoy amazing views, a refreshing cocktail or a gourmet BBQ. Throughout the day entertainment takes place, and at night, the venue is transformed and you can enjoy entertainment, food fusions and live music. You will discover your unexpected pleasures at the Rooftop Garden.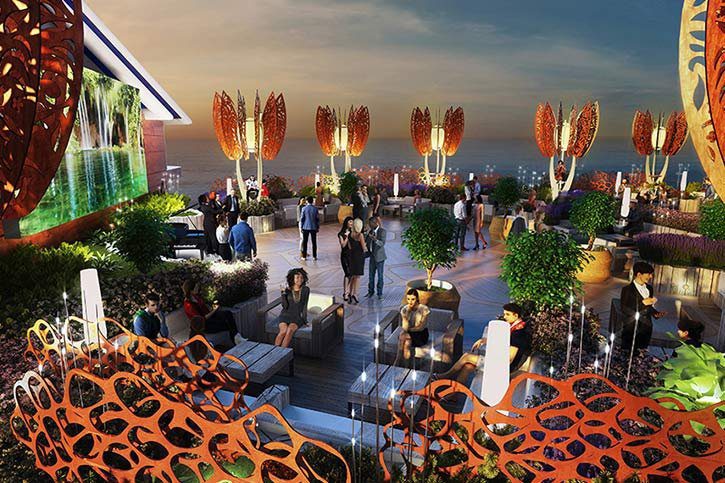 DINING ON EDGE
Celebrity Edge offers a culinary experience that will bring the flavors of the world to you. With 29 unique dining venues and beverage experiences, many of which have been designed and crafted by Michelin-starred chefs, all of your senses will be awakened. Celebrity Edge offers a variety of complimentary and speciality dining options on board. Our favorite complimentary options include Eden Café, Oceanview Café and the Mast Grill. For something special, head to one of the following speciality restaurants; Fine Cut Steakhouse, Le Grand Bistro, Raw on 5.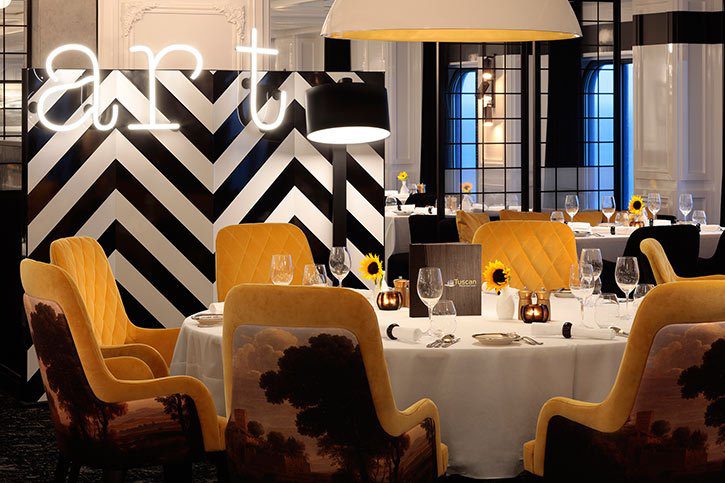 EDEN
Eden, a mind-blowing venue on Celebrity Edge invites you to indulge in every sense. With a transformative atmosphere, you will get to enjoy Eden in a unique way, every time you visit. Enjoy chillful mornings, playful afternoons and sinful evenings. Eden is a window to the world and this three level lounge is considered a sensory experience, wrapped in glass.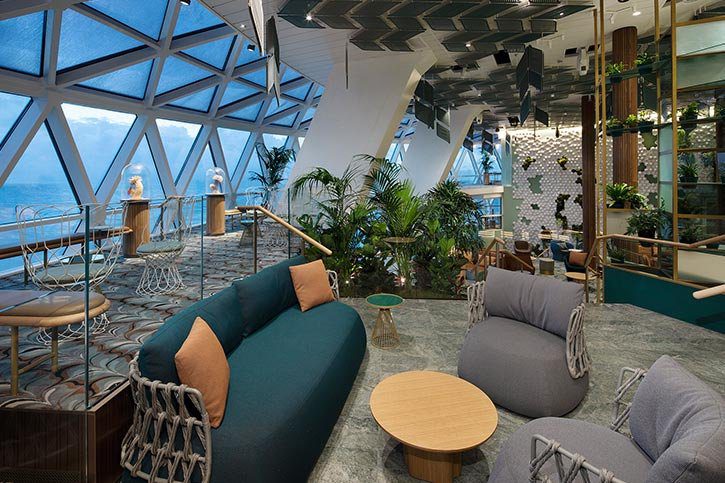 THE SPA ON CELEBRITY EDGE
Whilst the entire ship offers a tranquil ambiance, a visit to the on board spa is a must while enjoying a cruise on Celebrity Edge. From invigorating your spirit, to clearing your mind, The Spa on Celebrity Edge offers you an ahh-inspiring escape. Enjoy incredible treatments, spaces and experiences at The Spa on Celebrity Edge. Celebrity Edge also features a beauty salon, barber and a fantastic gym.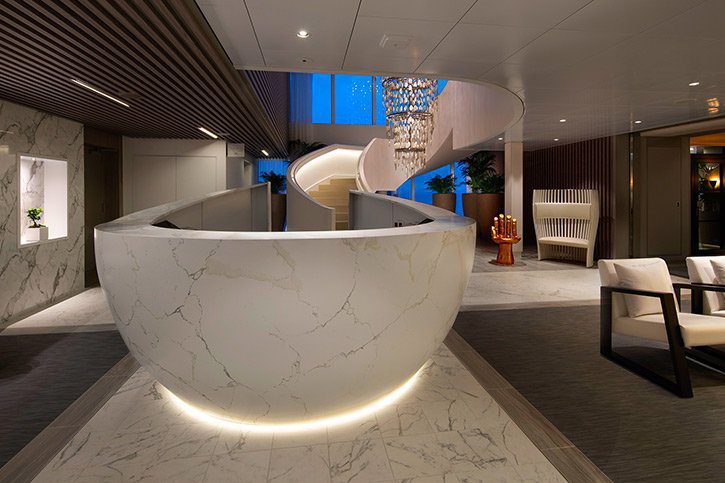 ENTERTAINMENT ON EDGE
Celebrity Edge's entertainment is visionary, revolutionary and imaginative. Enjoy performance at the on board theater, live music at one of the many venues including the Rooftop Garden or Eden, or dance the night away at The Club.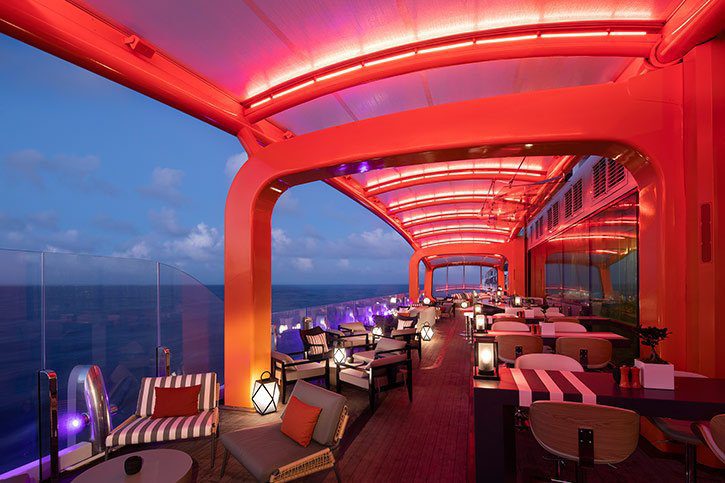 SET SAIL ON CELEBRITY EDGE
Celebrity Edge has changed the cruise industry and this incredible ship will wow every guest who sails on board. Celebrity Edge also has something for everyone to enjoy on board. Whether you want to relax and unwind or explore and dance under the stars, Edge offers a cruise experience unique to every guest. For more information on booking a cruise holiday on Celebrity Edge, contact our cruise experts on 01-8173562.