The Ultimate Massachusetts Bucket List
Rich in history, culture, sport and so much more, Massachusetts makes for a fantastic getaway from Ireland. Throughout the State you can find a unique blend of activities to enjoy on your holiday with everything from exciting city shopping to whale watching. If you're looking for a new part of America to visit on your next holiday, Massachusetts may be the spot and to help you plan an exciting holiday to remember, we've compiled a list of the top attractions there. This is the Ultimate Massachusetts Bucket List.
1. VISIT HARVARD UNIVERSITY – BOSTON
Just a short subway ride from Downtown Boston, Harvard University is a must visit on your trip. With historic buildings, gorgeous grounds and a strong Autumnal feel, Harvard University is great for an afternoon stroll. You can enjoy the grounds at your leisure or, if you prefer, you can take a local tour.
2. VISIT NAISMITH BASKETBALL HALL OF FAME – SPRINGFIELD
If you're a basketball fan, a visit to the Naismith Basketball Hall of Fame is a must. With over 300 inductees this exciting museum, which is located in Springfield Massachusetts has over 40,000 square feet of basketball history!
3. VISIT YANKEE CANDLE VILLAGE – SOUTH DEERFIELD
Yankee Candle Village is one of the most visited attractions in Massachusetts and the whole New England region. With the grounds being home to over 12,000 stunning tulips and daffodils, it's a stunning area to enjoy both outside and in. The on-site store features hundreds of Yankee Candle fragrances for you to enjoy and choose from.
4. EAT A BOSTON CREAM PIE
If you're visiting Boston on your holiday, be sure to try one of their famous desserts, the Boston cream pie! These yummy pies (which are actually cakes and not pies!) are filled with custard / cream and are topped with chocolate. You'll find Boston cream pies in cafes throughout the city. Yum!
5. GO WHALE WATCHING – COASTAL MASSACHUSETTS
There's something majestic about whale watching and if you are visiting the coastal regions of Massachusetts, we highly recommend you take a whale watching cruise. Head out into the Atlantic, enjoy the scenery and marvel at the beauty of these incredible mammals.
6. WALK THE FREEDOM TRAIL – BOSTON
Boston, known as America's most walk-able city is home to the historic Freedom Trail, a 2.5 mile long route that guides you to Boston's most historic sites. This red brick route will bring you by significant meeting houses, churches, museums and burial grounds, all of which were significant during the American Revolution.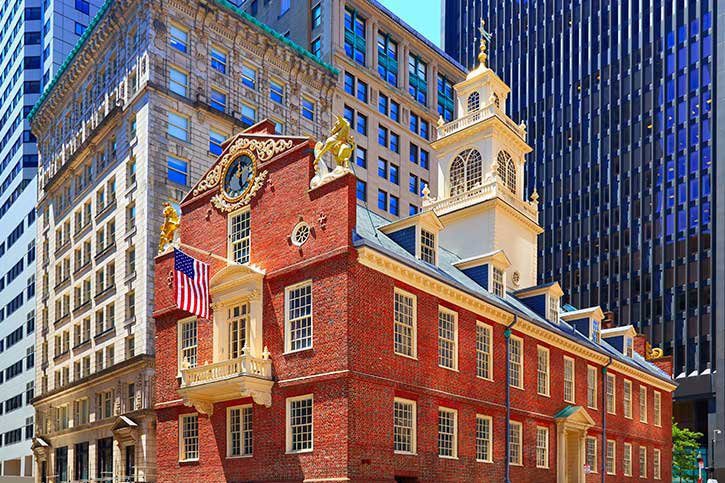 7. TAKE A DUCK TOUR IN BOSTON
If you want to learn about the history and culture of Boston in a fun and interactive way, we recommend you take a Boston Duck Tour. This unique city tour will take you around Boston by land and water and en route, you will no doubt have a blast! Guided by a knowledgeable conDUCKtor, you will learn all about Boston's key attractions before you make your way into the Charles River for stunning views of both Boston and Cambridge.
8. VISIT THE SALEM WITCH MUSEUM
Just a short trip from Boston, Salem, the witching capital of the world is a charming little town that's rich in spooky history. While a stroll around the town will give you chills and thrills, be sure to visit the Salem Witch Museum for a fantastic step back in time to the Salem Witch trials! If you want to make your visit extra spooky, why not visit on Halloween!
9. TAKE A TRIP TO MARTHA'S VINEYARDM
Martha's Vineyard is an island just off the Cape Cod Coast. Known for its quaint harbour towns, Martha's Vineyard is also home to picturesque lighthouses and perfect, sandy beaches. You can visit Martha's Vineyard by taking a ferry over from Cape Cod.
10. GO TO A GAME – BOSTON
Boston is big on sport and if you're looking for an authentic Bostonian experience, we recommend you go to a sporting event on your visit. Boston has three major sporting teams, the Boston Red Sox which are the baseball team, the Boston Celtics which are the basketball team and the Boston Bruins which are the ice hockey team.
11. HAVE A PICNIC IN BOSTON COMMON
Boston Common is a large public park located in the heart of Downtown Boston and it's a must see when you're visiting. Take a stroll around and enjoy its stunning lakes, beautiful fall foliage and if you're visit during the summer, be sure to have a picnic in the sunshine!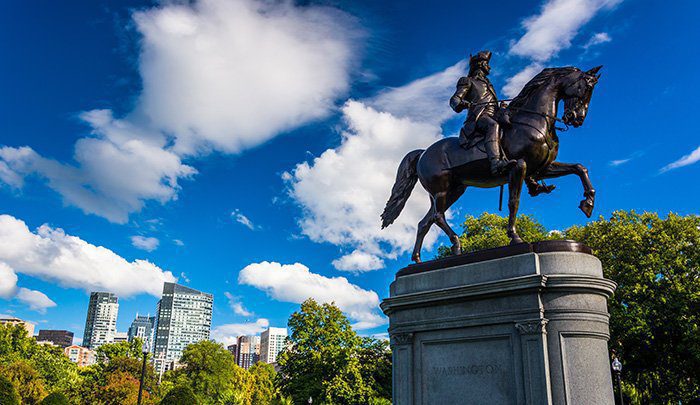 12. TRY A LOBSTER ROLL
Massachusetts lobster rolls are famous throughout the world for being delicious so when you're on holidays in Massachusetts, be sure to try one! A lobster roll is a soft, bread roll that's soaked in butter and filled with delicious lobster meat.
13. VISIT THE JOHN F KENNEDY HYANNIS MUSEUM
If you're visiting the Cape Cod region of Massachusetts, we highly recommend a visit to the John F Kennedy Hyannis Museum. At this fascinating museum, you will get to learn all about JFK's personal and professional life and you will also get a look into his rich history with the Cape Cod region.
14. STEP BACK IN TIME IN THE OLD STURBRIDGE VILLAGE
Old Sturbridge Village is a large outdoor history museum that depicts a rural New England town in the 1830's. With more than 40 original buildings, you can explore what New England looked like in the 1800's as you stroll among homes, meetinghouses and other town buildings including a school, country store, bank, farm and a water mill. This fantastic museum is located on over 200 scenic acres of land.
15. VISIT DECORDOVA SCULPTURE PARK AND MUSEUM – LINCOLN
deCordova Sculpture Park and Museum is a 30-acre park that showcases contemporary art. Located on the shore of Flint's Pond in Lincoln, the Museum is the largest of its kind in New England and it fosters the creation, exhibition and exploration of contemporary art.
16. SHOP TIL YOU DROP AT THE WRENTHAM PREMIUM OUTLETS
No trip to Massachusetts is complete without some fantastic shopping and the Wrentham Premium Outlets, just a short drive from Boston are a brilliant option to grab a bargain. The outlets are home to many major stores including Armani, Coach, Disney, GAP and Michael Kors.
17. VISIT BATTLESHIP COVE – FALL RIVER
Battleship Cove is a maritime museum and war memorial that's home to the largest collection of preserved US Navy ships in the world. The fleet includes the USS Massachusetts, Destroyer USS Joseph P. Kennedy, Jr., Submarine USS Lionfish, and PT Boats 617 and 796. At the museum, you will learn about the involvement of each ship and you will get to experience other exhibitions.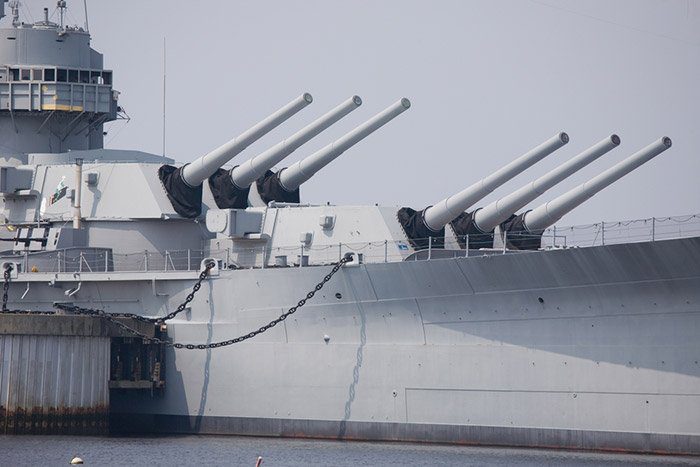 18. VISIT FAMOUS TV / MOVIE FILMING LOCATIONS – ALL OF MASSACHUSETTS
Boston and many areas of Massachusetts are used frequently in TV and movies. While you're there, why not try to spot the locations from your favourite films! Hocus Pocus, Ted, The Perfect Storm, Shutter Island The Town and Jaws were all filmed throughout Massachusetts!
19. VISIT THE BOSTON HARBOUR ISLANDS
Boston Harbour is home to 34 islands and they are accessible by ferry. Visit Fort Warren, go camping, visit America's oldest lighthouse or relax on one of the many beaches. The islands make for a great day out and are best enjoyed during the Summer months.
20. CYCLE THE CAPE COD RAIL TRAIL
If you're the adventurous type, rent a bike and cycle the Cape Cod Rail Trail. This 25 mile route runs from South Dennis to Wellfleet and it's a fantastic way to enjoy the beauty of Cape Cod. Take in incredible scenery and natural landscapes on this paved bike-way.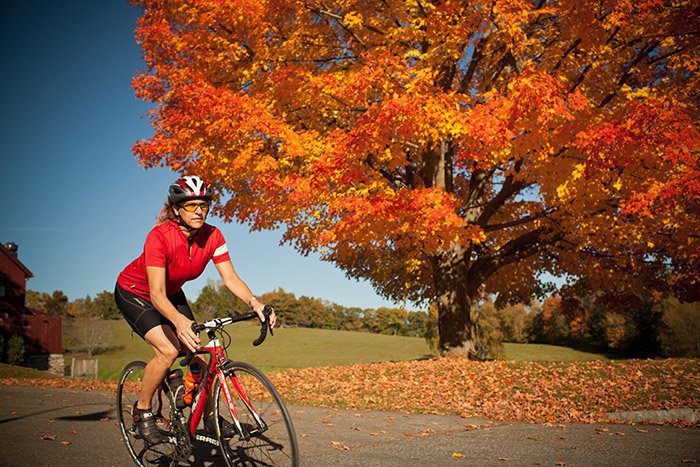 Massachusetts is a fantastic State that offers a holiday experience for everyone. Whether you're looking for a fast paced city experience, history, nature or just a big adventure, you'll find it all in Massachusetts. For more information, call our travel experts on 01-8173562 or visit our Massachusetts destination page.