The Ultimate Volcano Bay Attractions Guide
Universal Orlando's third park has risen in the form of Volcano Bay and this brand new water theme park has been thrilling guests since it opened in May. With a carefree vibe, many thrilling rides and excellent food, the park offers a lot to those who visit. From lazy rivers, to thrilling tube slides and relaxing beach areas, Volcano Bay's attractions are the perfect mix of adrenaline and relaxation. And, in this post we're going to run through all of its incredible rides to help you plan a trip to remember. This is the ultimate Volcano Bay attractions guide!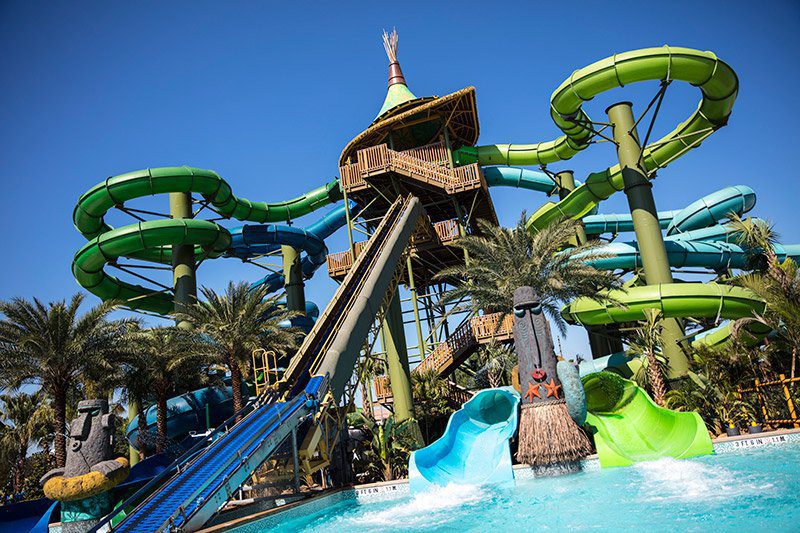 PUNGA RACERS
If you're looking for a single rider thrill or if you want to race your loved ones to see who's the fastest of your group, the Punga Racers are for you. On this exciting four lane slide, hop on board your very own manta-ray mat and make a go for the finish line!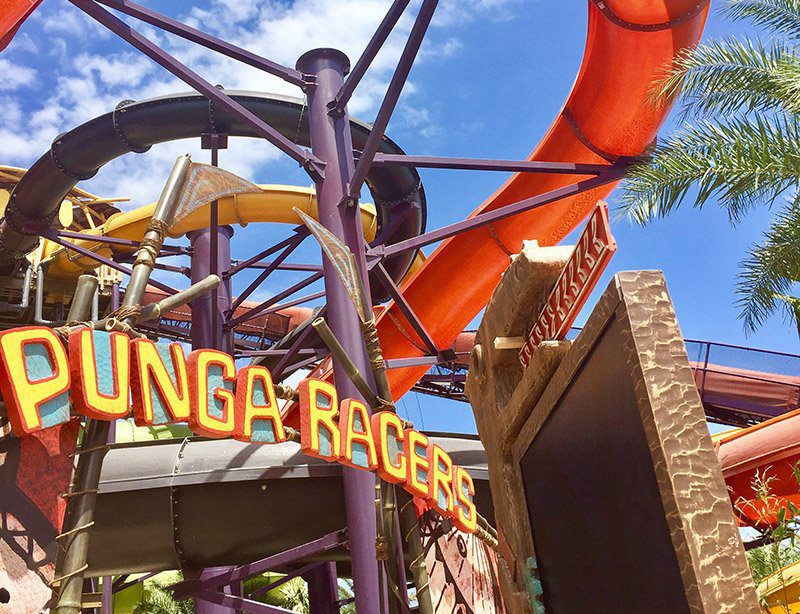 KO'OKIRI BODY PLUNGE
One of Volcano Bay's most anticipated rides, the Ko'okiri Body Plunge gives you the opportunity to brave the famous volcano itself! Featuring a 70-degree drop through a trapdoor, this insane ride will have you fall 125 feet in no time.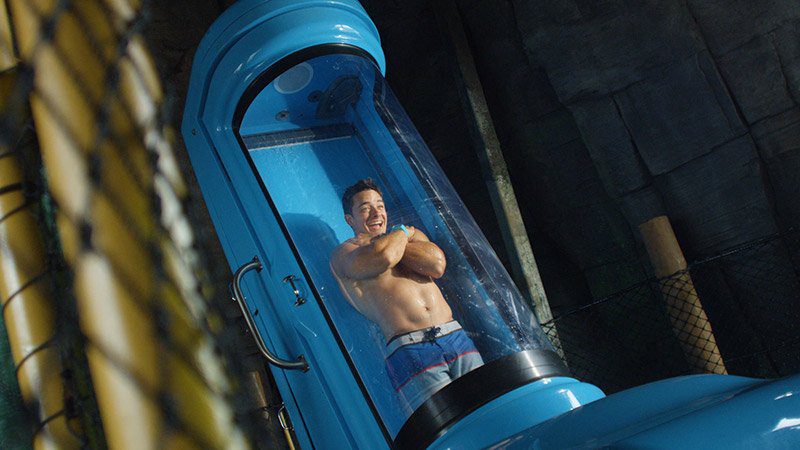 PUKA ULI LAGOON
The Puka Uli Lagoon is the perfect place for you and your little ones to relax in the Florida sunshine. Enjoy tropical bongo drums and spraying jets of water as you enjoy watching all of the riders make a splash from the adjacent Ohyah and Ohno Body Slides.
KRAKATAU AQUA COASTER
The Krakatau Aqua Coaster is already a favourite amongst those who have visited Volcano Bay and this amazing ride is a must do. Each canoe holds four people and once everyone is on board, get ready to slide upwards through mysterious mists and dark twists before you plunge through a shimmering waterfall!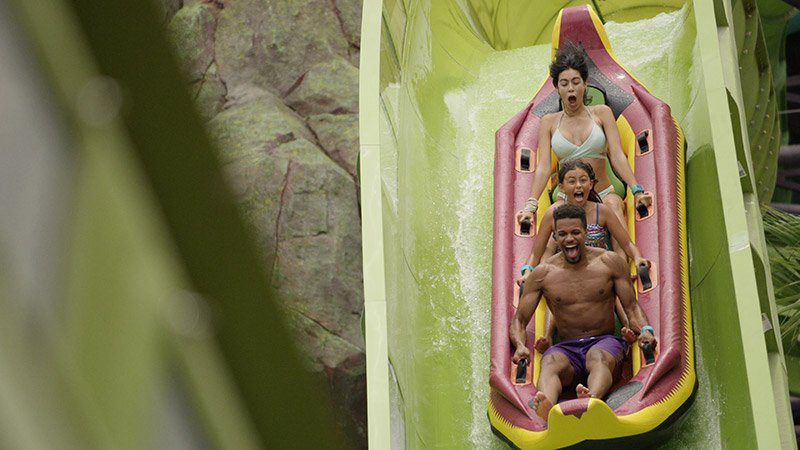 TOT TIKI REEF
Tot Tiki Reef is the perfect place for your littlest Waturi kiddies to enjoy some fun. With splash slides, a tot-sized volcano and family friendly tikis and spraying fountains, the littlest members of your family will have a ball in this area.
HONU OF THE HONU IKA MOANA
Grab your friends and get ready to take a ride on the wild side on the Honu of the Honu ika Moana. This incredible multi-person slide will allow you to enjoy twists and turns and underwater currents, all the while speeding through an open flume and in between two massive walls.
WATURI BEACH
If you fancy relaxing in the sunshine, a visit to Waturi Beach is a must. Take in the lush surroundings of the park as well as the splashing of water as you relax with a cold drink. With views of the mighty volcano and its stunning waterfalls, Waturi Beach is the ultimate lagoon with a view.
THE REEF
If you're looking for a more peaceful environment within Volcano Bay, The Reef will be for you. This peaceful leisure pool is set amongst its own private waterfall and is also located between the mysterious waters of Waterfall cove. The Reef is ideal for those seeking an idyllic escape during their visit.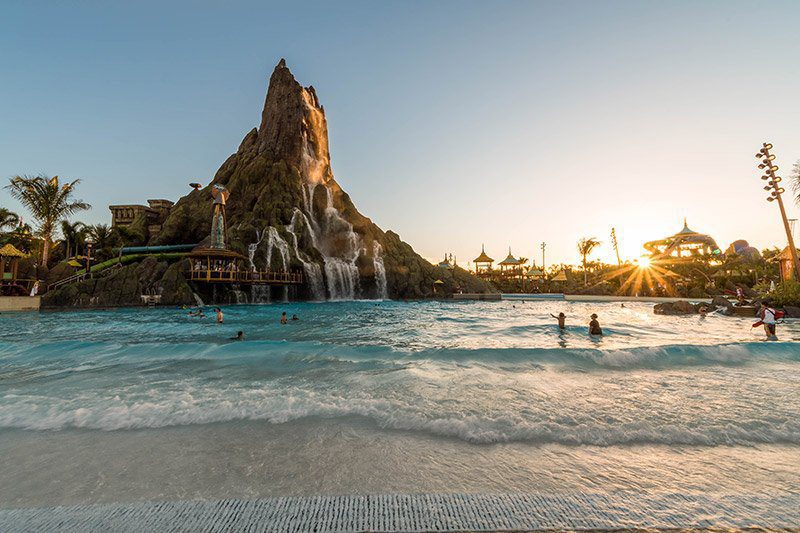 RUNAMUKKA REEF
Runamukka Reef is a fantastic play zone for kiddies and featuring bubbling geysers, slides and dump cups, they can make a big splash as they play! Runamukka Reef is shaded by the fanciful bamboo sea creatures and waving seaweed and it's the most playful spot in Volcano Bay!
OHYAH & OHNO DROP SLIDES
As the Waturi people say, you can't top these drops! The Ohyah & Ohno Drop Slides are not for the fainthearted. Choose between two rides and fly along many twists and turns before you soar into space ahead of your drop into the turquoise blue waters at the base of Krakatau.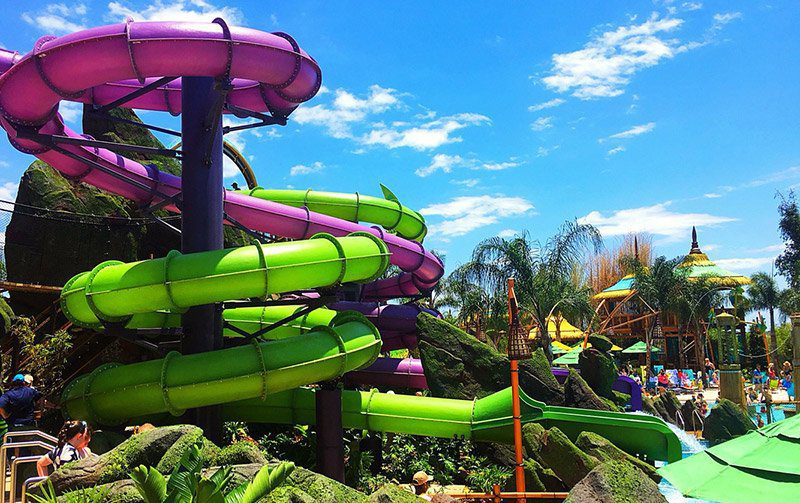 MAKU OF THE MAKU PUIHI ROUND RAFT RIDES
Maku of the Maku Puihi Round Raft Ride is one of the most daring multi-person rides in the park and this six person raft ride will give you the chance to enter a dramatic lava-tube path that winds through a deep volcanic gorge before you spin around wildly in a bowl like formation. Afraid of getting stuck? Fear not, a massive column of water high in the air will hit the slide and your raft will get sucked into a watery vortex before being deposited into a pool at the canyon's end!
TEAWA THE FEARLESS RIVER
If you're a fan of rapids, this ride is for you. Hold on tight to your tube as you take on TeAwa's choppy waves and surging currents. Bringing you through the heart of the volcano and down through Rainforest Village, these churning rapids will have you screaming with excitement!
TANIWHA TUBES
Built among strange puka trees, the Taniwha Tubes are a set of four twisting water slides that turn when you least expect it. And while you're trying out all four, beware of the mischievous tiki statues that will spray you as you slide!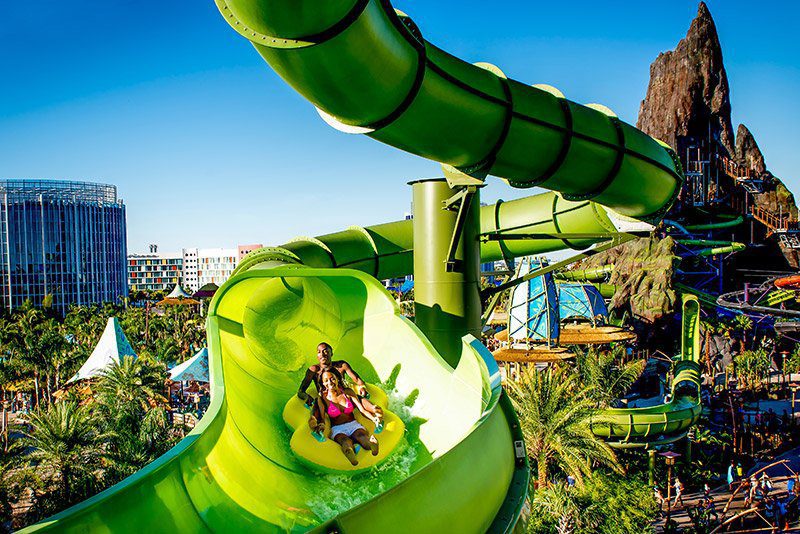 KOPIKO WAI WINDING RIVER
Wind through tropical landscapes and relax in a land full of surprises on the Kopiko Wai Winding River. This slow ride is full of magic and as it winds and meanders, it will take you through the magical Stargazer's Cavern where you can enjoy a magical night sky above.
IKA MOANA OF THE HONU IKA MOANA
The Ika Moana of the Honu ika Moana is a multi-person ride that will guarantee you a whale of a time! Enjoy twists and turns throughout and while you pass over bubbling geysers, watch out as they erupt like a whale's blowhole!
TAPUTAPU
Although not a ride, TapuTapu is a feature that all guests of Volcano Bay will get to enjoy and love. TapuTapu is wearable waterproof wristband that's designed to enhance your experience in the park. It allows you to hold your place in Virtual Lines for one attraction at a time and it also gives you the opportunity to unlock magic as you wander the park. Another excellent feature of the TapuTapu is that it allows you to leave your wallet at home! You can make purchases by tapping at the on-site shops and restaurants etc and all will be charged to your card. Amazing!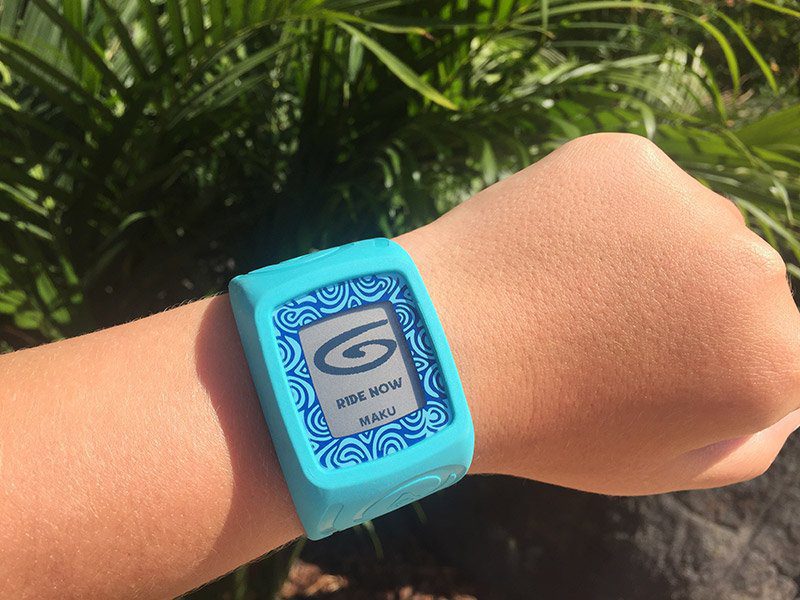 As you can see, Volcano Bay is packed full of rides with everything from terrifying drop slides to relaxing tube rides. If you'd like more information on Volcano Bay, call our Travel Experts on 01-8173562 or check out our dedicated webpage: here