Three of our favourite Royal Caribbean Ships
Here at Tour America and Cruise Holidays, we are crazy about cruising and our passion not only comes down to the incredible destinations you visit on a cruise but it has a lot to do with the amazing ships you can sail the high seas on.
Royal Caribbean are no doubt one of the top cruise lines in the world and they offer many exciting itineraries on all of their amazing ships. As we are feeling extra cruisy this week, we decided we would take you through three of our favourite Royal Caribbean cruise ships and what we love so much about each of them!
ROYAL CARIBBEAN'S FREEDOM OF THE SEAS
Royal Caribbean's Freedom of the Seas is a big favourite with Irish cruise lovers and there's no denying why! Combined with a week or two in Orlando, this incredible ship is perfect for those wanting to take a relaxing Caribbean cruise after a busy few days in Orlando. Based out of Port Canaveral in Florida, the Freedom of the Seas holds approximately 4,500 passengers and it is a great cruise ship for both families and couples. It has so much to do on board from rocking climbing to surfing on the FlowRider. There is also a fantastic kids club on board so if you are on a family cruise holiday and need some relax time, you can be sure that your kids are having lots of fun in the safest of hands!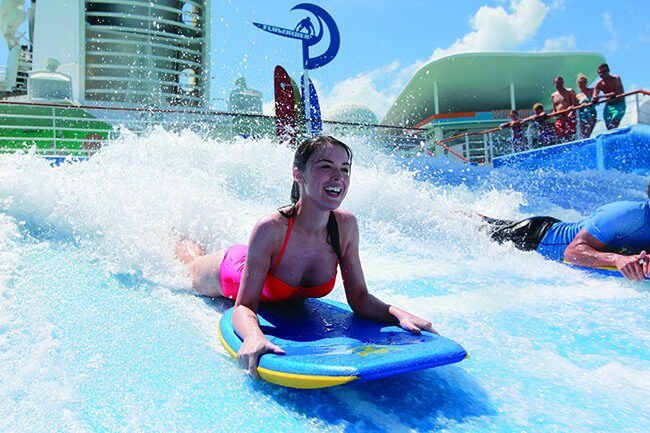 If a laid back cruise is more your thing, you can chill out at the spa or watch a movie from within the pool. The great thing about this ship is that you can enjoy it any pace!
ROYAL CARIBBEAN'S ALLURE OF THE SEAS
Writing this post, there was no denying that the largest ship not only in the Royal Caribbean fleet, but the largest ship in the world would have to feature! Royal Caribbean's Allure of the Seas is as it suggests; quite alluring! This magnificent ship has everything that you would want to make your holiday, the holiday of a lifetime. From spectacular shows in the Aqua Theatre, to a walk through Central Park or zip-lining across the ship, the Allure of the Seas has it all. Sailing both the Caribbean and the Mediterranean, this ship is perfect for both families and couples.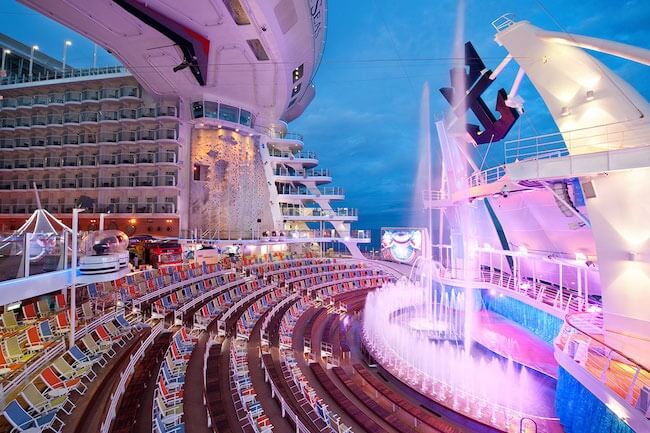 ROYAL CARIBBEAN'S QUANTUM OF THE SEAS
Royal Caribbean have brought the future of cruising to a whole new level with their latest Quantum Class ships and the Quantum of the Seas is leading the way with five star cruising. This stunning ship was the world's first smart ship and it is a digital haven for the tech savvy. Enjoy a bite at Jamie's Italian, relax at the spa or test your adrenaline as you sky dive at sea! It's all possible on the Quantum of the Seas! The Quantum of the Seas also brings a lot of firsts to the cruise industry and to Royal Caribbean some which include the North Star, bumper cars at sea, virtual balcony interior cabins and dynamic dining. A cruise on Quantum of the Seas is perfect for those affluent couples and families who are interested in technology and who also want a more luxurious yet non-traditional cruise experience.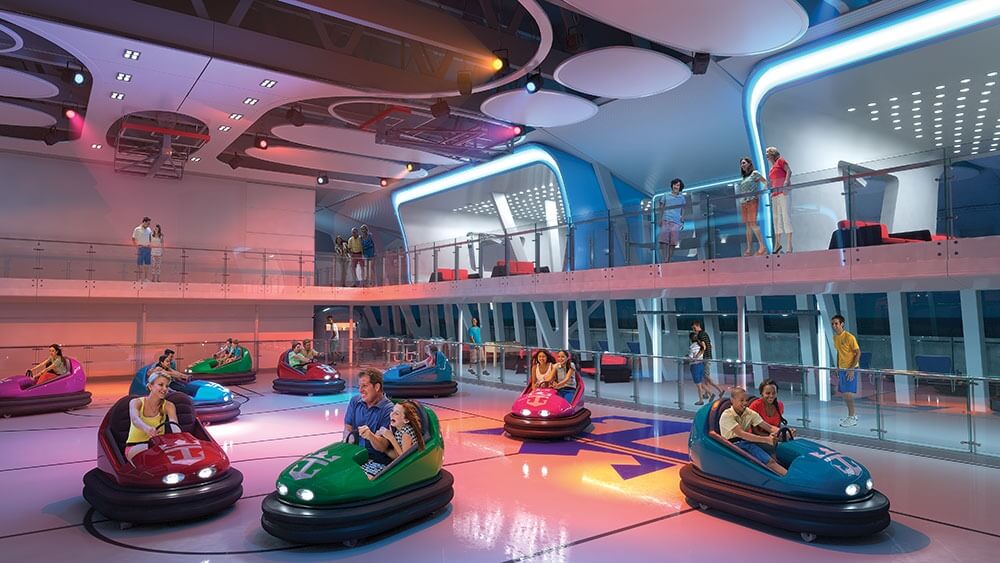 Another great thing about taking a Royal Caribbean cruise is that you have the option to pre-plan and pre-book your drinks packages. By doing this, your holiday becomes all inclusive and even more excellent value! If you're thinking of booking a fantastic cruise holiday and you'd like more information on any of these ships or any of the other Royal Caribbean fleet, call our cruise experts today on 01-8173558 or visit http://www.cruiseholidays.ie/