Tips for planning your trip to SeaWorld Orlando
A day or two at SeaWorld, Orlando is a sure way to wind down after a hard few days in other parks around the Orlando area. Start your day by getting your hands on a park map. These are located at the main gate of the park and can be found at a number of locations around the park. Make a plan of what side of the park to start in and then off you go!
The map makes the park look pretty small so you'll be surprised to know that SeaWorld Orlando actually covers 200 acres. It's a pretty laid back park for much of the year so you'll never really have a problem fitting in everything in one day but tickets will cover you for 14 consecutive days so you can do the park as many times during your holiday at your leisure.
At this time of year you can catch the Shamu show One Ocean twice a day. Both performances offer the same thrilling experience as you witness the spectacular killer whales up close and personal. For a more "authentic" connection with these stunning creatures you can place yourself in the "Soak Zone". The word "soak" is certainly not used lightly in Shamu Stadium!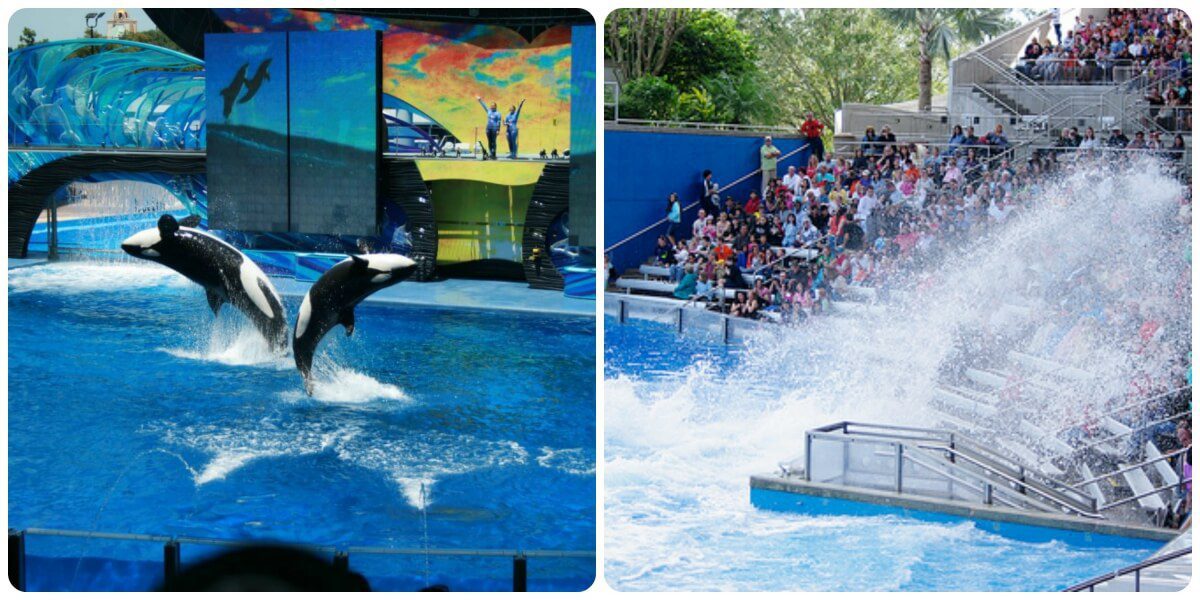 If that's not close enough, you can always Dine with Shamu. With this once in a lifetime experience you'll be close enough to share your food with killer whales! Availability is limited so make sure you book before you go. Talk to our sales team about all of these unique encounters at SeaWorld Orlando.
From there you'll probably find yourself following the crowds back around to the Dolphin Theatre for the Blue Horizon show. But before you do, check out the Underwater Viewing at Shamu Stadium and don't forget to check out the different animal exhibits on your journey around to Dolphin Theatre. Blue Horizon is a theatrical outdoor production complete with tropical birds, acrobats and of course, dolphins. When the show is done grab some fish ($7 for small tray) and head over to the Dolphin Encounter for the opportunity to feed and touch the dolphins.
Tip: Even with 4-5 performances a day it's still a pretty popular show so arrive between 20-30 minutes prior to show time to secure a good seat!
Wild Arctic is one of the most interesting and informative exhibits in the park. Here you can come face to face with beluga whales and huge walruses. As you're walking through the exhibit there are stands with lot of information about each of the animals and their habitats. With the air conditioning on extra cool you'll really feel like you're in an Arctic Station.
If you're looking for a different dining experience, why not take in some lunch or dinner at Sharks Underwater Grill & Bar. Tuck into a steak while sharks float by, pausing to give you the occasional "smile". The dimmed lighting gives great effect and it really is a unique way of dining.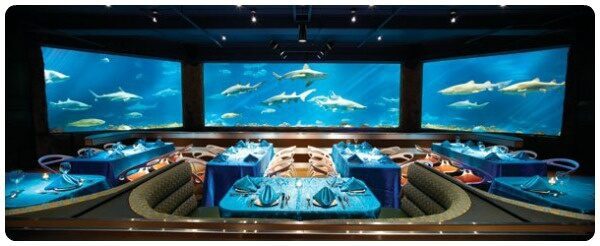 For the thrill seekers in the family, SeaWorld definitely has two of the best roller coasters in Orlando. Upon entering the park you'll most likely hear the screams before you're face to face with Manta. Manta is the only flying rollercoaster of its kind and you'll get to experience the full force and power of riding the high seas on one of the smoothest tracks in the world…all while head first facing downwards!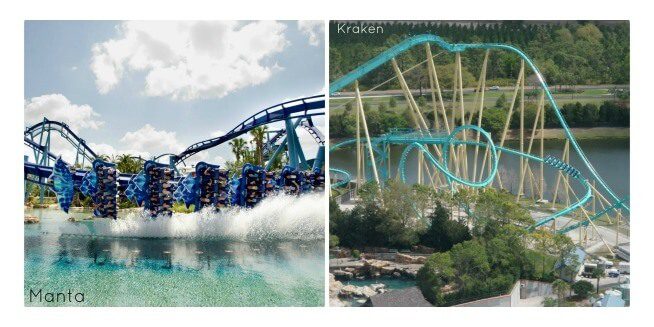 If you're adrenaline is still rushing then make your way over to Kraken. This thrilling ride features a total of seven inversions including two vertical loops, a dive loop, a cobra roll, corkscrew AND a zero gravity roll! If the prospect of this doesn't get you nervous, then the 144ft drop certainly will! Kraken is definitely a MUST when you visit SeaWorld. Tip: The front row is worth the wait!
For the less adventurous there is Shamu's Happy Harbour which caters to the younger crowd. Here you'll find Shamu Express, Jazzy Jellies, Swishy Fishies, Sea Carousel and lots of other fun things to keep the younger kids amused!
Other attractions around the park include Journey To Atlantis – an exciting water flume ride with a 70ft drop, Turtle Trek, Antarctica: Empire of the Penguin, and if you want a birds-eye view of the park and surrounding area take a ride 400ft above land on the Sky Tower. Sky Tower is a great option as you're leaving the park in the evening as you'll get to see the park as the sun goes down. From personal experience this is an amazing view and one that should not be missed.
SeaWorld Orlando is a must do on your visit to Orlando and we'll be more than happy to help you plan your trip! Give us a call on 01 8173535 or email our sales team – sales@touramerica.co.uk for more information.