Top 10 Things to do in Fort Lauderdale, Florida
23 miles of promenade lined beaches await you in Fort Lauderdale, Florida. Home to one of the world's busiest cruise ports, Fort Lauderdale is a fantastic beach destination to combine with a Caribbean cruise and, in our latest blog post, we're taking you through some of the city's top highlights. These are our top 10 things to do in Fort Lauderdale, Florida.
1. SAWGRASS MILLS
No trip to Fort Lauderdale is complete without a little shopping and a visit to Sawgrass Mills needs to be on your holiday bucket list. Sawgrass Mills is the world's largest discount and entertainment mall and is home to over 350 stores, as well as many fantastic dining options. Some popular stores at the mall include DKNY, GAP, Jimmy Choo, Michael Kors, the Nike Factory Store and many, many more.
2. EXPLORE THE BEACHFRONT PROMENADE
The beachfront promenade begins just two miles north of Port Everglades and stretches along the waterfront offering a wonderful trail to enjoy by bike or foot. Lined with its signature white wave wall, this brick paved path also runs adjacent to the incredible Fort Lauderdale beach as well as opposite some of the city's best beach resorts, shopping and dining venues.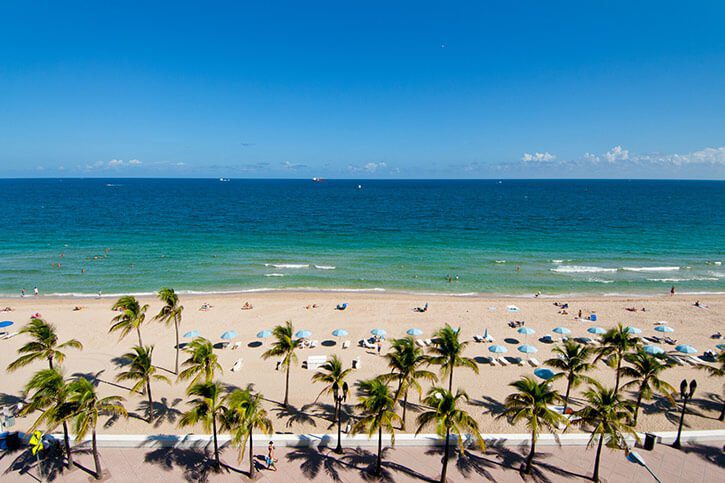 3. RIVERWALK ARTS AND ENTERTAINMENT DISTRICT
The Riverwalk Arts and Entertainment District is a 22 block district located along the New River and it is home to many entertainment options. From world-class concerts and events, to dining and unique galleries, this district is a must visit during your trip. Also located in the Riverwalk Arts and Entertainment District is the Broward Center for the Performing Arts, Fort Lauderdale History Center, Florida Grand Opera and Stranahan House.
4. EVERGLADES NATIONAL PARK
Nearly two thirds of the Greater Fort Lauderdale area is made up of Everglades protected wetlands. The Everglades is home to an abundance of wildlife including alligators and birds and it is a must visit on your trip. The best way to experience this incredible region is by airboat!
5. LAS OLAS BOULEVARD
Las Olas Boulevard is a mile long region of Fort Lauderdale that is home to chic boutiques, art galleries and sidewalk cafes. The perfect place to spend a few hours' people watching, enjoying a coffee or treating yourself in one of the many unique stores. The area is also a short stroll to the city's Arts & Entertainment district.
6. DOWNTOWN HOLLYWOOD MURAL PROJECT
For a really cool experience, we highly recommend you check out the Downtown Hollywood Mural Project. This artistic area of Downtown Hollywood features over two dozen curated contemporary outdoor murals to explore and enjoy as well as numerous shops, galleries, restaurants and cafes. The perfect spot to visit if you're looking for a colourful photograph for your Instagram feed!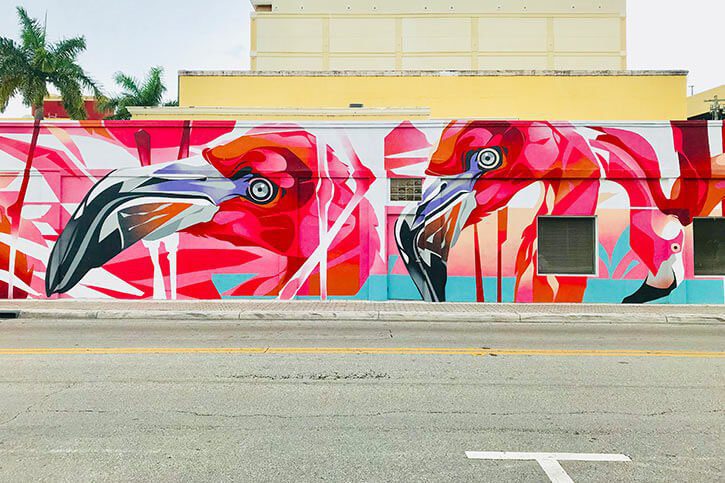 7. INTRACOASTAL WATERWAY
While Fort Lauderdale is known for its endless, white sand beaches, it is also home to a gorgeous intra-coastal waterway. Made up of many canals, Fort Lauderdale's intra-coastal waterway offers visitors the chance to enjoy relaxing cruises, kayaking, paddle-boarding and much more.
8. BONNET HOUSE MUSEUM AND GARDENS
Bonnet House Museum and Gardens in Fort Lauderdale is a beautiful 35 acre estate which lies nestled between the beach and the Intracoastal Waterway. This historic home takes you back to the early 20th century through its fascinating history and story which is told through the house and surrounding gardens. The house which was built in 1920 is now listed on the National Register of Historic Places.
9. FLAMINGO GARDEN
Another wonderful attraction to enjoy in Fort Lauderdale is the gorgeous Flamingo Gardens. This 60 acre botanical gardens and Everglades wildlife sanctuary is home to flamingos, alligators, birds of prey, bobcats, black bears and even Florida panthers. The gardens are also home to many exotic and native plants making it a truly stunning place to explore.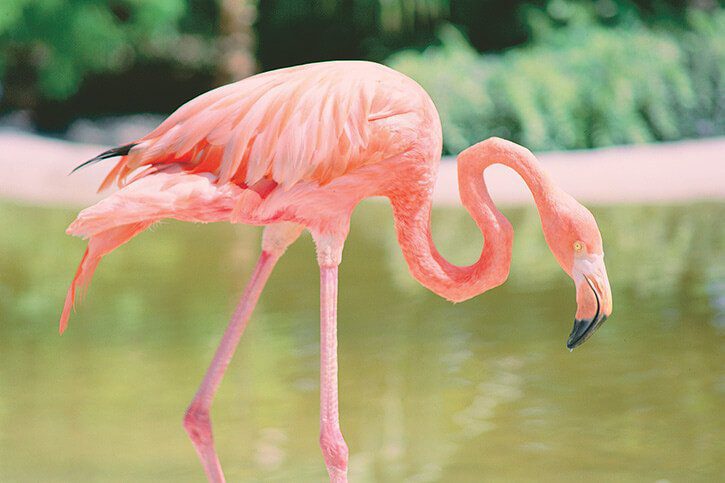 10. TREAT YOUR TASTE BUDS
When it comes to dining in Fort Lauderdale, you will be spoilt for choice. The city is home to a thriving restaurant scene that offers something for everyone. From seafood and steak to an incredible selection of international cuisine, the food of Fort Lauderdale will no doubt be a highlight of your trip.
Whether you choose to shop 'til you drop, explore the nearby Everglades, take in local art and culture or simply relax in the beautiful sunshine, Fort Lauderdale really does have something for everyone. If you would like more information on Fort Lauderdale as the perfect stop on a Florida fly/drive or as a pre or post cruise stay on your next Caribbean cruise holiday, talk to our Travel Experts today on 01-8173535 or via the contact form below.