Top 5 Walt Disney World Hotels

There are lots of perks you can take advantage when staying at a Walt Disney World hotel! Firstly, when you arrive in Orlando you are greeted by a complimentary "Magical Express" transfer from Orlando's International Airport that will take you and your luggage straight to your Disney hotel room. With this service, you are saving approximately $100 before your holiday even begins!
DISNEY DINING PLAN
Not only do the complimentary transfers add value to your Disney hotel experience, when you're staying on site and plan on spending the majority of your time in Disney World, the Disney Dining Plan is a no-brainer! The Disney Dining Plan is a must when staying on site in a Disney hotel. The way the Disney Dining Plan works is that you pre-pay for your plan and then pay for your food during your trip using credits. For the amount of money you'll spend on the dining plans you'll save twice as much when you hit the parks. The plans cover a range of meals and snacks throughout the day, which can be picked up from all over the Disney Resort including parks, hotels and select restaurants in Downtown Disney.
DISNEY FAST PASS
An added bonus of staying in a Disney hotel is being able to reserve your attractions up to 60 days in advance with your Disney Magic Band. And during peak times of the year this can be a HUGE advantage. With the value and experience you get staying in a Disney hotel, we consider Disney hotels some of the best in the USA.
With this in mind, Emma has listed her top 5 Disney hotels in Walt Disney World Orlando.
DISNEY'S ART OF ANIMATION
Disney's Art of Animation is perfect for families. This hotel pays tribute to four of Disney & Pixar's favourite films; The Lion King, The Little Mermaid, Finding Nemo & Cars. Each room highlights each movie with storyboard artwork on the walls, vibrant colours and murals dedicated to the characters.
The rooms are perfectly sized for all types of families, The Little Mermaid rooms can sleep up to 4 people and the other three suites provide two bedroom family suites that will sleep up to 6 people. Around the grounds of the hotel you'll find giant statues of characters from these movies staring down at you; the most impressive being the 35 foot tall King Triton.
DISNEY'S ANIMAL KINGDOM LODGE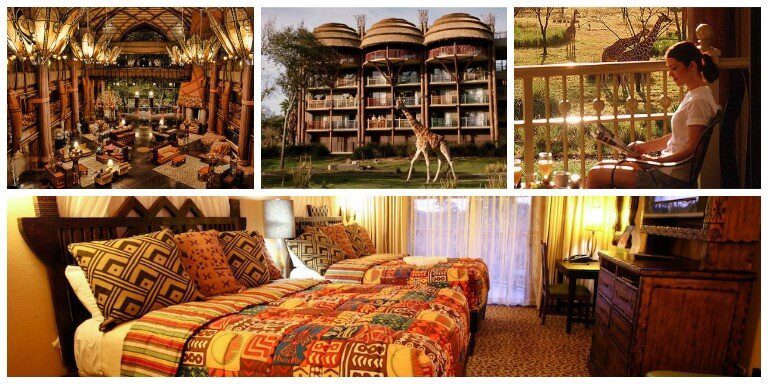 Disney's Animal Kingdom Lodge is a one of a kind deluxe resort. This hotel is in a horseshoe shape with rooms overlooking a 46 acre savanna of giraffes, zebras, ostriches and lots of other animals and birds. Capturing the essence of an African savannah lodge, this resort is the perfect blend of nature and architecture, with rooms beautifully decorated with African art. It goes without saying that Animal Kingdom Lodge is one of the best themed resorts at Walt Disney World.
The hotel offers some inventive dining options such as Jiko and Boma. Both are table service restaurants, with the option of buffet in Boma, that offer all sorts of flavours from Africa as well as all the America favourites.
This hotel also has guest suites and concierge level accommodations. The Concierge level accommodations offer access to the Kilimanjaro Club lounge, which gives guests of this level the opportunity to take the Sunrise Safari tour.
DISNEY'S GRAND FLORIDIAN RESORT & SPA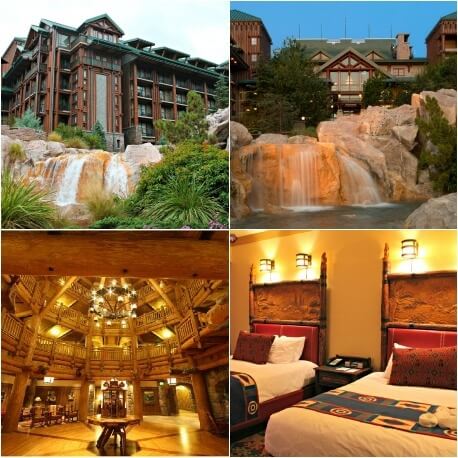 Wilderness Lodge's architectural design is inspired by Old Faithful Lodge in Yellowstone National Park. It has it's own spouting geyser that erupts every hour and there are hot springs that run through the lobby and into the swimming pool as a waterfall. It's almost as if you're not even on a Disney property.
This lakeside lodge is an 8 story, log-structured building with a huge, awe-inspiring lobby as the centerpiece. A massive 82 foot tall, three-sided stone fireplace is surrounded by rustic-looking, wooden rocking chairs.
Dining options offered by Wilderness Lodge include Artists Point and Whispering Canyon. Artists Point serves up Pacific-Northwest cuisine while Whispering Canyon is a kids favourite due to the antics of the waiters and it's eclectic mix of food.
In terms of getting to and from the parks, buses run to Epcot, Hollywood Studios and Animal Kingdom and there is a boat that will ferry Magic Kingdom guests to and from the park from below the pool area at the hotel.
DISNEY'S CONTEMPORARY RESORT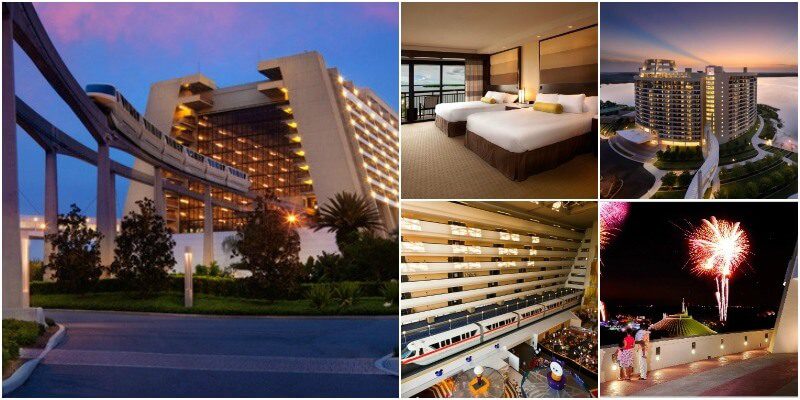 This iconic structure, which is visible from the monorail and the Magic Kingdom park, is one of the only Disney resorts influenced by Walt Disney's own vision. It as the ability to make you think it was designed with a futuristic concept in mind; where the monorail running through it looks like a "flying car". The hotel is a 14 floor deluxe resort, and despite the fact that this hotel was one of the first built in 1971, it boasts modern aesthetics and luxurious accommodation.
When it was originally built, guests were meant to be able to walk from Tomorrowland straight to the hotel. Although that idea was eventually abandoned, the resort is still in easy walking distance of Disney World's most popular theme park – The Magic Kingdom.
Dining Options include Chef Mickey's & California Grill. California Grill is an upscale dining venue with great views of the Magic Kingdom Fireworks display.
A new addition in recent years is the Disney Vacation Club's Bay Lake Tower, and even though its rooms are reserved for members you can still access the Rooftop lounge which offers some of the best views of Walt Disney World.
So there you have it, Emma's top 5 Walt Disney World hotels. If you would like more information on a Magic Holiday in Walt Disney World, you can contact us today on 01-8173535