Toronto – Kathleen's Top Things To Do!
Hello everyone! As you all know I was lucky enough to live in the amazing city of Toronto! Toronto is becoming hugely popular with us Irish. With the summer months here, there is no better time to visit this amazing city so I thought I would compile a list of must do's for when you visit!
NIAGARA FALLS
High on the list for me is a visit to the incredible Niagara Falls. The Falls as it's known locally is located 90 minutes from Toronto and you can get there by tour bus, train or car. It's very easy! Down at the falls, take a walk around the stunning gardens and take in the roar of the water. While you do this, look across the falls and you are looking straight at America! It's amazing really! : )
My favourite memory from Niagara Falls was doing the Maid of the Mist boat trip. This is a must! This trip takes you right into the mist of Niagara Falls and the experience is amazing and so much fun! We had a great time getting sprayed by the falls and trying to get some pictures in the process!! So have your poncho ready and travel into the mist!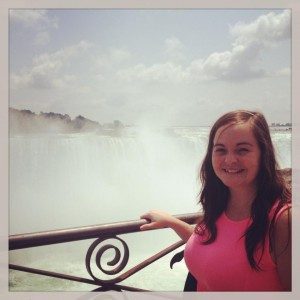 CN TOWER
This iconic Canadian landmark definitely needs a visit when you are in Toronto! Travel up 113 stories and stand on the glass floor! It's so scary at first but wow is it amazing! The views are incredible from the observation deck and on a clear day you can see Niagara Falls!! There is no better way to see the gorgeous Toronto skyline! And if you are feelingadventurous – why not try the CN Tower Edge Walk where you walk outside of the observation deck attached by just a harness!! I did this and it was the most incredible experience of my life! This picture is real lol! This is me standing on the edge of the CN Tower 113 stories in the air!!
TORONTO ISLANDS
Toronto is located on Lake Ontario and you can catch a 10 minute ferry ride across to the gorgeous Toronto Islands. Over here you can enjoy picnics, bike rides, beaches and absolutely amazing views of the Toronto skyline. This is a lovely relaxed trip to do on a sunny day and I really recommend it!
EATON CENTRE – SHOPPING!
No trip to Toronto is complete without visiting the absolutely huge Eaton Shopping Centre! Located at Dundas Square this shopping is centre is where I used to spend my Saturdays! It is several floors high and jam packed with stores for every budget. Make sure to grab a bite to eat in the Urban Eatery where you can have foods from all corners of the world! It's an extremely busy centre so I recommend going in early in the morning or later in the evening.
NEIGHBOURHOODS
Toronto is known around the world for its neighbourhoods and Torontonians are very proud of them as well. Why not take a trip to China town or Kensington market. The St Lawrence's Market area is also gorgeous and definitely worth an afternoon stroll around! One of my favourites is the Old Distillery District which is just a short street car ride from Downtown.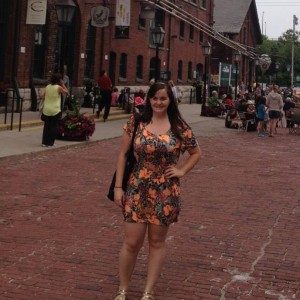 There is so much to see and do there including Broadway shows, sporting events and festivals. The city is so full of life and I really recommend visiting it. If you are interested in a trip to Toronto, I would love to help you plan it. You can contact me directly on 01-8173540 or on korourke@touramerica.ie Until next time, Kathleen : )