Best Cruise Destinations
There are so many exciting and beautiful cruise destinations that it can be overwhelming when deciding where to go. Whether you prefer wild Alaskan voyages, beach cruises, cultural experiences or adventurous exploits, there's a cruise destination to suitable for you. Here are some of our favourite cruise destinations to consider for your next adventure.
West Mediterranean
The West Mediterranean is an incredibly popular cruise destination that offers a perfect blend of cultural experiences and stunning natural beauty. This region is home to iconic cities such as Barcelona, Marseille and Rome, where you can explore ancient ruins, museums and cathedrals. Additionally, the Mediterranean offers delicious cuisine and world-renowned wines. You can indulge in heavenly Mediterranean dishes at every port of call while sipping on a glass of local wine. The West Mediterranean is also home to lovely beaches and charming coastal towns, which are ideal for sunbathing, swimming and strolls. With its rich history, vibrant culture and stunning landscapes, the West Mediterranean is a dream destination for any cruise enthusiast looking to immerse themselves in beautiful cultures and relaxing atmospheres.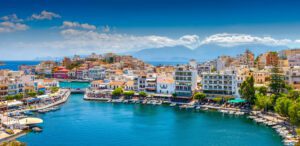 Greece
Greece is a spectacular cruise destination that is steeped in history, culture and natural beauty. Greece is renowned for its ancient ruins, including the Acropolis of Athens and the Temple of Olympian Zeus, which offer a glimpse into the rich ancient Greek history. Greece is also home to an abundance of islands, each with its own unique charm, and a cruise allows you to explore some of the most beautiful and perfect islands such as Santorini, Mykonos and Corfu. These islands are famous for their stunning beaches, turquoise waters and picturesque villages that are ideal for relaxation and soaking up the sun. Additionally, Greece boasts its own mouth-watering cuisine, including fresh seafood, feta cheese and olives. Greece is also known for its warm and friendly people. With its rich history, breathtaking scenery and warm hospitality, Greece is undoubtedly a top cruise destination that should be on everyone's bucket list.
The Caribbean
The Caribbean is an exotic and picturesque cruise destination that offers a wide array of experiences. The Caribbean has clear turquoise waters, gorgeous beaches and vibrant coral reefs that are ideal for snorkelling, diving and other water activities. Additionally, the Caribbean is home to a diverse range of cultures, including African, European and Indigenous, which is reflected in its music, dance and cuisine. From jerk chicken in Jamaica to fresh ceviche in Mexico, a Caribbean cuisine offers a delicious fusion of flavours. The Caribbean islands are characterised by their colourful architecture and charming towns. Finally, the Caribbean is also known for its warm and hospitable people. With its stunning natural beauty, diverse cultures and warm hospitality, the Caribbean is an excellent cruise destination for those looking for adventure and new cultural experiences.
Norway
Norway is a breathtaking destination that is renowned for its dramatic landscapes, pristine fjords and northern lights. Norway is characterised by its towering mountains, cascading waterfalls and lakes that are sure to leave you in awe. Norway is home to over 1,000 fjords, including the iconic Geirangerfjord, which is a UNESCO World Heritage site and a popular attraction for cruise visitors. The fjords offer a unique and spectacular experience, where you can witness the sheer scale of the natural wonders as you sail past towering cliffs and cascading waterfalls. Additionally, Norway's vibrant cities, including Oslo, Bergen and Tromsø, offer a glimpse into the country's rich culture and history. You can explore museums, galleries and other cultural attractions that highlight Norway's Viking heritage and contemporary art scene. Norway is also an ideal destination for adventure enthusiasts, offering a range of activities such as hiking, kayaking and dog sledding. With its stunning natural beauty, vibrant cities and thrilling adventures, Norway is without a doubt a top cruise destination.

Croatia
Croatia is a picturesque cruise destination that is famous for its stunning coastline, blue, shimmering waters and rich culture. Croatia's charming coastal towns, medieval cities and charming islands distinguish it from any other cruise destination. From the historic city of Dubrovnik to the tranquil beaches of Hvar, Croatia offers a plethora of experiences. Croatia is home to several UNESCO World Heritage sites, including the ancient city of Split and the historic old town of Dubrovnik, which are a testament to the country's rich cultural heritage. With its stunning coastline, rich cultural heritage and warm hospitality, Croatia is one of the best cruise destinations for every type of traveller.
Alaska
Alaska is a captivating destination that is renowned for its rugged landscapes, towering glaciers and abundant wildlife. It is famous for its wilderness, where you can witness the inspiring beauty of nature in all of its glory. From the towering glaciers of Glacier Bay National Park to the snow-capped peaks of Denali National Park, Alaska offers unlimited experiences for nature enthusiasts. The Inside Passage is rich in marine life and offers the chance for nature lovers to witness it all, from pods of black-and-white orcas to dolphins and humpback whales. Alaska's towns, including Juneau, Ketchikan and Skagway, offer a glimpse into the state's rich history, where you can explore historic sites, museums and other cultural attractions like traditional totem poles. Thanks to its wild and breathtaking terrain Alaska is one of the most interesting cruise destinations in the world.
Check out our latest cruise offers, here, to book a holiday to your dream destination today.
www.touramerica.ie
01 8173558