Miami, worth the wait!
Well, that was worth the wait. Just back from a week in South Beach, Miami, and to say it was an unbelievable holiday is an understatement. From the minute we got up in the morning until the time we set off to sleep that night we were entertained from beginning to end. The weather was magical, the hotel out of this world and the people watching next to none.
We were due to go to Florida this time last year but with travel restrictions still in place in between Europe and the States our trip was put on hold. Tour America managed all the changes every step of way and the service and constant reassurance was worth its weight in gold.
Flying with Aer Lingus is always a great experience, and with a direct flight twice a week to Miami it is the only way to go. The flight takes in between 8 and 9 hours and gets into Miami at around 8pm. There is nothing like walking outside at the end of October into 25 degrees and knowing you have a week of this. We ordered an Uber, which takes about 30 minutes and costs around €50 to South Beach.
There are 100's of hotels to choose from in South Beach but we opted for our favourite The 1 Hotel. It is out of this world, hence the name. It is so cool it is not cool, and the staff bend over backwards to give you the holiday of a lifetime. We opted for a hotel apartment as we were staying the week, which had everything from a dishwasher to washing machine and
the comfiest beds. The rooms are bright and on trend, and the smells from their candle/diffuser/wash collection is incredible.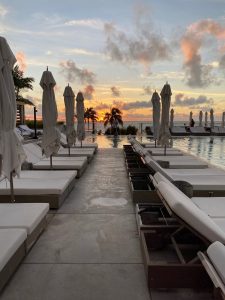 The 1 Hotel has amazing facilities from 3 outdoor pools, one roof top for adults only and two others which were magical; a gym which was bigger and better equipped than most at home, more than 5 restaurants, a spa which I didn't get to use, and bars galore. We were lucky enough to get a glimpse of the Golden State Warriors basketball team whilst we were there, using the state of the art gym one morning preparing for their big game against the
Miami Heats that night! Steph Curry gave a smile. Most mornings we walked the South Beach Walkway, formerly known as the Boardwalk,
which is 16 km long and stretches from 1st street to 102nd street. They have recently taken up all the old boards paving it so to make it more cycle friendly, hence the name change. A lot of the hotels have bicycles but there are City Bikes which you can rent everywhere. From 15 th Street to 5 th is where most of the Art Deco buildings are and there are beach gyms, beach volley ball matches and table football to keep you entertained along your way.
As you can imagine there is every sort of restaurant in Miami. We opted for the hotel buffet two mornings and Rosetta's on Collin's Ave/17 th street for the rest. Lunch was had by the pool most days where we sampled the freshest guacamole, hummus, wraps, chicken tenders and burgers. We had dinner on Lincoln Road twice as that is where most of the shopping was and it was a great way to finish off the spree.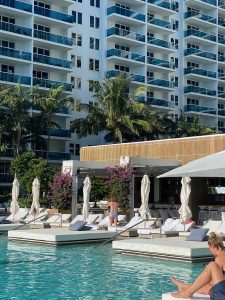 My favourite part of the holiday was the people watching. I have travelled alot and this place certainly ranks first in the constant distractions you encounter on a daily basis. Anything goes on South Beach from what you wear, to what you do, to who you are! I packed two books and didn't get past page 10 in either from the entertainment by the pool, on the boardwalk or in the streets. Miami is the perfect place to go to at this time of year. The temperature is perfect; 25-30 degrees; it is not too chaotic; avoid American Spring Break; and it certainly sets you up for the winter months with the sun in your banes and the magic in your eyes.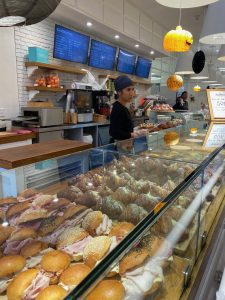 Tour America have an incredible selection of hotels to choose from. The Grand Hotel on 48 th Street is extremely affordable and very family friendly. The 1 Hotel and Cadillac are very cool. The Edition and National are very much adult friendly. And the Betsy and Delano are total Miami.
You won't be bored if you go to Miami and it is the perfect add on before or after a weekend in NYC, or pre/post Caribbean cruise, or indeed on route to Mexico.
Never say No to Miami, it is certainly worth the trip. www.touramerica.ie for the best deals and service in town.
Contact us on 01 817 3535 or sales@touramerica.ie